CELEBRATE NATIONAL ICE CREAM MONTH WITH THESE EASY, CLEVER IDEAS!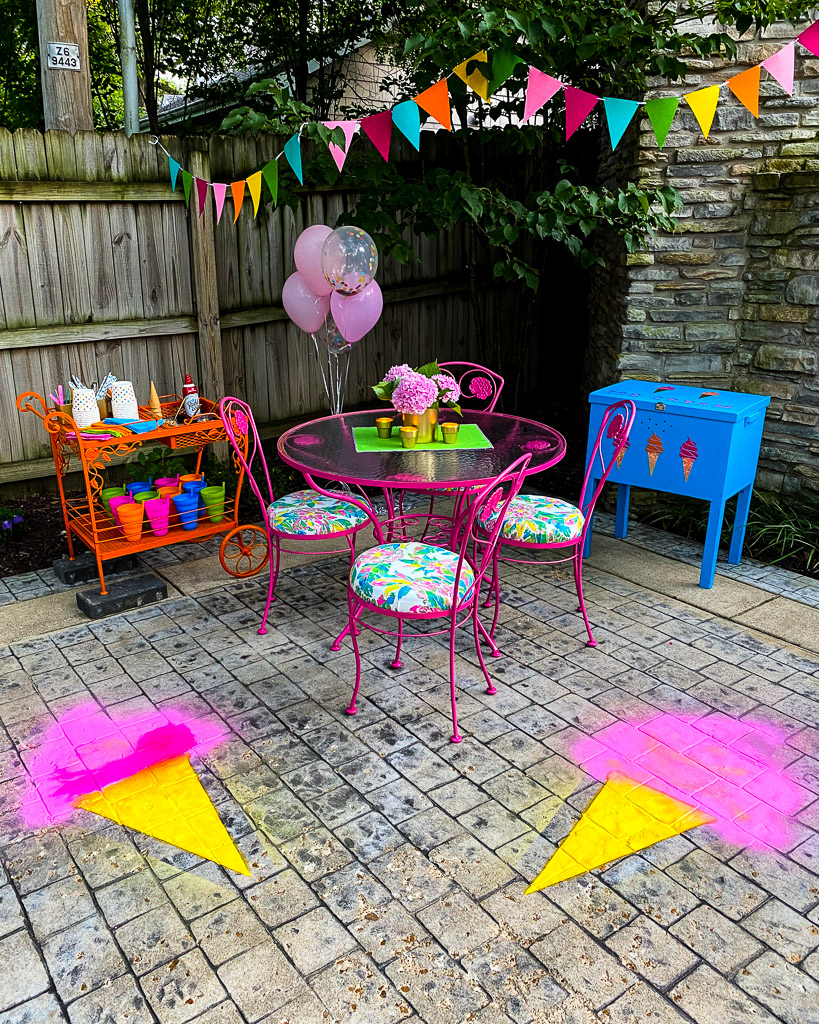 Here's the "scoop," we've got some great ice cream party ideas! National Ice Cream Day is July 19! And it doesn't stop there! The entire month of July is National Ice Cream Month! Why create all this national fuss over ice cream? Why not? To being with, it's hands down America's favorite dessert (cake is a very distant second runner up). Keep reading to discover great ice cream party ideas that are sure to make you smile!
DID YOU KNOW …
According to Yahoo, the average American eats more than 23 pounds of ice cream per year. And 86 percent of Americans eat ice cream more than once a week. Finally, there's one thing we can all agree on! Yippee!
In honor of the glorious 31 days of ice cream July conveys upon us, we've pulled together a charming "pop-up" ice cream parlor in our backyard. It's a quaint, cozy spot to spend some time in this summer, when we find ourselves at home a lot more than in the past. In addition, it's the perfect place for the ultimate "Sundae Funday!" Here's the "scoop" on how we did it in three easy steps:
FIRST, PICK YOUR SEAT …
A big part of any summer road trip is visiting the small towns that cross your path along the way and exploring their local eateries. Almost always, this includes a stop at a local ice cream parlor that has been part of the community for decades. These places are timeless and you wouldn't want them any other way. The squeaky front door with the bells that ring when you open it, the handwritten chalkboard signs (put up long before chalkboard signs were even a thing), and those big round cardboard tubs full of creamy, homemade goodness … the memories they evoke are just perfection! Since we aren't traveling as much this year, we wanted to bring some of that magic into our very own backyard.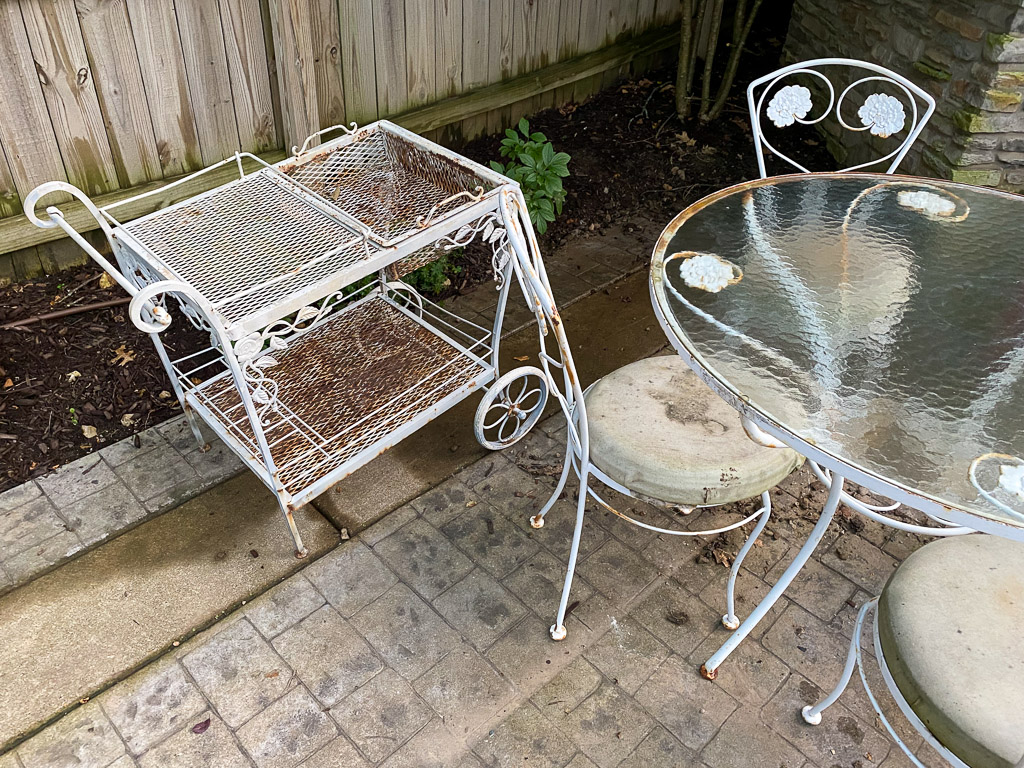 With a little help from the local swap and sells, we were able to pull together our very own, old-fashioned ice cream parlor. Right outside our back door.
For our "pop-up" shop, we searched and scored a great deal on a well-loved wrought iron table and chairs, as well as a fun, albeit rickety, serving cart. In addition, we found this vintage ice chest, which was an ideal piece. After bringing home our treasures, we realized the fun was just beginning.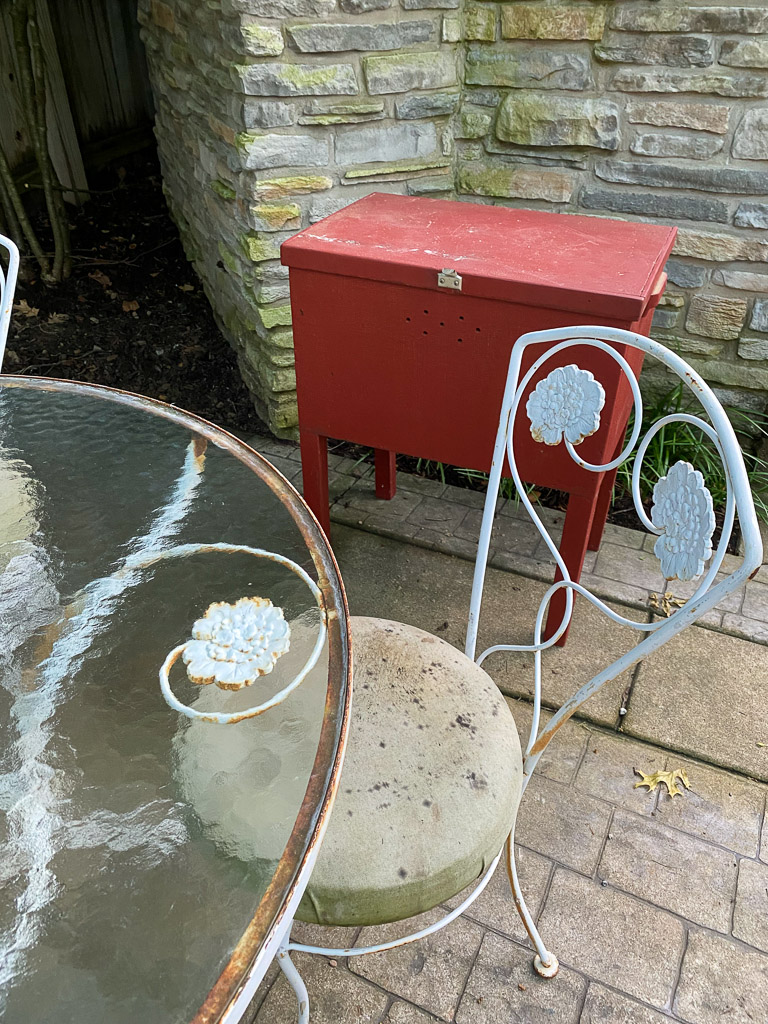 SECOND, PICK YOUR THEME …
Anytime I start pulling together décor for an event or a home-decorating project, I like to pick one favorite item and build a color palette around it. Sometimes it might be a logo, often it could be a particular linen, maybe it's just a piece of art. The key is you just need a place to get started. This process helps to narrow down your color options and makes it easy for you to stay coordinated.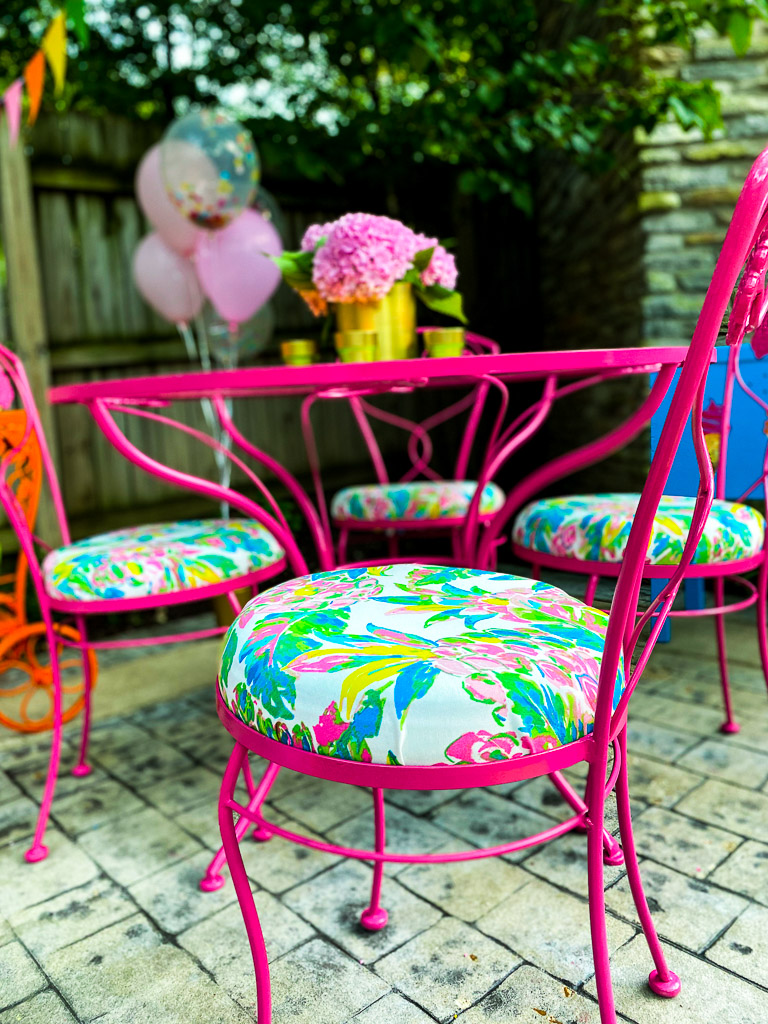 In this case, I was inspired by an adorable outdoor fabric from Joann Fabrics and Crafts that reminded me of one of my favorite Lilly Pulitzer prints. The bright pinks, blues, yellows and greens within the pattern were the perfect color combination. It made it easy to choose the paint colors to spray these mid-century, wrought-iron pieces. We used: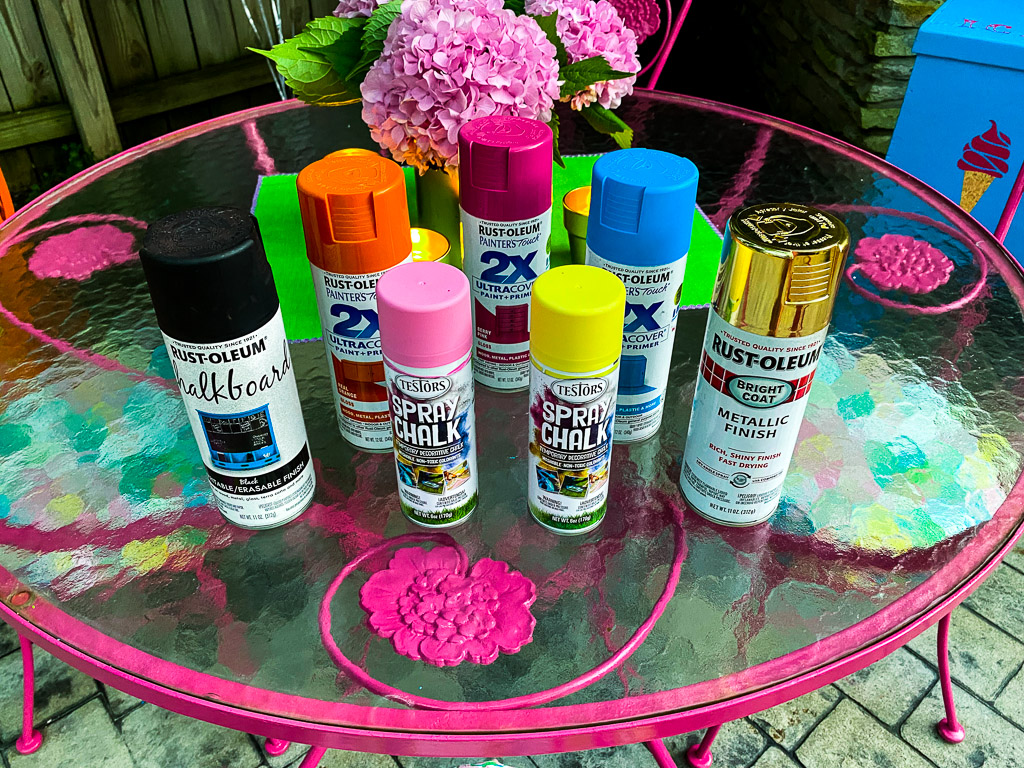 PRO TIP: One of the most absolutely helpful tools we used for this project was the Rust-oleum Spray Grip. It snaps directly on to the paint can and make spraying a breeze. It's an instant game changer and allows you to apply a smooth, even and professional finish with minimal effort. It truly was the best $3.48 we've ever spent.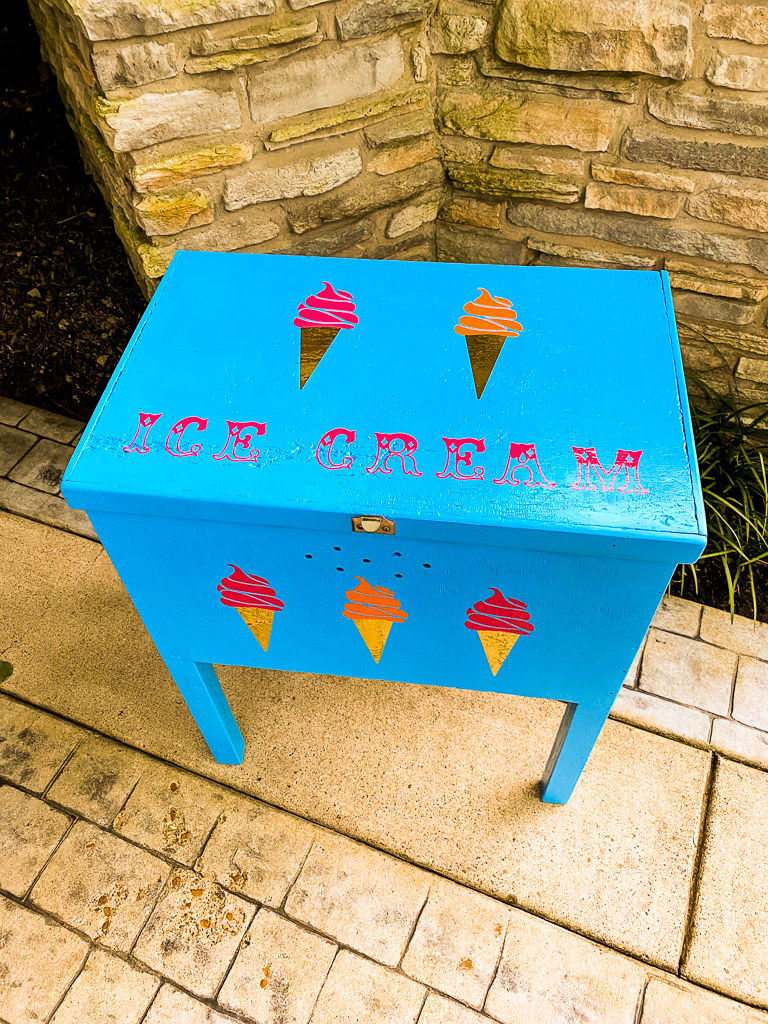 With a fresh coat of paint and a little bit of help from our Cricut Maker, this vintage ice chest is hardly recognizable and is quite adorable. It is a great addition to our old fashioned ice cream parlor.
THIRD, PICK YOUR "TOPPINGS" …
Like a really good ice cream sundae, we needed to add in a few really great "toppings" to make our ice cream parlor complete. As always, it's the attention to the small details that allow any event décor project stand out.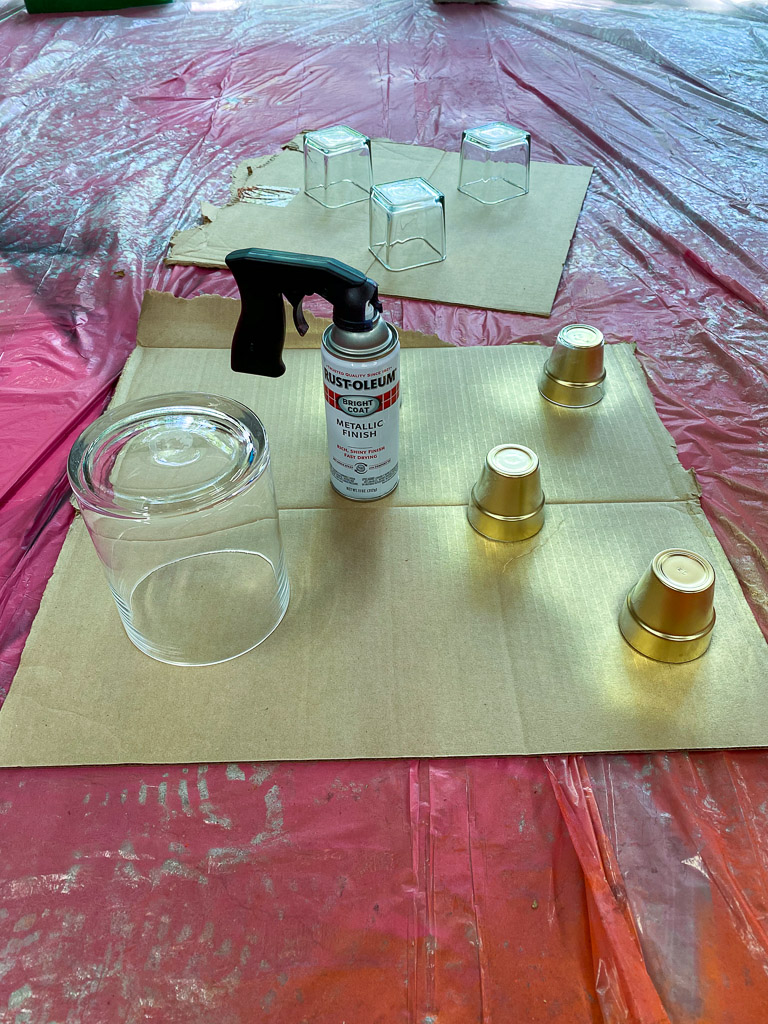 Bright gold accessories were the perfect choice for this tablescape and cart. The metallic gold complements the bright colors of the furniture and cushions, adding a sophisticated pop of wow. To achieve the look, we sprayed a clear glass vase and clear glass votive holders with Rust-oleum Bright Coat Metallic Finish Gold. You could also use terra cotta pots to achieve a similar look. They not only turned out fantastic, they are also durable. So they will look great throughout the entire month and well into the fall (I can already see these paired with white pumpkins!)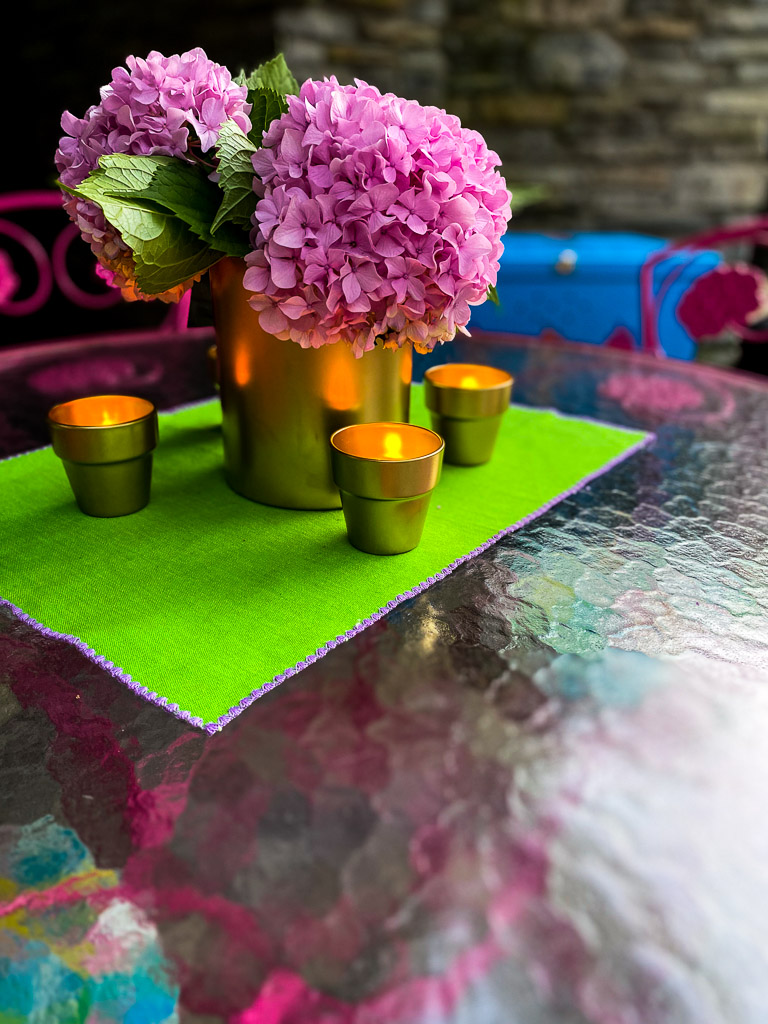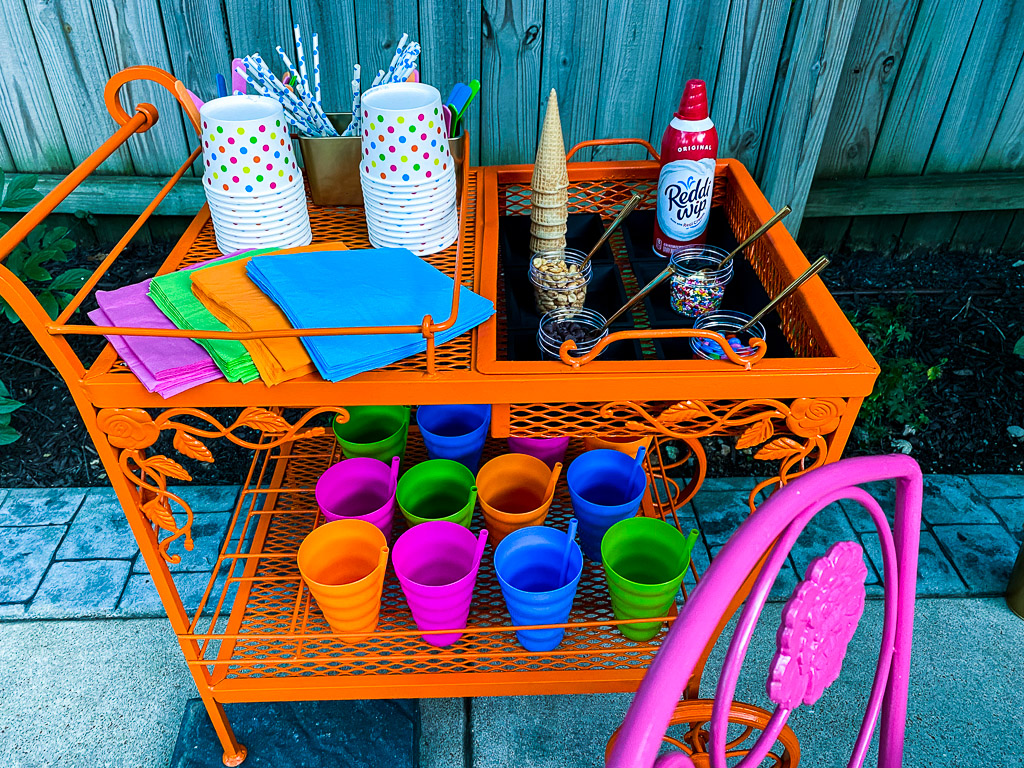 A BUILD YOUR OWN SUNDAE BAR!
The serving cart was the ideal spot to set up our "build your own sundae" bar. We found some small wooden trays at Michael's that fit perfectly and allowed us to display our ice-cream toppings in a super clever fashion. We simply sprayed the trays with Rust-oleum Chalkboard paint and marked our toppings with a white chalk pen.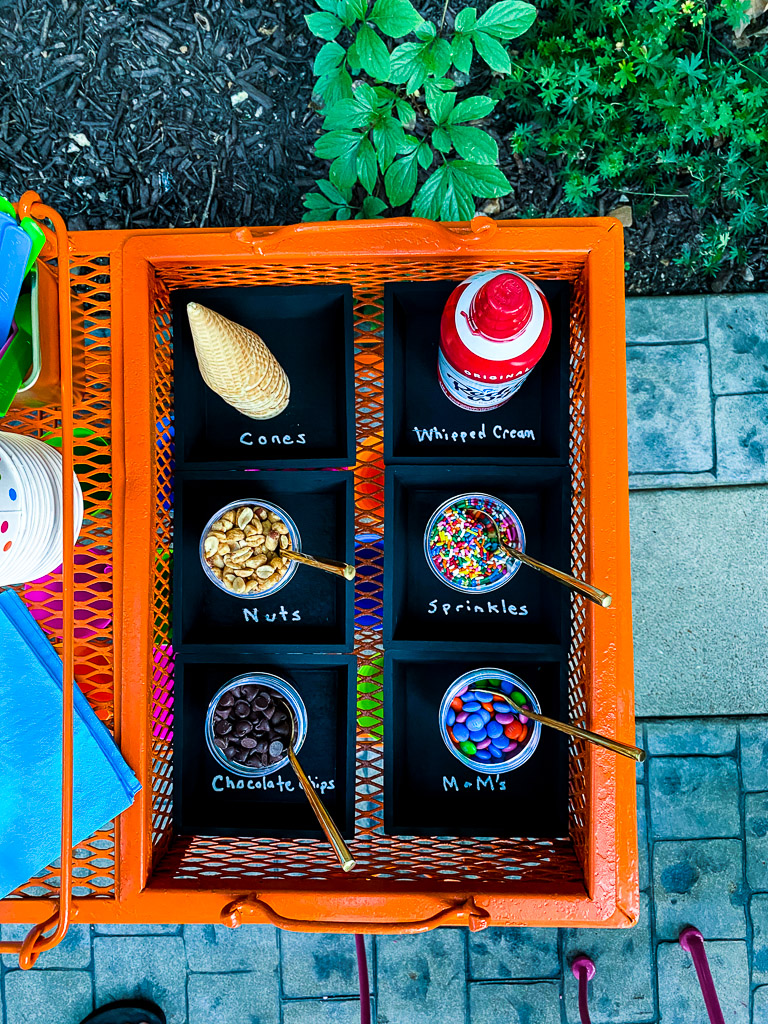 PRO TIP: I love the small, petite size of these trays. Originally I was planning to use one large tray, but I was so happy to find these smaller versions that I could use in multiples. They will be repurposed time and again during the coming months. The ability to write on them provides numerous possibilities when entertaining family and guests. I'm thinking coasters, mini-dips, tidbit plates … so many uses!
According to a recent survey, 57 percent of people prefer to eat ice cream out of a bowl than in a cone. We found some cute paper cups, whose polka dots matched our color scheme. In addition, they came in a set with color-coordinating spoons and straws. Love! Lastly, pink, green, orange and blue paper napkins were the perfect choice to add to the cart. We also hung a felt banner to add some height and create a festive atmosphere.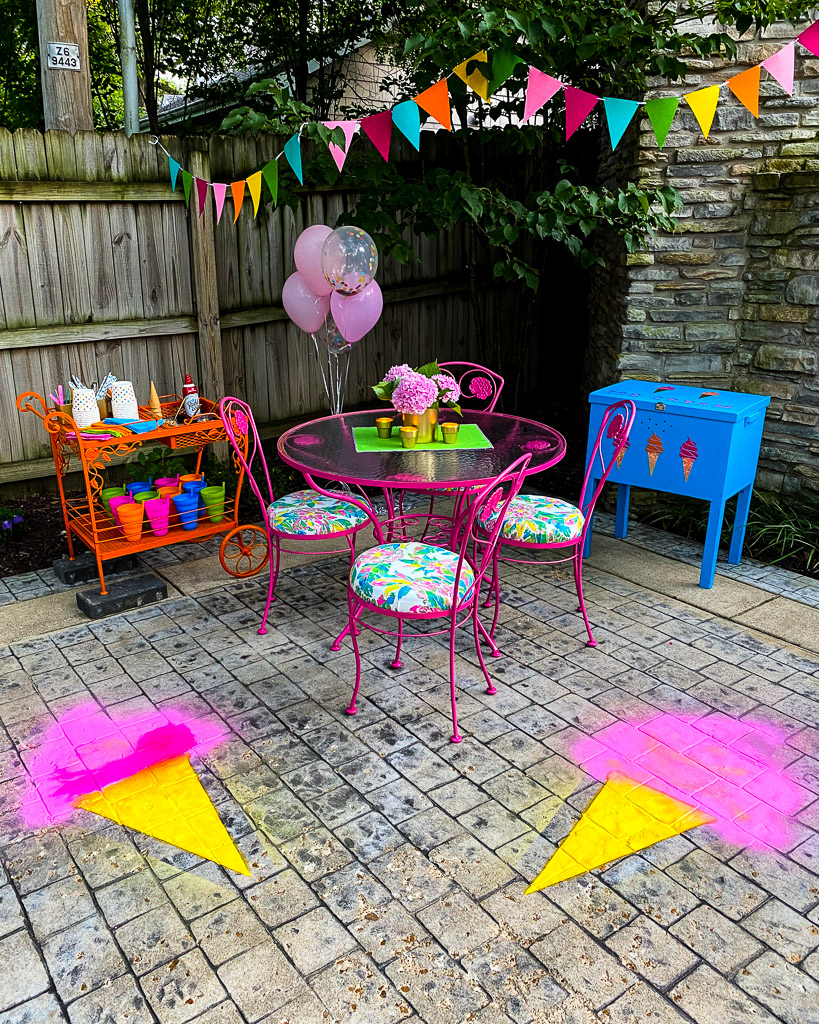 Finally, we couldn't resist one last decor element! Testors Spray Chalk provided a great medium to allow us to tie the entire space together. We chose to place our ice cream parlor in a corner nook of our driveway. Chalking two ice cream cones was an adorable final touch that was a super easy, nonpermanent option but added a whole lot of impact to this festive, cute setting!
Love these summer ideas? You'll fall head over heels in love with our Farm to Table Dinner decor for National Corn on the Cob Day!