BUILD YOUR VALENTINE THEIR VERY OWN HOT CHOCOLATE BAR … IN FIVE EASY STEPS!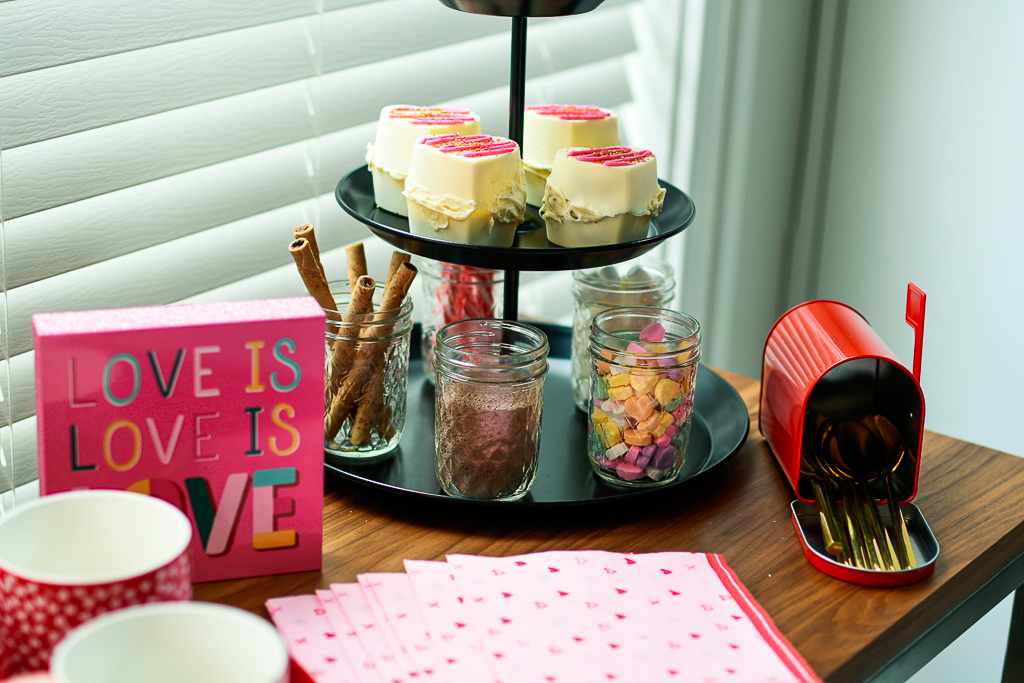 I pulled together this Valentines hot chocolate bar to celebrate National Hot Chocolate Day on January 31. It's truly the ultimate statement of affection for any valentine and would be a great surprise to discover on a chilly afternoon. It was so fun creating this display, which not only warmed Matt's heart, it added also added a heaping dose of coziness to our family room (which, honestly, was looking a little bare after taking down the holiday decorations). Here's how you can create your very own Valentines themed hot chocolate bar in five easy steps: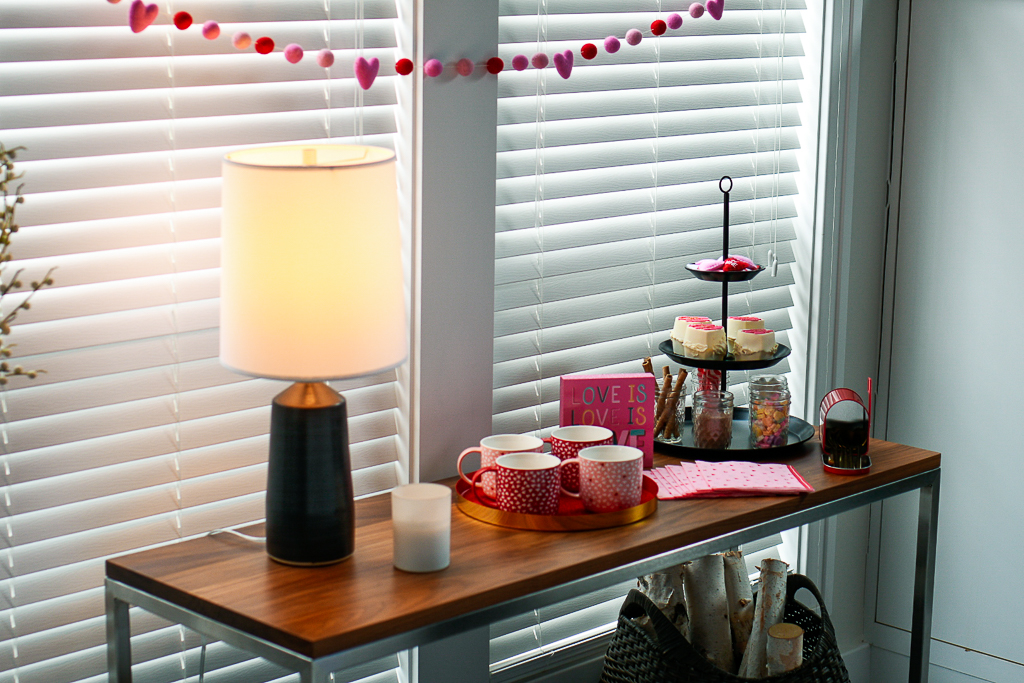 SET THE SCENE WITH ADORABLE MUGS!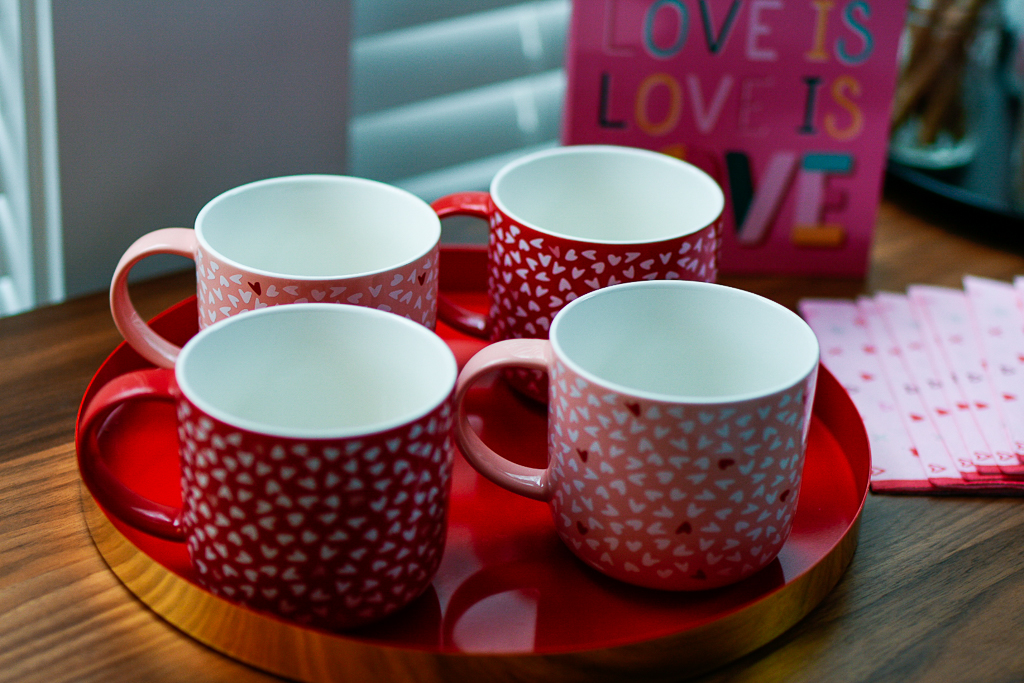 Splurge on a few Valentine's Day themed mugs to make your hot chocolate bar special. They're a simple touch that makes all the difference. There are so many cute, heart-themed mugs out there to choose from … it's easy to tailor your choice to your Valentine's unique interests and style. Here are a few ideas to get you started and thinking:
CREATE A CUTE DISPLAY …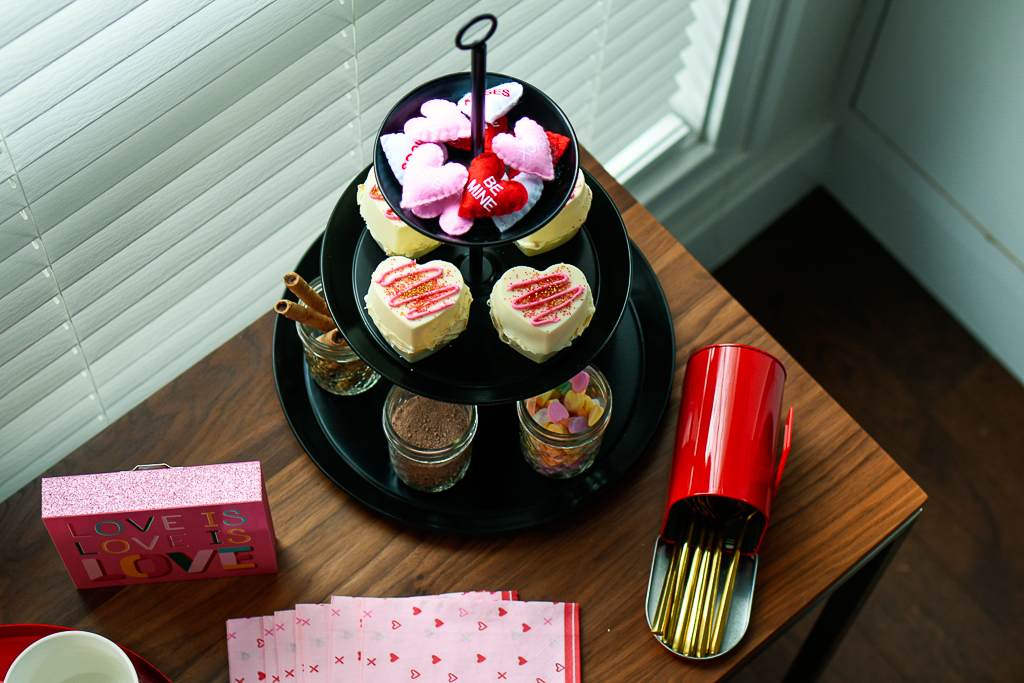 What's one of the easiest tricks to create interest and excitement to any food or beverage display? Just add some height! And tiered racks are the perfect accessory to accomplish this task, especially when you're using an occasional or coffee table to serve.
You may not need each and every one of the tiers for your food or beverage items. And that's okay … in fact, it's perfect. I placed this cute, felt heart scatter on the top tier, which added to the festive fun.
ADD HEART-SHAPED HOT CHOCOLATE BOMBS!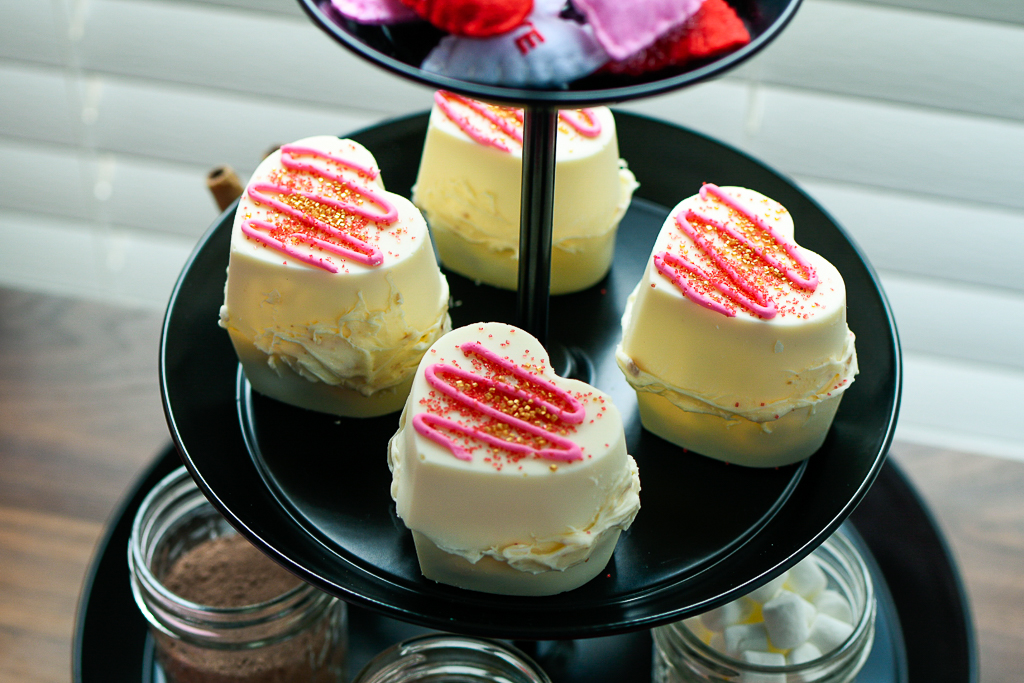 Hot chocolate bombs have been exploding in mugs everywhere this season. I challenged myself to create a Valentine's Day version of this popular treat and I have to admit, I was pretty pleased with the result. These heart-shaped cocoa bombs, made with white chocolate and topped with icing and glitter, are as decadent as they are elegant. And their biggest secret? They were really easy to make. Here's how I created them, step by step.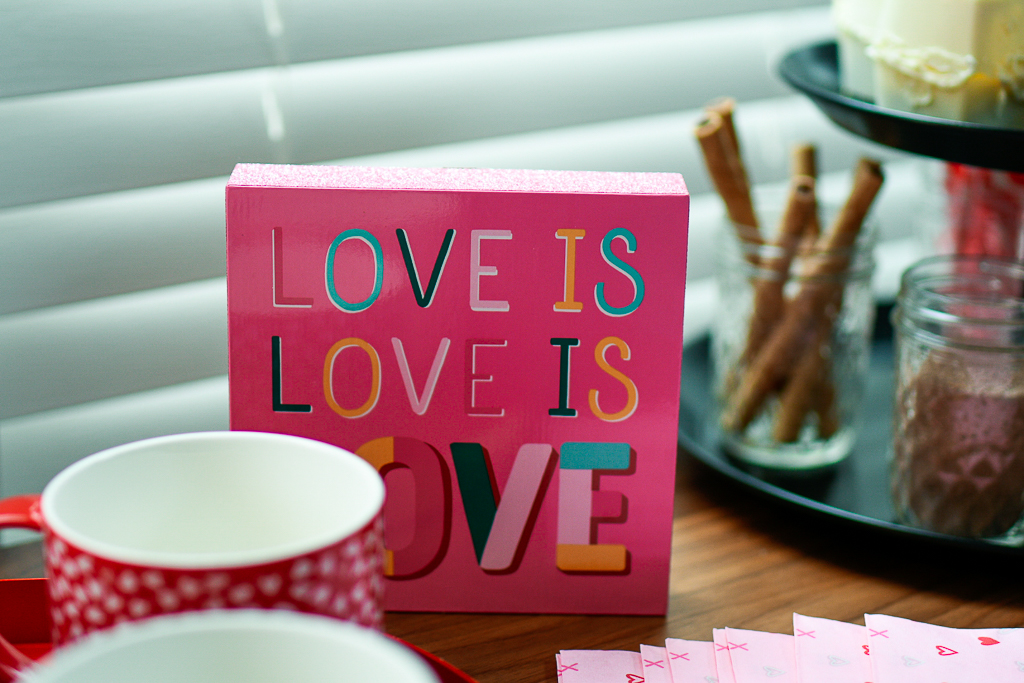 CHOOSE YOUR "TOPPINGS" …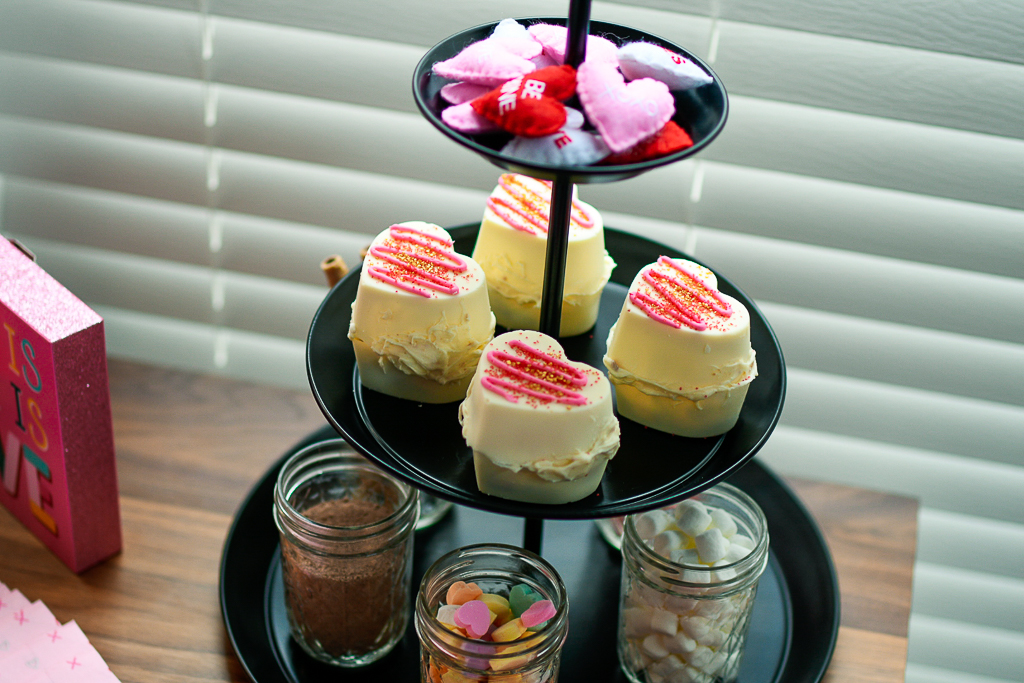 Let your imagination run wild with the variety of toppings and candies to stir-in you offer. The only must-have, are these crystal mason jars. They are the perfect way to display the ingredients you choose. Why? Not only are they elegant, they're practical. Simply screw on their matching lids to keep each of the toppings fresh, allowing you to enjoy your hot chocolate bar for several days.
Here are the toppings and candies I chose for our cocoa bar:
Pepperidge Farm Pirouettes
Marshmallows
Conversation hearts
Peppermint spoons
And, of course, my favorite Ghirardelli hot cocoa mix
MAKE IT COZY AND YOUR OWN …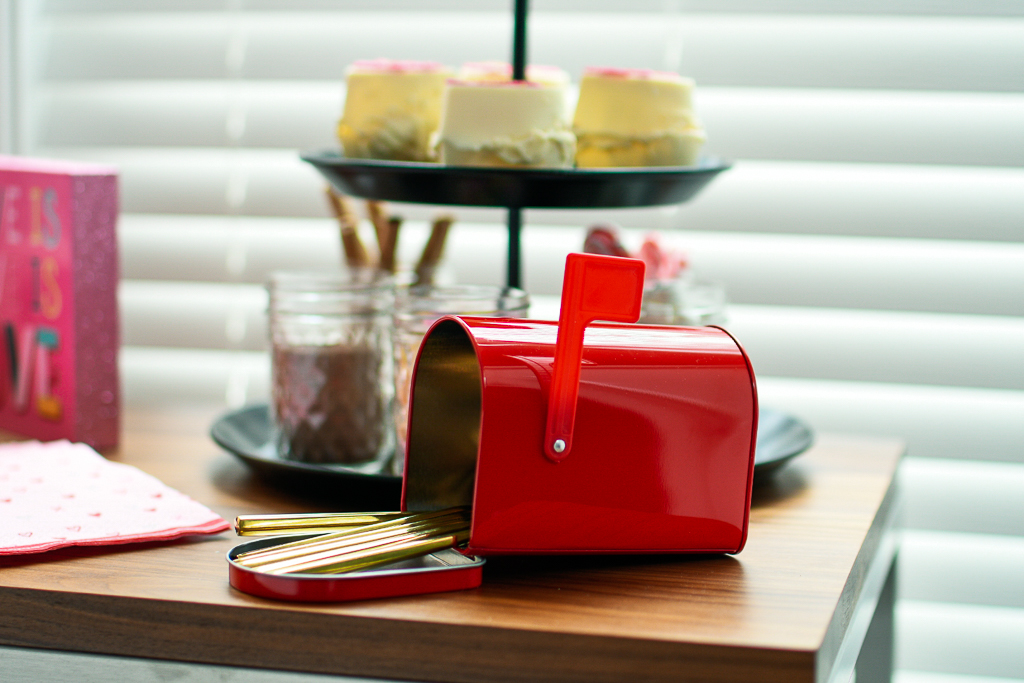 Baby, it's still cold outside and there's nothing better on a chilly, winter afternoon than the warmth of a cup of hot cocoa. As I previously stated, the house was looking a bit bare after taking down the Christmas decorations. This adorable display certainly brightened our family room right up in just a few seconds. Here are each of the elements I chose to make our hot chocolate bar not only delicious, but delightful:
Wool/Felt Heart Garland — this was simply the cutest one I found as I scoured Amazon.
Red Valentine's Mailbox — it was perfect to use as a clever way to display the spoons and is perfect for both Valentine's Day and the holidays!
Cute pink napkins with red and pink hearts — these aren't exactly the same but are still adorable!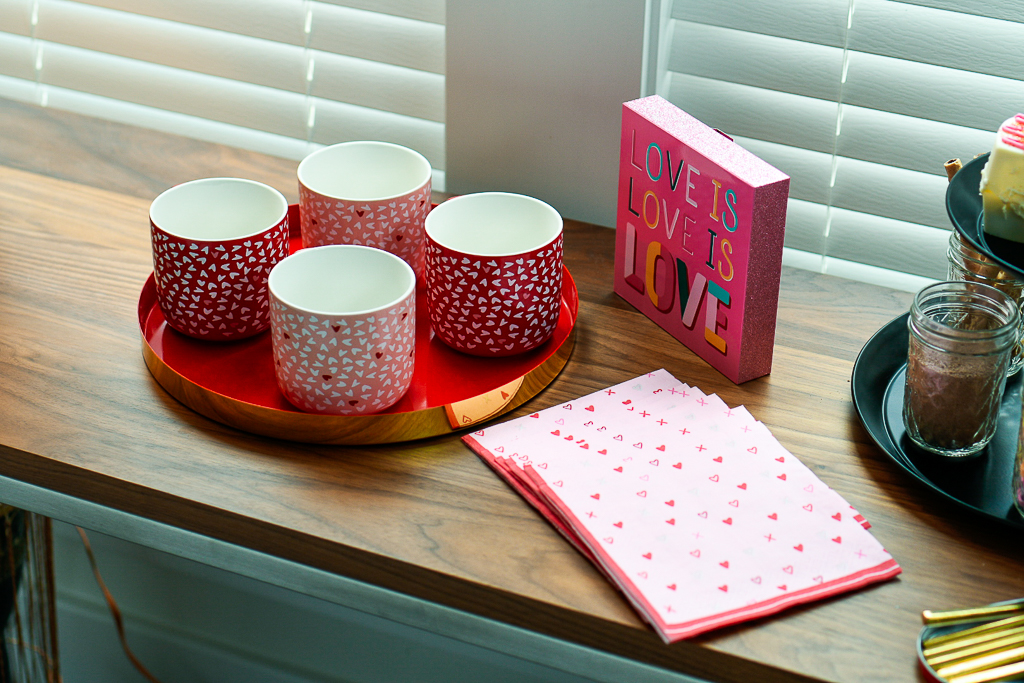 Elegant red tray with gold trim — mine was vintage, but this one is a great substitute!
These mug toppers are also adorably cute! And I've ordered two just in time for Valentine's day! Ssshh! Don't tell Matt!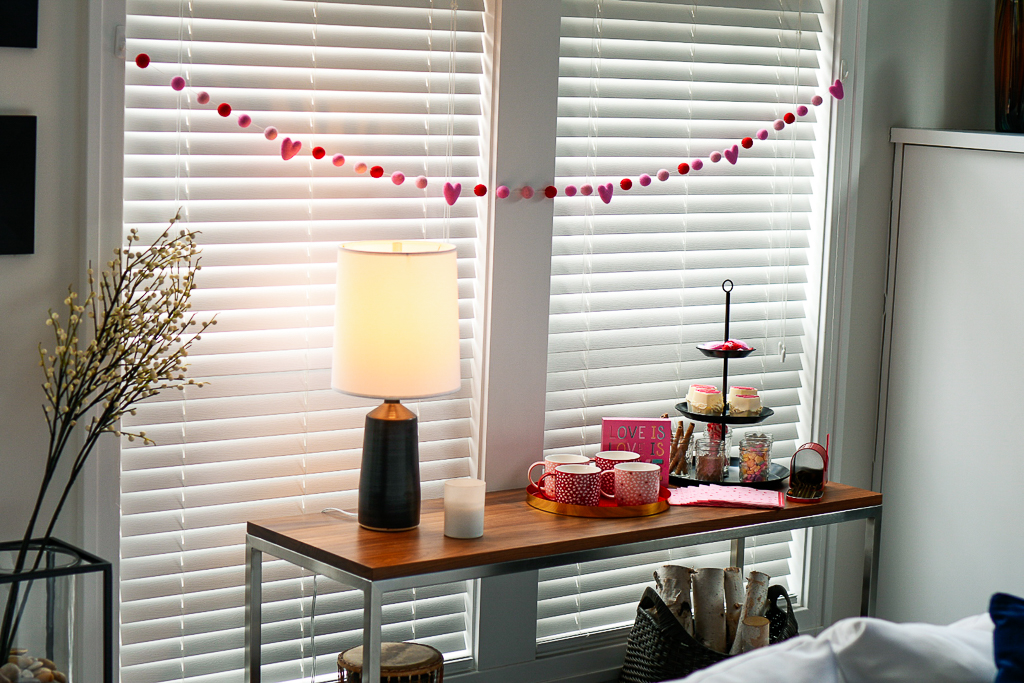 Did you try this idea? Share it on Instagram with the hashtag #makeeverydayanevent and tag @makeeverydayanevent! Looking for other fun ways to celebrate Valentine's Day, check out: We "Heart" Chocolate Cake on its National Day!