GRANDMA'S CHINA IS A SIMPLE WAY TO BRIGHTEN YOUR TABLE … ANY NIGHT OF THE WEEK!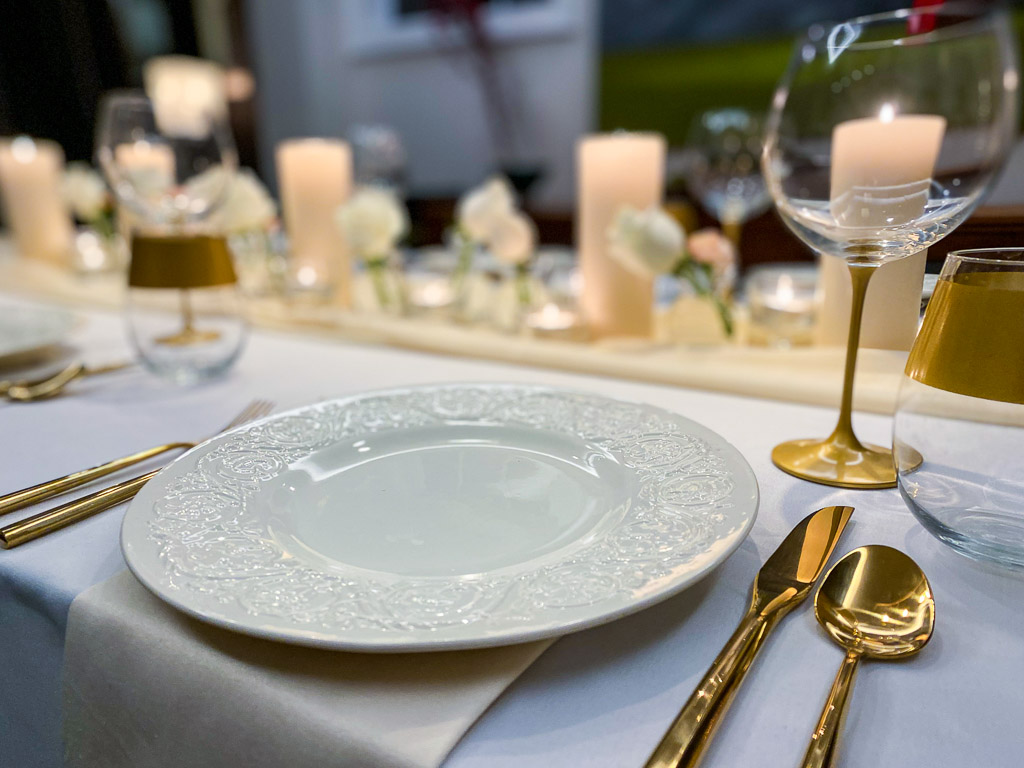 Setting a modern table with vintage china can be a bit challenging. Sometimes grandma's cherished place settings don't necessarily lend themselves to today's modern or transitional lifestyles. But if you follow a few simple rules to incorporate these vintage pieces, the results can be stunning. I've discovered a few tips and tricks that make it a breeze for you to create an elegant, modern table with vintage china.
This past year we have been squirreled up and hunkered down. A lot. And while that has created some issues, it's also created some opportunities. Perhaps one of the biggest was the abundance of time to dig through our closets, cleanout some drawers and unearth several buried treasures. One such find at our house was a set of Wedgewood china. I am actually not 100 percent certain of the origins of the set. I think it originally belonged to Matt's grandmother and somehow it made its way into my hands a few years ago. It was one of the many interesting heirlooms I rediscovered as I cleaned out our sideboard one Sunday afternoon during quarantine. Yup. I was that bored.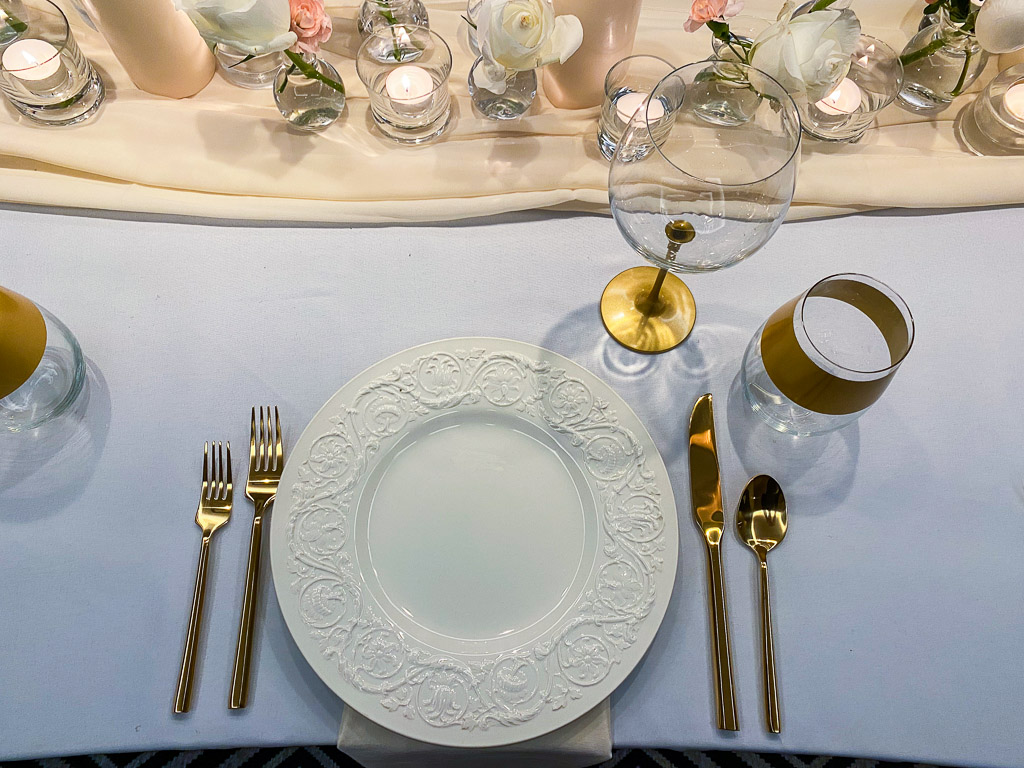 I wanted to use these pieces and adore the fact that they have a family connection. But I wasn't sure if they would fit with our more modern aesthetic. And here was another motivating factor … we have eaten more meals at home during the past 12 months than we've eaten during our entire marriage. And while I love our basic, white, everyday dishes (I mean, I picked them out), I am so sick of setting them out … Every. Single. Night.
DON'T JUST SAVE THE "GOOD" CHINA FOR GUESTS …
According to entertaining industry experts, I'm not alone. "When it comes to tablescaping, our customers are gravitating toward a more-is-more aesthetic," Roxanne Marie, buying director for fashion and home at Goop, said in a recent New York Times article. "During the pandemic, abundance and glamour in the home became something of a pronounced escapist luxury. The idea that the 'good china' should be saved for guests went out the window."
So dig deep and break out the fine china for tonight's dinner. Heck, set a table that will make you swoon, just because it's Tuesday (or Thursday, or any day … it doesn't really matter). Here's how you can create an elegant, modern table with vintage china for yourself (or for guests) when you follow these simple rules: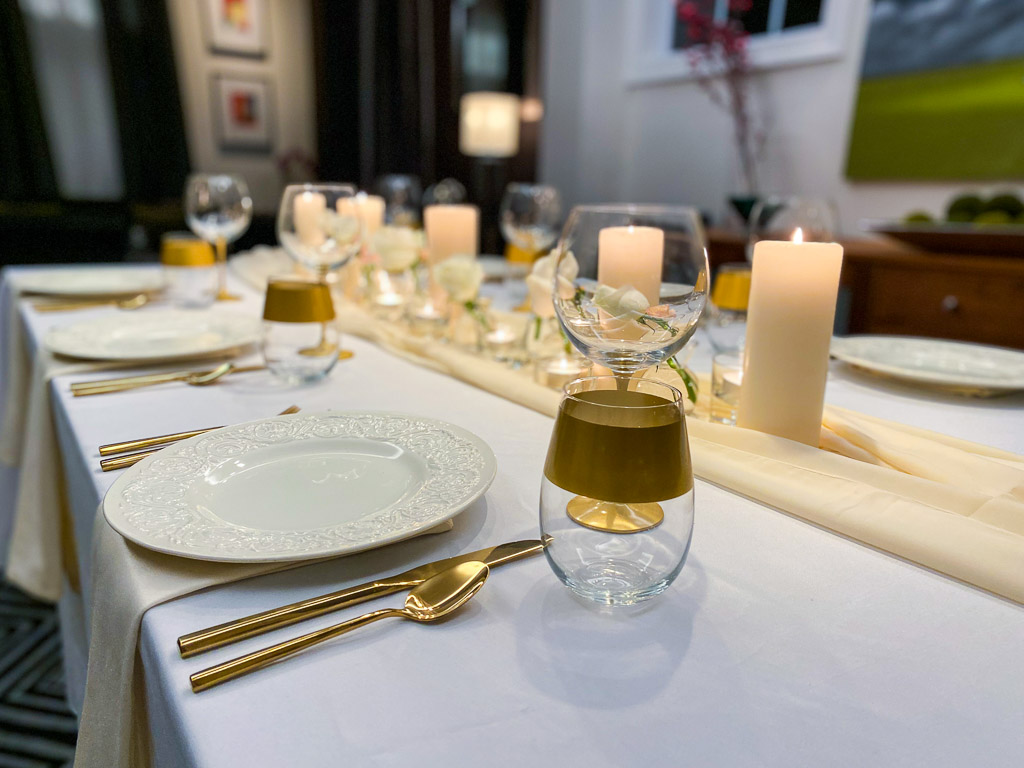 1. STICK TO A MONOCHROMATIC COLOR PALETTE
Sticking to a monochromatic color palette on your table to give it sophistication. Soft ivory tones, repeated throughout the design with the linens, dinnerware, florals and candles, make these simplistic elements feel modern and fresh.
In addition, the juxtaposition of the monochromatic palette with the vintage Wedgewood china give the table an element of surprise. It's an elegant mix of old and new.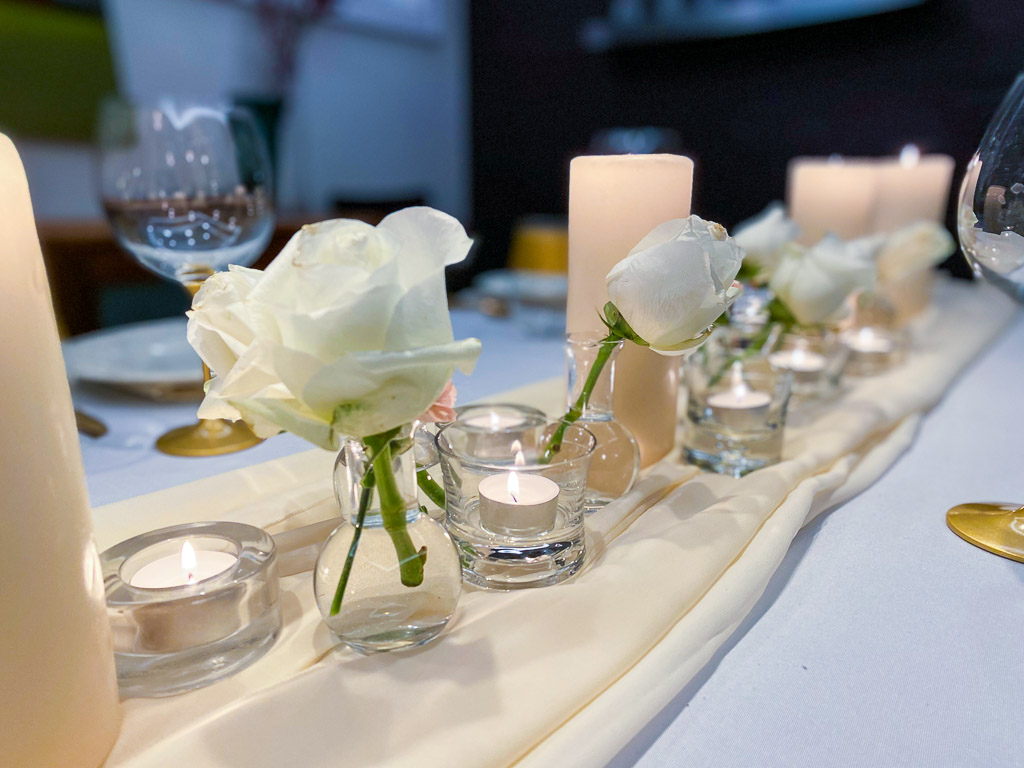 2. REMEMBER REPETITION IS THE KEY TO MODERN DESIGN
The key to an elegant modern look is the repetition of a few, simple pieces. I accomplished this by using tall ivory pillar candles. In addition, I love these these soft chiffon, ivory table runners that I placed in the center. The fabric simply luxurious and it lays the perfect foundation for this look.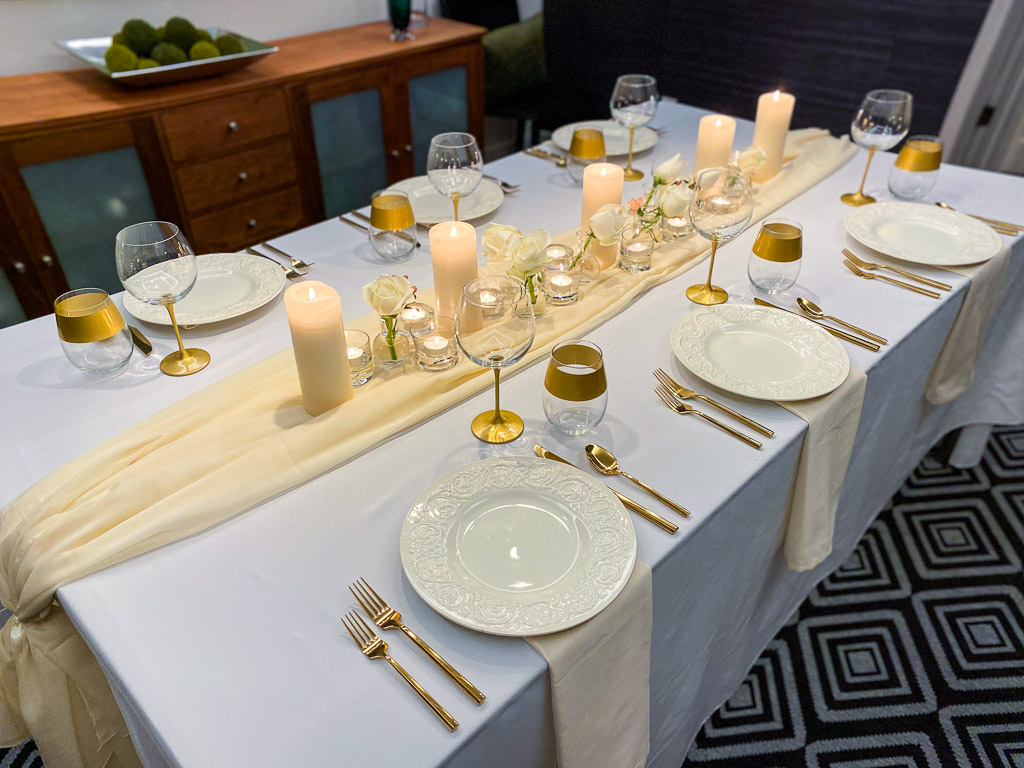 3. ADD VARYING HEIGHTS TO CREATE INTEREST
A polished table has elements of varying heights and sizes. By using small bud vases to hold full sized ivory roses, as well as smaller peach ones, I added interest. The small bud vases were also a great complement to the large pillars. They make it easy to arrange flowers like a professional.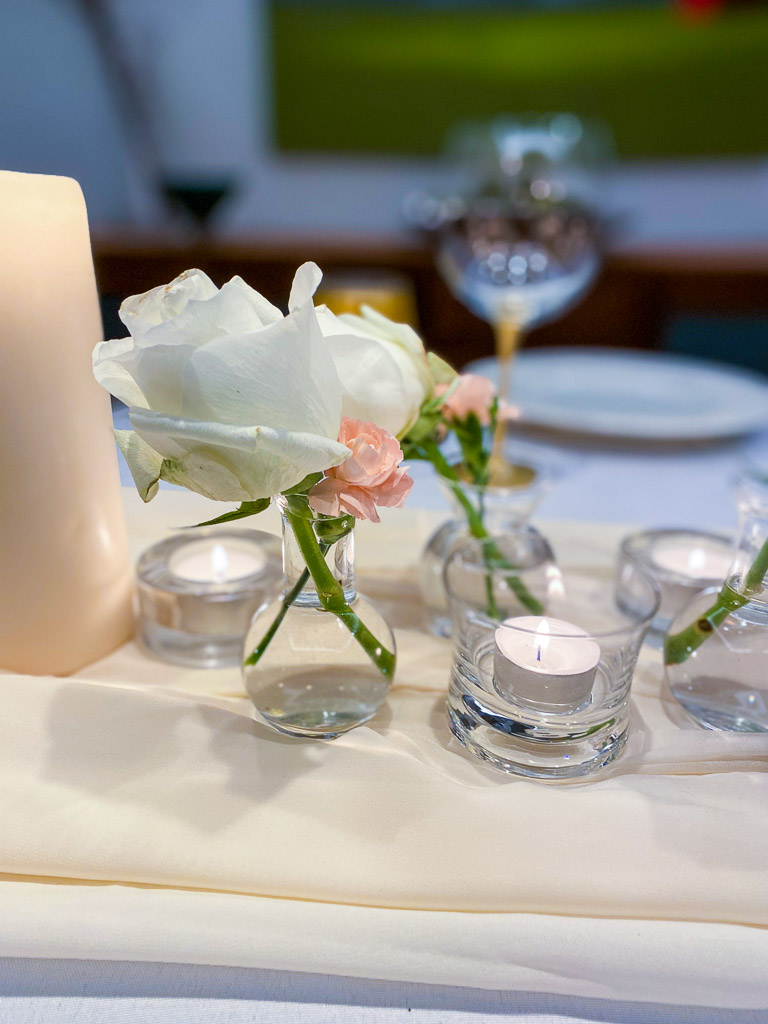 4. DON'T GO OVERBOARD …
The pop of color the peach roses bring keeps the ivory décor elements from looking too "matchy matchy."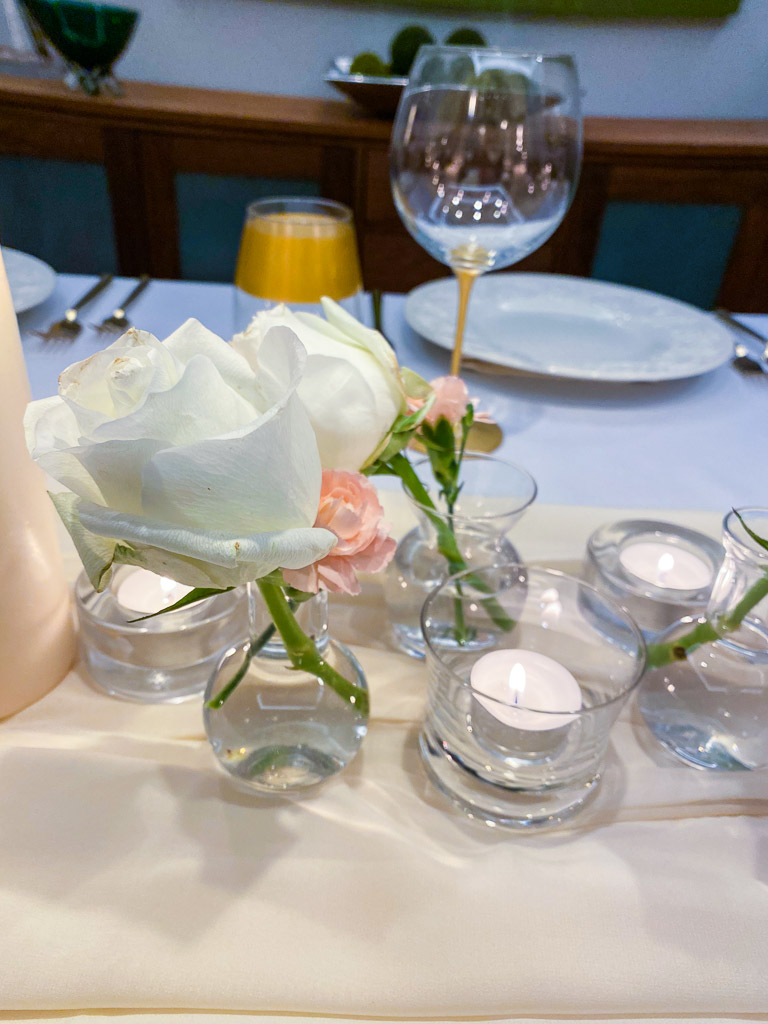 Two of my other favorite elements of this design are the gold flatware and gold-stemmed wine glasses. These items are totally on trend this year. I love the modern touch they bring to this table.
Did you try this idea? Share it on Instagram with the hashtag #makeeverydayanevent and tag @makeeverydayanevent! Looking for additional table setting ideas?
Check out these blogs: 
Sophisticated Easter table
Five Fall Tablescape Trends that We've Spotted and You'll Love