ONE TABLE, THREE WAYS! SO MANY FALL AND THANKSGIVING IDEAS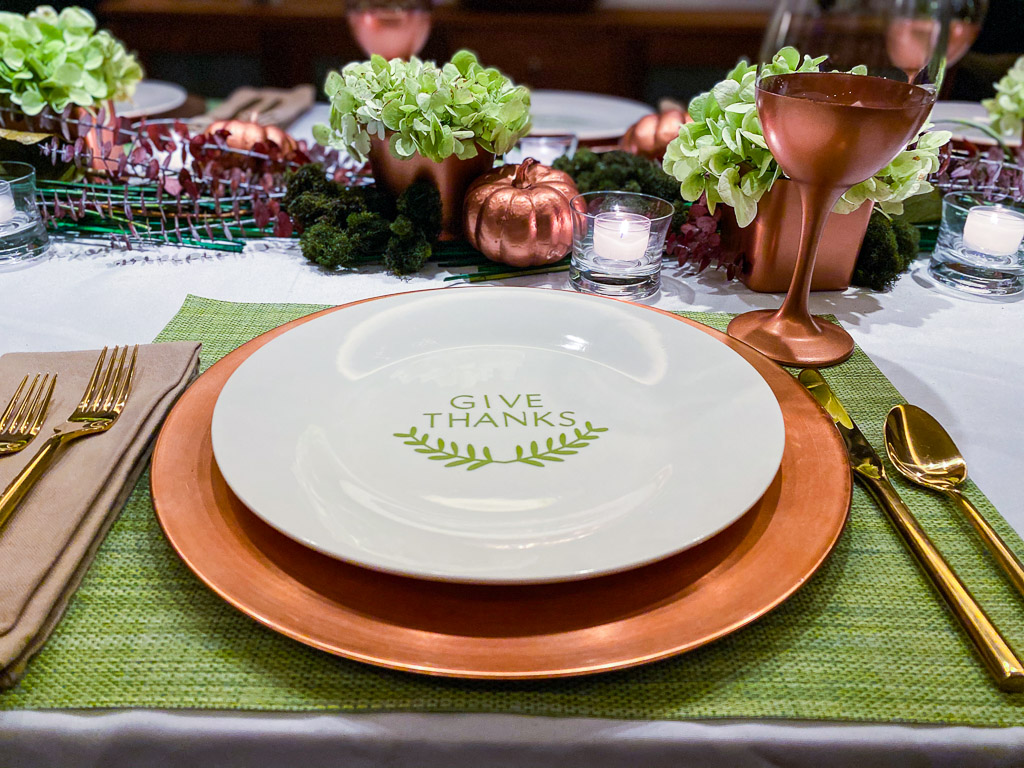 Thanksgiving 2020 ideas … ! We've got them and we're sharing them with you. We pulled together three different Thanksgiving tablescapes, showcasing unique and interesting ways to dress up your tabletop for Turkey Day. Each has loads of ideas that are creative and perfect to incorporate into any and all of your celebrations, whether you celebrate at lunch, dinner or somewhere in between. It's one table, three ways! And it's simply a treasure trove of Thanksgiving 2020 ideas! Enjoy!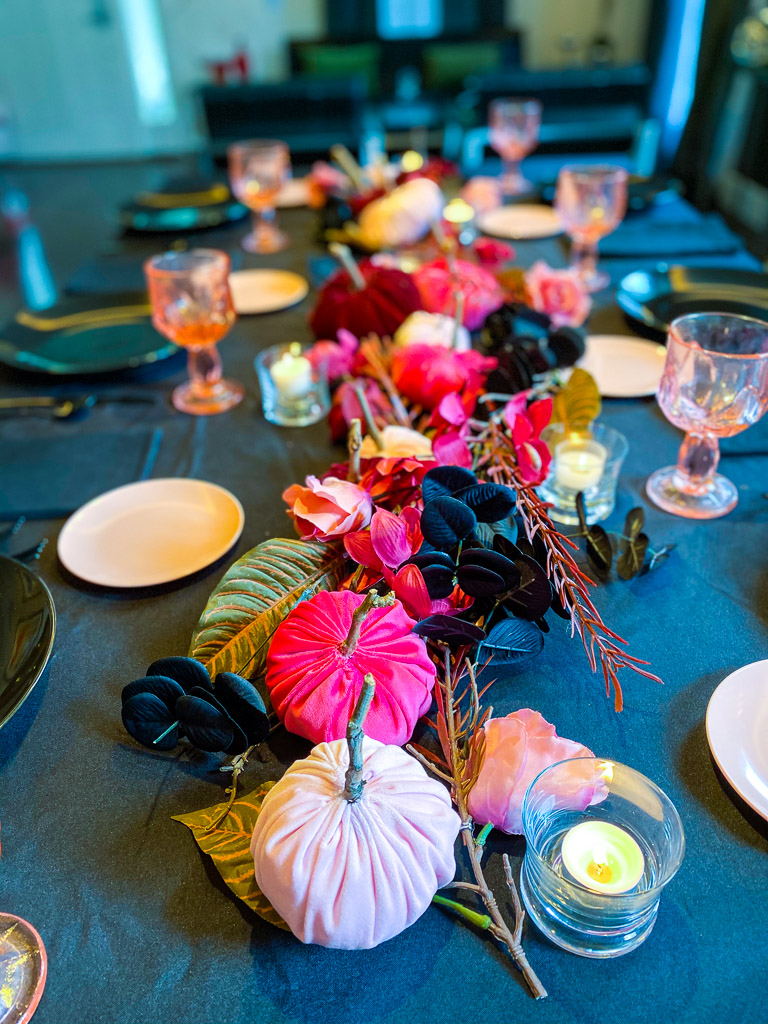 TABLE ONE: LUXURIOUS AND DRAMATIC
For this elegant Thanksgiving tablescape idea, I pulled inspiration from Putnam & Putnam, the acclaimed husband and husband duo who have designed florals for A-list tastemakers around the globe (think celebs such as Gwyneth Paltrow, Jason Wu, Adam Lippes, and the like). Putnam & Putnam's ability to make vivid floral hues pop simply draws me in. Many times, they accomplish this by their use of dark, dramatic and richly hued backdrops.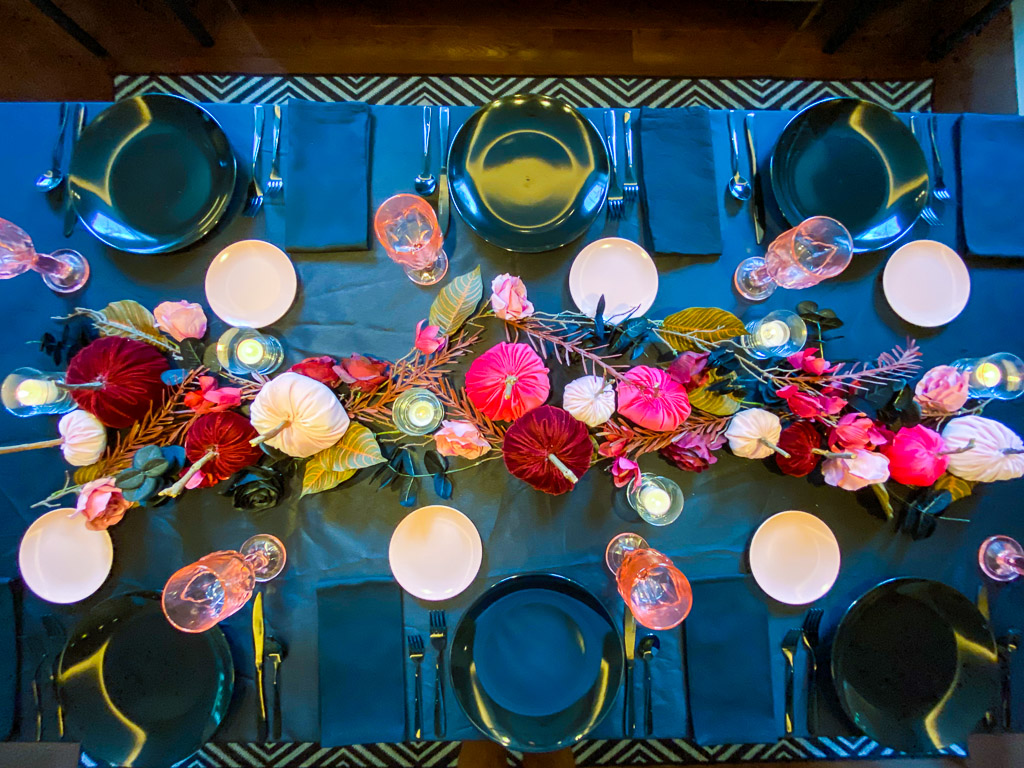 For this fall table, we took a cue from that technique by using a black tablecloth. Not necessarily the first color you would think of for the holiday. But this tabletop is anything but a typical. The resulting look is an elegant Thanksgiving tablescape idea you're sure to love! We walk you through how to get this look, step by step.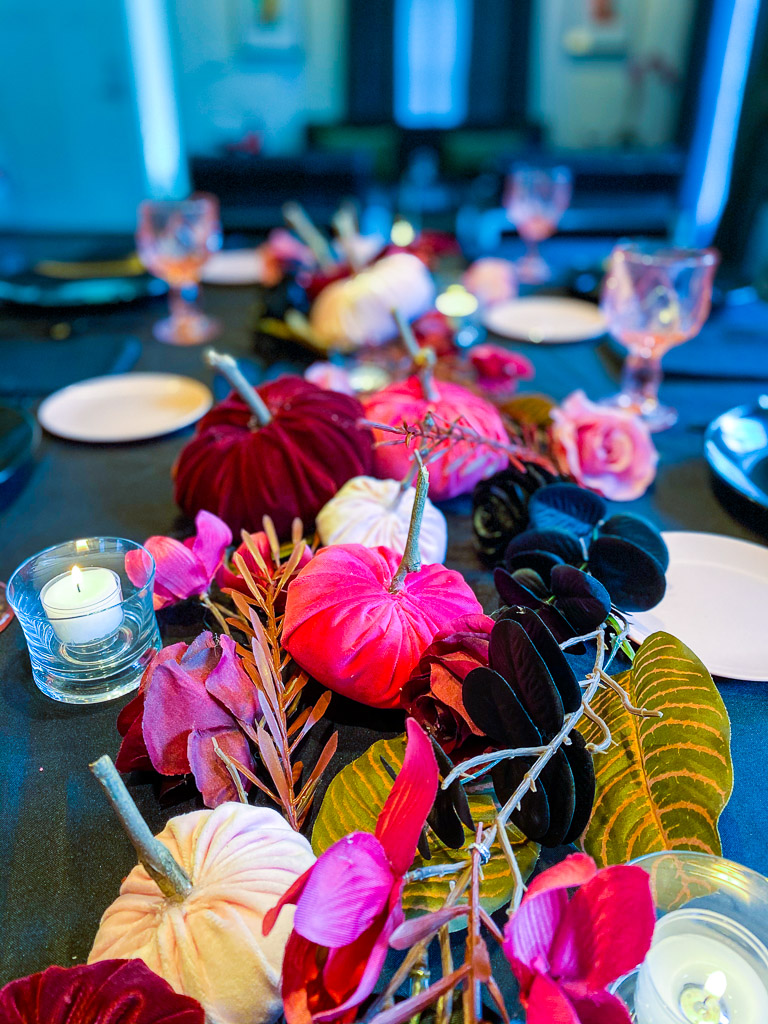 TABLE TWO: CLASSIC IVORY AND GOLD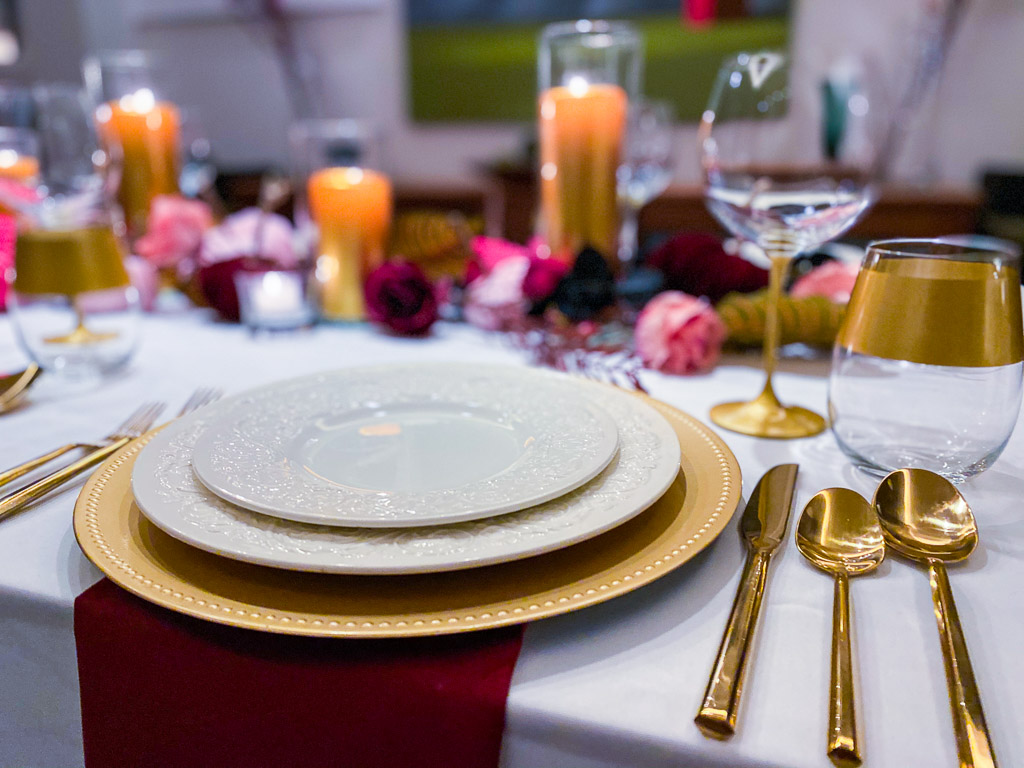 Thanksgiving is all about tradition. This includes your Thanksgiving table, whose setting likely incorporates many sentimental pieces evoking family memories of the holiday through the years.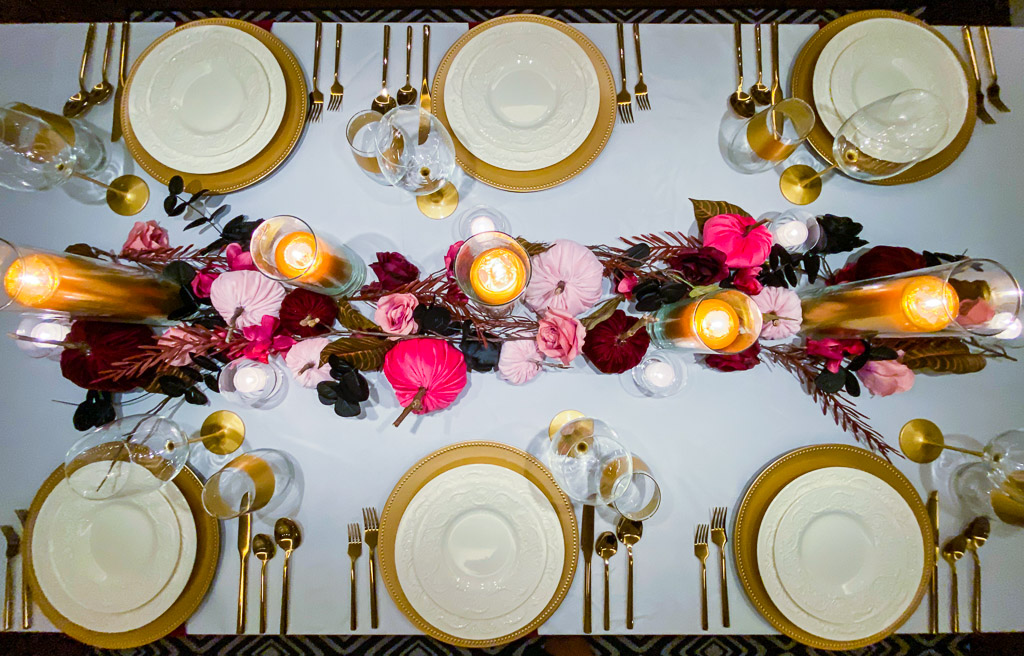 While there is a peacefulness and calm these items bring with them, sometimes it's just boring, to do the same thing year after year. For this table, we share five ideas to update your traditional Thanksgiving table.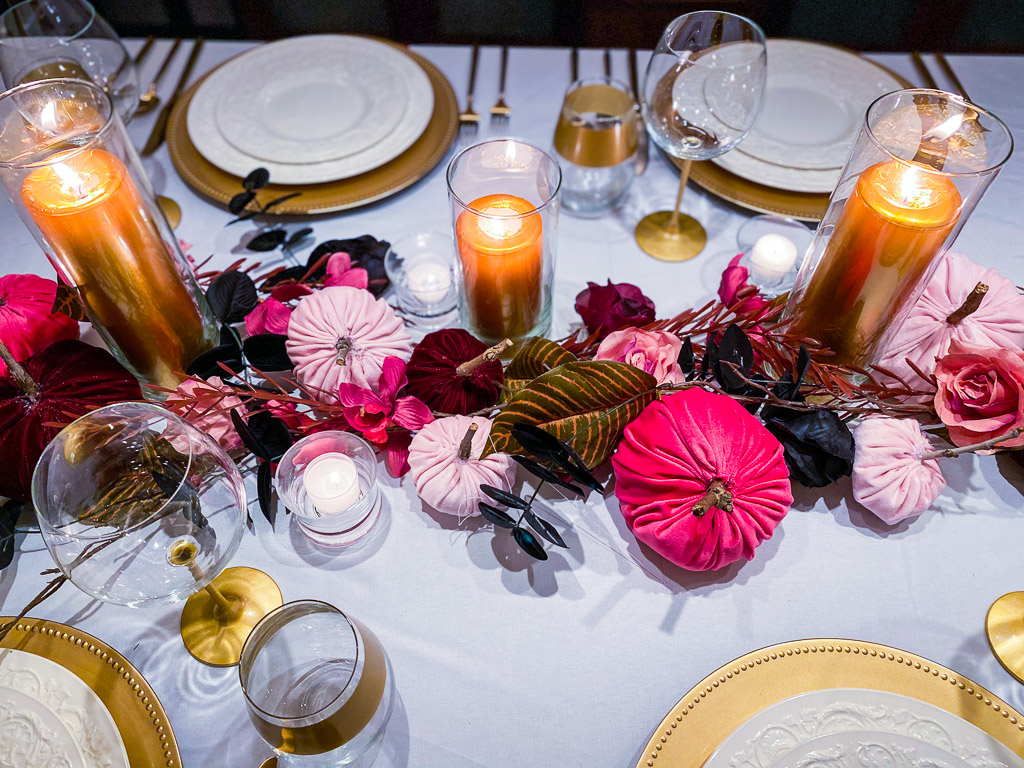 TABLE THREE: COPPER AND GREEN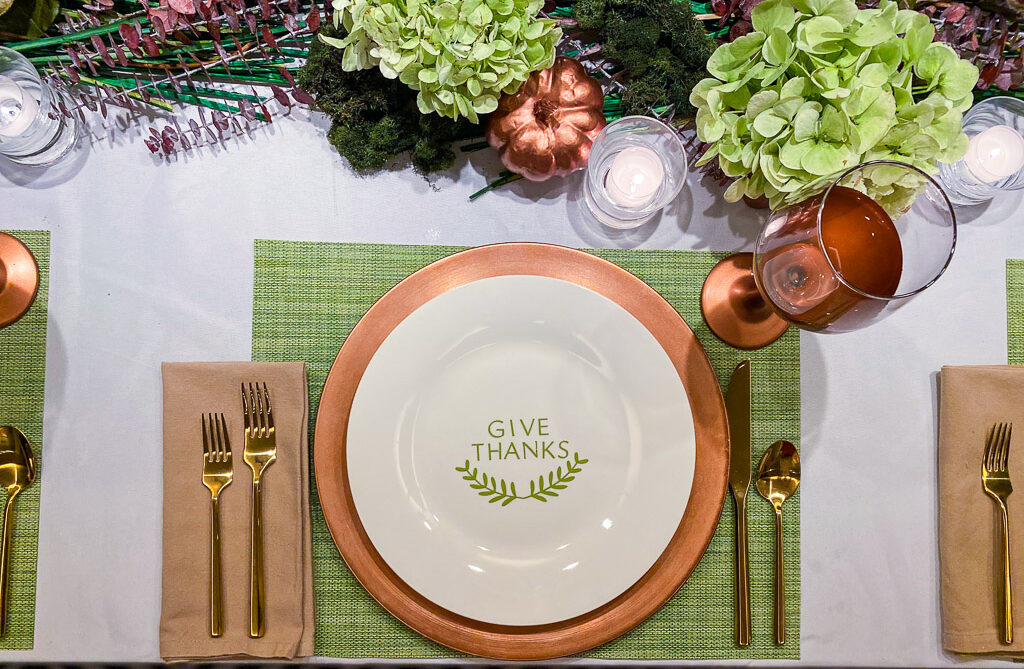 This Thanksgiving table features one of Fall's hottest trends: copper! Move over gold and rose gold, copper is trending this year and it's trending hard. Copper is everywhere. From Crate and Barrel to Pottery Barn, to West Elm and Williams-Sonoma, all of the major retailers are majorly crushing on this metal. How can you incorporate this popular trend into your fall tablescape? We details six tablescape ideas that will help you get this beautiful look, for less!