TWICE-COOKED POTATOES WITH CAVIAR
This is a great recipe which Martha Stewart shared when she recently toured the Petrossian facility. Apparently Martha loves to pair caviar and potatoes. And the connoisseurs at Petrossian agree with this twosome, so who were we to argue? This recipe was easy to make and really delicious.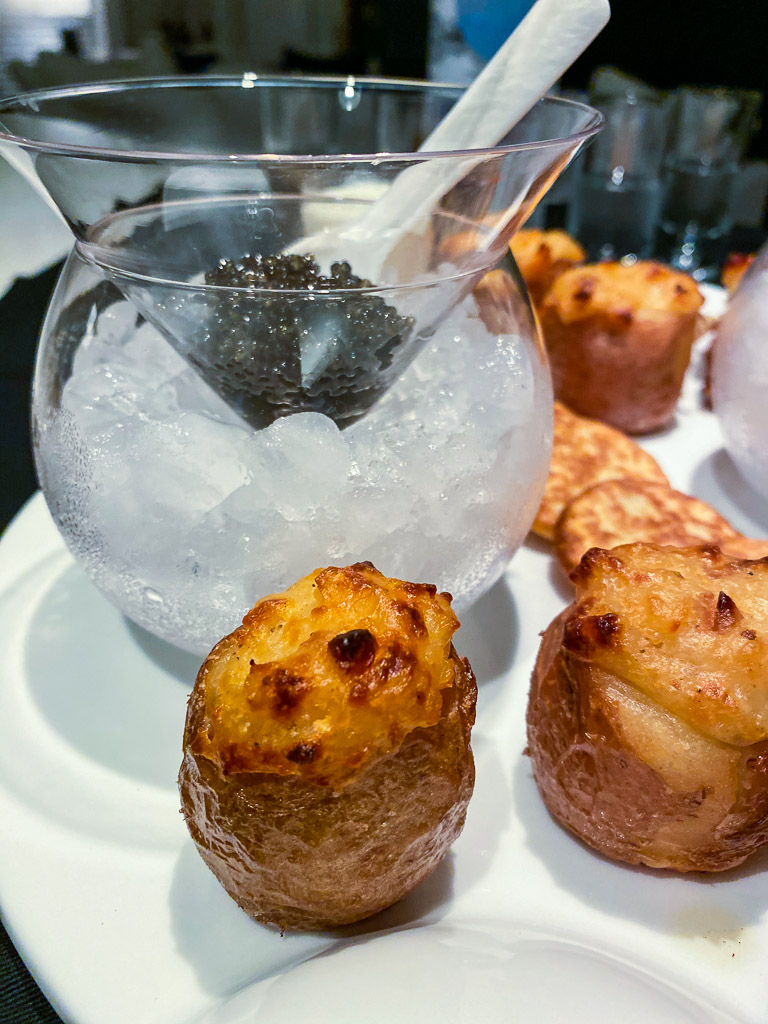 28 baby red potatoes
2/3 cup whole milk
1 tablespoon unsalted butter, room temperature, plus 2 tablespoons, melted
1/4 cup creme fraiche
Kosher salt and freshly ground pepper
1 tablespoon finely chopped fresh chives
Place potatoes in a large saucepan and cover with cold water. Bring to a boil, reduce to a simmer, and cook until just tender when pierced with the tip of a sharp knife (about 15 minutes). Drain well. Transfer to a rimmed baking sheet, and let stand until cool enough to handle.
Cut off tops and a thin slice from bottoms of 24 potatoes. Using a small melon baller, scoop out flesh from these potatoes, leaving a 1/4-inch-thick shell. Peel remaining 4 potatoes. Press whole potatoes and remaining flesh through a ricer in a medium bowl.
Preheat oven to 375 degrees. Heat milk and the room-temperature butter in a small saucepan over medium until butter melts. Stir into riced potatoes, a little at a time, until creamy. Stir in creme fraiche and the chives; season with salt and pepper.
Transfer to a pastry bag fitted with a 1/2-inch plain round tip. Pipe potato mixture into shells, mounding about 1/2 inch above top edge. Note: we simply carefully spooned the potato mixture into the shells and did not use a pastry bag.
Bake until tops are golden brown and slightly puffed, about 15 minutes. Brush with melted butter, and bake 15 minutes more. Top each potato with about 1/4 teaspoon caviar. Serve immediately. (Recipe courtesy: Martha Stewart)