WHY ORANGETHEORY IS SO IMPORTANT TO ME … A VERY PERSONAL POST!
Today I hit a milestone at Orangetheory.
A milestone that seemed daunting and frankly next to impossible a little over three years ago …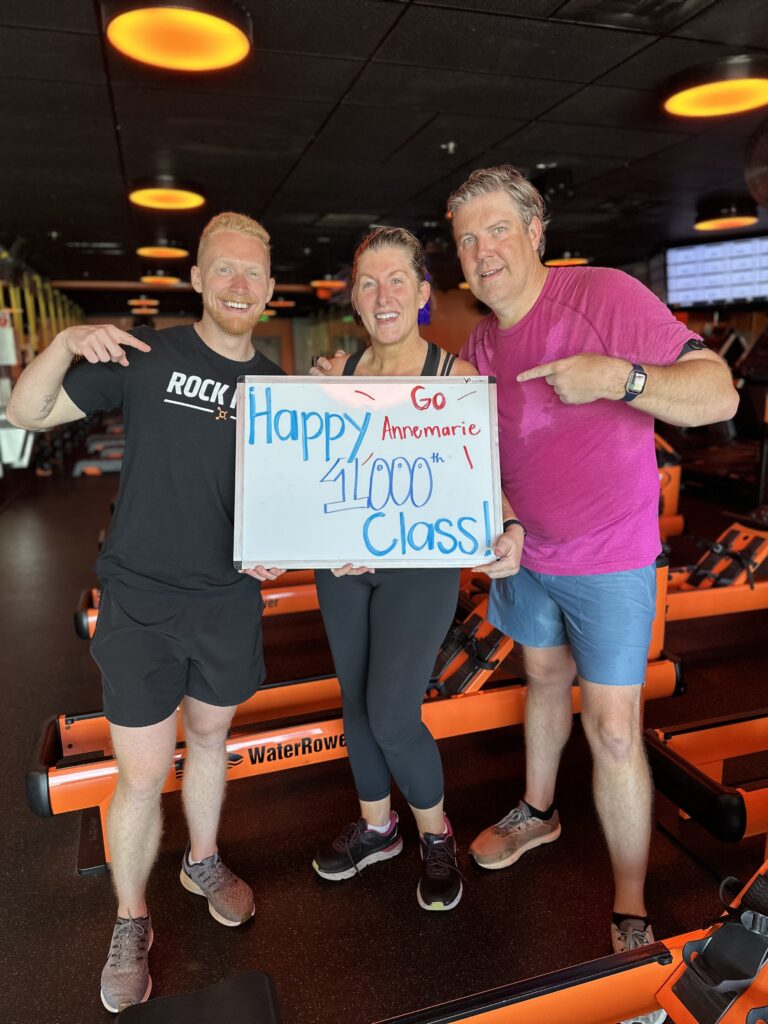 Today I completed my 1,000 class at Orangetheory Fitness.
I began taking classes there in 2018 after my mother passed away. At the time, I was a mess when I walked (okay, maybe waddled) in that door.
I was out of shape, exhausted from years of caring for my mom, and I wasn't taking care of myself in any sort of fashion.
It's a story too many of us have gone through, because life pulls us in a lot of directions.
I am so glad I was brave enough to take that first class.
And for many who know me, they've seen my fitness progression over the past five years.
For those who know me well, they know why I value my time at Orangetheory and what it truly means to me.
If there is one blog post you ever read on Make Every Day an Event, this is the one.
Why?
Because I'm going to explain just exactly why Orangetheory is so vitally important to me.
So without further ado, here we go. And fasten your seatbelts, because it's a wild ride.
IN A NUTSHELL, ORANGETHEORY SAVED MY LIFE.
I realize this statement sounds overly dramatic.
But it is not.
Because it's the absolute truth.
It was because of a fateful Orangetheory workout on Friday, July 17, 2020 (one that fortunately involved a lot of torso twists), that I discovered I had ovarian cancer.
Yup. Cancer.
I am so grateful I took the time to attend a 4:15 p.m. class that day. It was a class that literally changed my life's story.
A little over 24 hours later, I developed an intense pain and pressure in my lower right abdomen.
It was unlike anything I'd ever felt before and came on quite suddenly.
One minute I was sitting on my patio enjoying a warm summer evening and a cocktail with my husband.
The next, I was doubled over in pain.
A weird pain.
Recall, this was the height of COVID times. We'd been at the pool, socially distanced from our friends, but enjoying the atmosphere earlier that day.
That afternoon, something felt a little off, And in retrospect, I felt something odd when I'd worked out the day before.
But we were all paranoid about any little symptom during that timeframe.
So I shrugged it off. I think as women we often ignore a lot of things we shouldn't.
But this was different. And sudden.
I went to bed that night and hoped I'd feel better when I awakened.
But that wasn't the case. And I'm so glad I didn't shrug this off.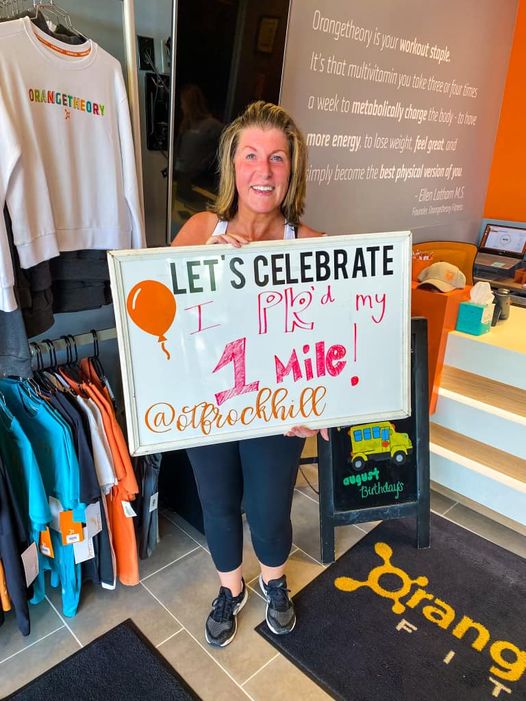 THAT'S MY FIRST LESSON OF THIS POST …
If something feels off, get it checked out. Do. Not. Wait.
The next day was Sunday. The last place I wanted to go was the urgent care.
Remember this was during the period when COVID -19 testing wasn't prevalent or easily available.
Urgent cares had long lines of people waiting each morning to be tested for COVID-19. And I was hell bent on avoiding any type of exposure to it.
But my husband, Matt, convinced me I need to go.
So I did.
Begrudgingly and holding my still throbbing lower right abdomen, there I was at what I thought was COVID central.
I can't exactly describe the pain I was experiencing. I can only to say it pulsed and hurt when I moved. It was very unique.
Of course, I'd googled my symptoms.
And texted a friend or two.
Our conclusion (without a medical degree among us, mind you) was that I had appendicitis.
Originally, the highly skilled physician I was assigned to (and whom I barely knew) thought I might be on to something.
But fortunately for me, he was very thorough. Even more of a blessing was the fact the urgent care I chose to visit had a CT scanner on-site.
And they were knowledgeable enough to know to check my blood. I am so grateful they were so exhaustive. And that my CA 125 was elevated (CA 125 is the blood marker for ovarian cancer, although not all ovarian cancers secrete it).
I knew something was up when an entire team entered my examination room after I'd returned from the CT scanner.
"You have a mass," stated Dr. Troy, whom I'd met just 20 minutes earlier.
"Do I have ovarian cancer?," I blurted out. And, honestly, I have no idea where, why or how I came up with that thought. It just popped into my head and out of my mouth.
"We also found some fluid in your abdomen.," Dr. Troy added.
"Cancer may be a possibility."
So much for Google.
My self-diagnosed appendicitis was anything but … and I was terrified.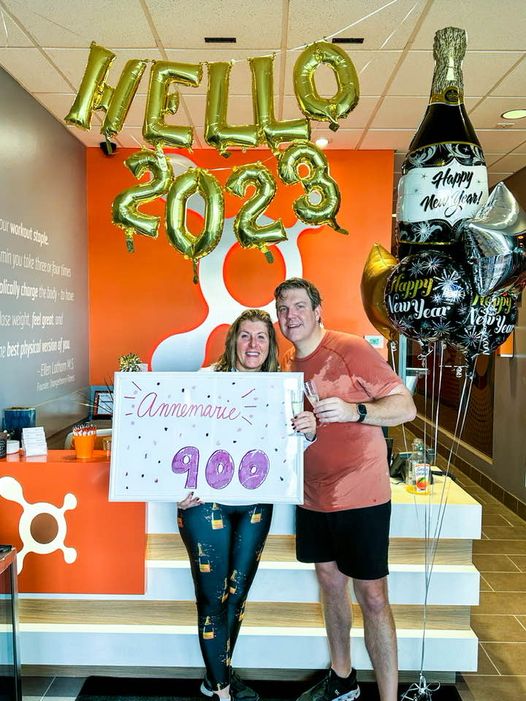 HERE IS MY SECOND LESSON …
Do not rely on Google for medical advice.
Google is great to find ideas on how to redecorate your bathroom or to remember how old Jennifer Aniston is.
It's not good to self diagnose.
If I had not gone to the urgent care that afternoon, the rest of my story would be tremendously different.
Remember rule number one, if something feels off, get it checked out.
The rest of that day included a trip to the ER with a whole wad of paperwork, more scans and a myriad of racing thoughts ranging from, "oh my God" to "this cannot be happening" to "these doctors are wrong" and "am I going to die?"
And everything (and I mean EVERYTHING) in between.
Needless to say, I did not sleep that night. Or for many nights after.
The months that followed included a major surgery, as well as six rounds of chemotherapy. It did not include Orangetheory. I was going through chemotherapy during a pandemic after all.
I was declared "no evidence of disease" in January 2021.
People often ask me about remission, but that is not a term I've ever heard from my doctor. No evidence of disease is the term he always uses. And it sounds great to me!
In future posts, I am going to write more about this time period. I really want to help other women who find themselves facing a cancer diagnosis and to work through chemotherapy.
I have a lot to share about how to get through it.
BUT FOR NOW, BACK TO ORANGETHEORY …
In subsequent doctor's visits, they believe the workout I did that fateful Friday (the date I will never forget, July 17, 2020), twisted my tumor causing what is called a torsion.
That torsion (or twist) created the tremendous pain that I felt on Saturday night and led me to go to the urgent care. Basically the torsion cut of the tumor's blood supply.
I cannot tell you how grateful I am that I went to that urgent care.
Because in all honesty, I felt fine by Monday afternoon. I very well could have ignored that symptom. And that would have been a huge mistake.
LESSON THREE: DO NOT IGNORE THINGS!
"That workout likely saved your life …"
Those were the words of my primary care physician after I'd completed treatment and was released back into her care.
And it has taken me almost three years to write them.
Because she is right.
It is so tremendously bone chillingly scary to think about ALL of those dominos falling into place for me to be able to discover my cancer when I did.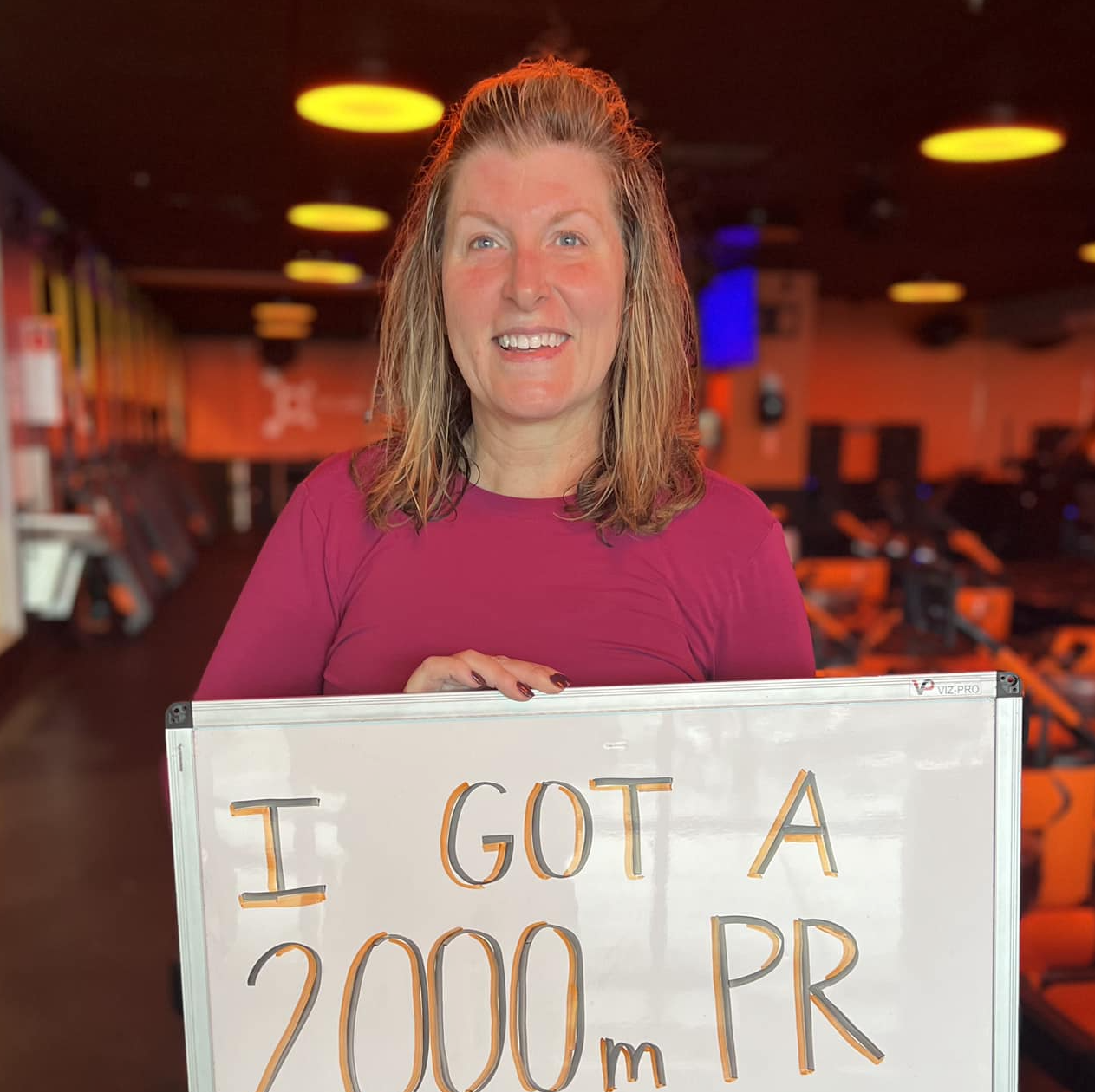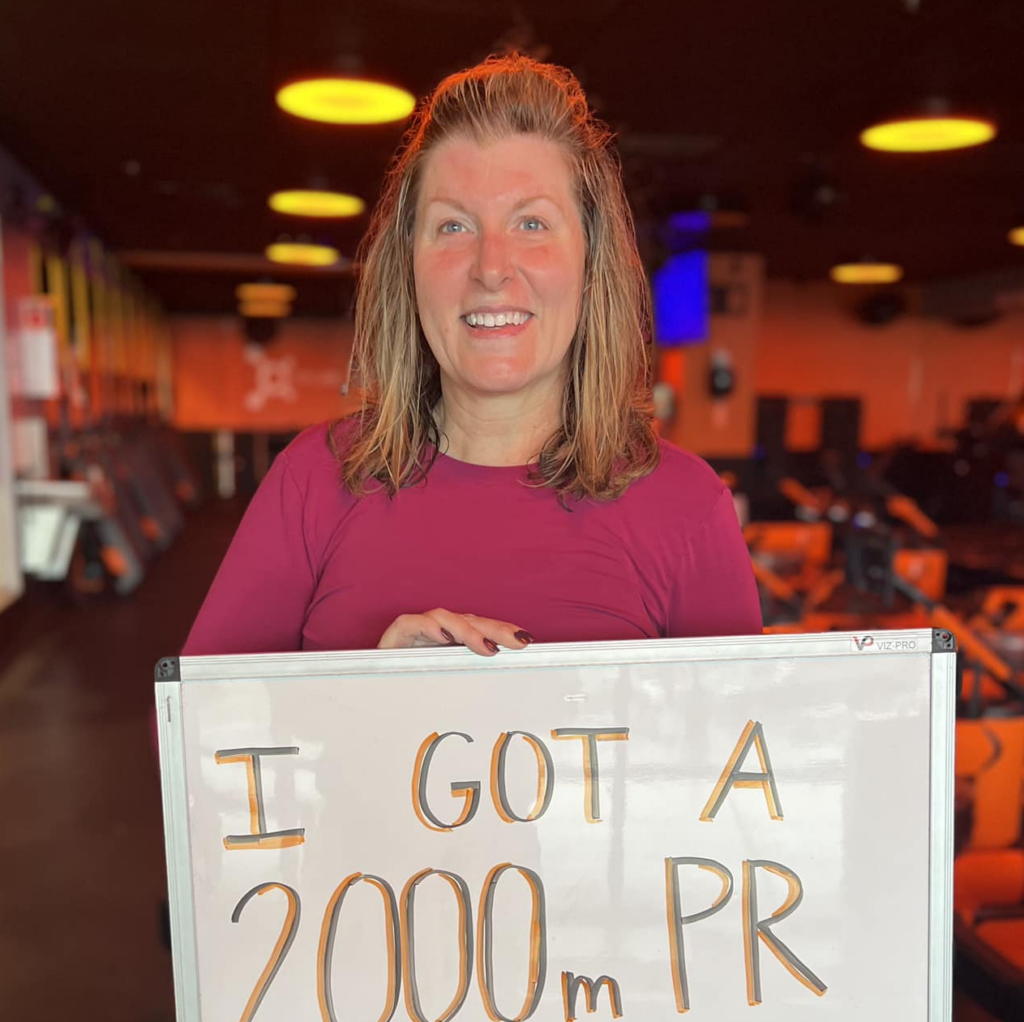 I WAS SO, SO FORTUNATE.
Ovarian cancer is a silent killer of women. Typically it is not found until its latter stages.
There are not good routine diagnostic screening methods for ovarian cancer. There is no equivalent of a mammogram like there is for breast cancer. No colonoscopy-like test exists.
And that needs to change.
But that story is for another day and a fight I'm going to take on.
Stay tuned.
Because of the pain that workout most likely caused, my cancer was found at stage one.
And I am shaking as I type those words.
I am so grateful, lucky, fortuitous … there aren't enough superlatives to describe how indebted I am to that workout.
And for the approximately 400 workouts I've been able to complete since my cancer treatment ended.
They have helped me to rebuild myself and my post-cancer reality, both physically and mentally.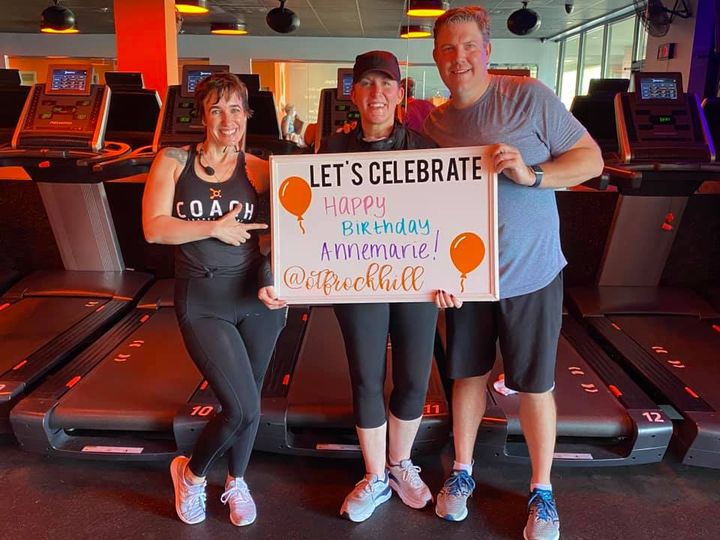 I COULD NOT WAIT TO RACE BACK INTO THE STUDIO …
In March of 2021, fully vaxed and completely bald, workouts became a haven for me.
Orangetheory was the only place I'd go without my wig.
And it was my therapy.
My body wasn't in the physical shape it had been in the previous year due to the COVID-19 shutdown and, of course, my cancer treatment.
But that didn't matter.
My body was healthy enough to get me through the workouts and my mind was only focused on making it through the next hour.
And that's what I did. And I continue to do today.
Hour by hour, class by class.
As my favorite coach always reminds us, "if you're moving you're winning."
Truer words have never been spoken.
Today, as I reached my 1,000 class milestone, I continued to be grateful for all Orangetheory has given to me.
And that's why it's such an important part of my life.
Every time I enter the studio, I always look to the far wall which is emblazoned with their corporate motto, "More Life."
For me it's so much more than a tagline.
It's my reality.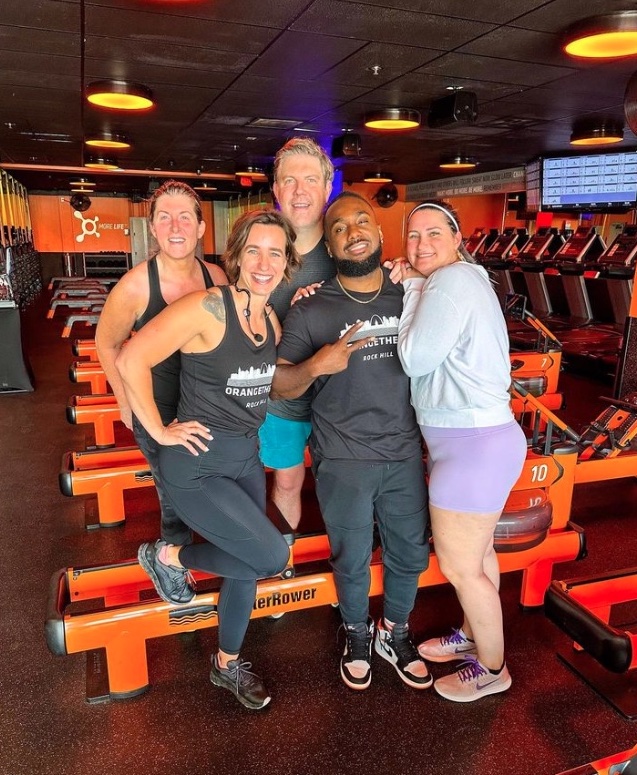 SO … IT'S TIME TO CELEBRATE!
1,000 workouts at Orangetheory in the books!
But I also want to do more …
While I'm making a personal goal of 1,100 classes by the end of 2023, I also want to make it count.
Not just for me, but for others as well.
That's the ethos of Make Every Day an Event. Celebrate each and every day you have.
For every class I complete, I'm setting aside $10, with a goal of donating $1,000 to Siteman Cancer Center at the end of December, 2023.
And I'm hoping others will join me along the way to make a difference not only in our lives, but the lives of others. Maybe we can reach $5,000? Or more!
Let's make "more life" a reality for those battling cancer.
I'll share more details on how you can join me in donating later this month.
I also hope you'll follow me on Instagram stories to see where I'm at on my journey to 1,100 and provide encouragement along the way!
We can do this!
Together, let's make every day better and healthier, as well as festive, bold and beautiful.
Because there's always something to celebrate. You just have to find it!
How will YOU choose to celebrate today?
Check out these additional post I think you'll love:
A Bold New Direction for Make Every Day an Event
We Celebrated National Spinach Day with these great smoothies
If you have any questions or suggestions, contact us or leave a comment!
Follow us on social media! You can find us on Instagram, Pinterest, and Facebook.