BEAUTIFUL TABLETOP DECOR IDEAS YOU'VE GOT TO SEE THAT ALSO SUPPORT A GREAT CAUSE
Tabletop decor ideas from the talented designers participating in an event benefiting our local children's hospital.
So much inspiration!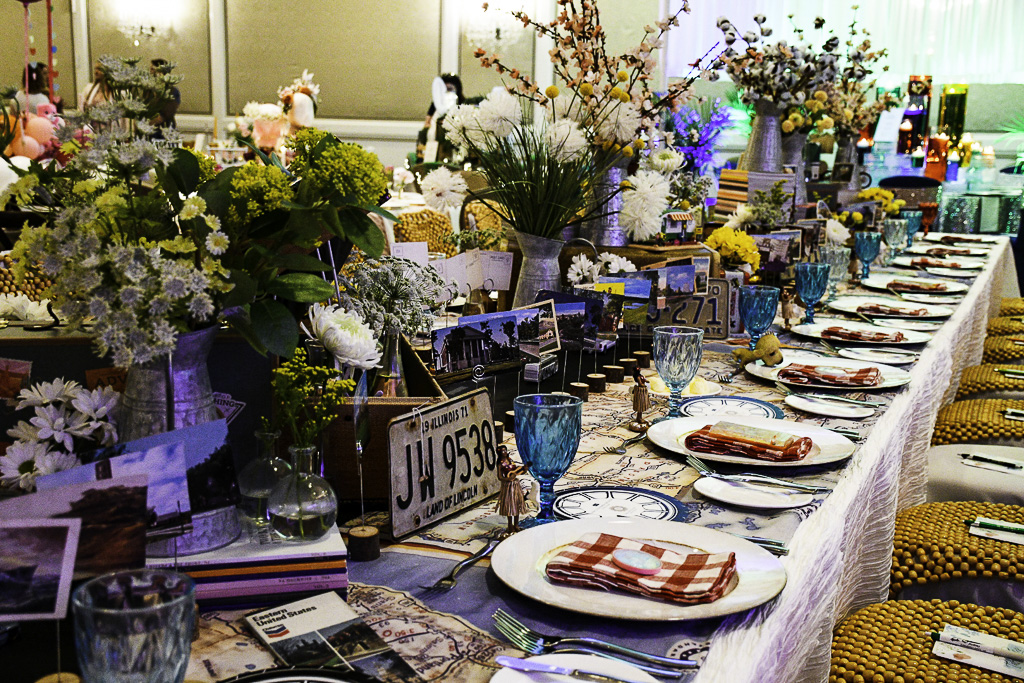 Make every day better.
It's one of the five key tenets around which I've rebuilt Make Every Day an Event.
Sometimes, even to me, it can sound very lofty and somewhat daunting. Because who truly doesn't want to make every day better? But where do you start?
And what does that phrase really mean on a practical, daily level?
The answer is still evolving.
But at the core, I'm just hoping to inspire and be inspired by people who are simply partaking in a few unassuming ways of giving back to their world.
It doesn't have to be grand gesture. It doesn't have to involve donating millions of dollars.
Finding small ways to help make the world a better place within your own little ecosystem is exactly what "make every day better" is all about.
Recently I had the opportunity to do just that!
I was honored to give back some of my time and talent to a great cause, the 2023 Table Tops Spring Event which benefited St. Louis Children's Hospital.
This is the third time I've quietly participated and it's a day that I simply love.
I felt grateful to be one of the 40 designers who pulled together a table top based on a chosen theme.
This year each of us were asked to be inspired by one of our favorite childhood memories.
AN AFTERNOON FULL OF CREATIVE TABLETOP DECOR IDEAS FOR A GREAT CAUSE? SIGN. ME. UP.
Wow … was I amazed by all of the tables.
The abundance of creativity and imagination in the room was so inspiring.
It was only outmatched by the knowledge the event benefited programs and services supported by the hospital's Wings pediatric home care program and the Pediatric Advance Care Team (PACT), which is the largest pediatric palliative care team in the St. Louis region.
All of the glitz and glamour of the luncheon was grounded by the fact the event was raising money to help families whose children may not live to be adults.
It was a fantastic day with more than 600 people in attendance and it raised a lot of support for a very good cause.
You are going to love all of the tabletop decor ideas I'm going to share.
SO WHICH CHILDHOOD MEMORY DID I PICK?
I decided to participate in this year's event back in January.
Obviously the first logical step was to decide which childhood memory I wanted to choose. I knew I wanted my table to be a bit over the top, so I approached my choice from that perspective and bounced a bunch of ideas around in my head.
These included logical milestones such as Christmas, Halloween, and the first day of school.
But then I dug a bit deeper and began looking through old photos albums. The answer became clear. I wanted to design my table around ballet class and dancing school.
The countless hours I spent studying dance as a child and the memories the dance studio holds for me are truly some of my favorite moments from childhood. Plus, I could immediately begin to picture the table and the elements on it.
My choice was made! Let my creative process began!
HERE IS THE END RESULT …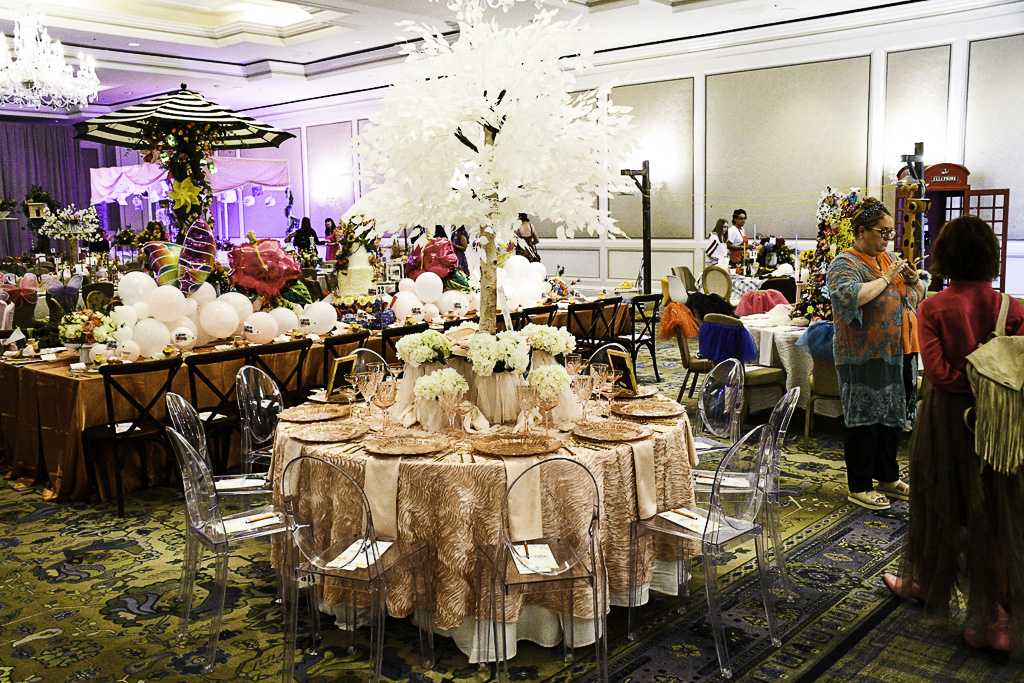 There are so many great elements on the table that would be perfect for a baby shower, birthday party or even a gala.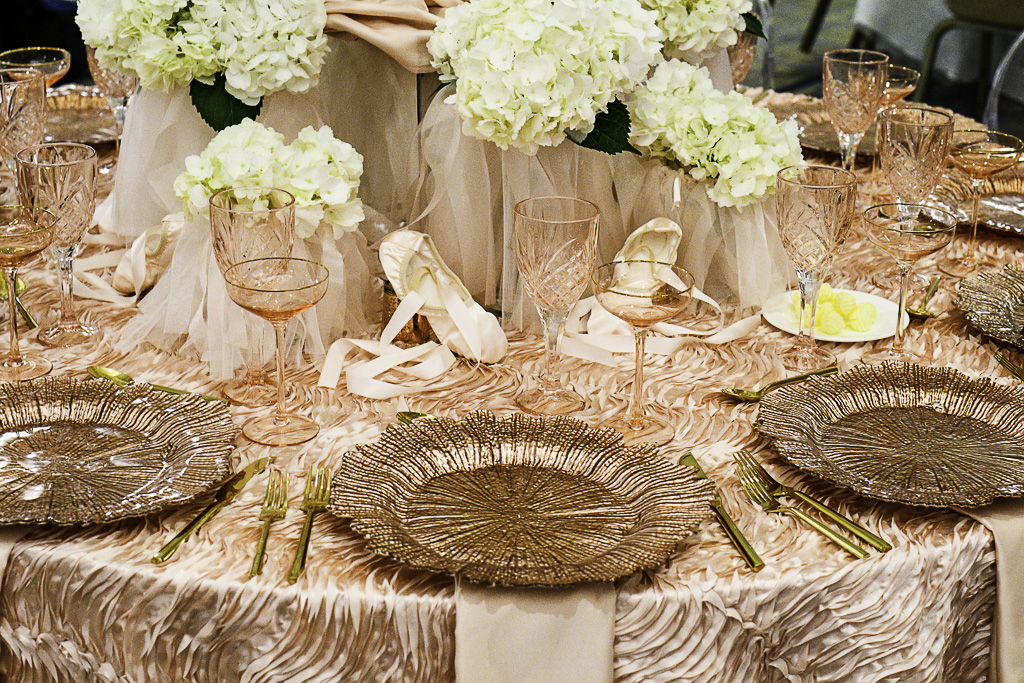 I love the ghost dining chairs, not only for elegance they bring to the dining table, but also because they allow the table linens to really be showcased.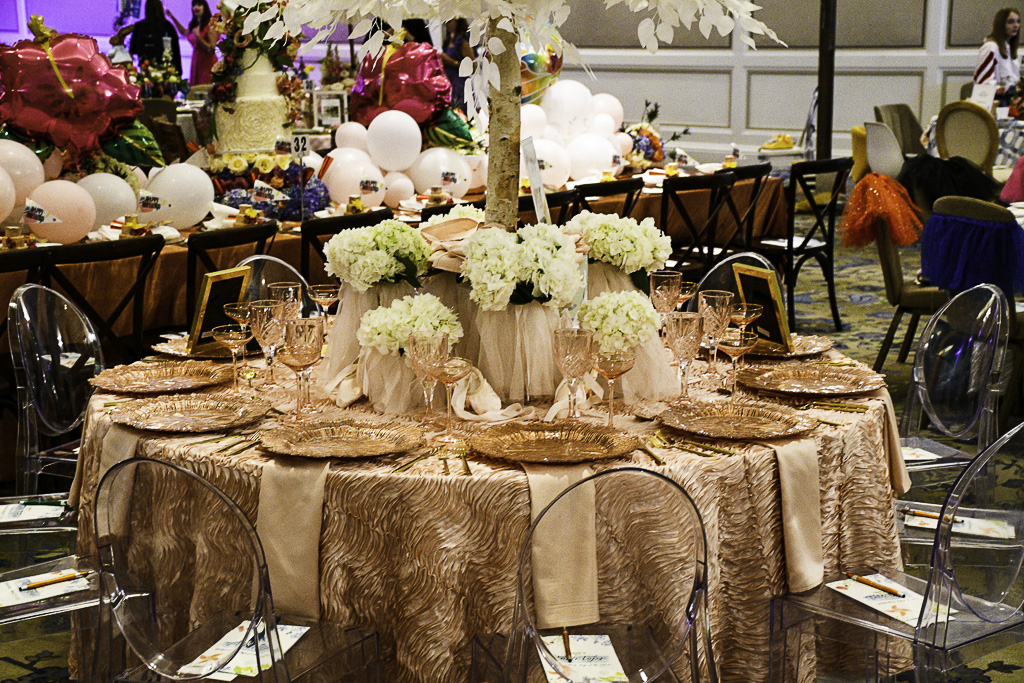 I was thrilled with the end result and I'm going to take you step by step through my design process in a subsequent blog.
But for now, I want to showcase the phenomenal work of my fellow designers who also gave of their time, talent and treasure to support this great cause.
I discovered an abundance of great table decoration ideas as I walked around the ballroom.
It was such a wonderful event and I am thrilled to share all of the table decor inspiration with you.
LET'S SWOON OVER THESE GREAT TABLETOP DECOR IDEAS …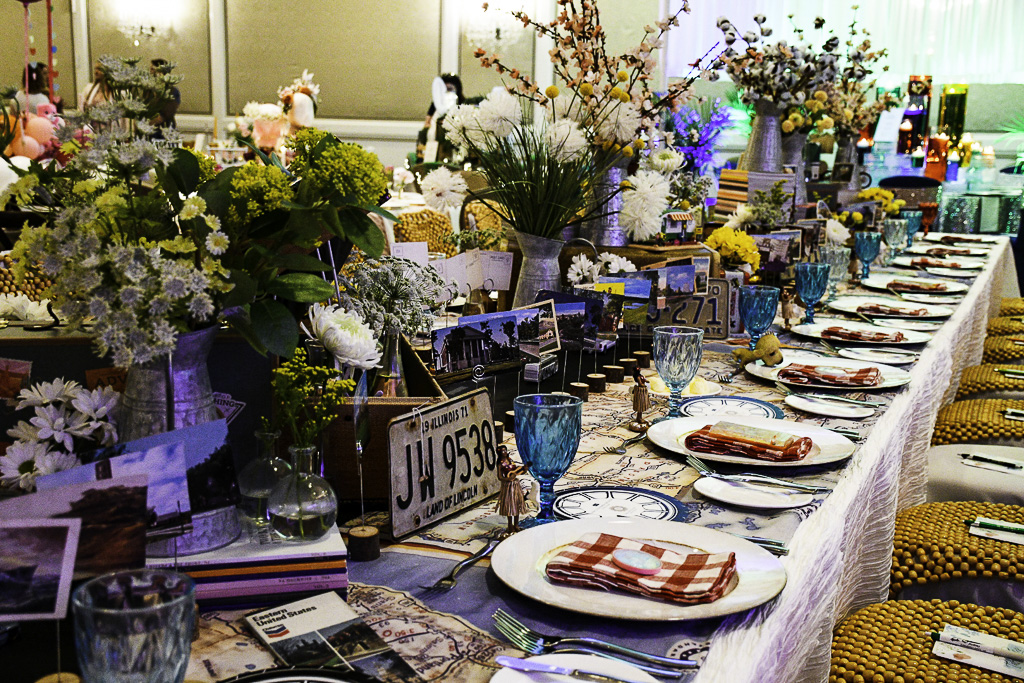 "Roadtrips" was the theme of this table and I simply cannot get over the level of detail within all of the decorative items and tabletop decor on this stunning table!
A vintage map was first placed on the dining table as a table runner down the entire length of this table, which seated 22 people.
On top were a wide variety of travel decor items including vintage license plates, travel maps, and postcards.
There were so many layers of elements to discover … kind of like an actual road trip!
And what I loved the most were the flowers. Placed down the center of the table were florals at variety of heights in galvanized pitchers and other containers.
It really lent itself to the road trip vibe, since the flowers the designer chose were daisies, grasses, and the like … flowers you might naturally see out of the car window on a country road.
The level of detail of table decorations on this table was just over the top. But the next table was equally stunning …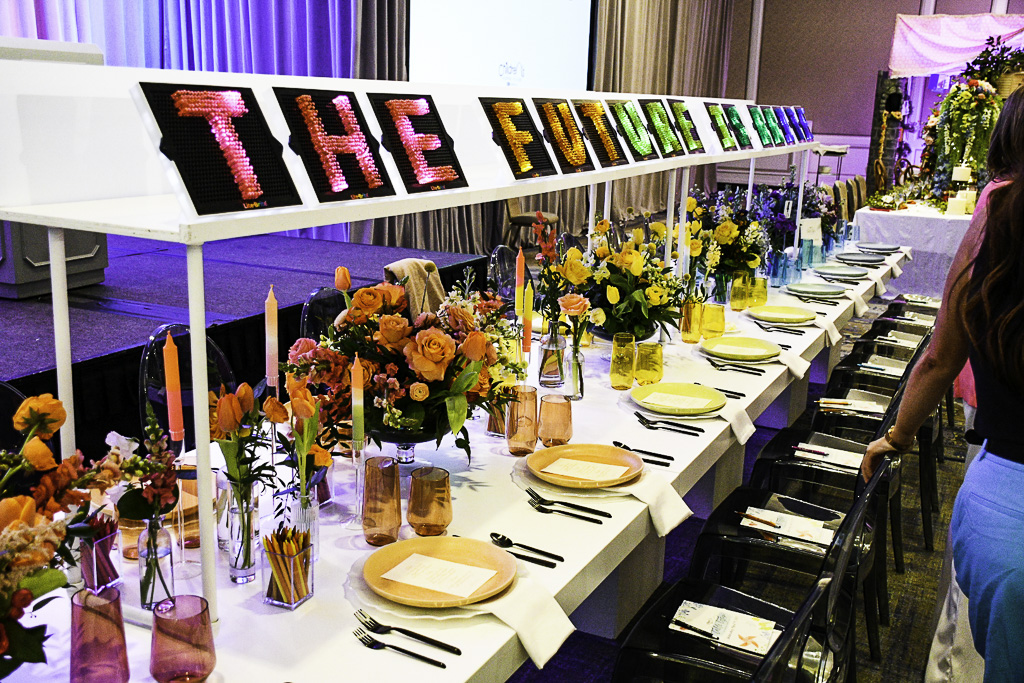 This table setting was themed, "The Future is Brite," playing off a beloved childhood toy of generations past (and that would be my generation!), the Lite-Brite! So clever!
The floral arrangements at the center of the table contain a variety of fresh flowers and the color scheme is an ombre rainbow, similar to all of the bright vibrant colors which made the Lite-Brite so enthralling as a kid.
And of course, I love the colored glassware!
They also utilized one of my favorite tabletop decor ideas, keeping your decor items in the center of your table.
It's an easy way to create a modern tablescape and practical one as well. This table also sat 22 people, so keeping items in the center allowed for plenty of elbow room for each guest to have fun.
And who wouldn't have a blast at this cheery setting? I plan on stealing some of these ideas for a fun dinner party in the future!
ANOTHER GREAT TABLETOP FULL OF DECOR INSPIRATION …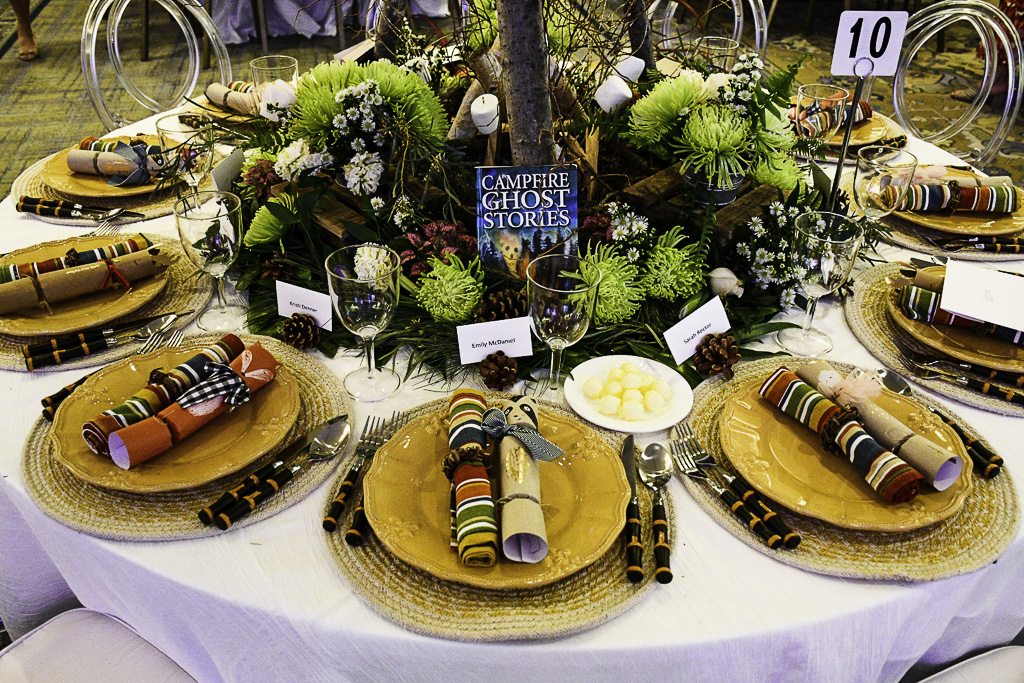 This is one of my favorite tabletop decor ideas I saw at the event, "Campfire Stories."
I love a good indoor campfire theme and have even featured my own version in the past.
This designer chose to start with a classic white linen and build from there. But the focal point of this table is the perfect centerpiece right in the middle.
I love the natural elements of the table centerpiece. And the cherry on top is the simple, yet clever, addition of pine cones as place card holders. Again, a great idea for future use.
And tying the napkins together with a simple piece of fabric makes a cute napkin ring. I just love it!
I also couldn't stop looking at this outdoor themed table …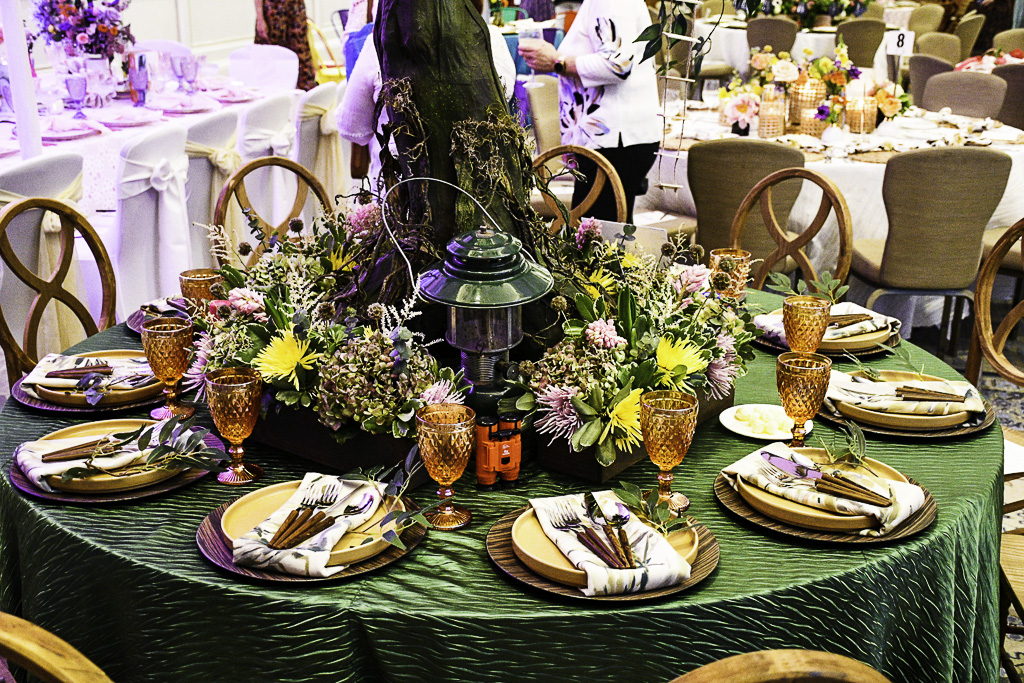 These table linens really set the scene for this table which was themed "Picnics in the Park."
I love the texture in the green table cloth, which really adds an elegance and interest to this table setting. The green color is identical to the grass on which a picnic could be held in a park. See what they did!
In addition, the amber goblets are reminiscent of vintage pieces and they are a great personal touch.
But the fresh-cut flowers in this spring centerpiece really make this a scene!
They are just gorgeous and tie the entire table together.
I also love the wooden chairs. They would be great to rent for an outdoor party this summer.
ANOTHER GREAT CHILDHOOD MEMORY BROUGHT TO LIFE ON A TABLETOP!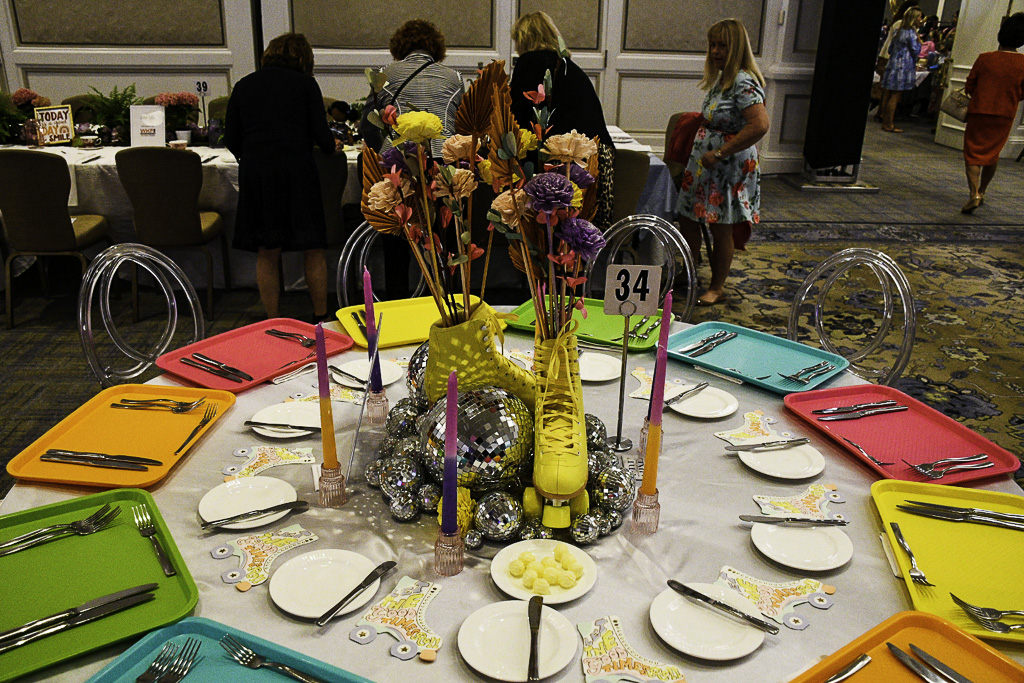 This tabletop was super fun with its theme of "Roller Disco – Let the Good Times Roll."
There are so many creative touches, including adding a decorative cafeteria tray in bright neon colors.
I think they really pop on the white tablecloth. But better yet, they also serve as a place mats! This would be a great idea for a casual buffet dinner.
The roller skates, painted a fun neon yellow color to match the trays and grouped with a variety of different sizes of disco balls, are simply the perfect centerpiece for the theme.
So fun!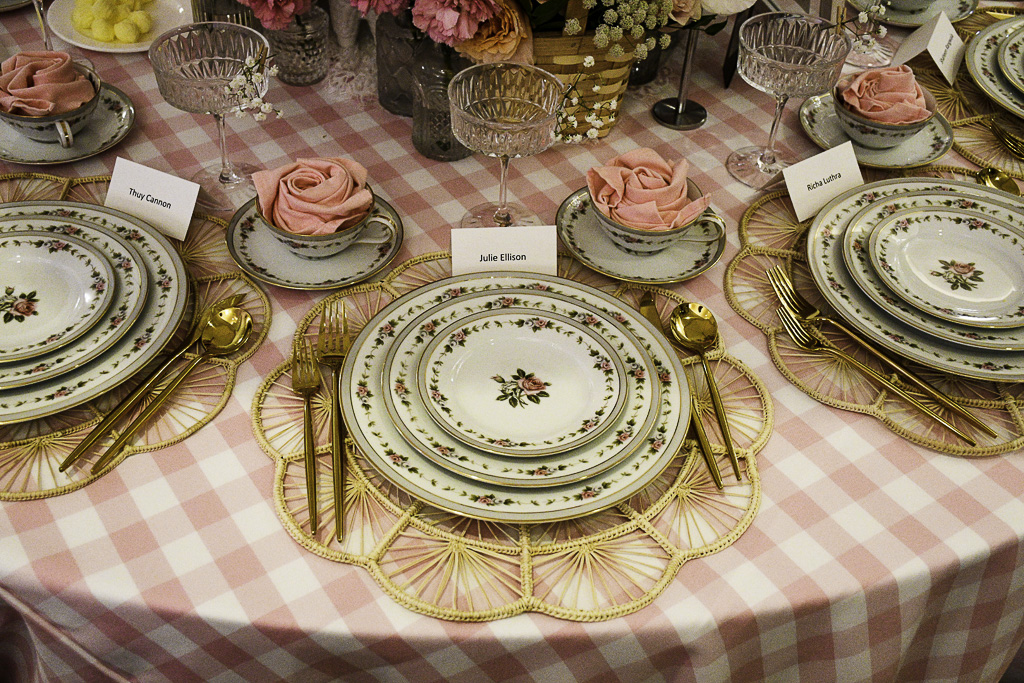 The beautiful setting on this table, which was themed "tea party," is highlighted by the pink color napkins.
I love how the designer folded them like roses and placed each of the napkins into a tea cup. It's a special touch that is simply adorable.
And easy!
And I'm so going to steal this idea at some point!
I also think the place cards are such a great personal touch and are always an excellent addition to any dinner party, especially if your guests don't know each other well.
Taking a few minutes to thoughtfully place people next to each other can help to spark conversation.
THE EYE CANDY AND TABLE DECOR IDEAS WERE JUST GETTING STARTED …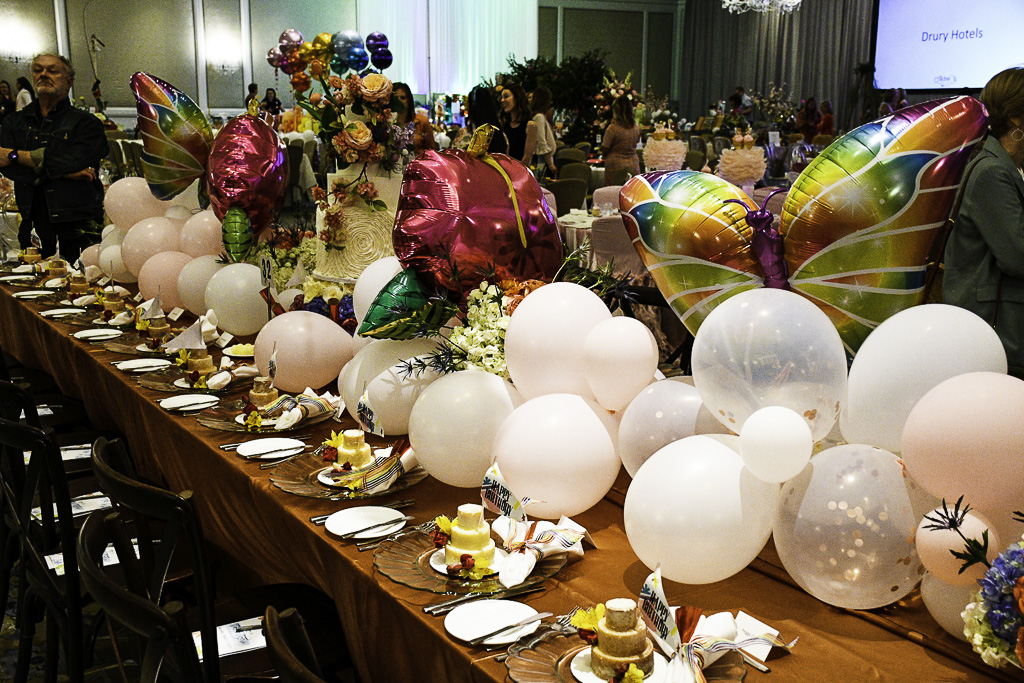 Balloons are always a great way to make a big impact and this table used that trick to their advantage.
This table's theme was "Childhood Birthday Celebrations" and I love it.
My favorite decor element on this table? The happy birthday pendants that adorn the individual cakes at each place setting.
The burnt orange tablecloth is also made a bold statement that really added an element of drama to this tablescape.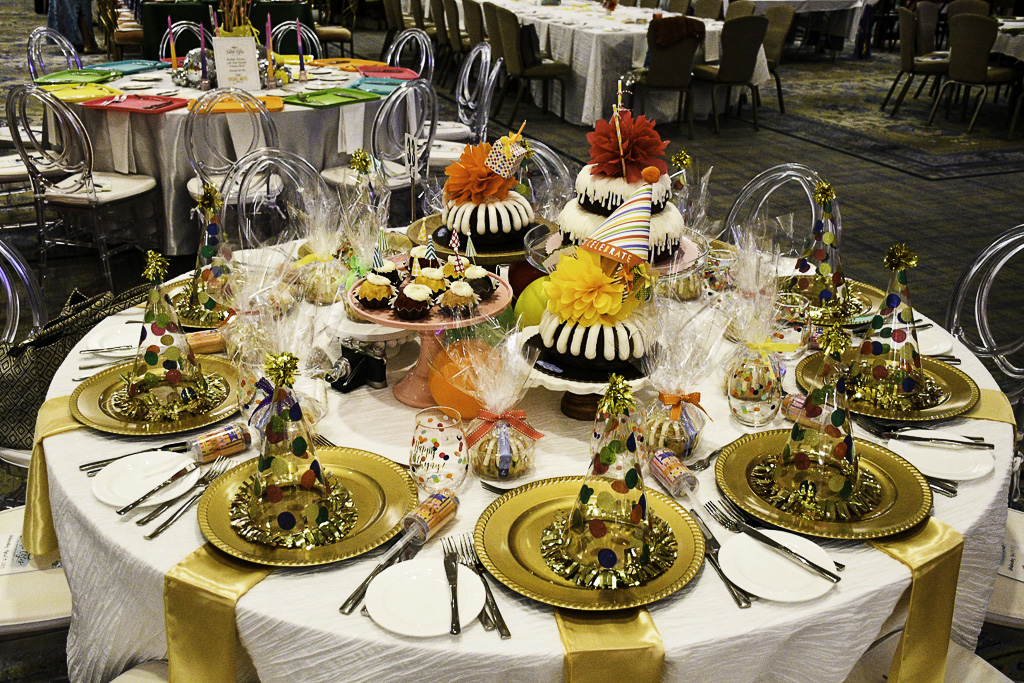 Another designer also chose a similar theme with this table that was simply named, "Birthday Party."
How fun is everything going on within the tablescape?
I love the gold accents. And matching the gold satin napkin with the gold charger is such an easy technique that really creates an elegant statement.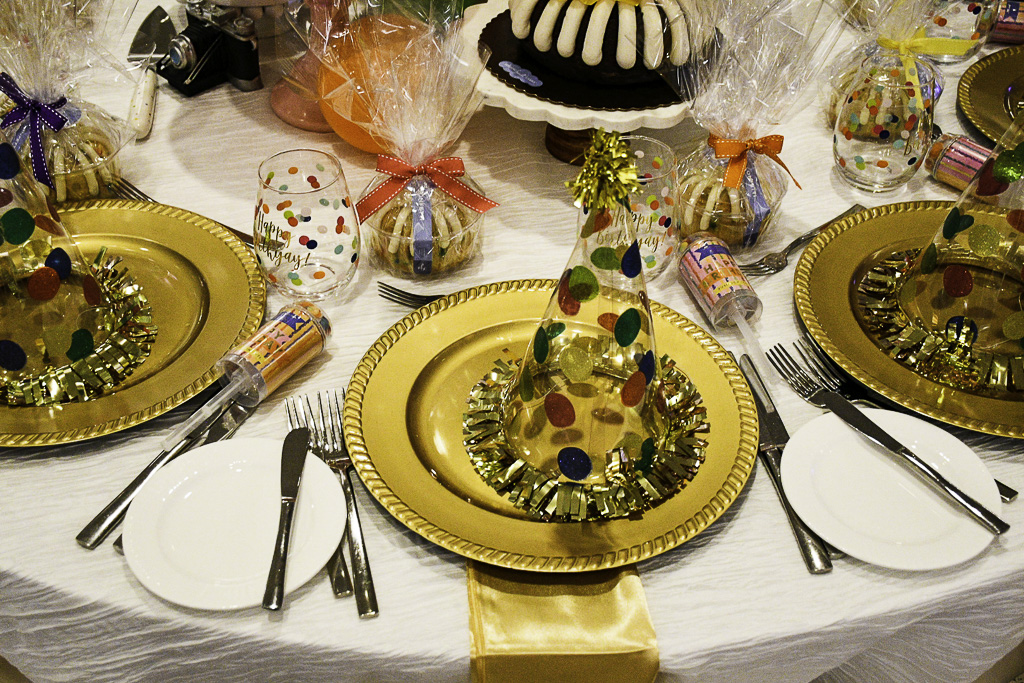 But the best tabletop decoration idea on this table (other than the plethora of deliciousness that makes up the centerpiece), are the adorable birthday hats on top of each charger.
They are so cute!
And notice how the polka dots on the hats match the polka dots on the glasses.
Genius!
How fun would these be for a grown-up birthday party celebration?
THE FINAL TABLES AND THEIR AMAZING IDEAS …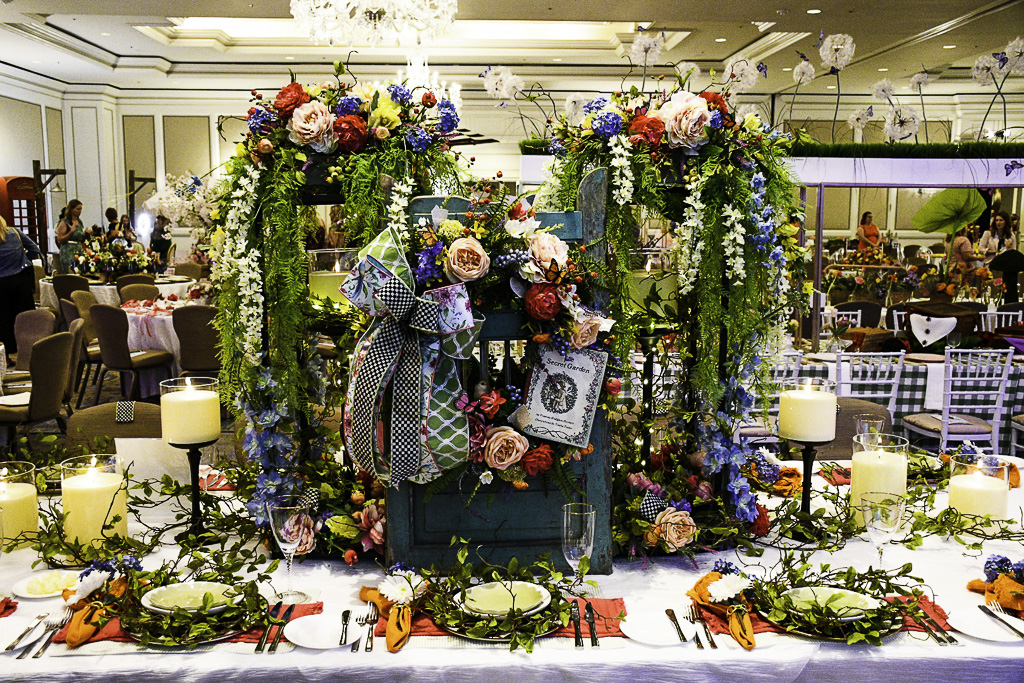 The beautiful setting on this tabletop is themed, "The Secret Garden" and it certainly is stunning.
In addition to the beautiful floral arrangements, I love how they placed a flameless candle throughout the tablescape.
And look at these individual place settings? How gorgeous is the ivy surrounding each plate, as well as the florals which are incorporated into the napkins ring!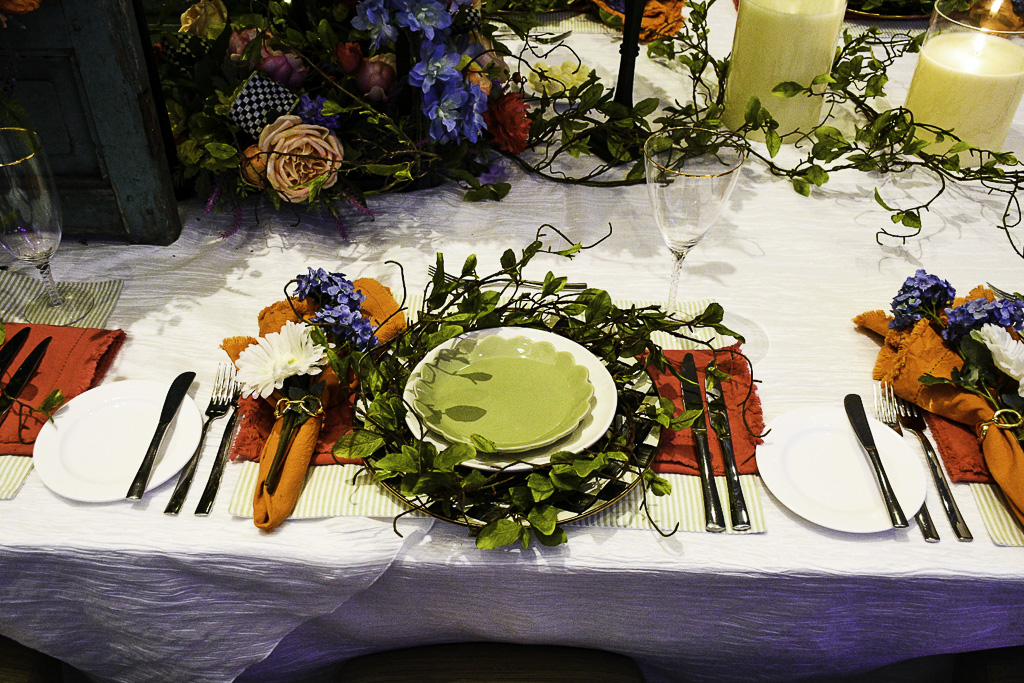 This next stunning table isn't an Easter table (although it could be). It's themed after Peter Rabbit.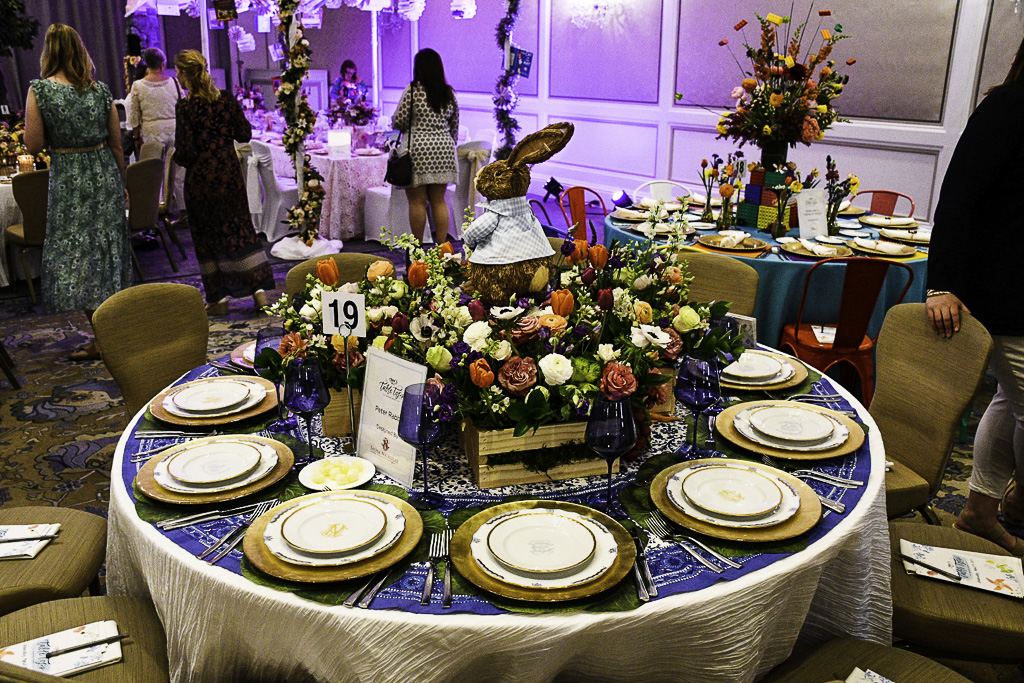 I loved how elegant it is.
The layering of the china pieces on the chargers creates such a sophisticated look.
And let's stop for a second and admire the floral centerpiece. So colorful!
I'm definitely stealing the idea of using a wooden crate on the center of a table. How great would that be to use on a buffet table? Or to corral a bunch of potted plants into a cohesive arrangement?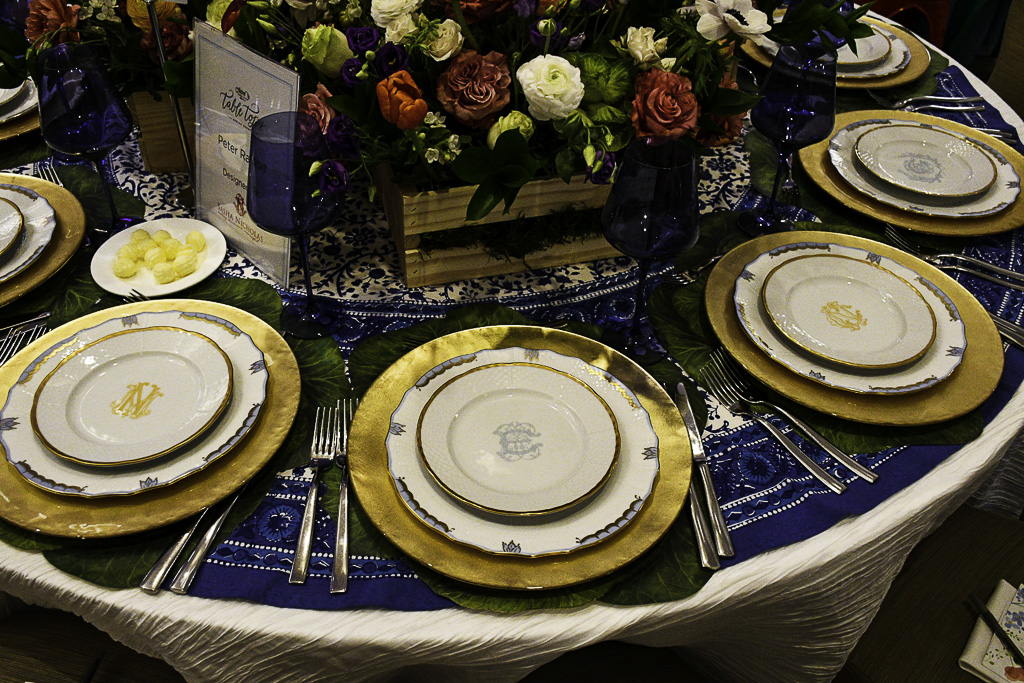 And I love the idea of using a smaller round table cloth as an underlay, with no overhang.
The navy color really makes the gold accents pop!
I also adore how they place large leaf accents underneath the gold chargers. Such a great idea.
Be sure to notice the cobalt glasses as well. As I've said before, colored glassware is an immensely popular right now and a great way to bring additional pop to any tablescape.
Did you enjoy these tabletop decor ideas? Here are some additional tablescape trends you'll want to explore:
How to Incorporate Colored Glassware on Your Spring Tablescape
Beautiful Outdoor Patio Decorating Ideas — Your Dream Space in Five Steps
If you have any questions or suggestions, contact us or leave a comment!
Follow us on social media! You can find us on Instagram, Pinterest, and Facebook.