AN ELEGANT, LUXURIOUS AND DRAMATIC THANKSGIVING TABLESCAPE IS EASY!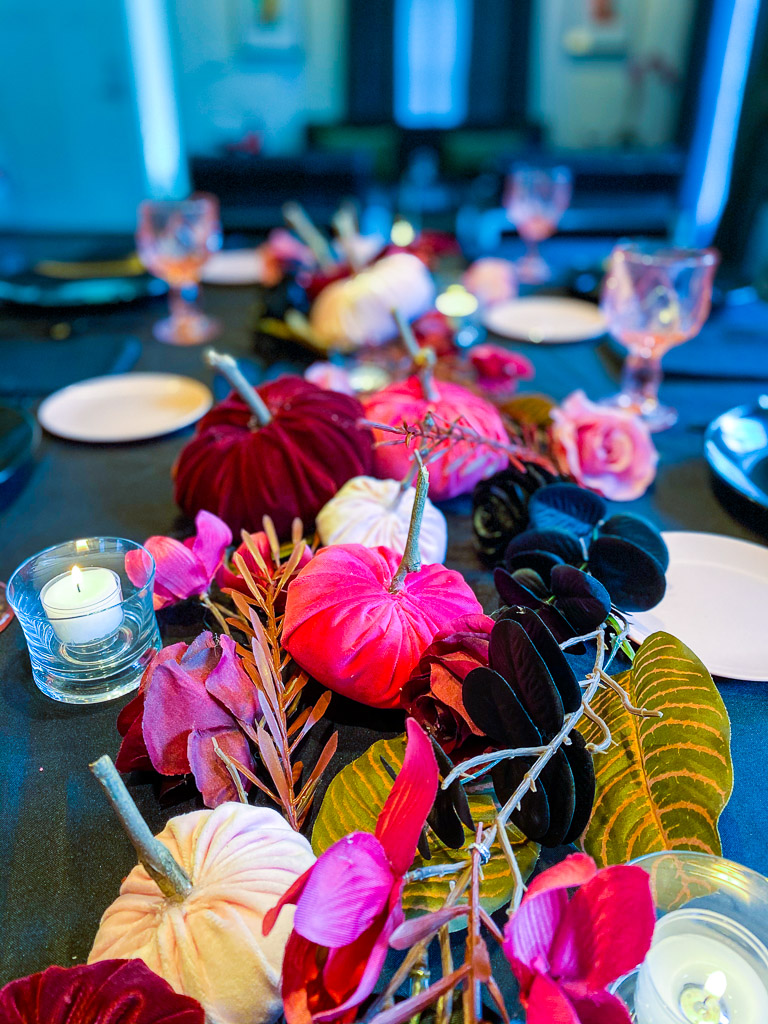 These Thanksgiving tablescape ideas will help you to create a thanksgiving table setting that is dramatic and elegant.
For this elegant Thanksgiving tablescape idea, I pulled inspiration from Putnam & Putnam.
This acclaimed husband and husband duo have designed florals for A-list tastemakers around the globe (think celebs such as Gwyneth Paltrow, Jason Wu, Adam Lippes, and the like).
Putnam & Putnam's ability to make vivid floral hues pop simply draws me in.
Many times, they accomplish this by their use of dark, dramatic and richly hued backdrops.
For this fall table, I took a cue from that technique by using a black tablecloth.
Not necessarily the first color you would think of for the holiday. But this tabletop is anything but a typical.
The resulting look is an elegant Thanksgiving table decor idea you're sure to love!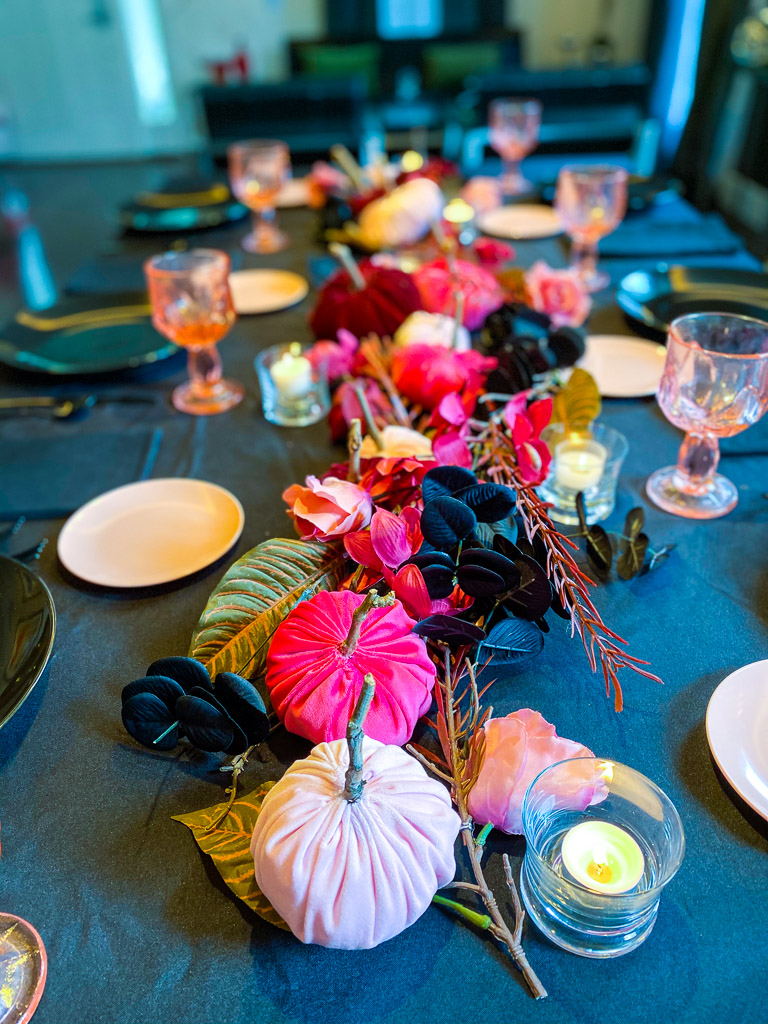 A LITTLE BIT OF BACKGROUND …
I first ran into Michael and Darroch Putnam in St. Louis.
They were in town for the 2019 Flower Power Luncheon benefitting Tower Grove Park.
In addition, to promoting their bestselling, Flower Color Guide, the couple shared stories of their entrepreneurial journey, as well as interesting, artistic anecdotes which both entertained and educated.
It was so inspiring!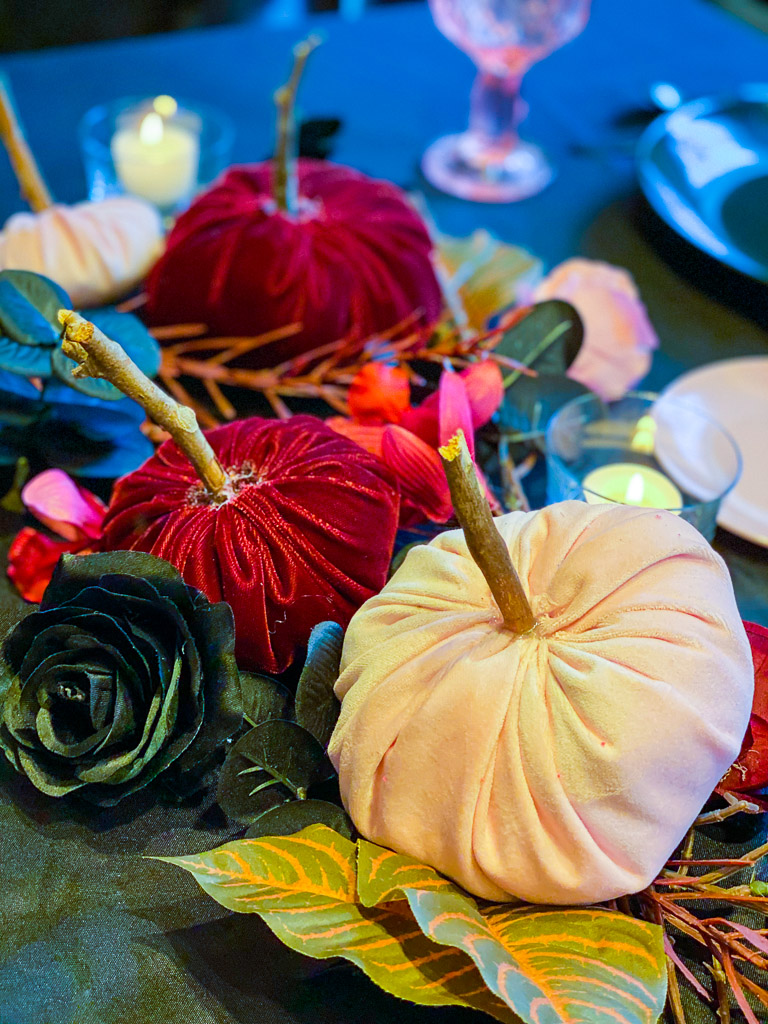 My next encounter was with a solo Mikey at their Chelsea shop in 2019.
Admittedly, it was a pretty big fan girl moment for me.
We were weekending in NYC and staying near the Moxy Hotel, home to Putnam & Putnam's first retail location.
I decided to visit in the late afternoon.
Upon entering the shop I looked over and Mikey just happened to be there.
He was gracious, kind and even shared a few details of their next book, Flower Color Theory, with me.
A super fan was born!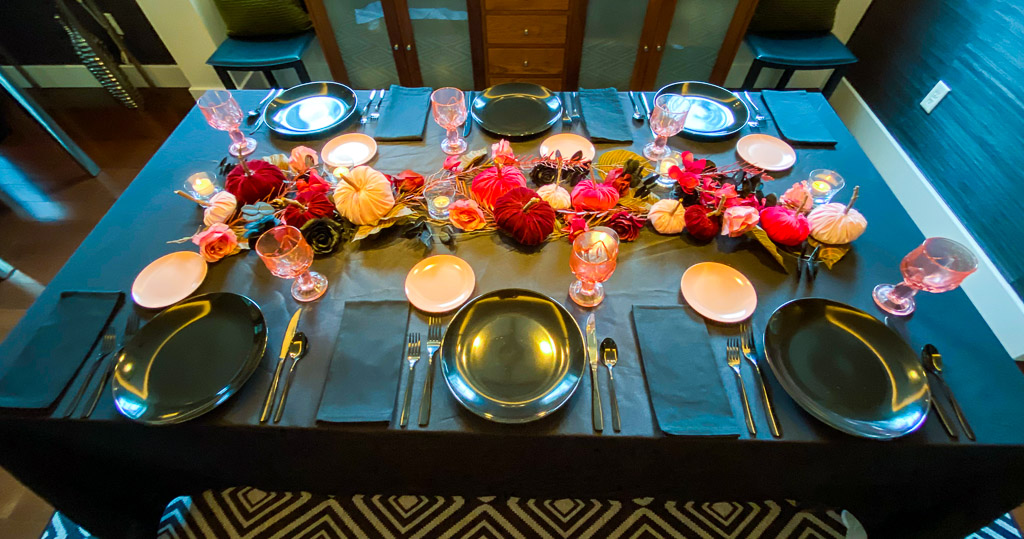 In an interview with Martha Stewart Weddings, Michael Putnam defined luxury as: "something that feels cohesive from start to finish. Good, effortless, nice."
With this Thanksgiving table setting, we attempted to accomplish that exact sensibility.
Let's discuss how, step by step: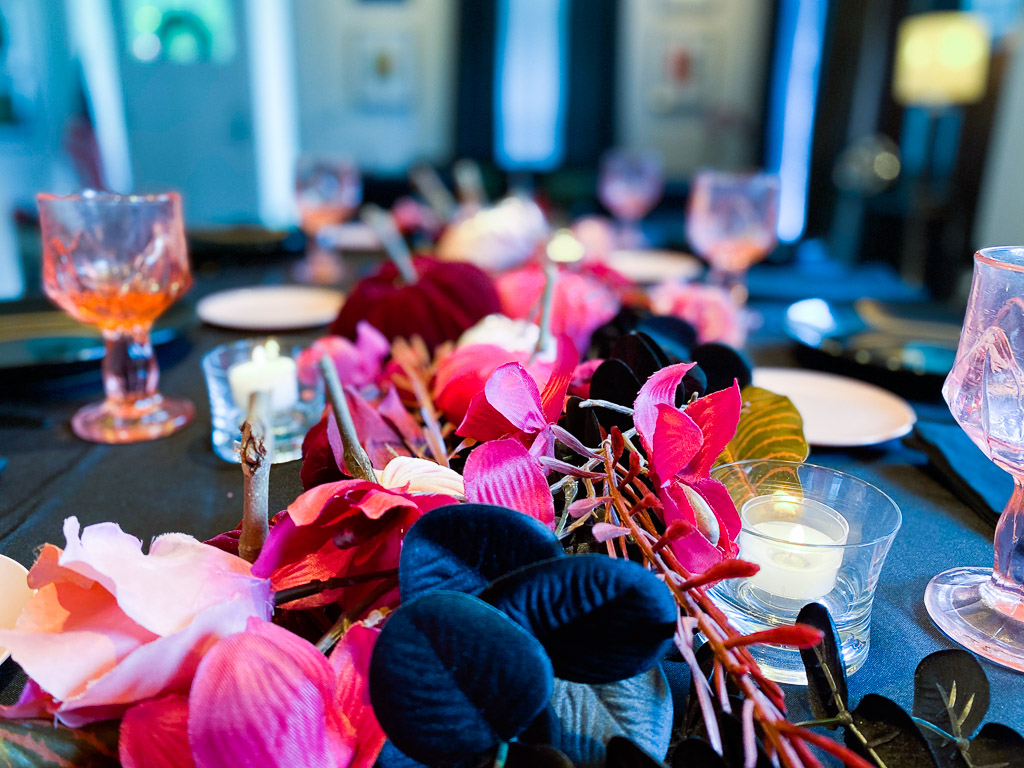 First, I started with this black linen tablecloth to create a dramatic backdrop.
Next, I placed the place settings and flatware.
I knew the key was to keep the attention at the center of the table.
Simple black plates and black flatware (my new obsession) made this easy to accomplish.
Classic pink bread and butter plates, as well as antique, pink glassware from Tiffin, completed the look.
While our glasses are vintage, these goblets are similar and would be great to use.
My stand-by black linen napkins were also perfect for this table.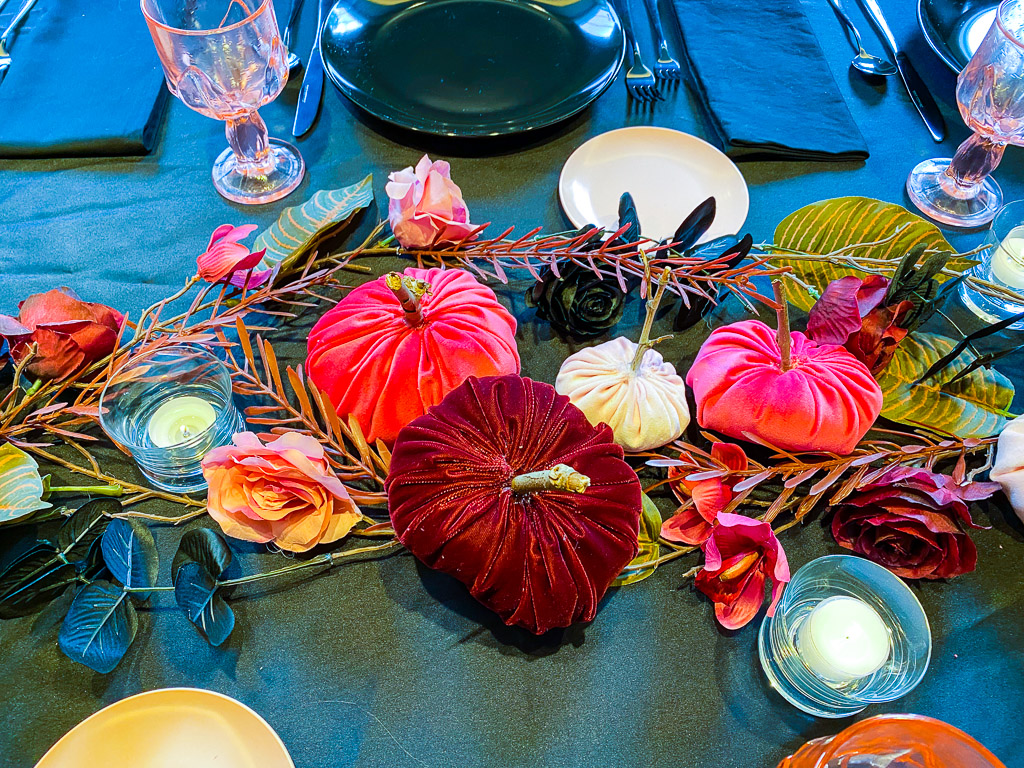 THE CENTER OF ATTENTION …
What makes this tablescape really pop is its center arrangement, which features velvet pumpkins, as well as this Bloom Room Fall Harvest Phalaenopsis and Leaf Garland from JoAnn.
Typically, I avoid silk flowers and artificial arrangements.
I have to admit, though, this garland was stunning.
It contained all of the colors I was looking to incorporate within this tablescape and was simply a great find!
I couldn't have been more pleased!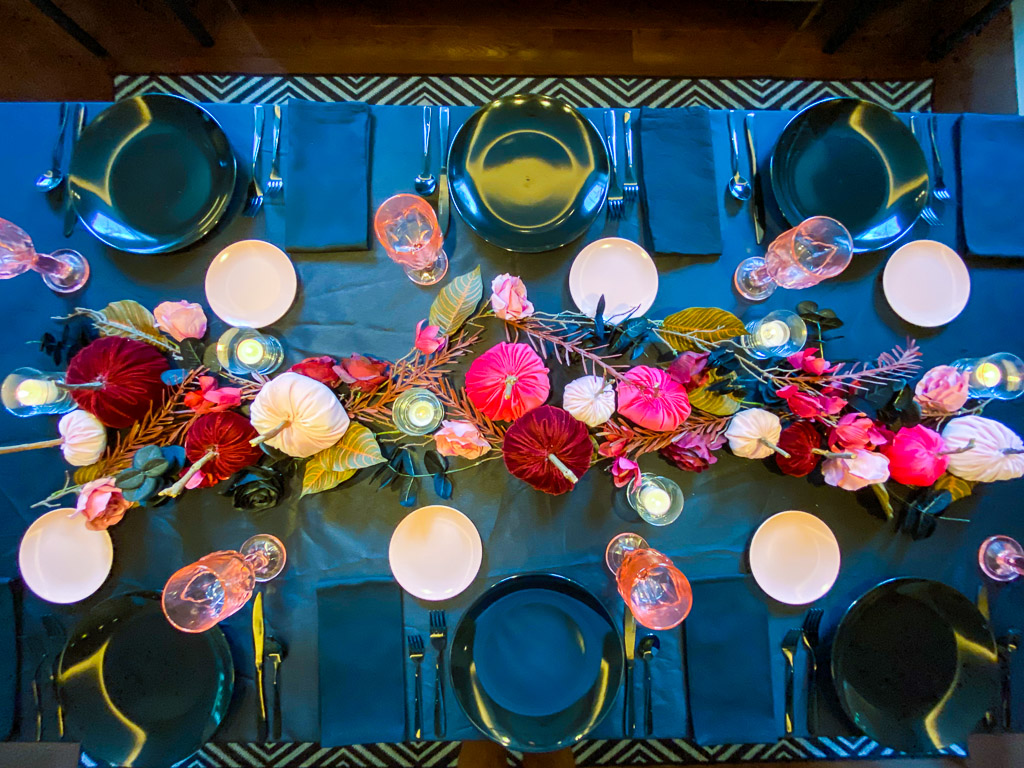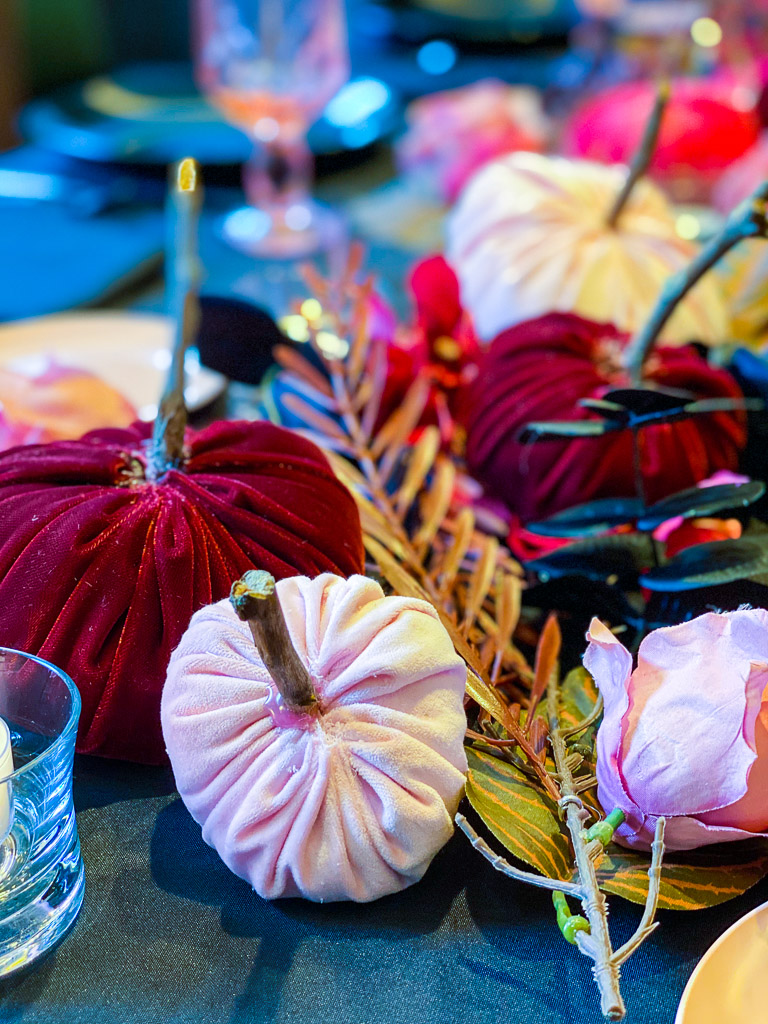 Velvet pumpkins, which are truly enjoying a moment this holiday season, also add a huge amount of elegance to this table.
The texture is just luxurious.
Admittedly, they have been hard to find in retail stores, however.
But come to find out, they're really easy to make.
We show you how easy it is to craft these gorgeous faux gourds, in just a few steps.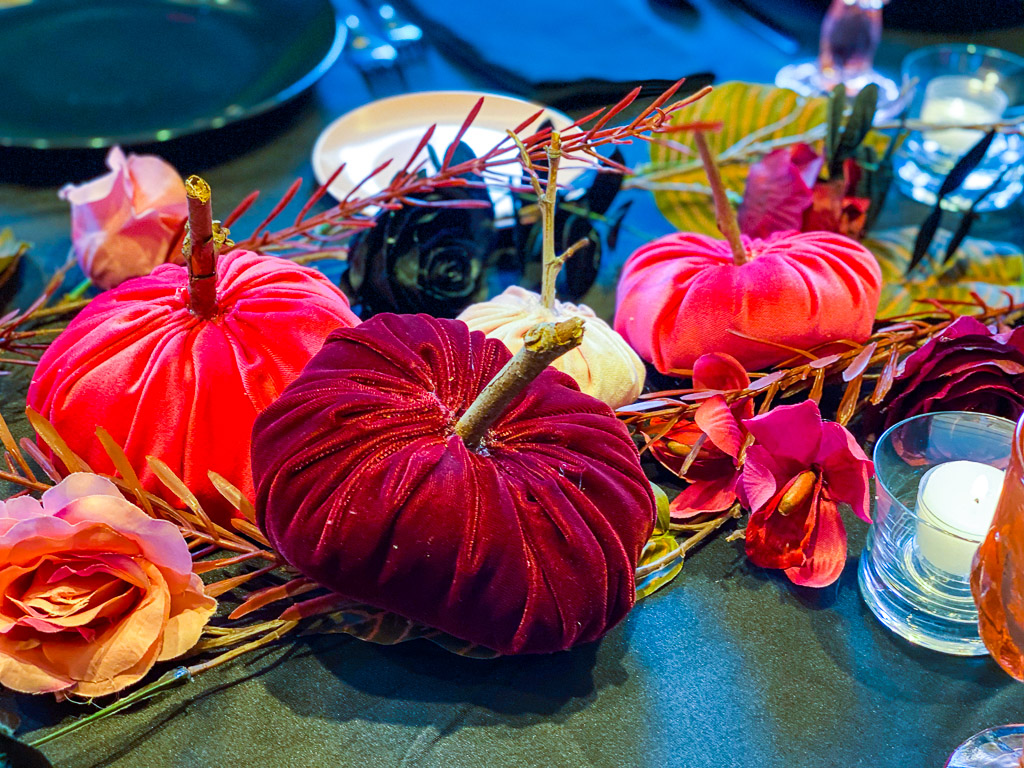 Looking for other ideas for fall entertaining? Find lots of great ideas in these posts:
This Beautiful Fall Centerpiece is Easy to Make
Elegant Thanksgiving Tablescape Ideas
You'll Love these Adorable Thanksgiving Table Decor Ideas
Did you try this idea? Share it on Instagram with the hashtag #makeeverydayanevent and tag @makeeverydayanevent.
If you have any questions or suggestions, contact us or leave a comment!
Follow us on social media! You can find us on Instagram, Pinterest, and Facebook.