BEST GOLDEN BACHELOR VIEWING PARTY IDEAS FOR AN EPIC NIGHT
We've got the best Golden Bachelor watch party ideas that you'll love.
Plus two cocktail recipes that are perfect for a Golden Bachelor party. Will you accept this rose?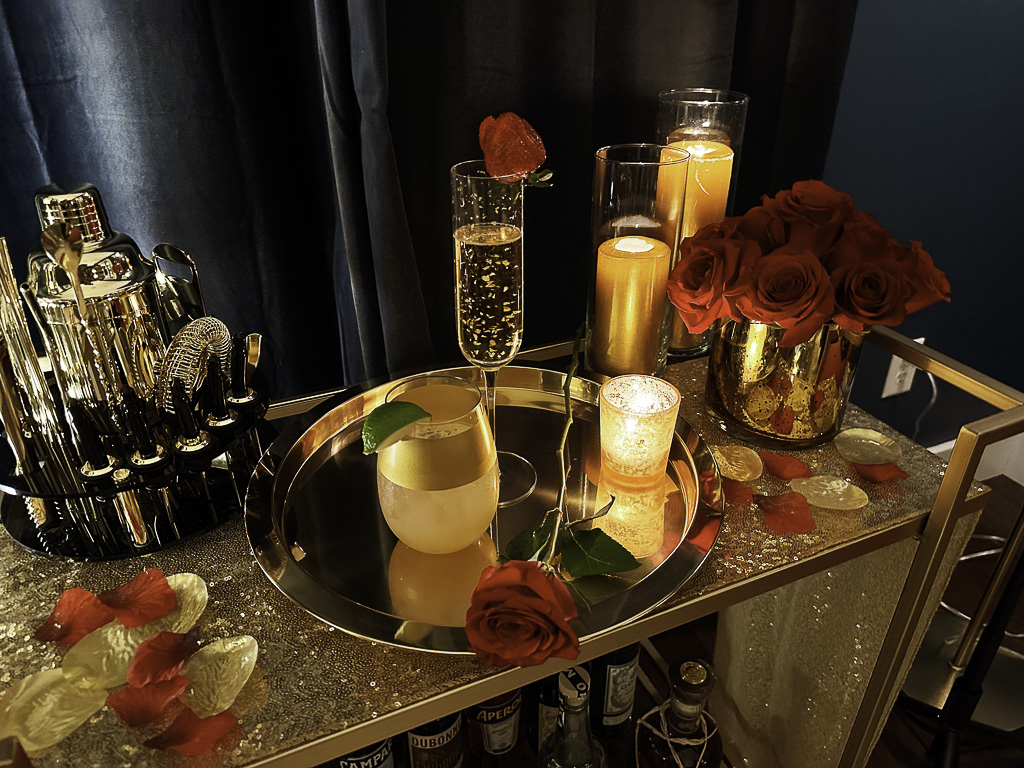 The Golden Bachelor is here! Are you ready for Bachelor Gerry Turner? I for one cannot wait for the start of this new series in the Bachelor franchise.
I've followed the Bachelor and Bachelorette for years. Throw Bachelor in Paradise into that mix as well, complete with its cheesy, remixed take on "Almost Paradise" from Footloose.
It's my guilty pleasure television on Monday nights that I find is perfect to watch as you fold laundry.
You know it's true.
And now, the Golden Bachelor is here. And it's going to transform my Thursday evenings. Why am I so excited?
Perhaps because it's a whole different perspective on a person's journey of falling in love in their golden years.
Maybe it's the age of the cast and the realization that 60 is actually kind of the new 40 (now there's inspiration for all of us).
Likely, it's simply because it's similar to adding a few new ingredients to old familiar recipe you love.
And I know I am not alone.
In fact, according to Variety, there have been 250 million online hits and media mentions since Gerry Turner was announced as the show's lead.
I know you're out there.
So let's gather together, fill out our Golden Bachelor brackets (yes, that is a thing and you can buy one here, it also includes a Golden Bachelor drinking game and bingo!), and indulge in the "most dramatic season ever" that is about to unfold.
We've got the best Golden Bachelor viewing party ideas to create an epic watch party. So gather your best friend and get ready for a great time.
But first, a little bit about the Golden Bachelor and some fun facts!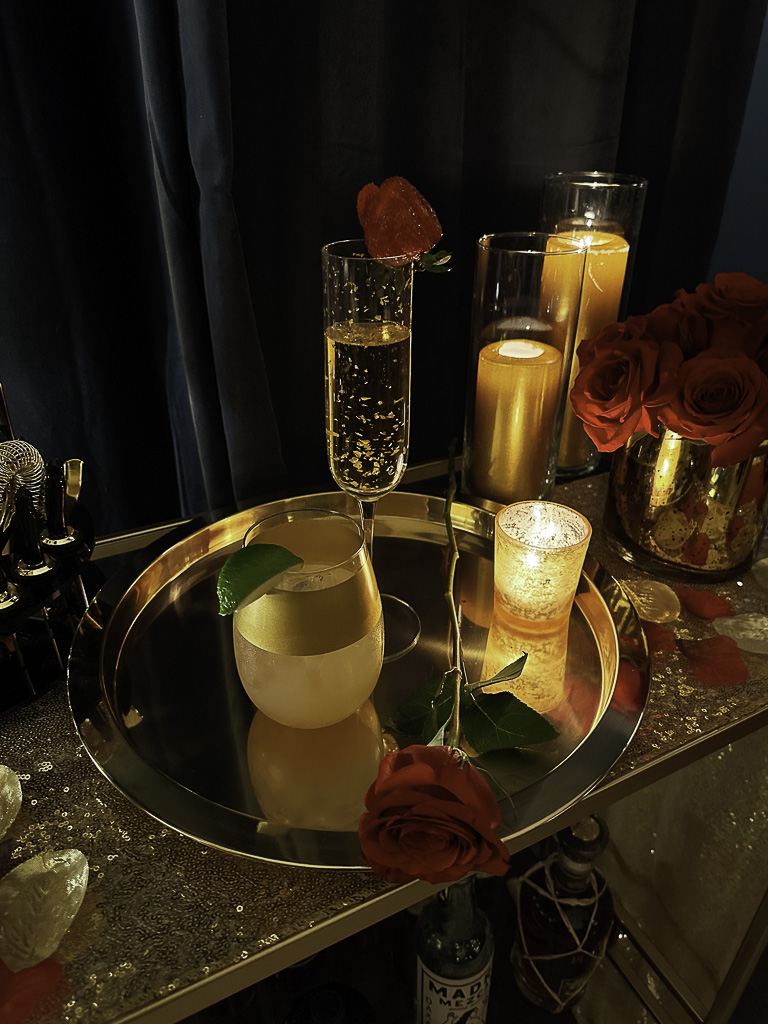 WHO IS THE GOLDEN BACHELOR?
For the first time, the Bachelor franchise has cast a widower as its male lead. Midwesterner Gerry Turner is 71 years old and a retired restaurateur who seems like a hopeless romantic and is looking for a second chance at love. He has been quoted as saying he enjoys playing golf and pickle ball in his free time, as well as spending time with his close family. His first wife, Toni, was his high school sweetheart. The two were married for 43 years. Toni passed away in 2017, shortly after she retired.
WHERE IS THE GOLDEN BACHELOR FROM?
Gerry Turner is originally from Ottumwa, Iowa and is the oldest of four children. He and his wife, Toni, married in 1972 and subsequently raised their two daughters, Angie and Jenny. In 2017, after Toni retired, the two moved into their dream home located on Big Long Lake in LaGrange County, Indiana. The home features a gray-and-white exterior with a charming balcony that overlooks the water. Gerry also has two granddaughters, Payton, 21, and Charlie, 16. He loves to root for the Iowa Hawkeyes.
WHEN IS THE GOLDEN BACHELOR ON?
The premiere of the Golden Bachelor is set to air on ABC this Thursday, Sept. 28 at 8 p.m. EST. It will be followed by Bachelor in Paradise, which is a slight change from previous years. One-hour episodes of the Golden Bachelor will air every week through the finale.
HOW CAN I WATCH THE GOLDEN BACHELOR?
You can watch the Golden Bachelor directly on ABC. It can also be streamed on the following platforms: Sling TV Orange + Blue, Hulu + Live TV, YouTube TV, fubo TV, DirectTV Stream. You can also download the free ABC app, which available from the App Store and Google Play.
WHO ARE THE LADIES FOR THE GOLDEN BACHELOR?
Among the group of eligible older women (should we call them golden ladies?) looking for the man of her dreams is former bachelor Matt James' mom. Another is Leslie Fhima, a personal trainer and former professional figure skater. And yet another woman of many talents who has been cast is a former cheerleader, Renee Halverson-Wright. Hopefully these women are all "here for the right reasons," as Chris Harrison used to say. Perhaps one of them will emerge as a frontrunner for the first Golden Bachelorette season. As in past seasons, always keep an eye out for the recipient of the first impression rose. That women is usually a great catch and has a fun personality. This second time around, Gerry has been quoted as saying he is looking for someone
HOW OLD ARE THE LADIES ON THE GOLDEN BACHELOR?
Among the 22 ladies who were cast in the Golden Bachelor, each of them are at least 60 years of age. And their ages range in age from 60 to 75 years of age. So this cast of ladies vying for this bachelor's heart looks a little different.
GOLDEN BACHELOR WATCH PARTY IDEAS
Each week, as we watch the cast of the Golden Bachelor have so much fun as they go on dates that include unique experiences, spa days, stay at luxurious hotels, and possibly even make it to the hometown dates or fantasy suites, you're going to be having a good time with your very own bachelor/bachelorette party. Here are the best ideas for drinks and decor.
GOLDEN BACHELOR WATCH PARTY DRINKS
Sure, you can simply crack open a bottle of wine for the big night of viewing. But who wants a wine hangover going into the weekend. And this is the premiere of an entirely new series within the Bachelor franchise.
So it deserves a great cocktail (or two) to add to the celebration. I've concocted two great drink ideas for The Golden Bachelor.
The first is simply beautiful with its iridescent golden flakes floating gracefully within the champagne flute (plus it taste great as well). The second is a new twist on a classic favorite, kind of like the Golden Bachelor itself.
Which of these two cocktails will get the final rose? You'll have to taste them and see!
Posts on Make Every Day an Event may contain affiliate links which means we may earn a small commission on purchases at no extra cost to you. To learn more, please read our full disclosure here.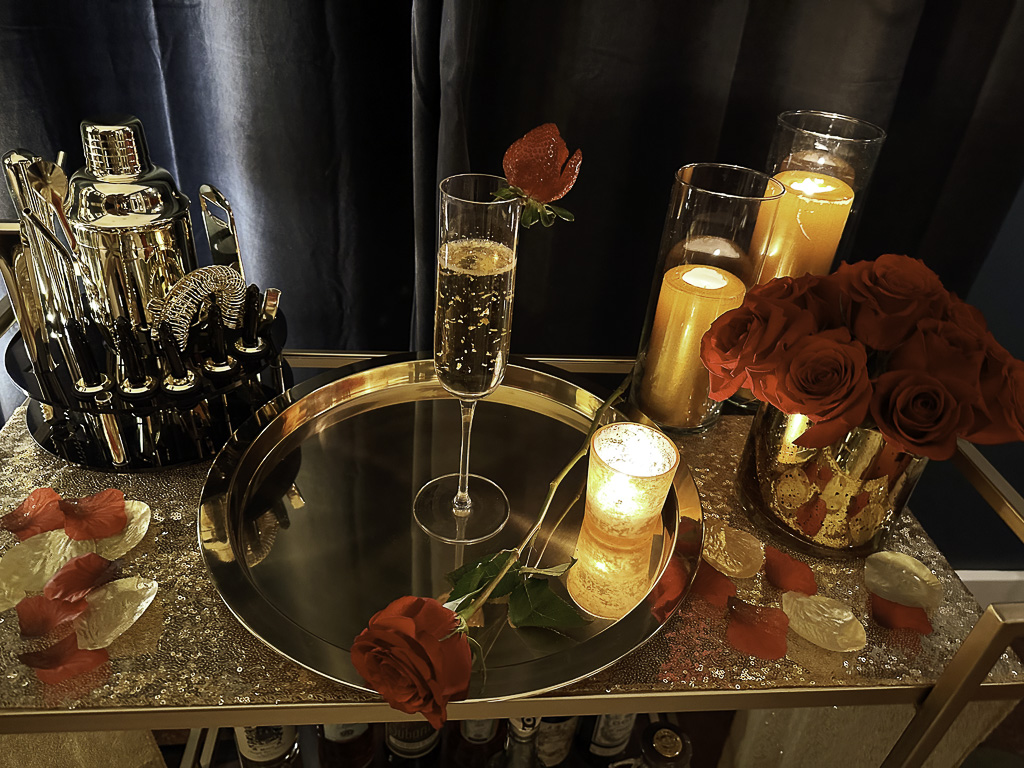 GOLDEN BACHELOR CHAMPAGNE COCKTAIL – A GREAT GOLDEN BACHELOR VIEWING PARTY IDEA
Ingredients:
1.5 ounce St. Germain liqueur
One bottle dry champagne
Barnabas Blattgold Edible Genuine Gold Leaf for Drinks
Strawberries for garnish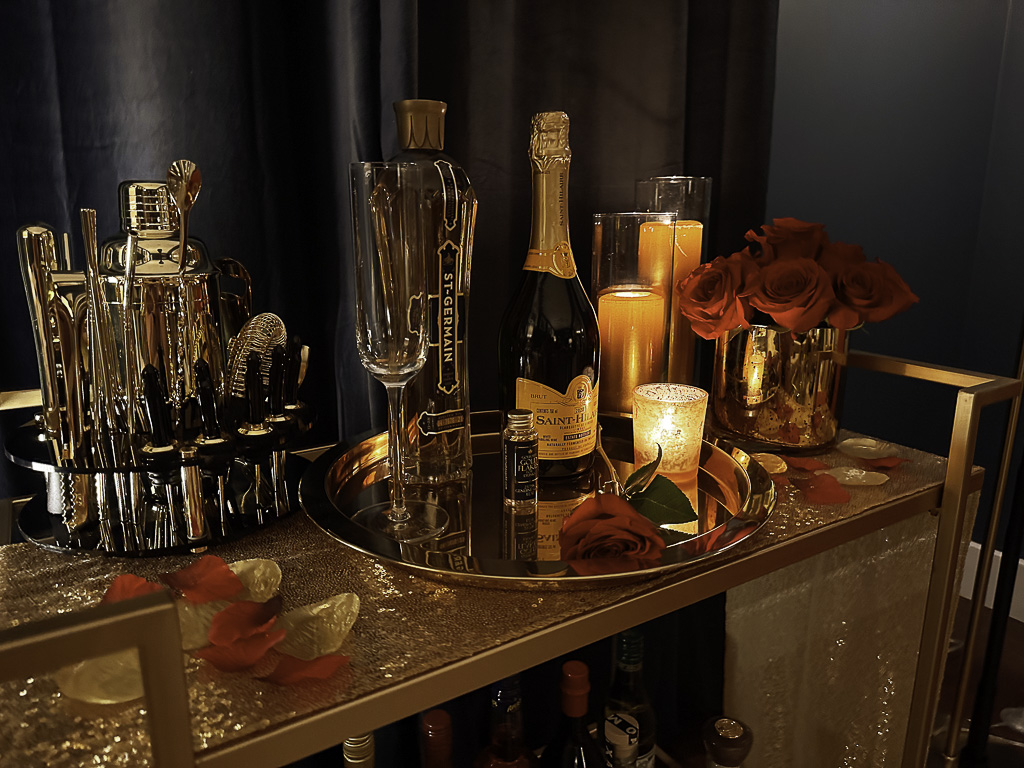 Start by filling the bottle of Barnabas Blattgold Edible Genuine Gold Leaf for Drinks to the line indicated with a small amount of St. Germain liqueur and shake well. (Side note: this stuff is SOOOO cool, I can't wait to use it for other occasions as well!)
You need to break up the pieces of gold leaf until it becomes flakes. Next, pour 1,5 ounce of St. Germain liqueur into each champagne flute.
Top with dry champagne and immediately add a small splash of the gold flakes. You don't need a lot. One small bottle of the gold leaf should make six to eight drinks. Did I mention how much I LOVE these flakes?
Finally, add a strawberry on the rim of the champagne flute as a garnish. I placed the strawberry upside down on the side of the flute, after I cut it in the shape of a rose. It's the perfect Golden Bachelor cocktail! (Here's a great YouTube video on how to make a strawberry rose).
GOLDEN BACHELOR MARGARITA – THE PERFECT GOLDEN BACHELOR VIEWING PARTY IDEA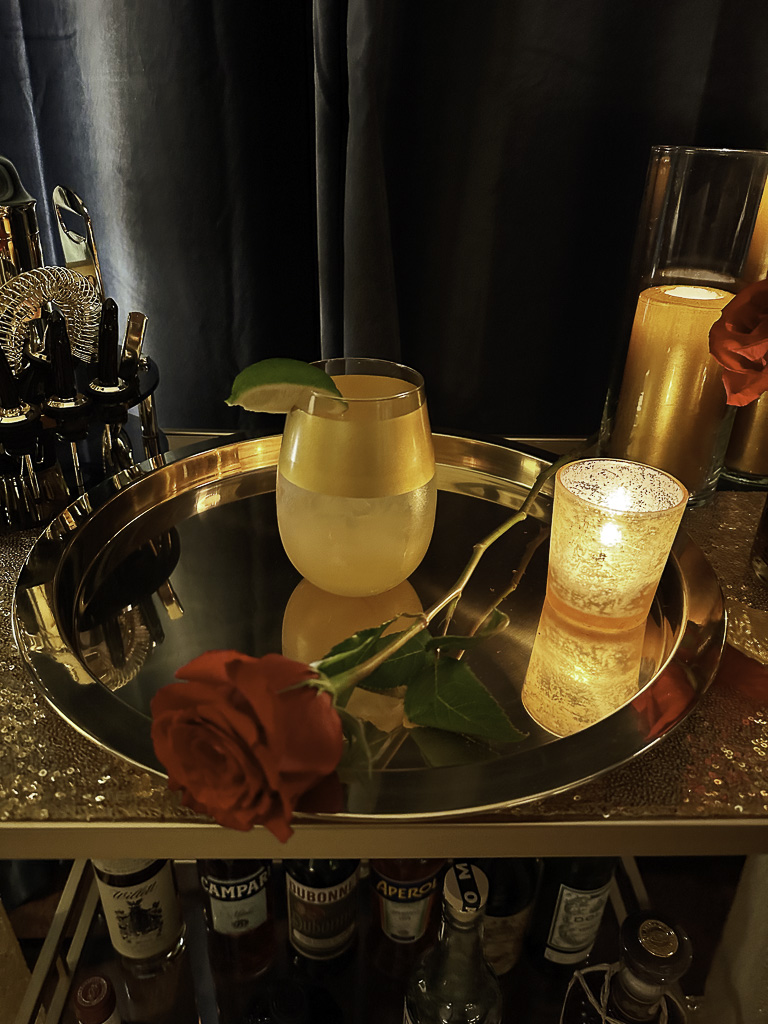 Ingredients:
3 ounces Hiatus Tequila Reposado
1.5 ounces Grand Marnier
Fresh squeezed lime juice, one ounce
Simple syrup, one ounce
1 ounce of filtered water
Lime for garnish
Mix all ingredients in a cocktail mixing glass (I love this Riedel mixing glass) and stir thoroughly. Pour drink mixture over ice (crushed ice works best) and garnish with a lime. Serve immediately.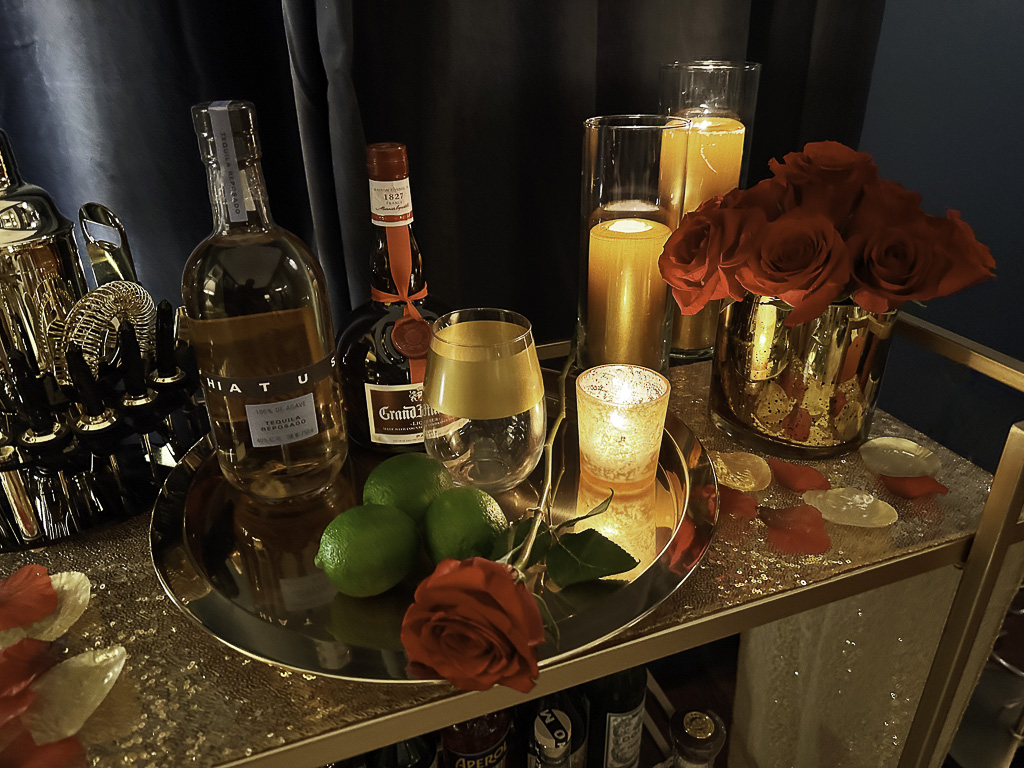 ​GOLDEN BACHELOR VIEWING PARTY DECORATIONS
To truly make your Golden Bachelor viewing party the most dramatic one ever, you need to set the scene with some great decor. Here's how I pulled together a great look:
First, I set everything up on this fantastic gold bar cart. I love this cart and have used it time and time again for home entertaining. Its clean, sleek lines create a modern, timeless look that is perfect for my Golden Bachelor watch party.
This gold, sequined table runner is the perfect backdrop for the bar cart. I love how it shimmers and will likely match at least one of the ladies' gowns you'll see popping out of the limo during the first night (or at a subsequent rose ceremony).
Every bar cart needs accessories and this gold bar tool carousel is simply the best. It contains over 19 tools to help you craft the perfect cocktail every time.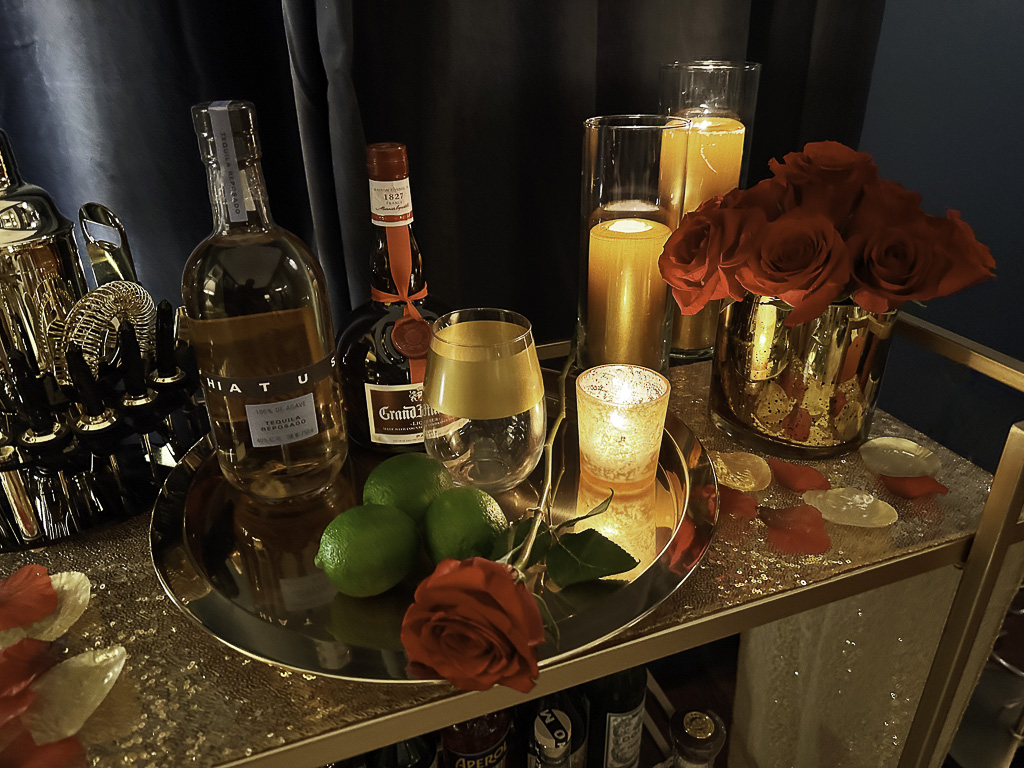 WILL YOU ACCEPT THIS ROSE?
Roses, roses, roses. How can you throw a Golden Bachelor watch party without red roses? They look great when arranged in this round, gold, mercury glass vase. I also love this red rose petal scatter and this gold rose petal scatter. How can you say, "no?"
If you've been a Bachelor fan for any amount of time, you know how much they love candles. And to be honest, they are one of the easiest, most romantic thing you can add to any setting. These gold pillars are simply stunning and perfect when placed in these clear cylinder holders. So dramatic and so easy! I also added a gold, mercury glass votive candle, just to add some layers of light and interest to the bar cart.
This gold tray is perfect for the party. If you get it, I know you'll use it all of the time and it is the perfect accessory for every holiday celebration. I love how it just adds an element of shine and sparkle to the bar cart.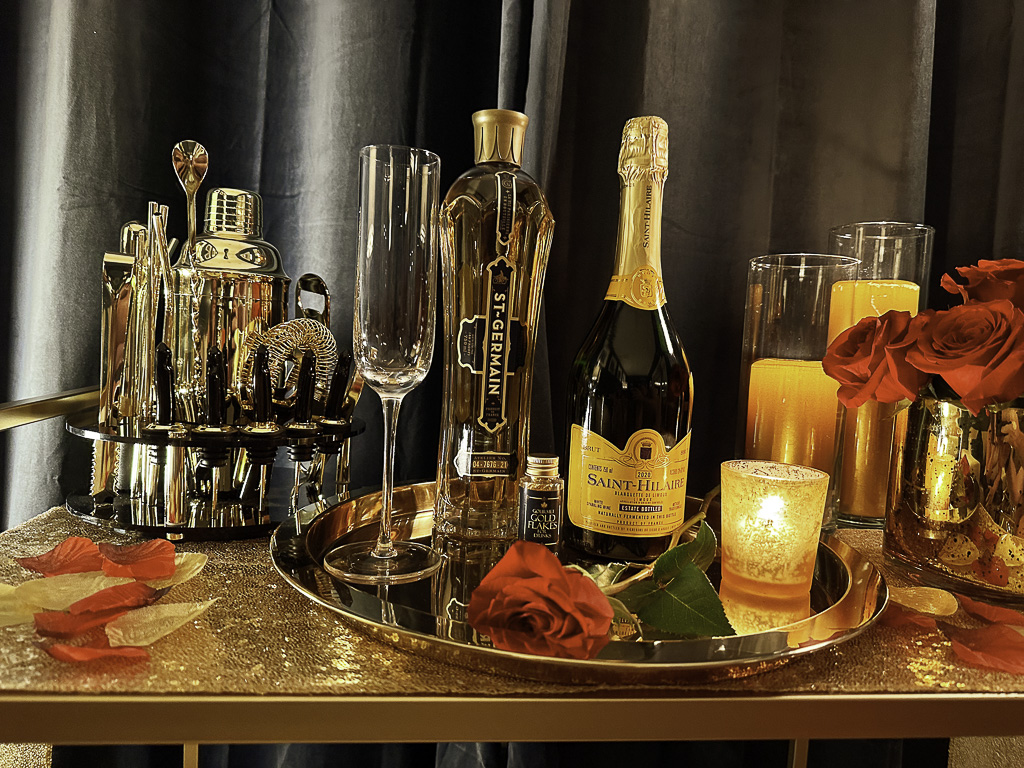 YOU CAN'T FORGET THE GLASSWARE …
Finally, you need glassware. And these gold rimmed glasses are perfect to serve the Golden Bachelor margarita. These simple champagne flutes are great for the Golden Bachelor champagne cocktail and really allow the shiny gold flakes within the drink to sparkle. I also love these stemless, acrylic champagne flutes with a gold rim for parties.
Did you enjoy these Golden Bachelor watch party ideas? Here are some additional creative ideas you'll want to explore:
Great Hamilton Party Ideas — Don't Throw Away Your Shot!
The Best Outdoor Halloween Decor Ideas
Seven Things You Need to Know Before You Attend the Taylor Swift Tour
If you have any questions or suggestions, contact us or leave a comment!
Follow us on social media! You can find us on Instagram, Pinterest, and Facebook.