SIMPLE OLYMPIC PARTY IDEAS AND ADORABLE DECOR THAT WILL WIN A GOLD!
These Olympic party ideas will help you win a gold medal from your family, friends and guests!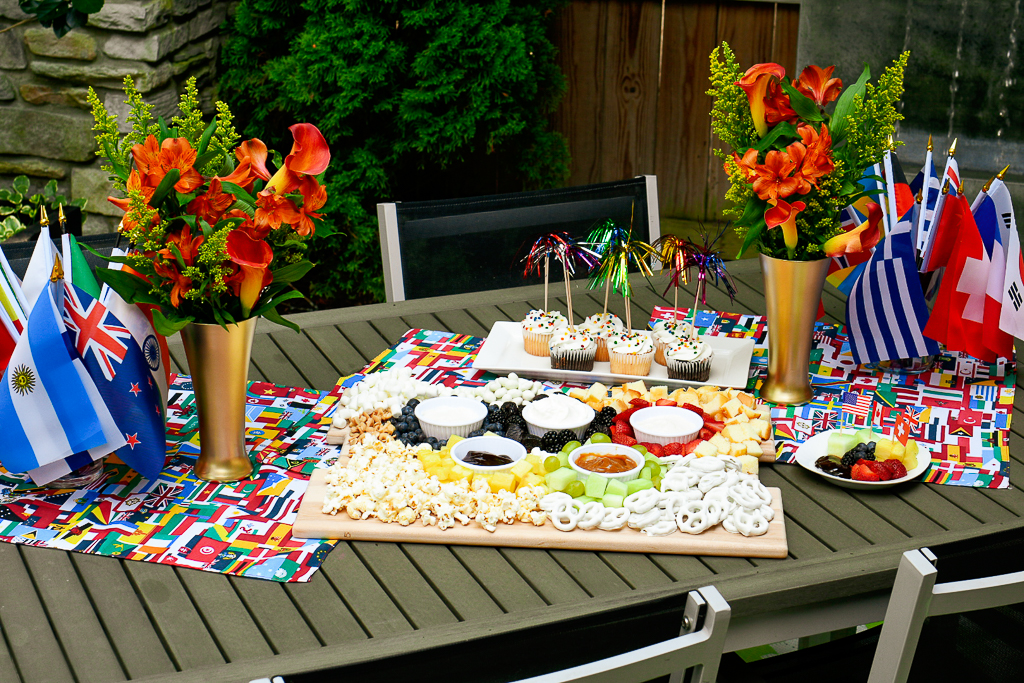 Let the games begin! The Olympics are here! We've got some great Olympic party ideas for you that are both adorable and easy … your guests will rave and you're assured of winning a gold medal!
These Olympic party decorations will help you create a fun atmosphere to settle in and watch the games.
Our favorite part of this celebration … ?
We pulled together a terrific and tasty fruit charcuterie board, featuring the Olympic rings. It's eye-catching, a crowd pleaser, and easy to create, if you follow just a few simple steps!
HERE ARE ALL THE OLYMPIC PARTY IDEAS YOU NEED FOR A GREAT CELEBRATION IN FOUR EASY STEPS: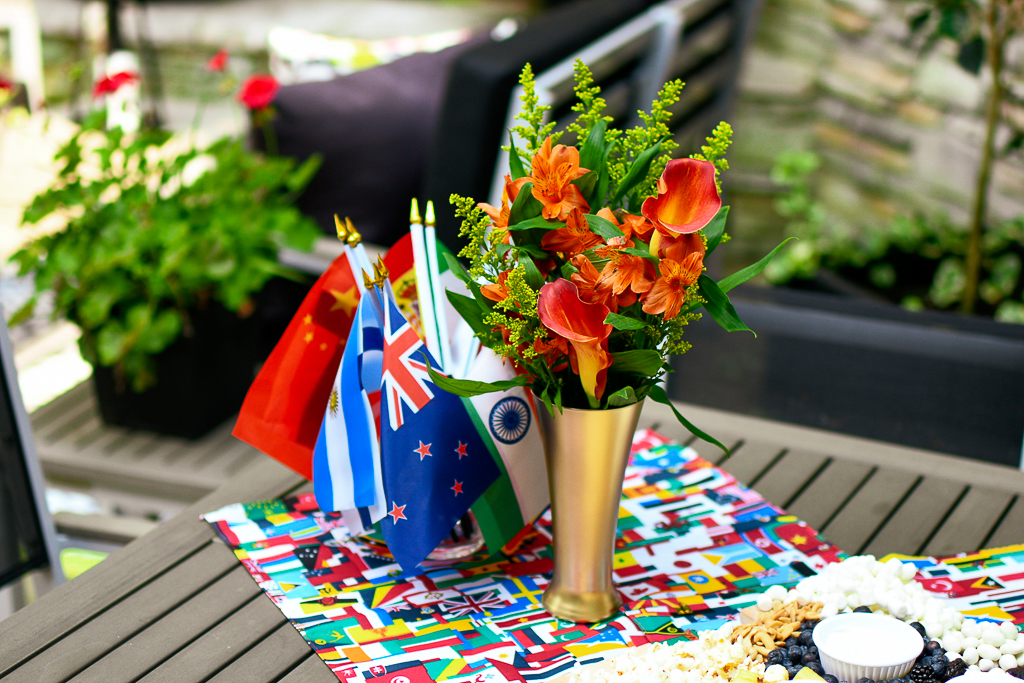 1. CREATE AN EASY DIY OLYMPIC TORCH CENTERPIECE
You can't have an Olympic party without an Olympic torch! We crafted these simple and elegant centerpieces that really brought home the win!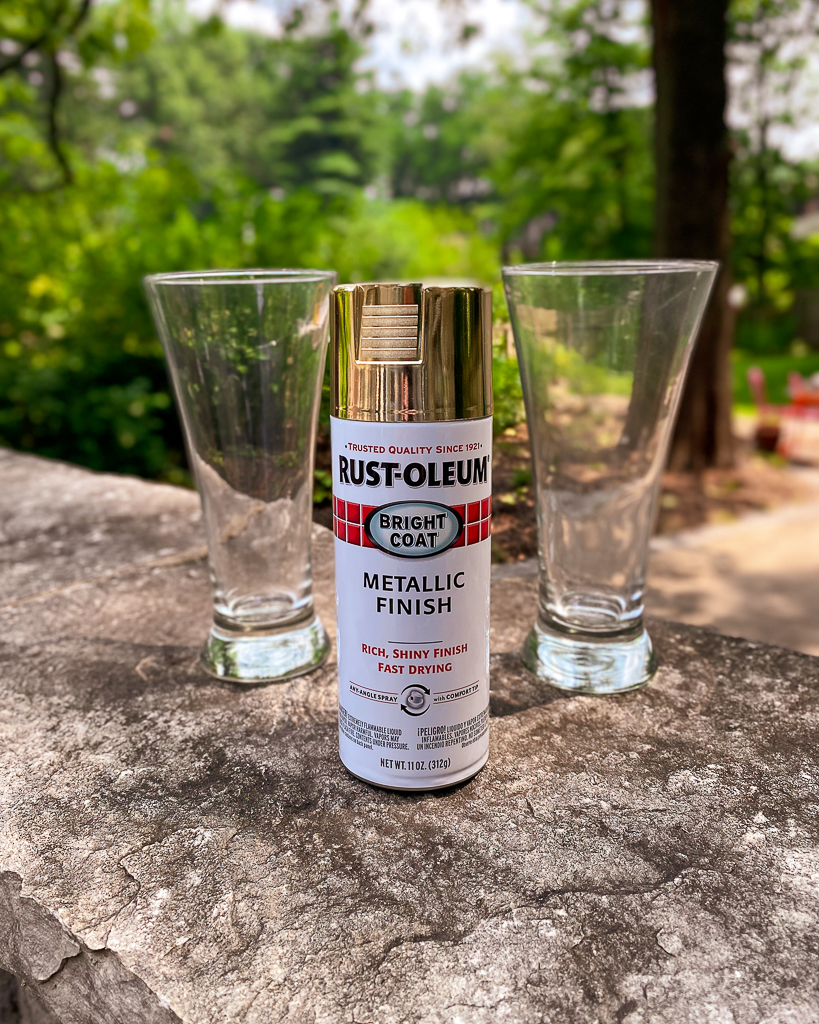 I found the perfectly shaped "vase" at Dollar Tree. Here's a secret: it's a pilsner glass! The shape of the pilsner is truly reminiscent of the Olympic torch. I snapped up two for only $2. If you can't get to Dollar Tree, here are some similar pilsner glasses on Amazon.
We spray painted the glasses, with Rustoleum Metallic Finish in gold.
I purchased some gold and yellow flowers at the market, to mimic the flames of the torch and arranged them into the "vases."
The results are perfect for our Olympic celebration!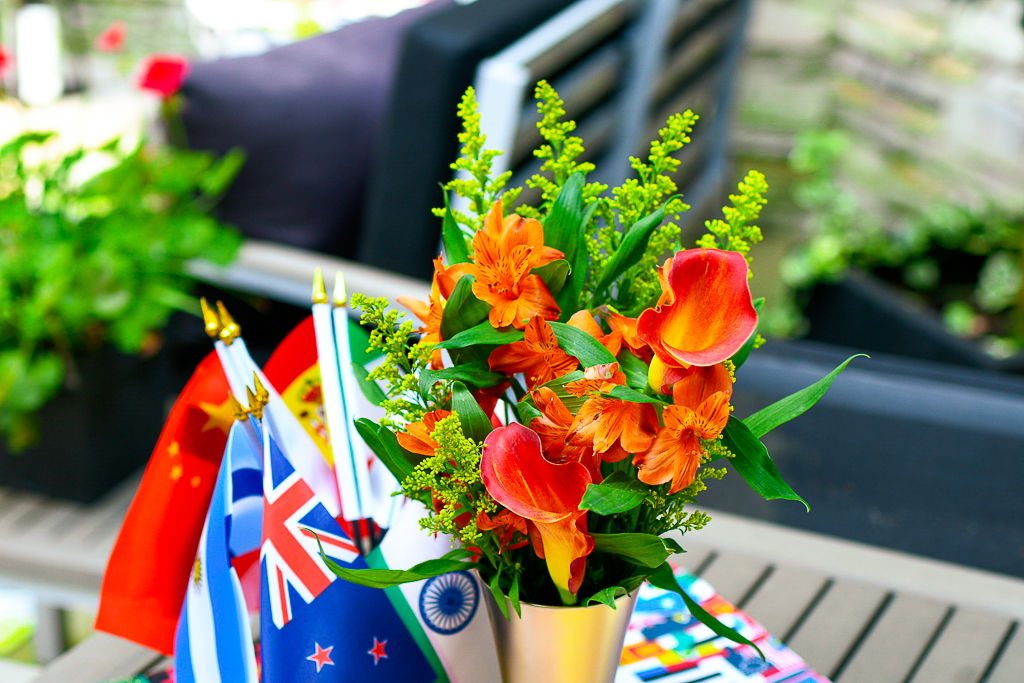 2. ADD SOME SIMPLE AND FUN TABLE DECORATIONS …
These fabric dinner napkins featuring flags of the world were perfect to lay down the center of our tabletop. It made a great table runner that was literally as easy as one, two, three!
Another easy way to dress up your table for your Olympic celebration is to arranged a variety of mini country flags in a small cylinder vase.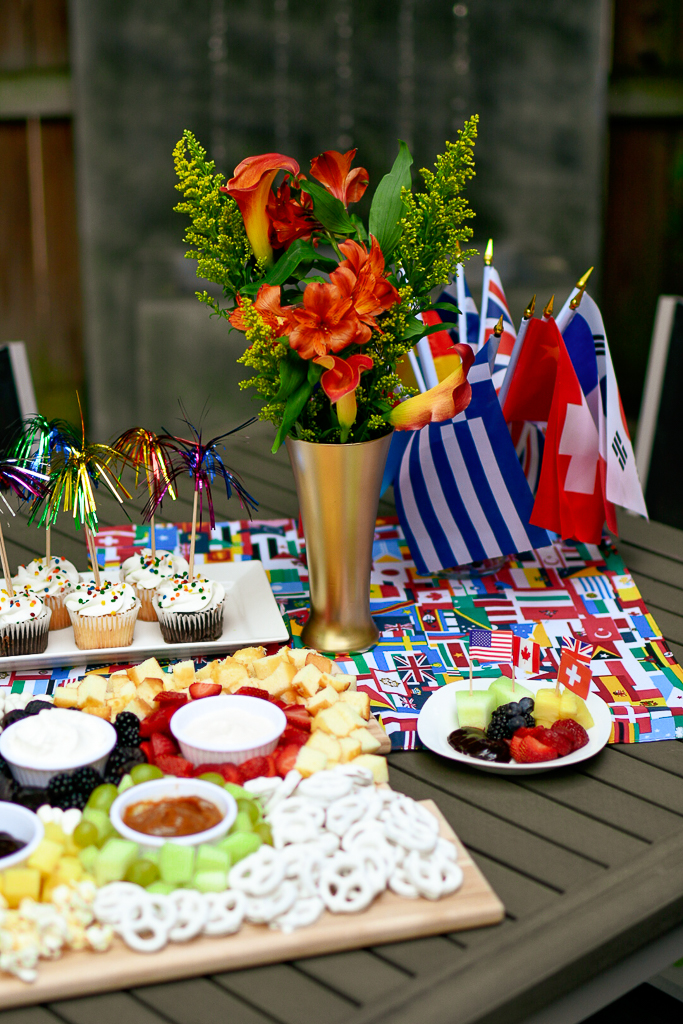 It's such a small touch, but makes a big impression by adding a variety of bright colors to your table.
3. OLYMPIC FIREWORKS ARE ALWAYS THE BEST!
Here's an idea that is sure to get all of the "oohs and aahs" from your guests. These adorable cupcake toppers can turn your almost any dessert into an Olympics-worth fireworks display with just a little effort!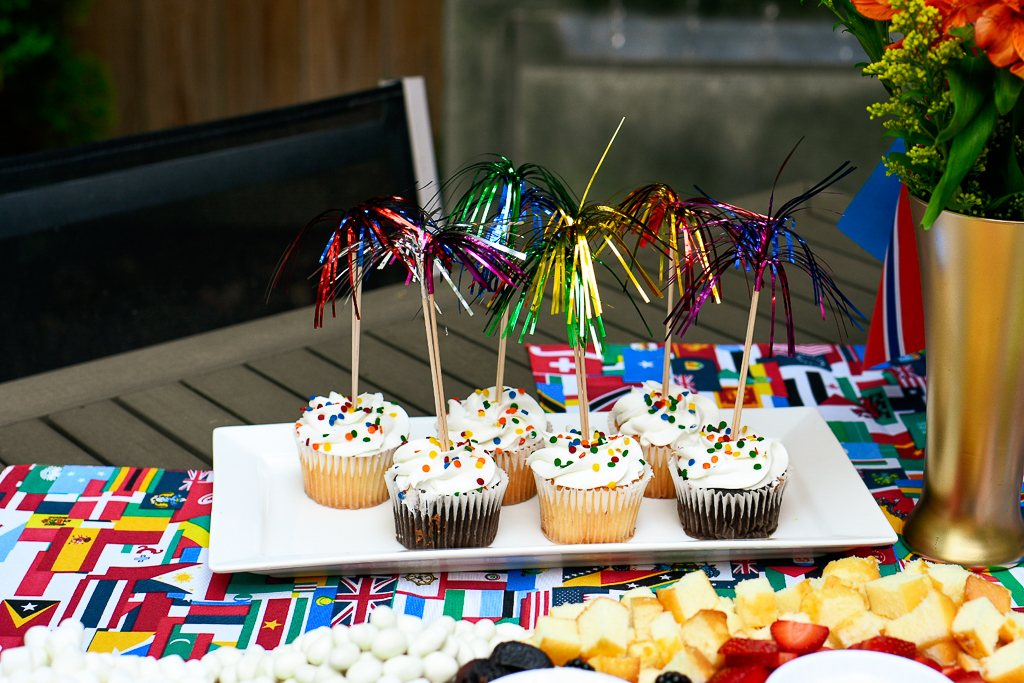 I put two of these glistening toppers into each cupcake to make them a bit fuller. I just LOVE how they add a bit of sparkle to our table!
4. FINALLY, GO FOR THE GOLD …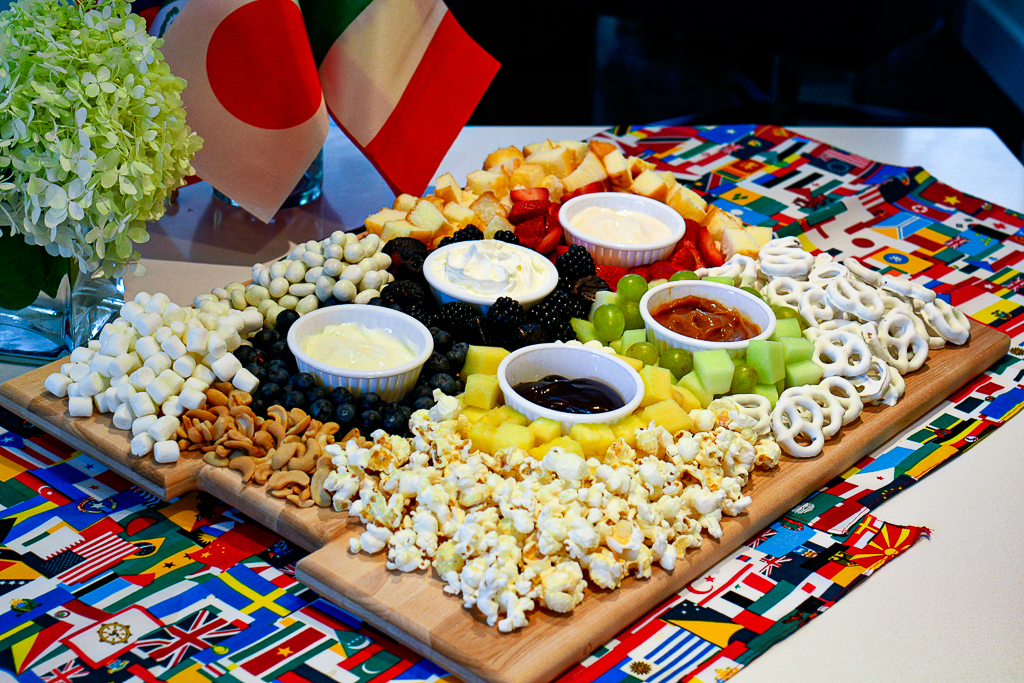 Pull together a terrific and tasty fruit Charcuterie board, featuring the Olympic rings! It's eye-catching, a crowd pleaser, and easy to create, if you follow just a few simple steps:
Choose a large cutting board or platter as the "foundation."
Place five small ramekins on the board to serve as forms for the rings.
Choose fruits, vegetables or meats that mirror the colors of the Olympic rings. Once you really start thing about your choices, the possibilities are endless!
HERE'S WHAT WE CHOSE:
Blue – blueberries (seemed like a natural choice).
Black – blackberries are in season right now and looked great at the store, they were impossible to pass up. We also added a few black figs into the ring for some additional flavors.
Red – we used strawberries, but there are loads of options here. Think raspberries, dried cranberries, red apple cubes … so many choices.
Yellow – cubed pineapple worked great on our board.
Green – we chose honey dew melon and seedless table grapes, but kiwi would also be a great option.
PRO TIP: If you want to do a more traditional charcuterie board, there are lots of options with olives, cheeses and meats that are perfect for the color palette of the Olympic rings.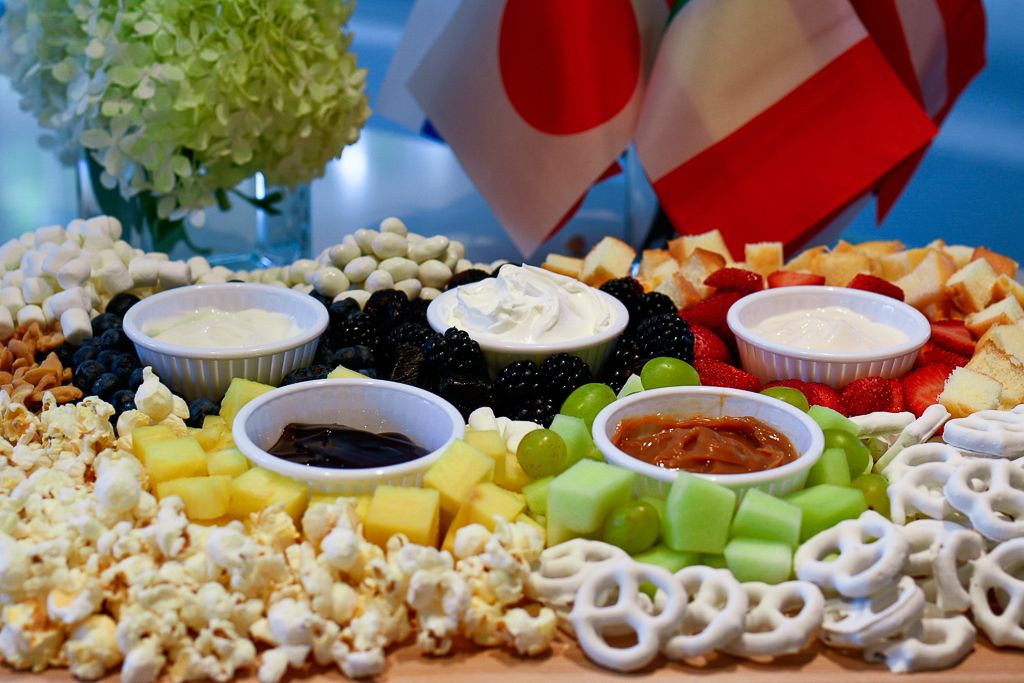 HERE ARE SOME ADDITIONAL IDEAS:
To fill in the background, we stuck with foods that were white. This allowed the colors of the Olympic rings to really pop. Think about items like yogurt covered pretzels, yogurt covered raisins, popcorn, pound cake, marshmallows and, of course, nuts!
Not only do the ramekins make it easy to form the rings, they allow you to add a few dips onto the board! Everybody wins!
Next, we filled the bowls with whipped cream, as well as a variety of yummy fruit dips from Marzetti's including their cream cheese, French vanilla yogurt, chocolate, and salted caramel dips. YUM!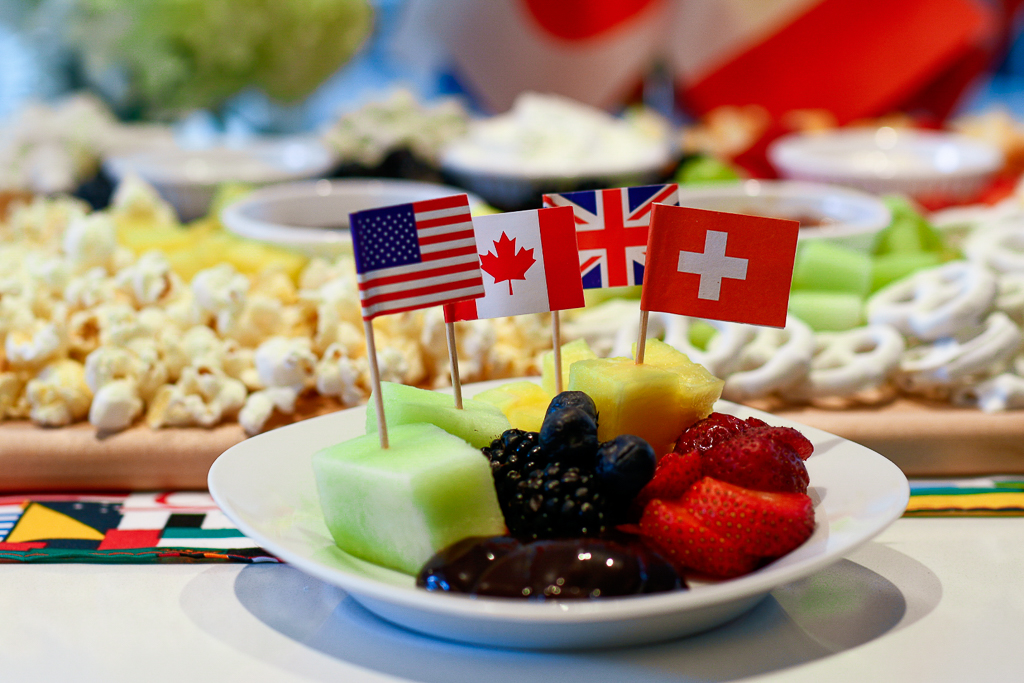 THE FINAL TOUCH:
We simply had to add some adorable world flag picks into the mix. They were the perfect accompaniment for the board to complete the Olympic theme!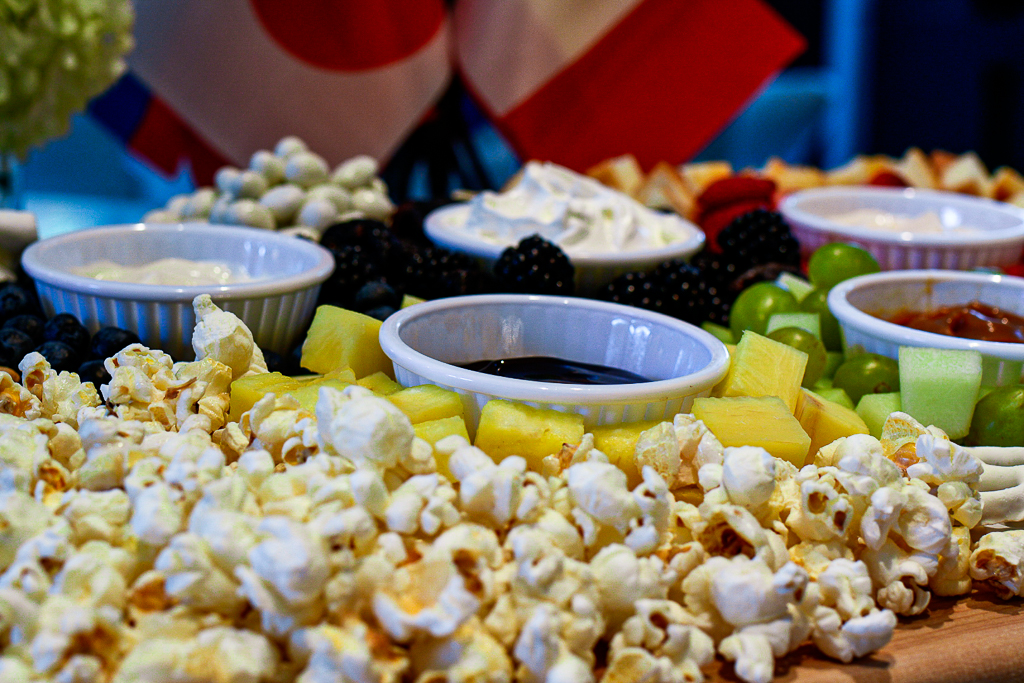 Did you try this idea? Share it on Instagram with the hashtag #makeeverydayanevent and tag @makeeverydayanevent!
Looking for some summer cocktail recipes that are perfect for an outdoor gathering? Discover The Best Rose Cocktail Recipes.
Follow us on social media! You can find us on Instagram, Pinterest, and Facebook.
If you have any questions or suggestions, contact us or leave a comment!