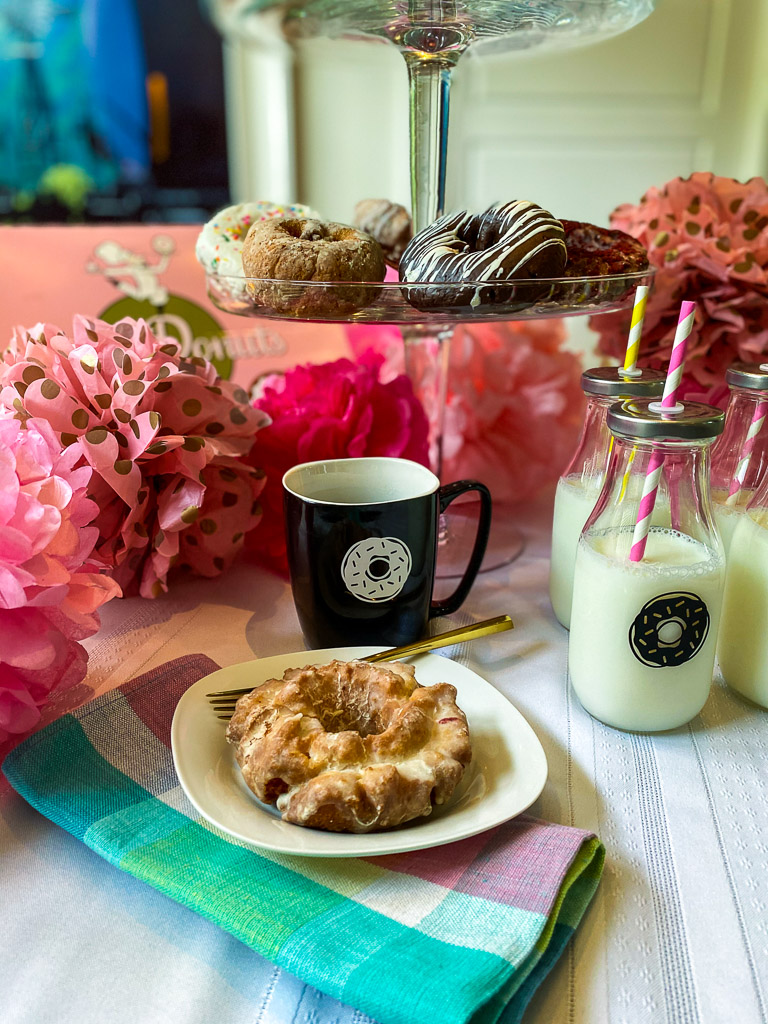 Three great ideas for National Doughnut Day. Doughnuts remind me of sleepovers, office gatherings, Saturday mornings, birthday parties, and sometimes, just a typical weekday (because Grandpa always thinks it's a good idea). Mornings are made a bit more special upon the arrival of that unmistakable rectangular box filled with delicious, doughy goodness. Sometimes, it's just simply a way to indulge yourself, carried out of a tiny landmark store filled with enchanting aromas, in a quintessential waxed paper bag. What a great way to make your average day just a little more special.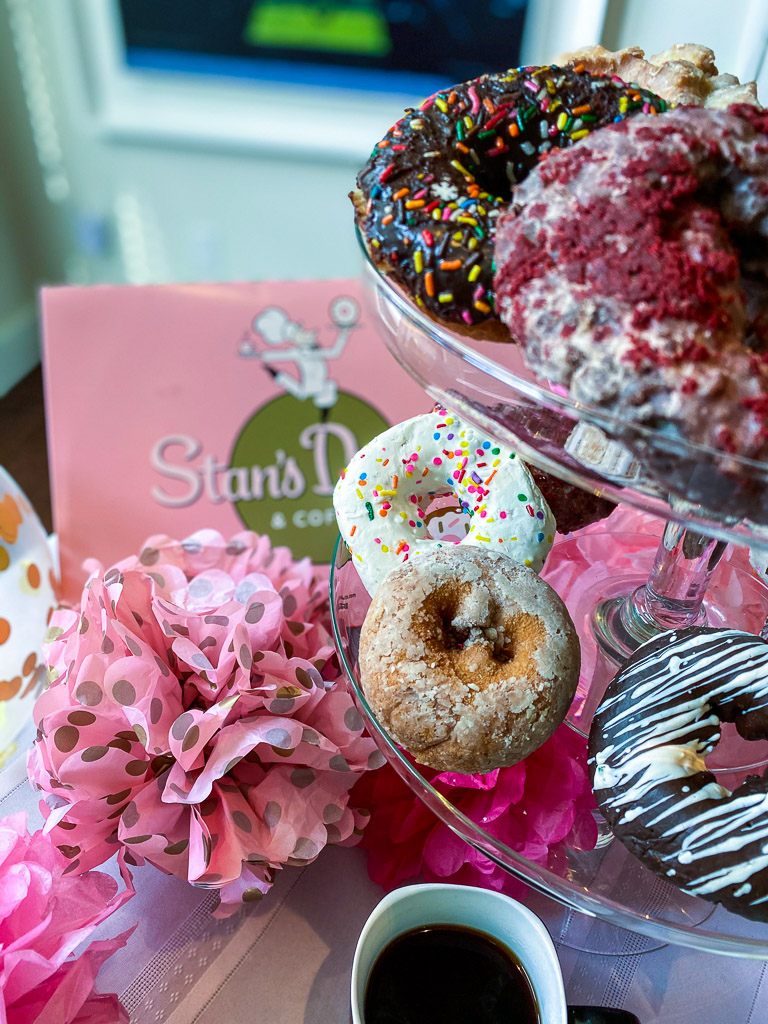 However they enter your life, their magical powers are undeniable. Which is the reason an entire day (or two!) has been dedicated to these typically round, always colorful, and sometimes extravagant creations — who often have a hole in their middle. Here are three ways to make this doughnut party an event you "doughnut" want to miss! We even guarantee you'll thank us for these ideas … a "hole" bunch! (Grandpa loved his corny jokes almost as much as he loved his doughnuts, so we just couldn't resist!) Enjoy!
GO FOR THE GOLD!
For this year's celebration, we set no geographic boundaries. Where could we find the best donuts in the entire U.S.? On Goldbelly, of course! The site lets you order from some of the most beloved local purveyors across the country. It's the place to go when you want a taste of home, college, or another bite of the joint with all the buzz that you waited in line to visit on your last trip. Stan's Donuts fits that bill!
PRO TIP: Stan's Donuts was featured on Food & Wine's list of "America's Best Doughnuts," The Daily Meals' list of "America's 25 Best Donuts," Eater's list of "The 20 Essential Doughnut Shops in Chicago," as well as The Chicago Tribune's list of "The Best Doughnuts in Chicago." What a resume!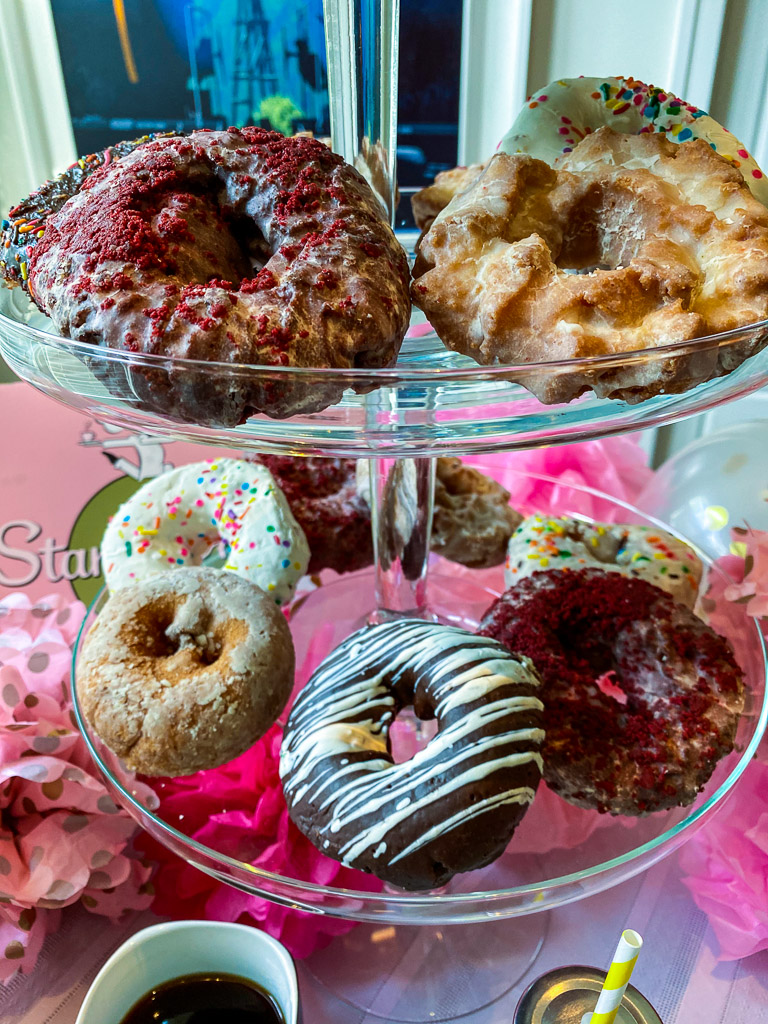 With its origins at the epicenter of L.A.'s famed doughnut culture, Stan Berman opened his legendary shop in 1965 and it has been a favorite of UCLA students for more than 55 years. It's popularity knows no limits. In fact, The Simpson (Stan's popular pink glazed donut with colorful sprinkles), claims pop-culture icon Homer Simpson as one of its biggest fans. Producers shipped dozens of the creations to FOX affiliates in honor of the show's 20th anniversary.
While the original store has shuttered, there are still several locations in Chicago which remain true to Stan's original recipes and legendary taste. Thank goodness! Ordering these renowned donuts from Goldbelly was easy! They arrived on time, nicely packaged and super fresh.
VARIETY IS KEY! THIS EVENT ONLY HAPPENS ONCE A YEAR … SO DON'T HOLD BACK!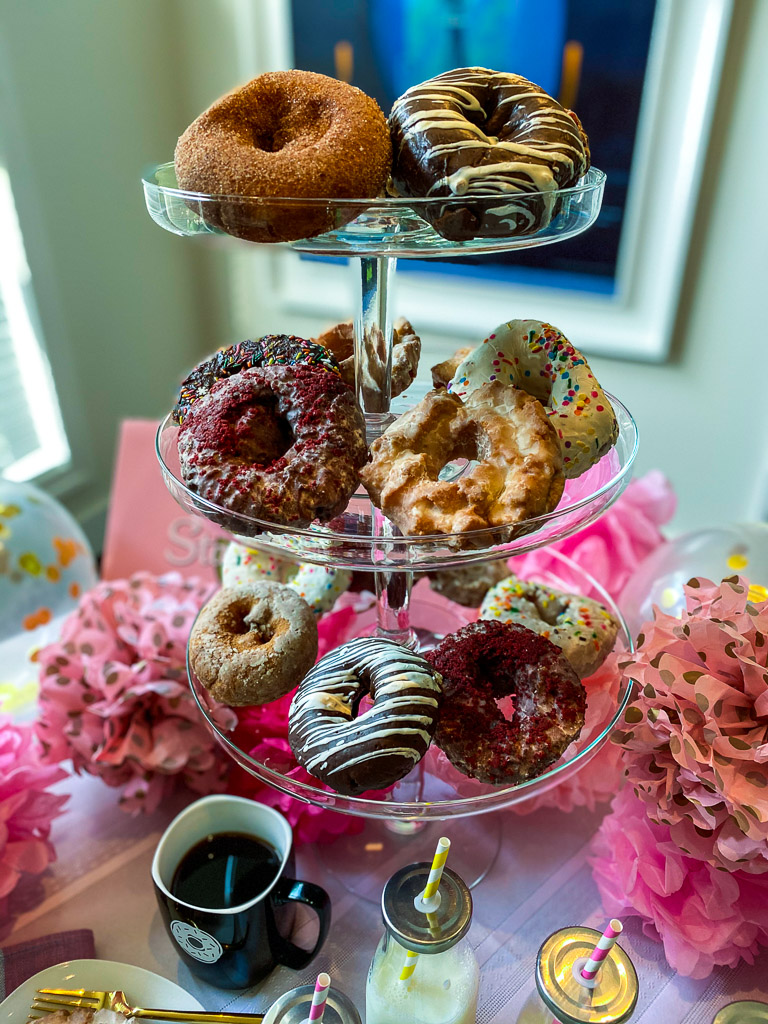 Everybody has a favorite doughnut. Some of us are glazed folks. Others love the cake varieties. There are vegan doughnuts available and at the complete opposite end of that spectrum, bacon-topped types. And many people are surprisingly stubborn about their favorite doughnut. There are absolutes here you don't want to mess with. Don't even think about offering some people a jelly-filled creation … they just won't have it! According to Ranker, glazed doughnuts remain the most popular in the U.S. For National Doughnut Day, we suggest you take our lead and order a wide variety of these indisputably good pastries. You're sure to have something to please everyone!
IT'S TIME TO MAKE THE DOUGHNUTS … EVEN CUTER!
With their adorable, multicolored sprinkles, shiny glazes and rich textures, doughnuts can pretty much hold their own on any table. But we decided to add a few simple details to make our presentation really stand out.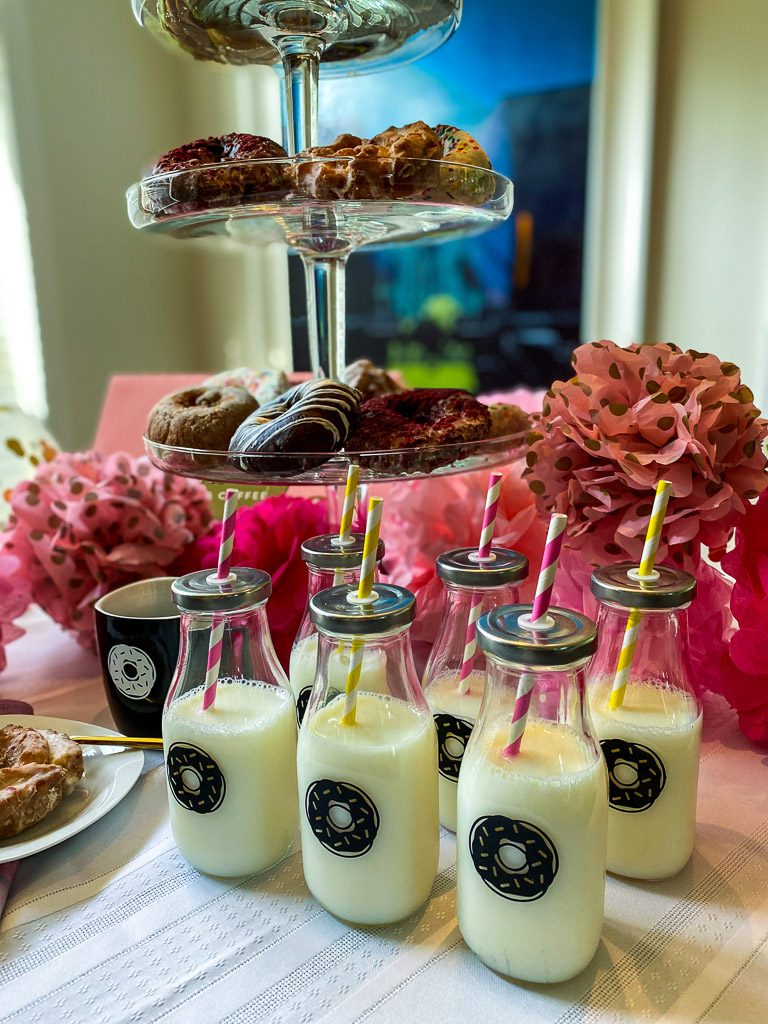 PRO TIP: This tiered, glass cake stand is a piece we use over and over again. Adding varying height levels to any food display is simple touch, but adds immediate impact. The clear glass eliminates any shadows or visual obstructions, so your food really looks fantastic. It's a lot of effect for a little amount of effort.
Nothing goes better with a tasty doughnut than a cold glass of milk or a hot cup of coffee. Whichever your guests prefer, we've got you covered. We embellished these cute milk bottles and added colorful paper straws. This was an easy, small touch that tied our table together. In addition, these black mugs look adorable and ready to party when decorated with the same doughnut cutout in white, using our Cricut Maker.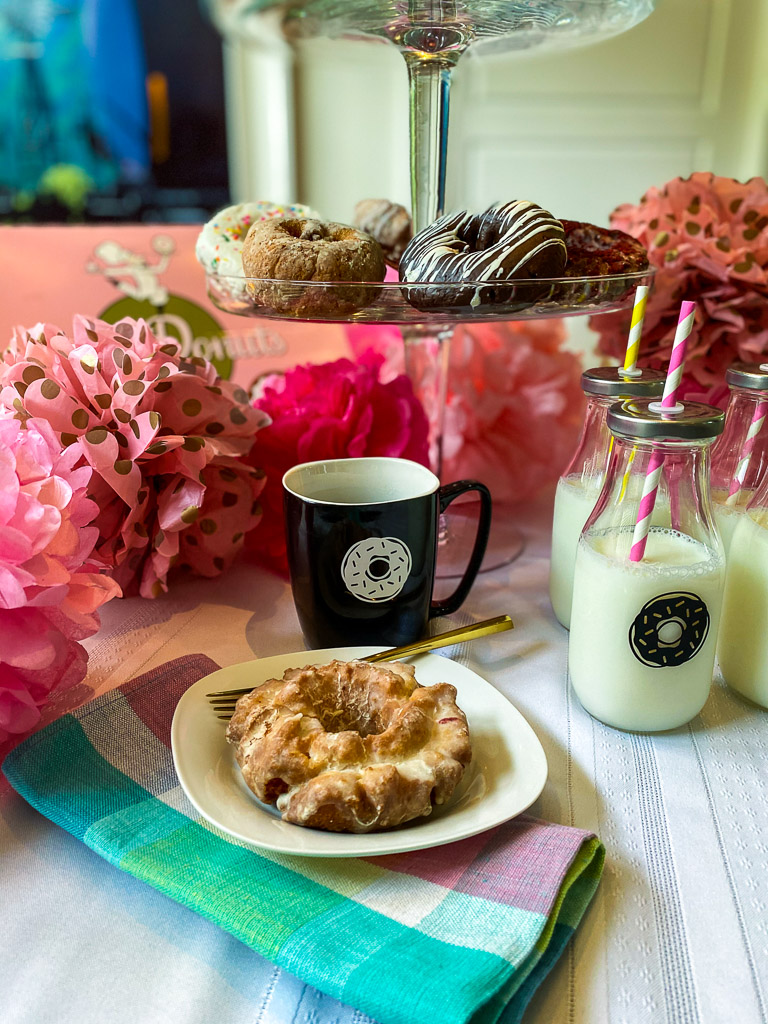 Finally pink tissue pom poms (some with adorable gold polka dots) and gold confetti balloons are an easy way to complete you table, while adding a bit of fun and whimsy.
Want to make National Doughnut Day even more special? Try our recipe for Strawberry Whipped Milk. You'll love this combination!