EASY FALL TABLE DECOR IDEAS USING CHINOISERIE THAT YOU'LL LOVE!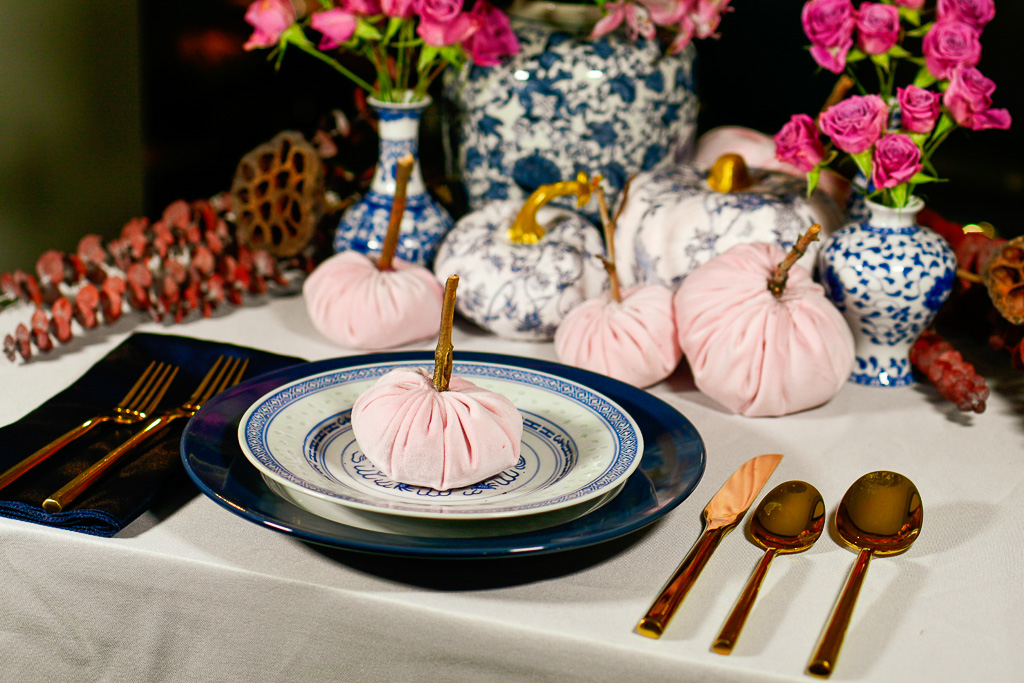 These easy fall table decor ideas incorporate a few chinoiserie pieces to create a stunning blue and white table that is perfect for fall!
Blue and white décor is here to stay for a while.
And I'm loving it.
In particular, all of the ceramic accents and chinoiserie.
They remind me of the Currier & Ives dishes my mom had when I was growing up.
They also remind me of the ginger pots my mother-in-law curated for her own home while Matt's family lived in Singapore.
The crisp blue and white patterns are just timeless.
Of course as a kid I didn't really appreciate the classic beauty of these pieces.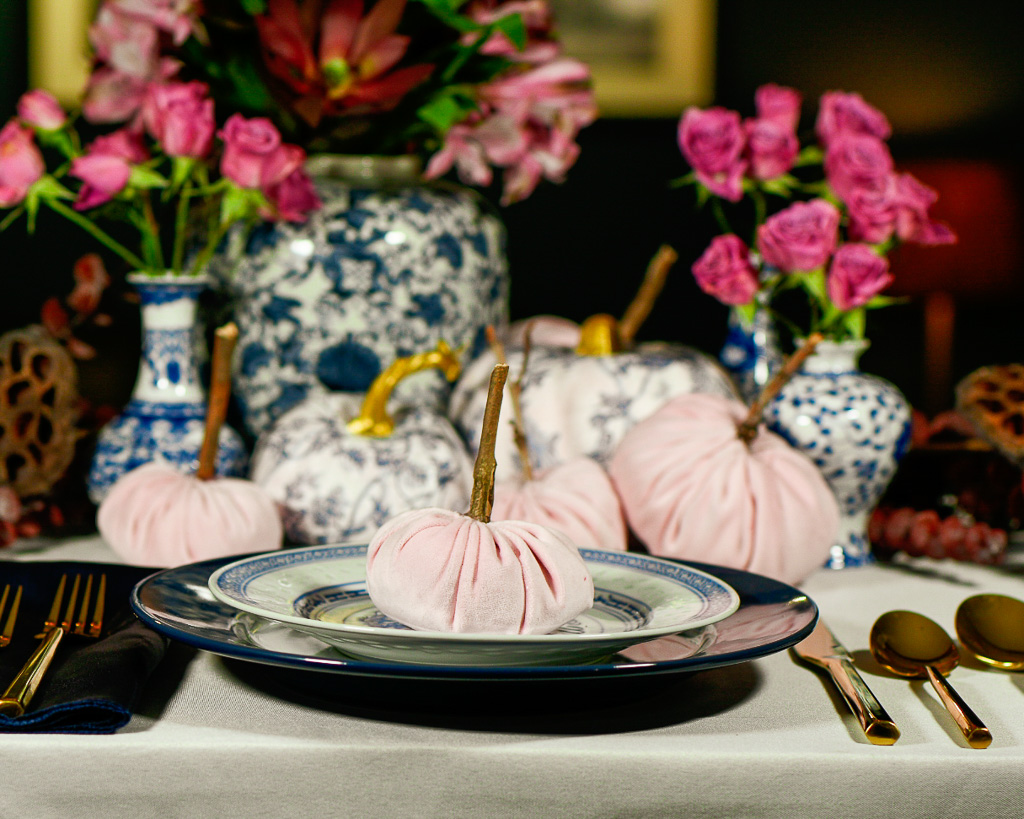 Especially when my mom made me load them into the dishwasher. LOL.
Earlier this year, I found some beautiful blue and white, chinoiserie pieces that looked great on my summer tablescape.
They weren't overly expensive but, as with any and all of the décor items I purchase, I was looking for a way to use them for more than just one season.
I wasn't ready to let them go and I certainly didn't want to have to store them for the majority of the year.
Who has room for that?
Not me!
So I challenged myself to transform these cheery blue and white décor pieces into a beautiful fall table centerpiece.
I'm happy to report, I rose to the occasion.
In fact, I actually impressed myself.
With a few easy fall table decor ideas, I created a simple fall tablescape that I absolutely love.
And I think you will too! Here's how I did it, step by step: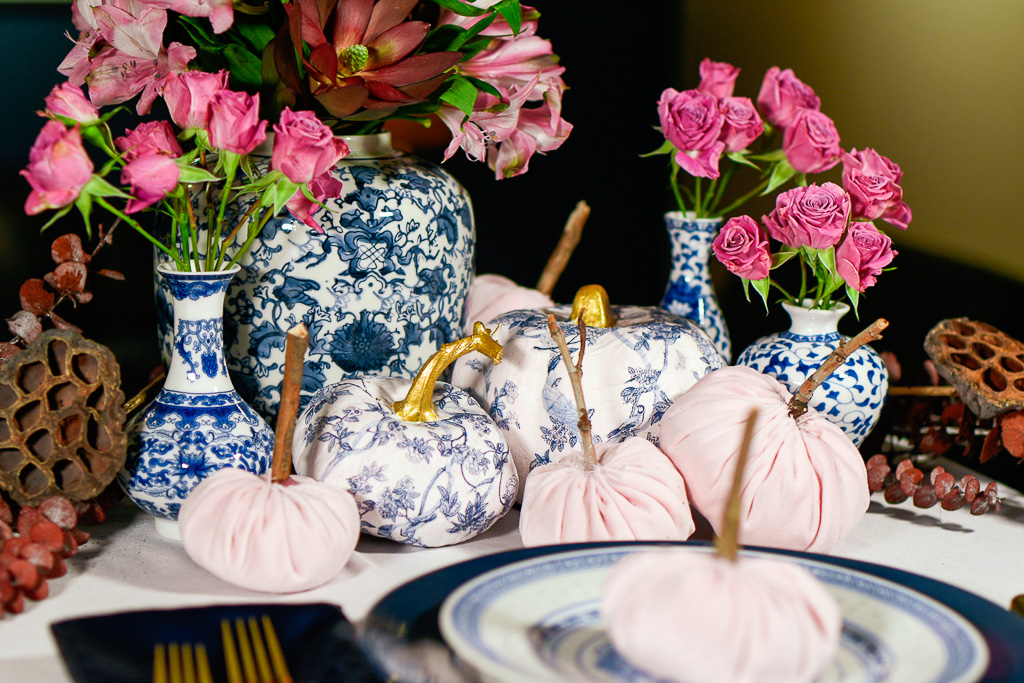 1. GATHER A FEW, CLASSIC BLUE AND WHITE PIECES
You don't need to spend a ton of money or have a large amount of chinoiserie pieces to make this look work. 
This large, chinoiserie ginger pot was an ideal focal point at the center of the table.
Next, I added a set of small bud vases.
I found two great sets of chinoiserie bud vases that are absolutely perfect for this tabletop.
They were an essential element in creating the look I desired.
One set is more elongated in its design.
The second is a more traditional "jar" style.
As I've said previously, small bud vases are the easiest way I know to create a stunning floral centerpiece, without a lot of fuss or anxiety.
They allow you to arrange single floral stems together and create varying heights, running down the entire length of your table.
When pulling together your blue and white pieces, you want to keep it simple. Repetition is the key to a clean design.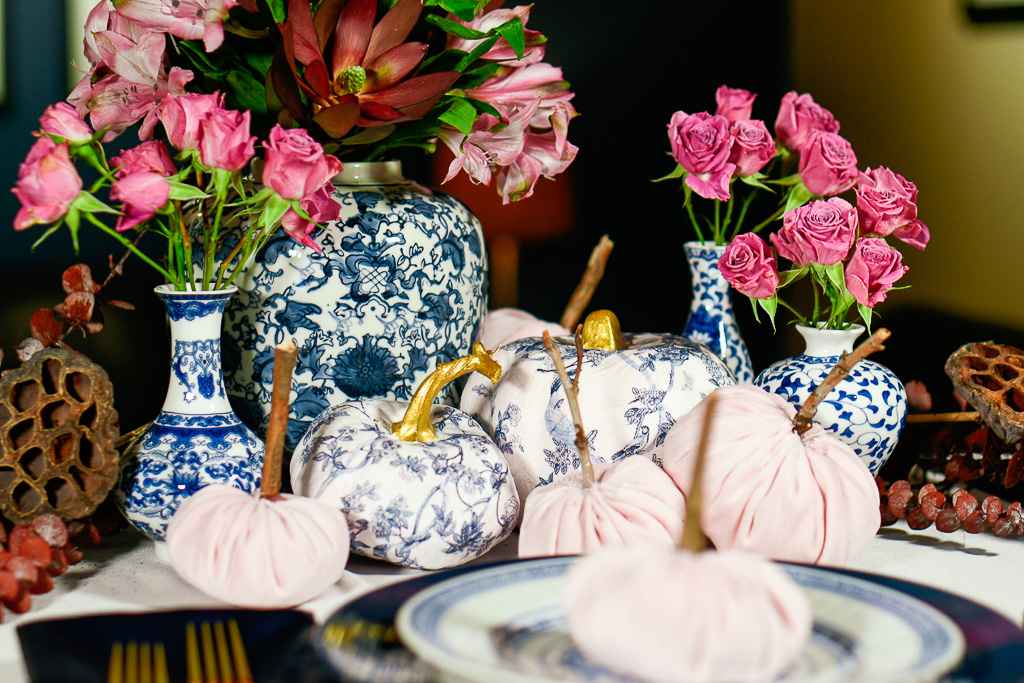 Florals that go great with these blue and white vases for the fall season which I used in this fall tablescape idea include:
Alstroemeria (also called Peruvian Lily or Lily of the Incas)
Pom Daisy
Leucadendron (I used Safari Sunset for its rich, maroon color)
Spray Roses
2. CHOOSE SOME FALL ACCENTS
It's fall so naturally any fall table centerpiece needs to have pumpkins and other fall décor.
I love these chinoiserie pumpkins.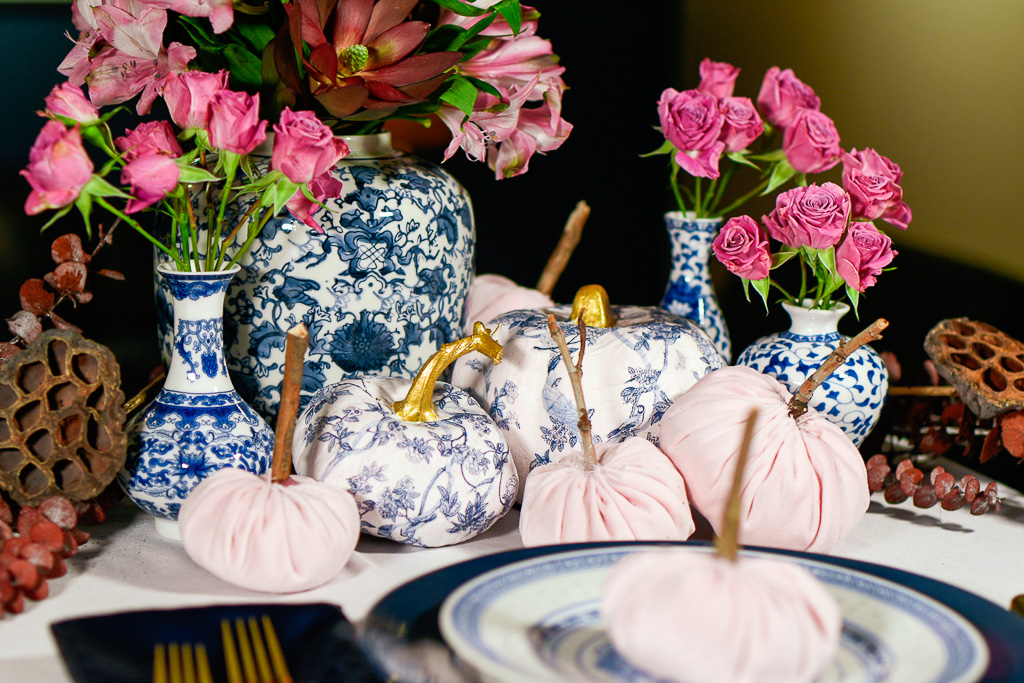 Do you want to know a secret?
I made them.
Yup.
And they look perfect with these blue and white vases.
I love it.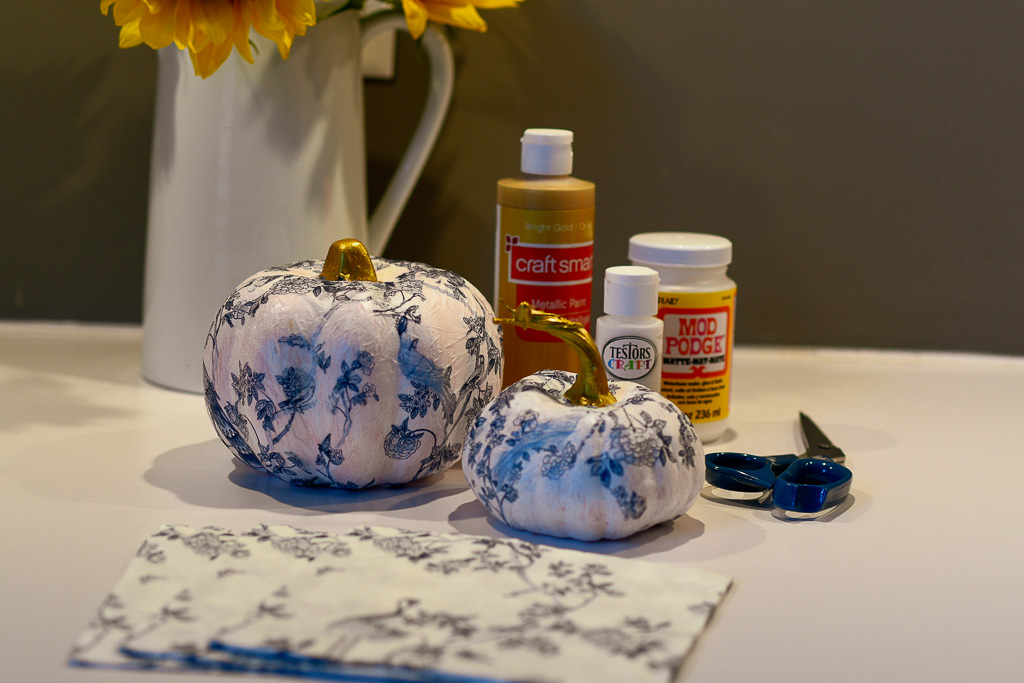 Want to know another secret?
They were so easy to make. Here's how: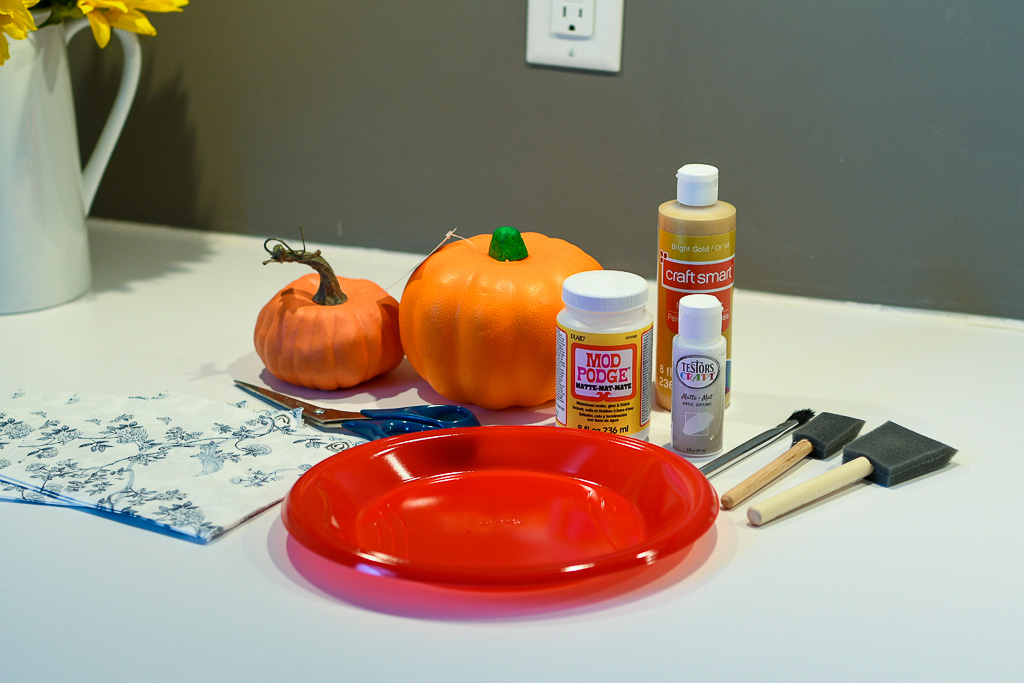 Here's what you need:
Two ply napkins with a simple, blue and white pattern
White acrylic paint
Mod Podge
Gold acrylic paint
Paint brushes
Plastic or styrofoam pumpkins (I got the smaller one at Hobby Lobby and the larger one at Dollar Tree)
Scissors
PRO TIP: I recommend using small pumpkins for this craft. It will make the project a lot easier and it will help it turn out better at the end. Also, there is debate over styrofoam versus plastic pumpkins for this decoupage project. I didn't notice any advantage in one over the other. The only difference was their size and price. Although the pumpkins at Hobby Lobby were very reasonable.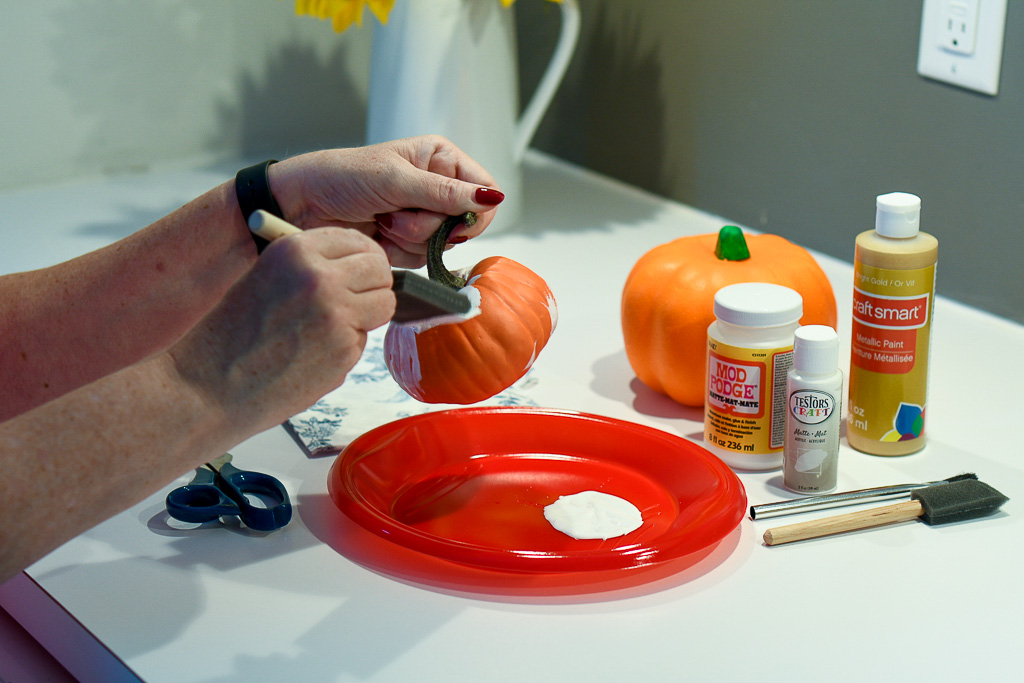 First, paint the pumpkins white with a good acrylic paint. They may require two coats.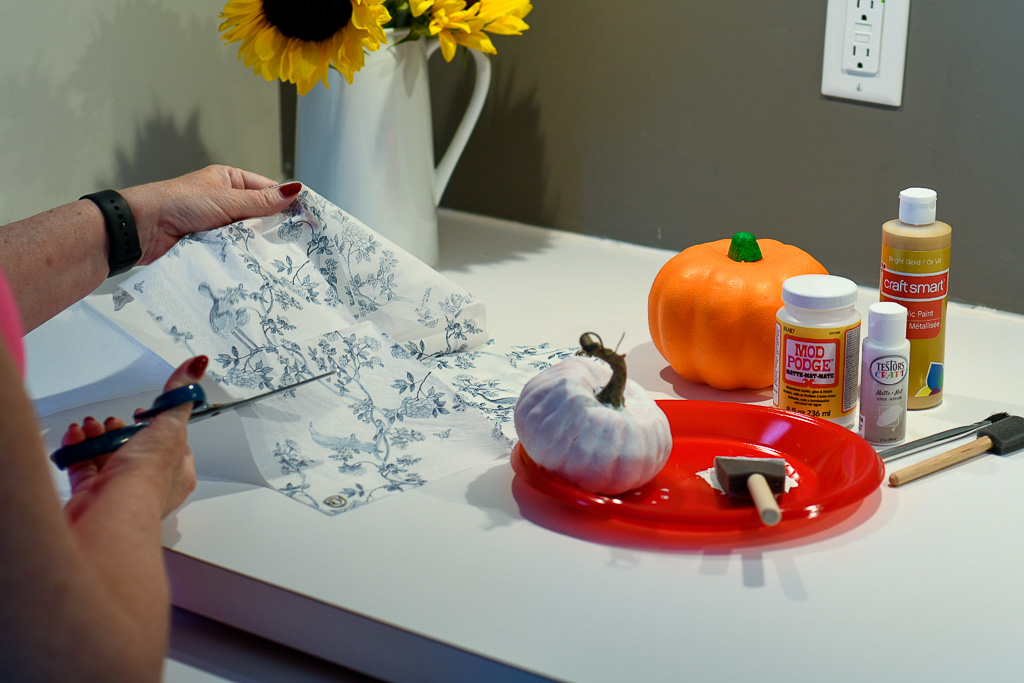 Next, peel the plys of the napkin apart. Cut a small section of the pattern to apply to the pumpkin after the white paint has dried.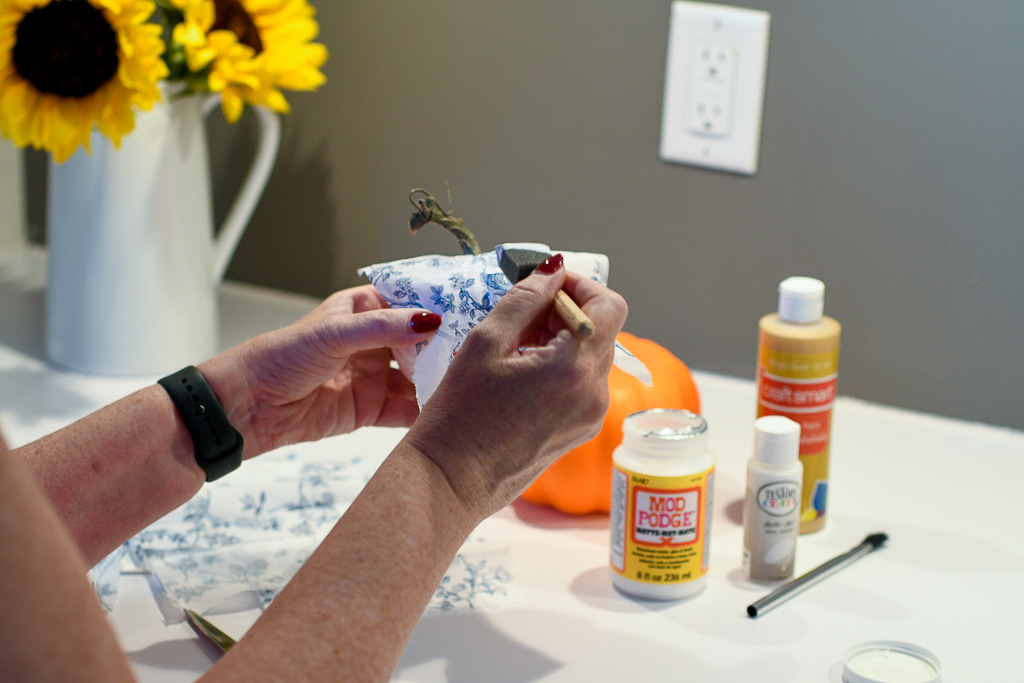 Carefully "paste" the napkin to the pumpkin by gently painting the Mod Podge on top of the napkin. Be careful, the napkins are tissue thin and tear easily.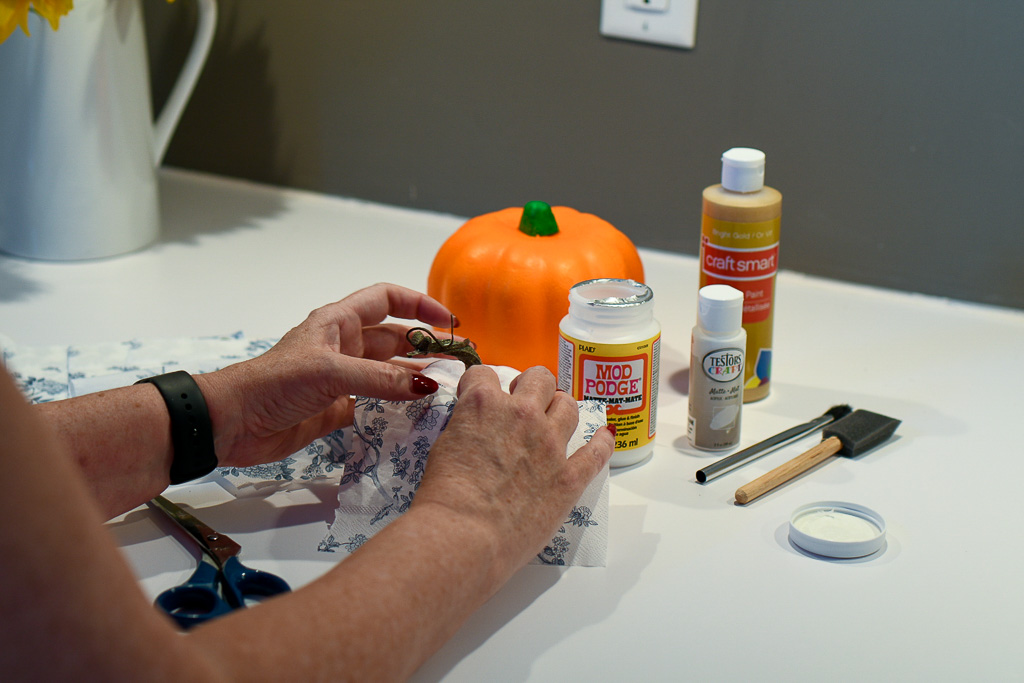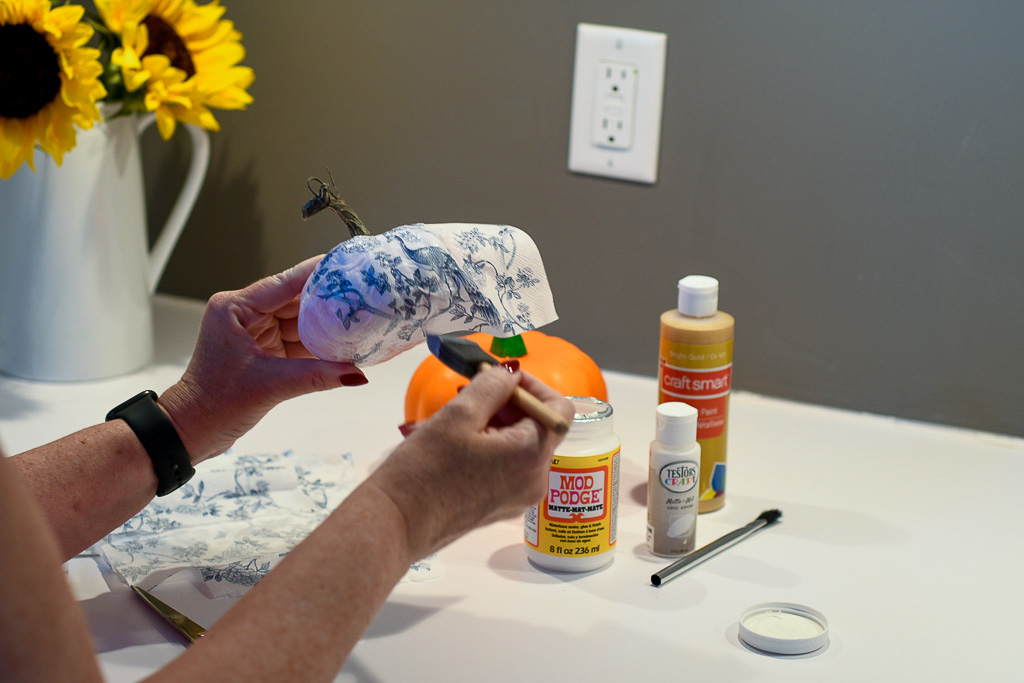 Keep applying the Mod Podge all around the pumpkin and carefully press out any wrinkles that may form with the paint brush. I found the sponge paintbrushes to be the best tool for this job.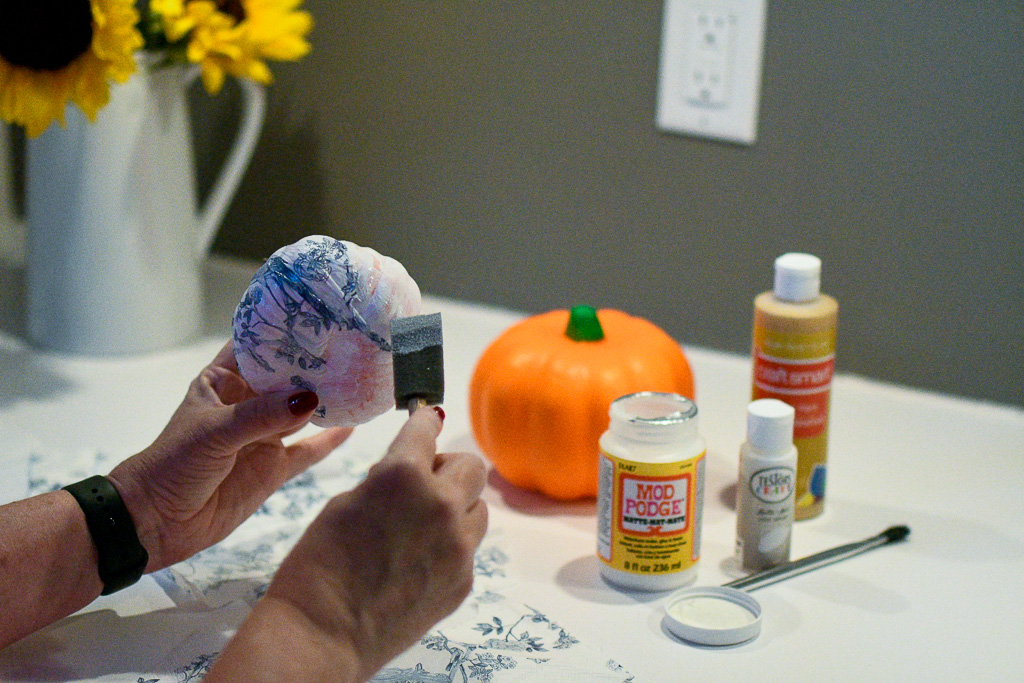 You don't have to cover the bottom of the pumpkin unless you want to. Once the Mod Podge has dried, paint the stem of the pumpkin with metallic gold acrylic paint for a final touch of elegance.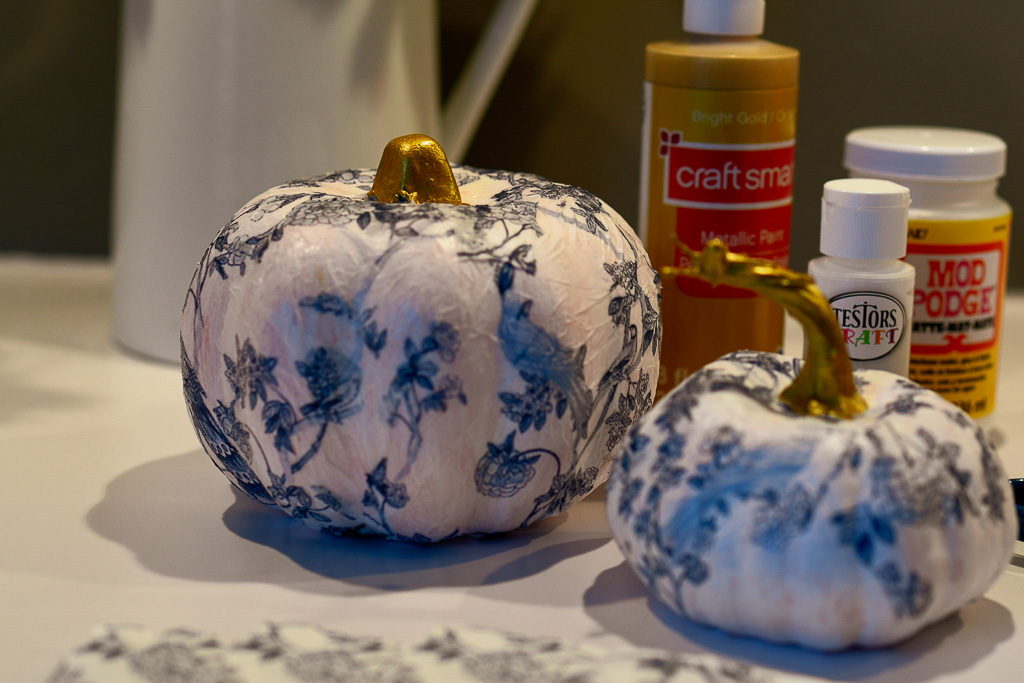 That's it! As simple as I promised and such a great touch to any fall tablescape!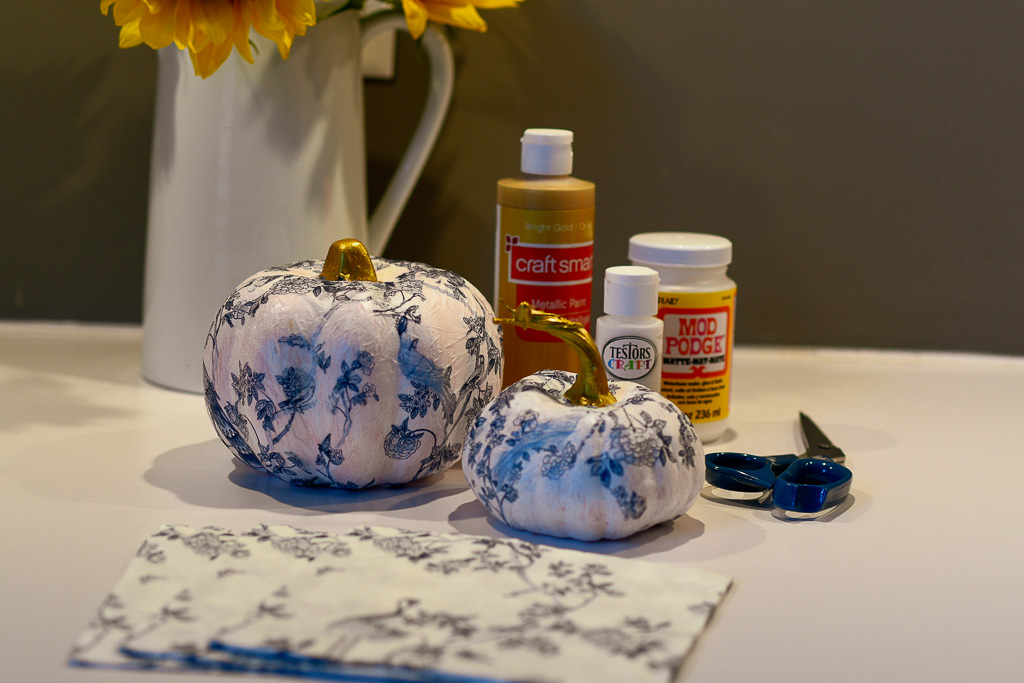 3. MIX IN A POP OF COLOR
The key to these fall tablescape ideas is to keep it simple.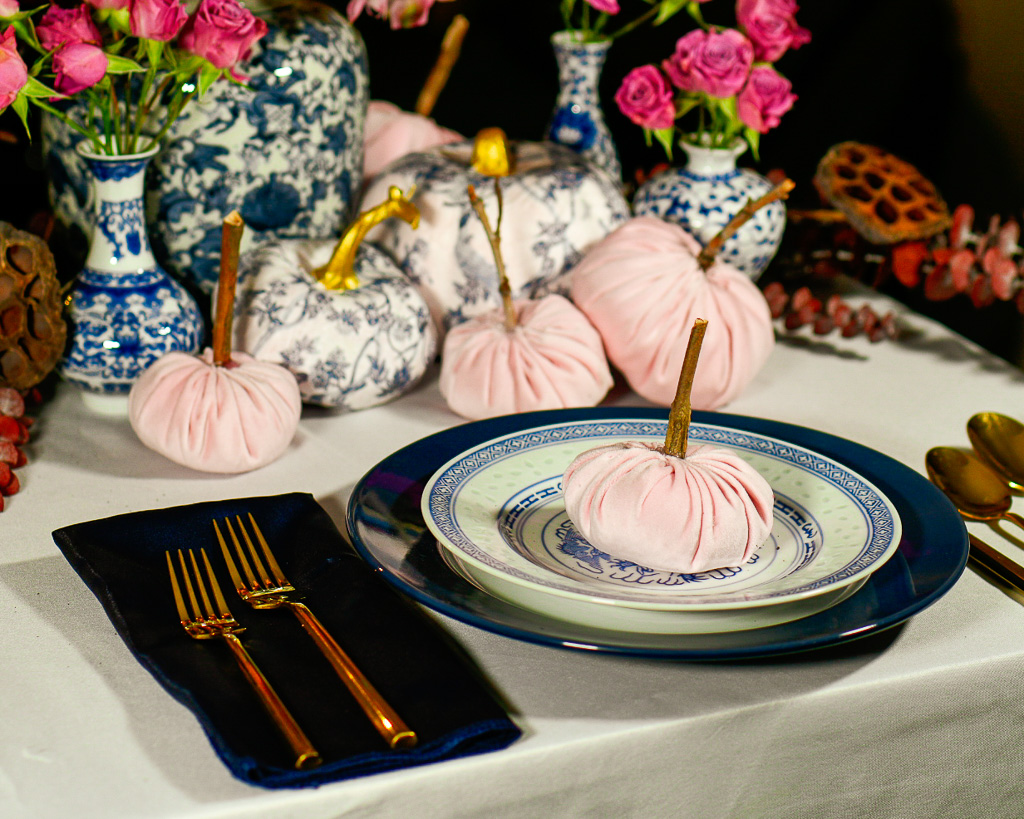 You don't want a ton of colors thrown into the mix.
Keep it to three or four at most.
That's what I did with this table.
The color palette is limited to blue, white, gold and pink.
Pink just pops against navy blue.
And these pink velvet pumpkins also add a sophisticated texture to this tablescape as well.
A simple, small pumpkin placed on the center of the plate is a great place card holder for each of your dinner guests.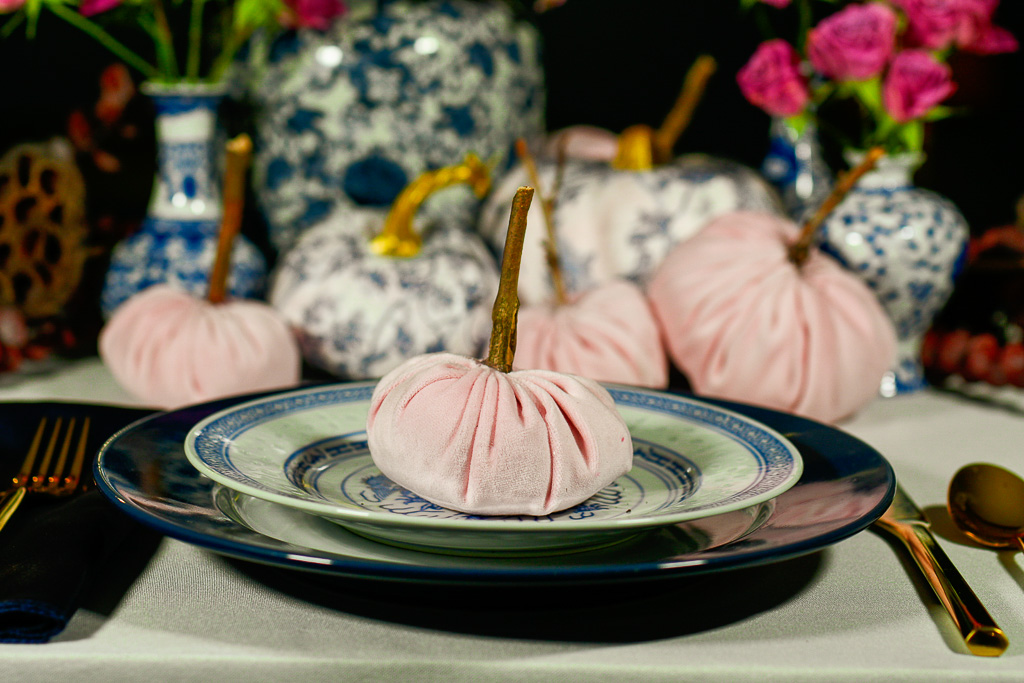 And the gold flatware is perfect for this table setting!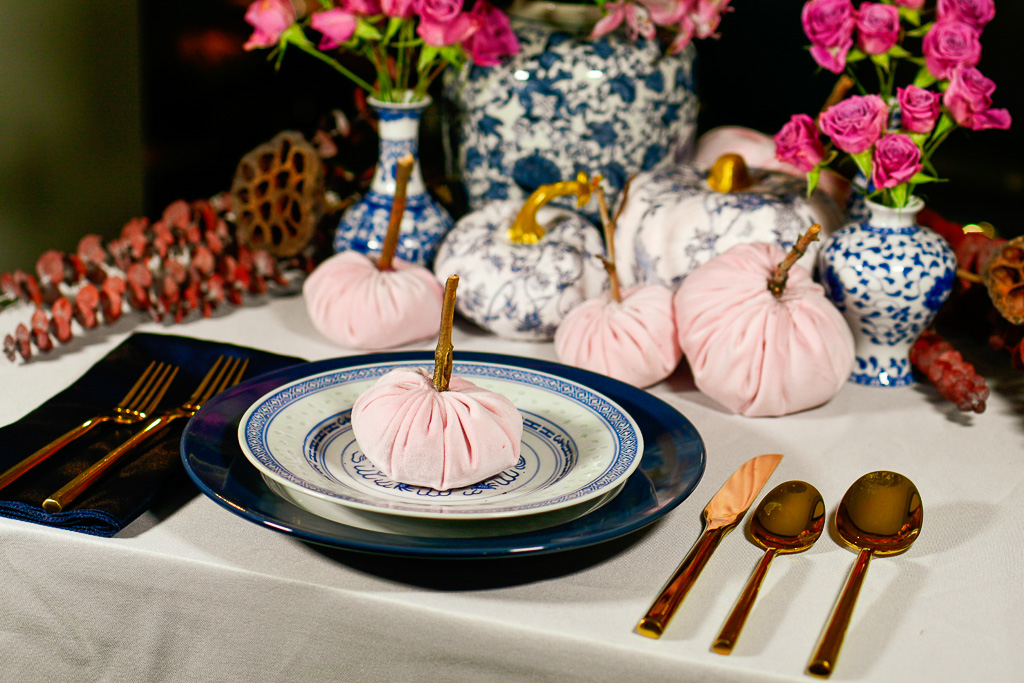 4. FILL IN THE GAPS
You want to make any fall centerpiece feel lush.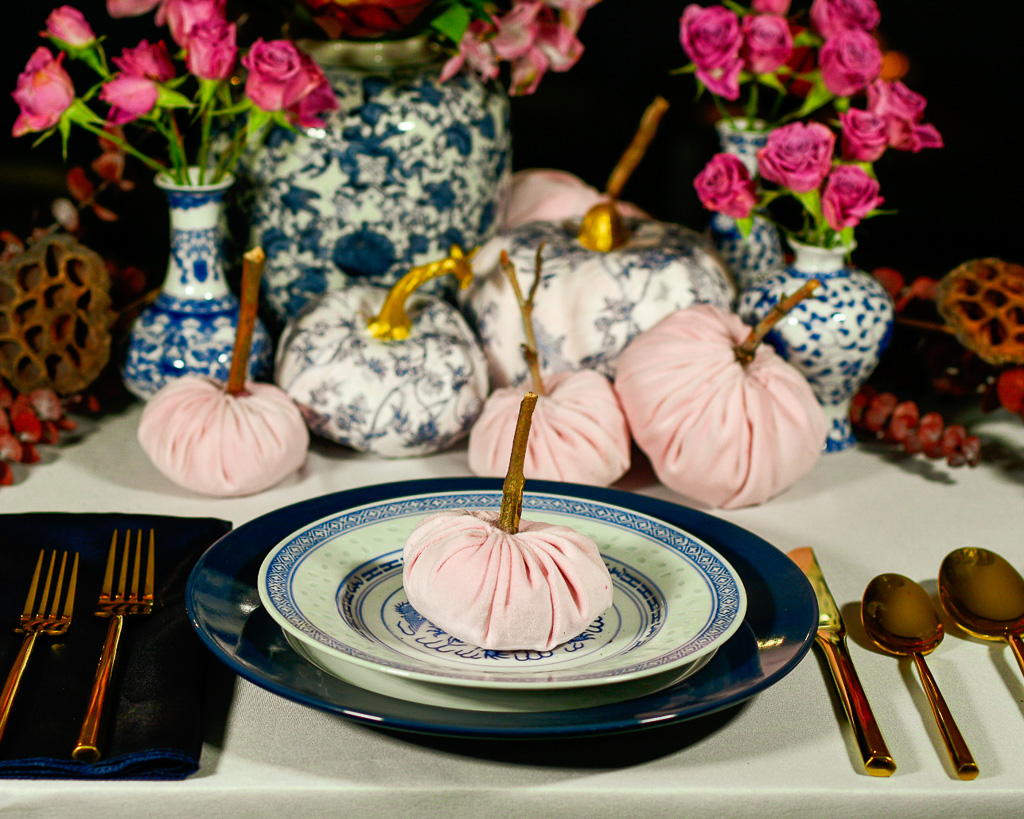 Strategically placing additional items next to the blue and white vases is the perfect way to do just this!
Eucalyptus, dried grasses and dried lotus pods are excellent accompaniments for this fall table setting idea.
Not only can they add a bit of fall aroma to your tablescape, they will also add a lot of texture to it as well!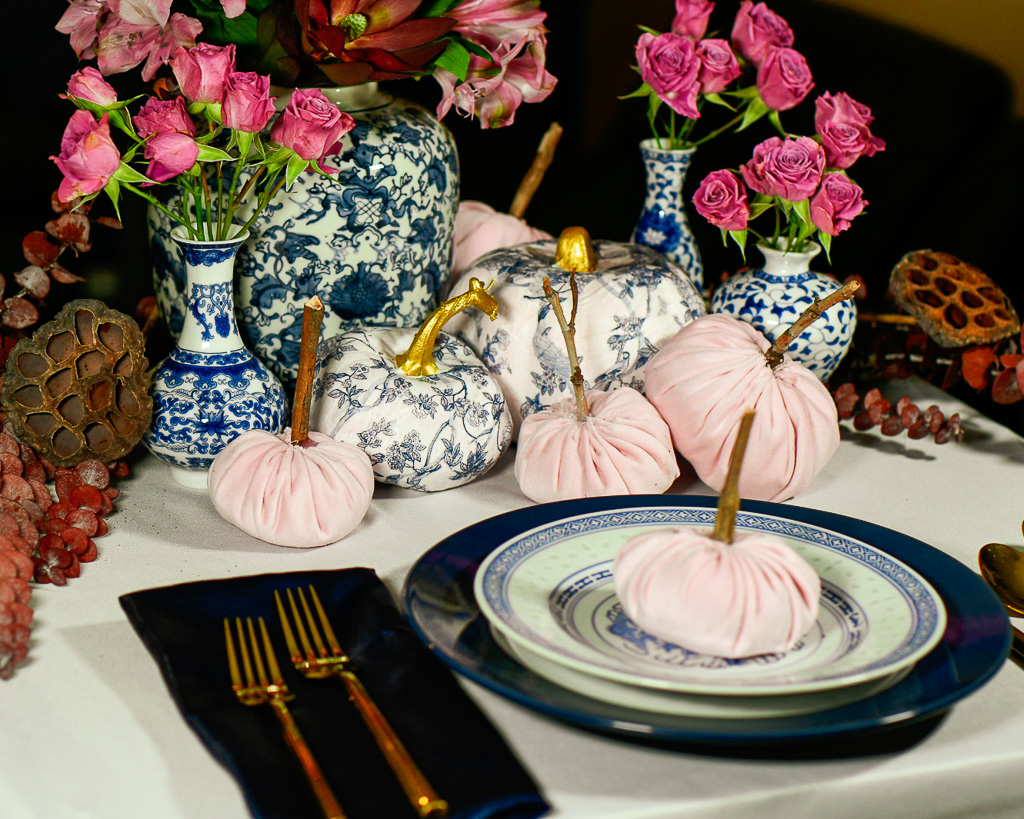 If you liked these ideas, here are some other great blogs you'll want to check out:
The Top Fall Tabletop Trends We've Spotted and You'll Love
Elegant Thanksgiving Tablescape Ideas
Did you try this idea? Share it on Instagram with the hashtag #makeeverydayanevent and tag @makeeverydayanevent.
If you have any questions or suggestions, contact us or leave a comment!
Follow us on social media! You can find us on Instagram, Pinterest, and Facebook.