ONE OF THE BEST FUN FOURTH OF JULY DESSERT IDEAS THAT YOU'LL LOVE!
Looking for fun Fourth of July dessert ideas?
You'll love this Bald Eagle cupcake recipe to add the fun to your 4th of July celebration!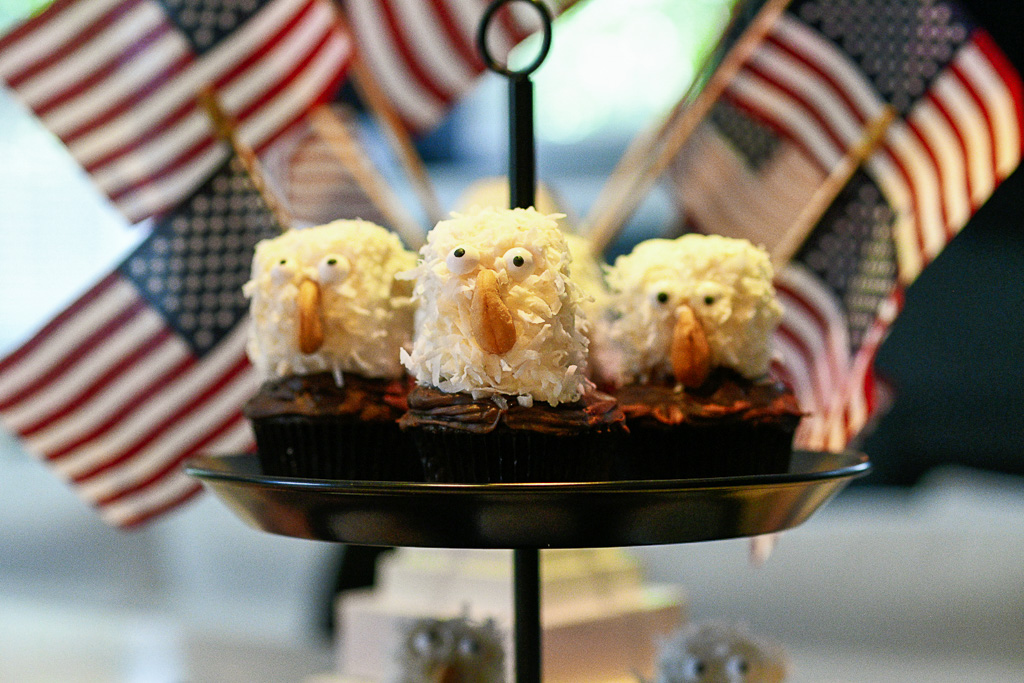 Cuteness alert! I can't wait to share one of the best fun Fourth of July dessert ideas I've ever found!
You are going to simply love it!
Fourth of July is one of my favorite days of the year in our hometown of Webster Groves.
It's like our community, which is a little slice of Americana, was simply designed for the patriotic holiday.
The annual community parade that winds its way through the town's streets is greeted by festive crowds on the front lawns and porches of the century old homes that dot the neighborhood.
Each is filled with families and friends, all clad in red, white and blue, making life-long memories in the hot summer sun.
It's just an amazing day. Sigh.
I simply love it! And cannot wait for this year's celebration!
Another staple of the lawn and porch parties is all of the food.
On the Fourth of July, the more patriotic the food … the better it is to celebrate the occasion.
You know it's true!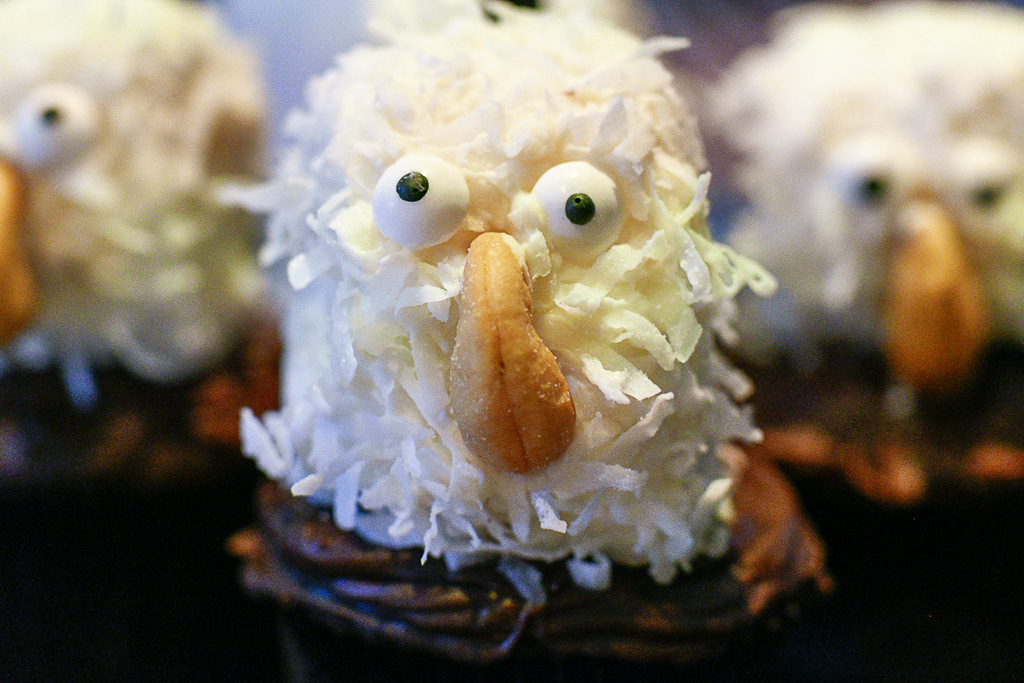 Which is why you are simply going to LOVE these cupcakes.
They are one of the best fun Fourth of July desert ideas I've ever made.
So stinkin' cute and such an easy dessert idea for the Fourth of July.
Because, really … just look at these bald eagle cupcakes!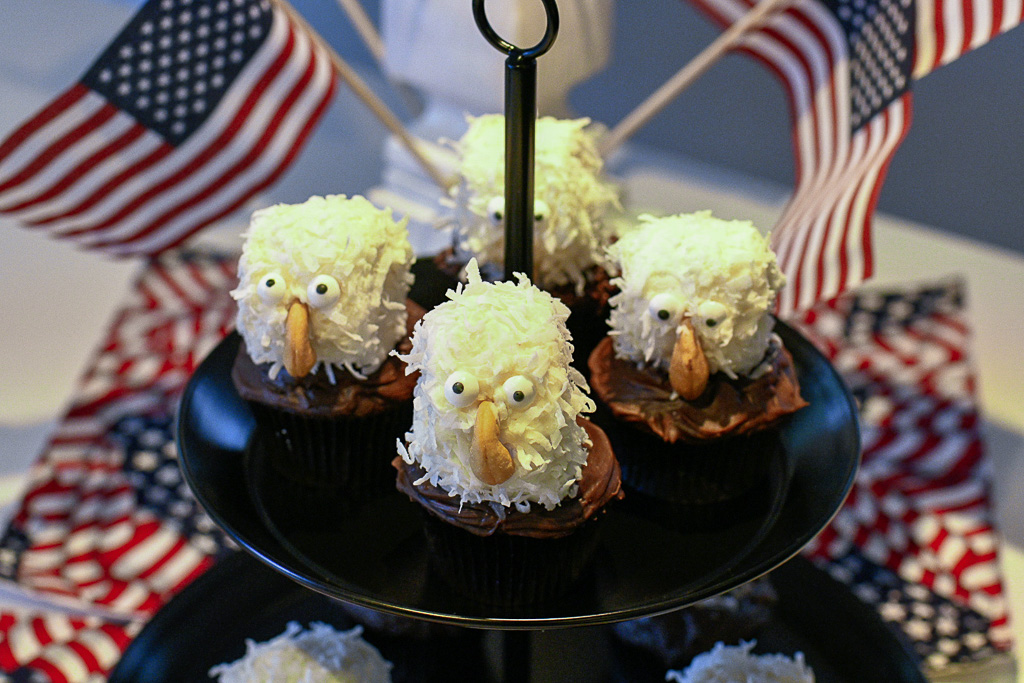 Aren't they the most adorable Fourth of July dessert you've ever seen?
I'll show you step-by-step how to make them!
EVERYTHING YOU'LL NEED TO CREATE THIS FUN FOURTH OF JULY DESSERT IDEA: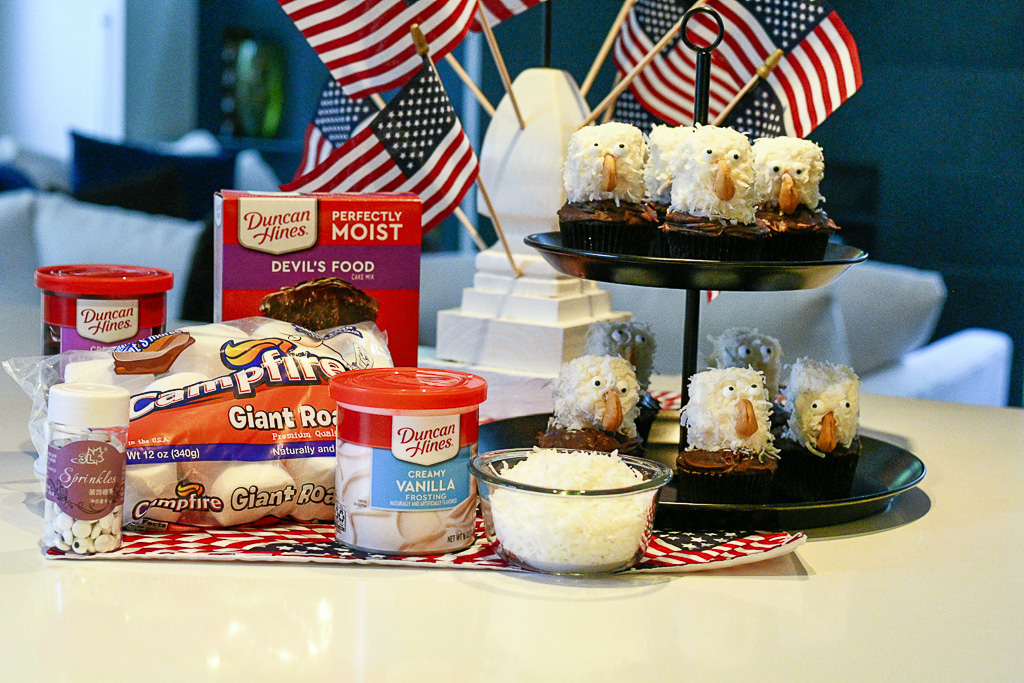 Posts on Make Every Day an Event may contain affiliate links which means we may earn a small commission on purchases at no extra cost to you. To learn more, please read our full disclosure here.
One package Devil's Food cake mix
20 giant roaster marshmallows
One can each of creamy chocolate frosting and creamy white frosting
Shredded coconut
20 to 24 whole cashews
Candy eye decorations
Solid brown baking cups
Toothpicks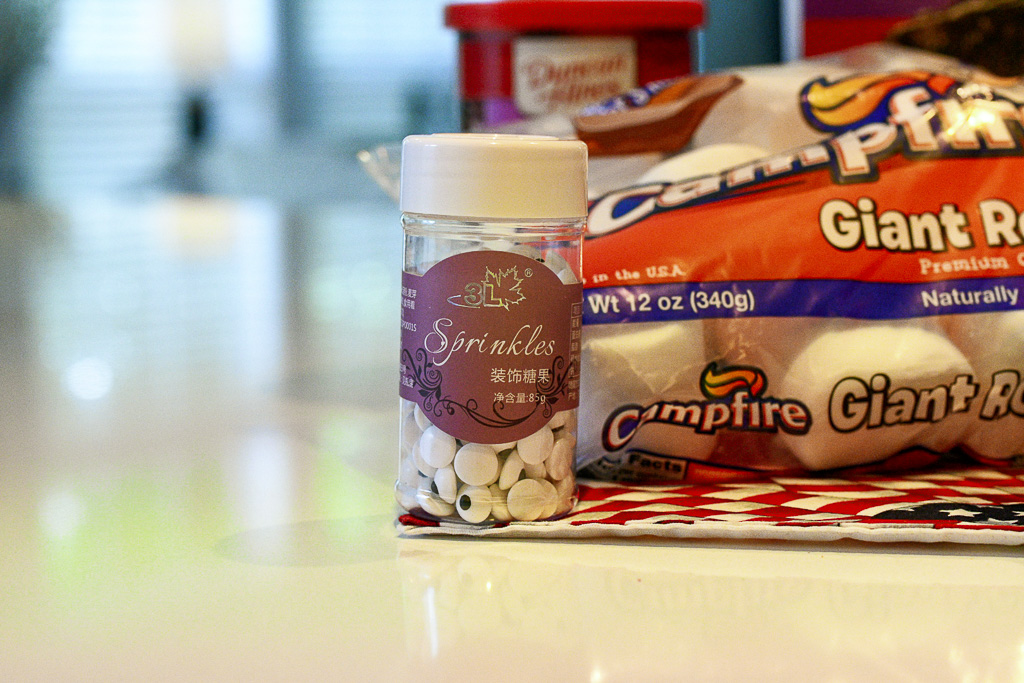 Begin by baking a batch of cupcakes according to the package's directions. You'll want to use these solid brown baking cups to line the cupcake tins. It will allow your cupcakes to look more like eagles when you're finished.
After the cupcakes have cooled, frost the cupcakes with chocolate frosting. You'll want to be a bit generous with the frosting (no complaints here on that one!).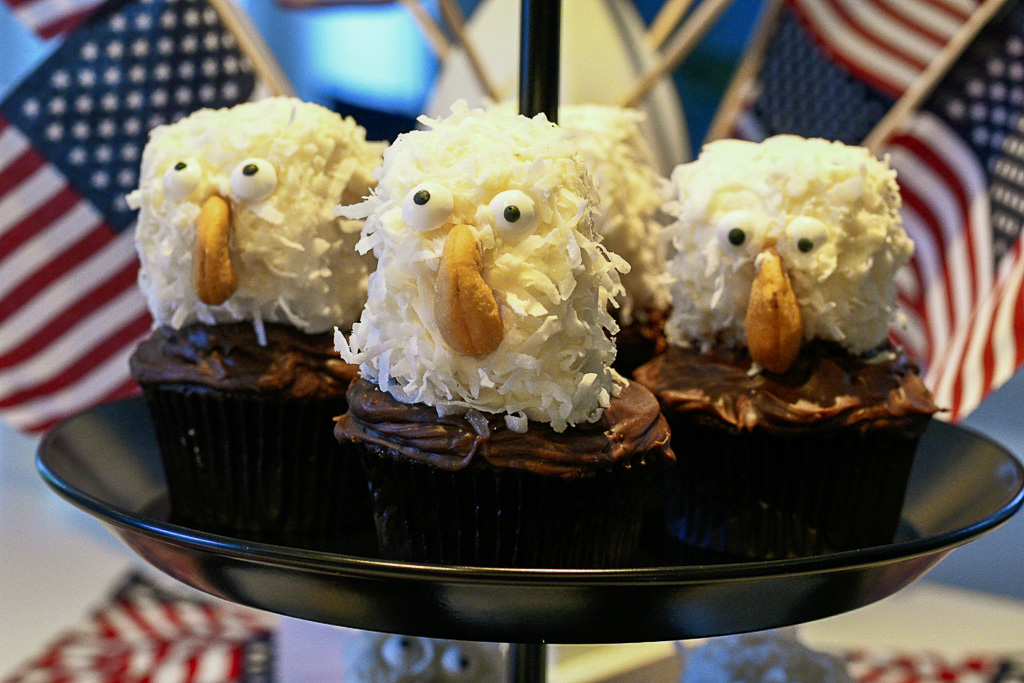 HERE'S HOW TO ASSEMBLE THE EAGLES …
First, begin to make the eagle's head.
Note: I concentrate on creating one cupcake at a time, because as you will see … things are about to get a little bit messy.
Trim about ¼ inch off the top of the giant roaster marshmallow.
Turn it so the remaining flat portion and the cut portion are on the sides and stick a toothpick at the bottom.
The toothpick will allow you to hold the marshmallow while you frost it.
Evenly spread white frosting on the entire surface of the marshmallow. After you've finished, roll the frosted marshmallow in the shredded coconut.
The next step is to place the coconut head on top of the cupcake.
The toothpick makes it easy to secure the eagle's head to the body. You may need to remove a few of the coconut flakes from the chocolate icing. A clean knife makes this task easy.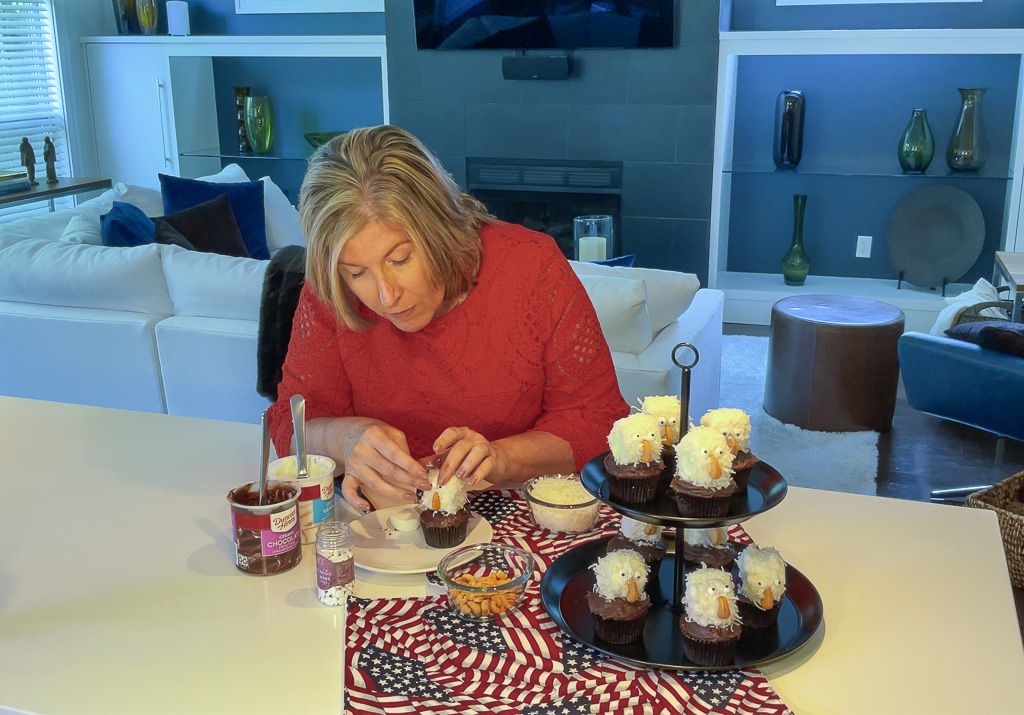 FINALLY, IT'S THE FUN PART …
It's time to give your eagle some features!
Place two candy eye decorations firmly into the coconut head. In between the eyes, firmly place a single whole cashew (wide portion down) between the eyes to create the beak.
Repeat the process for as many cupcakes as you're making. That's it. So simple! That's what makes these are the best fun Fourth of July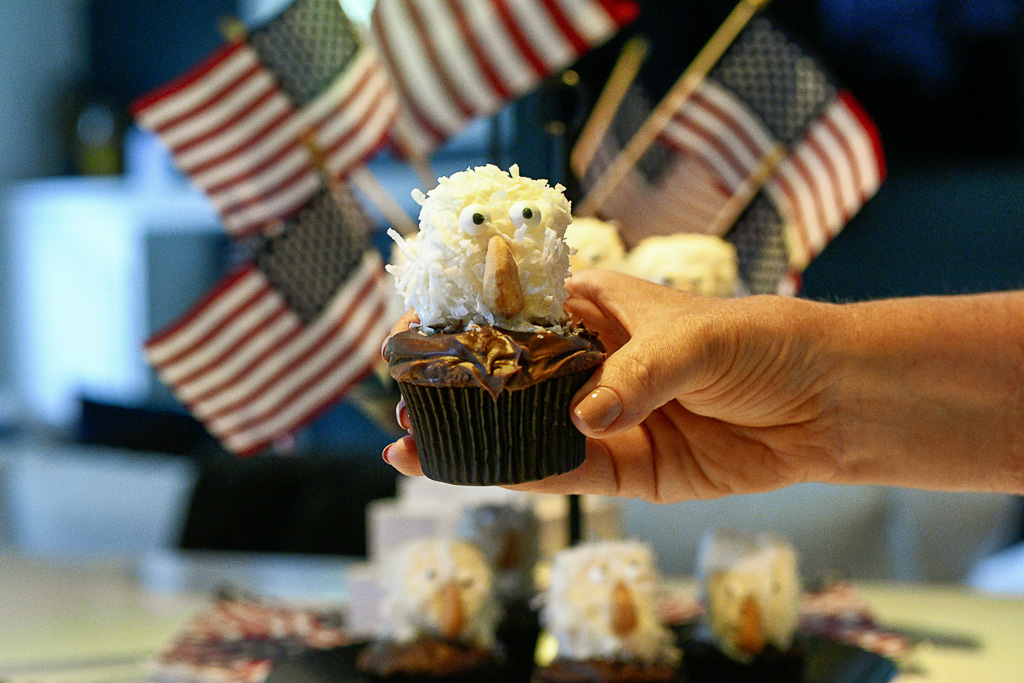 Did you try this fun Fourth of July Dessert idea? Share it on Instagram with the hashtag #makeeverydayanevent and tag @makeeverydayanevent!
Hosting a party this summer? Check out these great entertaining ideas you don't want to miss:
Discover the Daiquiri … It's Not What You Think!
Five Great Tablescape Ideas for a Casual Summer Dinner Party
Rose All Day with These Rose Cocktails
If you have any questions or suggestions, contact us or leave a comment!
Follow us on social media! You can find us on Instagram, Pinterest, and Facebook.