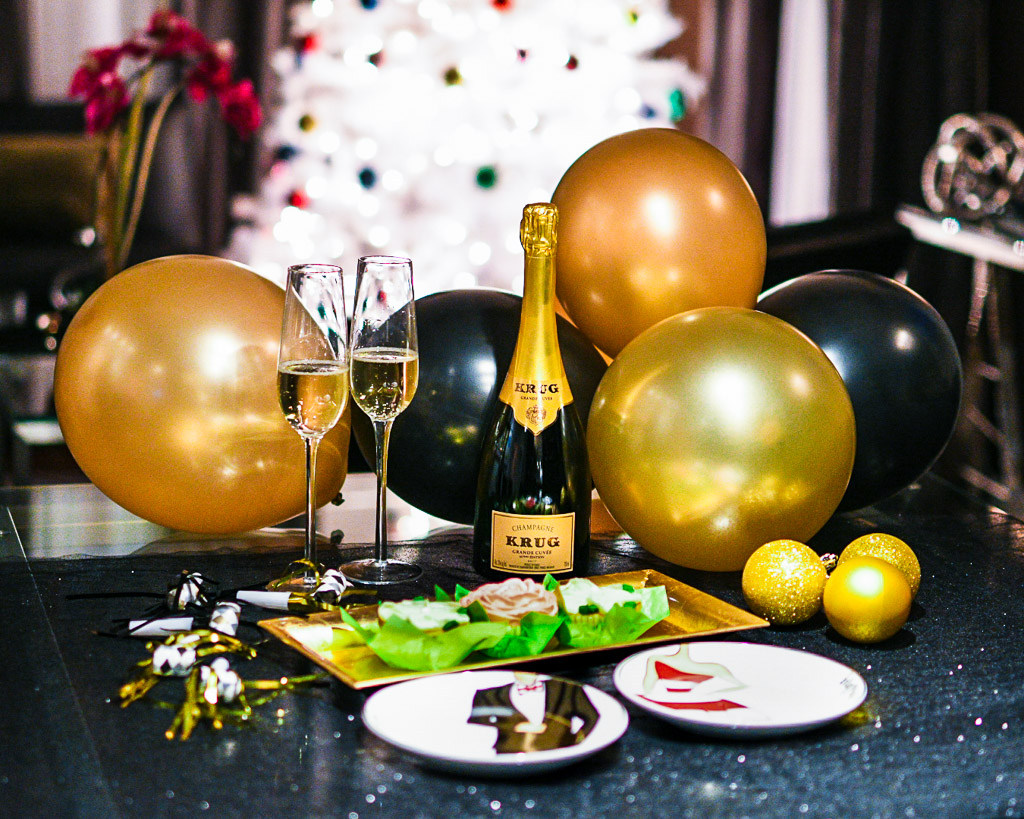 Cheers! It's National Champagne Day, which just so happens to occur on New Year's Eve. Hmmm … coincidence? Probably not. According to research by WalletHub, a whopping 360 million glasses of champagne are consumed on New Year's Eve (and those statistics were for the pre-pandemic year of 2019). So clearly, there's no better day than this one to dedicate 24 glorious hours to all things bubbly. Well, maybe not all things bubbly … Before we start imbibing, let's explore a bit more about champagne, which is generally regarded as "the greatest sparkling wine in the world." Happy National Champagne Day! And Happy New Year as well!
LET'S START WITH THE BASICS …
In Food and Wine's Wine 101: Champagne and Sparkling Wines, Madeline Triffon, a master sommelier states, "When customers come in and ask me for a champagne recommendation, one of the first things I ask is if they mean something that actually comes from champagne in France, or if they just mean a good sparkling wine." So true champagne originates from the Champagne region of France and is a blend of a variety of grapes.
While all champagne is sparkling wine, not all sparkling wines are champagne. It reminds me of bourbon. While all bourbons are whiskeys, not all whiskeys are bourbons. They are also (obviously) not champagnes … !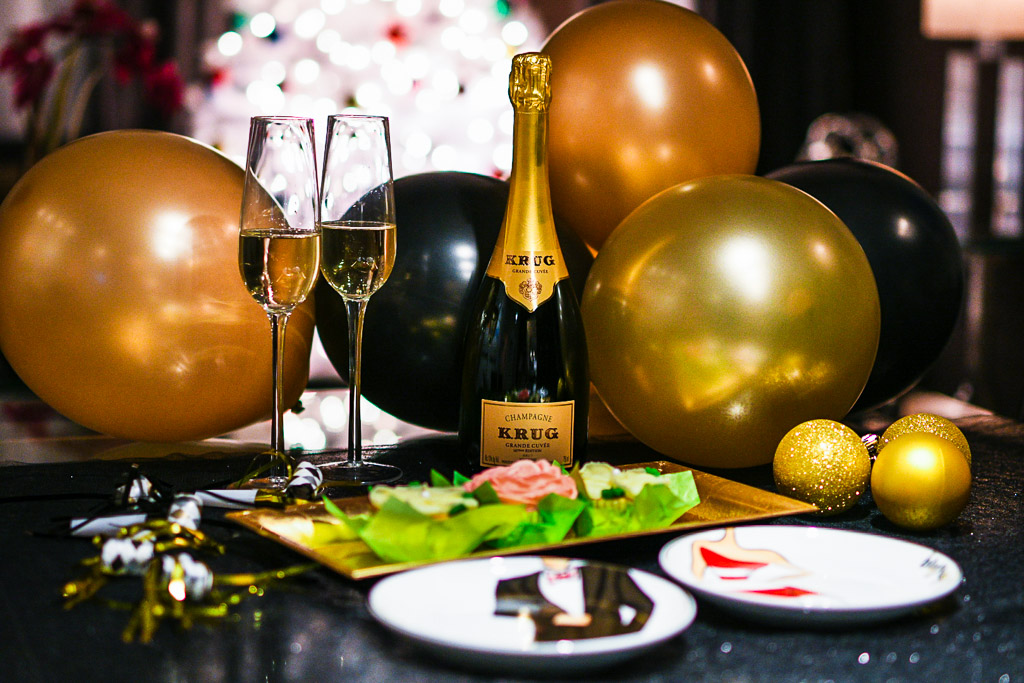 Sparkling wines from the Champagne region are required to go through a process typically referred to as the méthode traditionnelle, loosely translated as "traditional method." While this labor-intensive process makes the sparkling wine even more gand, it also adds to the cost.
The traditional method involves two separate rounds of fermentation: one in a tank or barrel and a second in the bottle itself. The in-bottle fermentation imbues the wine with its characteristically fine, persistent bubbles.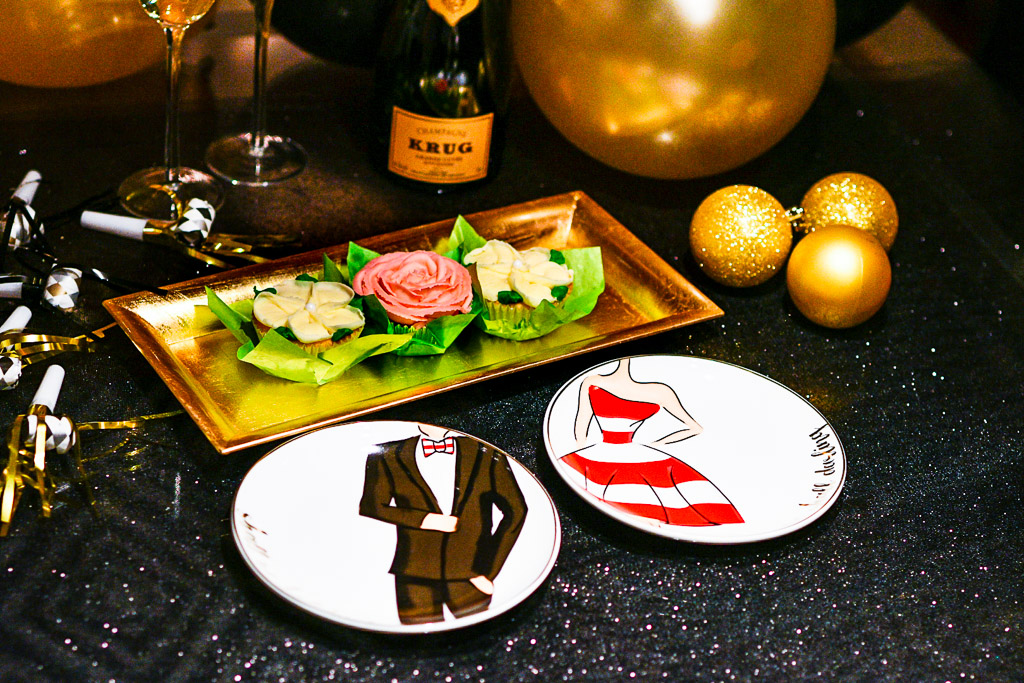 "In Champagne, the second in-bottle fermentation is followed by a minimum aging period of 15 months in contact with dead yeast cells," states Gérard Liger-Belair, a professor of chemistry and a sparkling-wine researcher at the University of Reims Champagne-Ardenne in France. "The yeasts release different compounds that modify the wine's organoleptic properties, donating roundness and its characteristic aroma and flavor."
LOOKING TO MAKE A LITTLE LESS OF AN INVESTMENT BUT STILL WANT SOMETHING GOOD? HERE ARE SOME OPTIONS …
The Food and Wine article goes on to explain producers around the world also use the traditional method to make fine sparkling wines. Each will have distinct characteristics such as flavor, texture, richness, and depth. This is due to in large part to each location's unique "terroir," which refers to the soil, climate, and other place-specific elements that affect the qualities of its wines.
"Sparkling wines elaborated through the traditional method outside the Champagne region are representative of their own terroir, and may also taste wonderful," Liger-Belair says. He mentions Franciacorta in Italy as a good example. Others include French Crémant, Cava, and many fine American and English sparkling wines.
"If you like champagne but want something comparable for less money, you could look for sparkling wines made in the traditional method," Triffon says. "Crémant de Bourgogne is a no-brainer, and so is Cava." These wines, especially bottles toward the affordable end of the spectrum, may not have the creaminess or depth of champagne. They also may not have its famously small and persistent bubbles. But many are excellent, she states.
HERE ARE A FEW OF OUR FAVORITE CHAMPAGNES …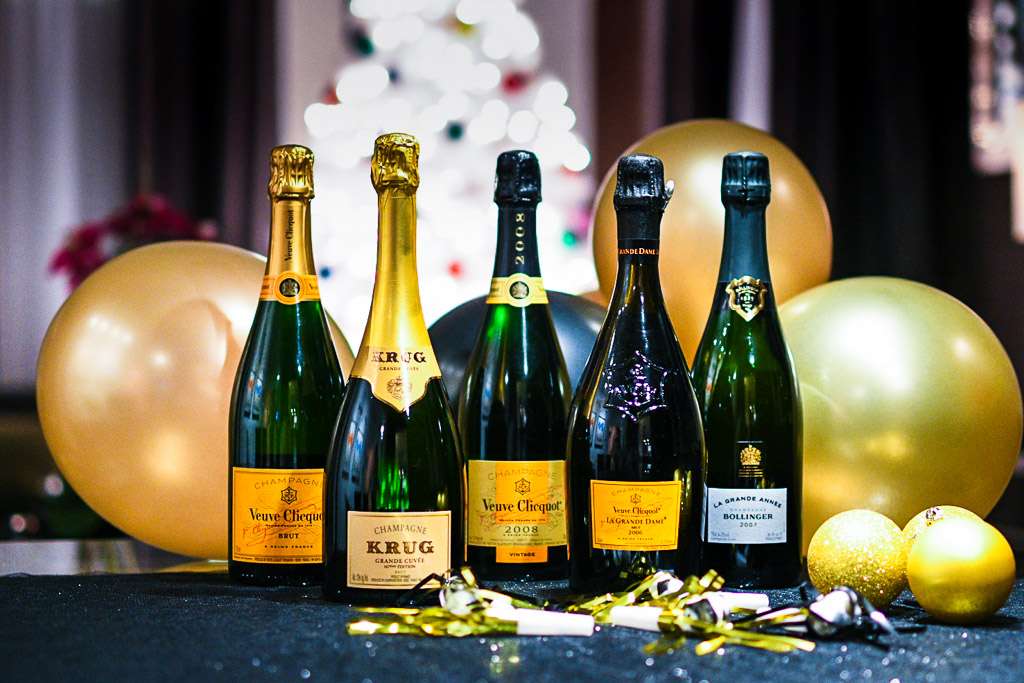 ADD SOME FESTIVE TOUCHES TO YOUR CELEBRATION …
I stumbled upon these plates on a recent trip Matt and I took to Des Moines, Iowa. The downtown area is home to one of the cutest home and gift boutiques I've ever seen, She. The name is short for Sheila, who is the store's proprietor. Their wares are adorable. I couldn't resist purchasing these holiday dessert plates, which are perfect for both our National Champagne Day celebration, as well as New Year's Eve dinner! Shall we holiday? We shall, darling!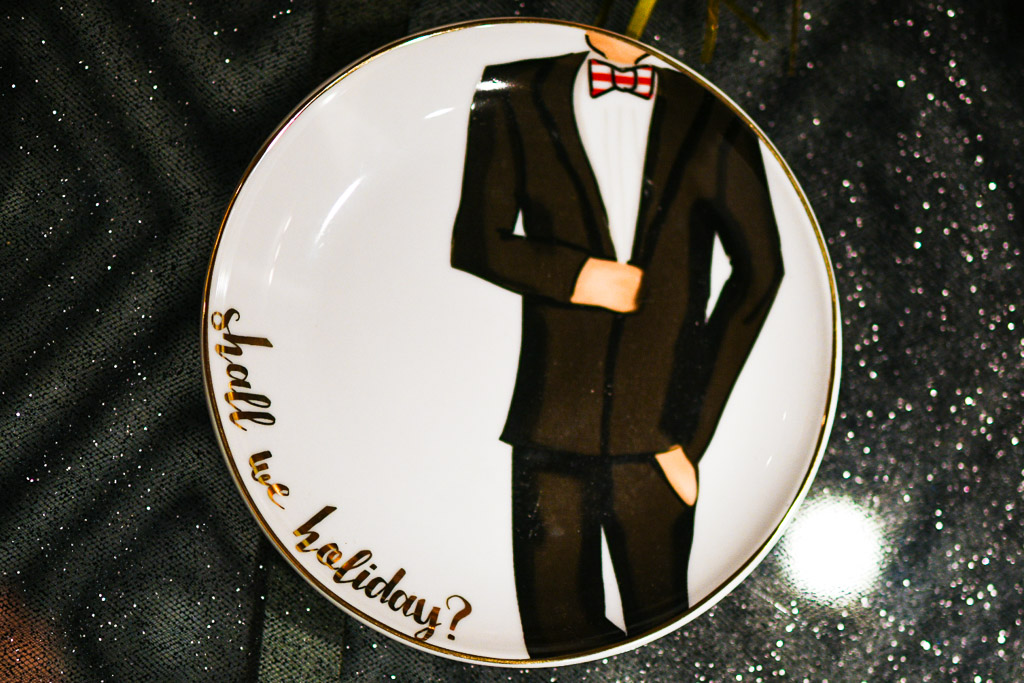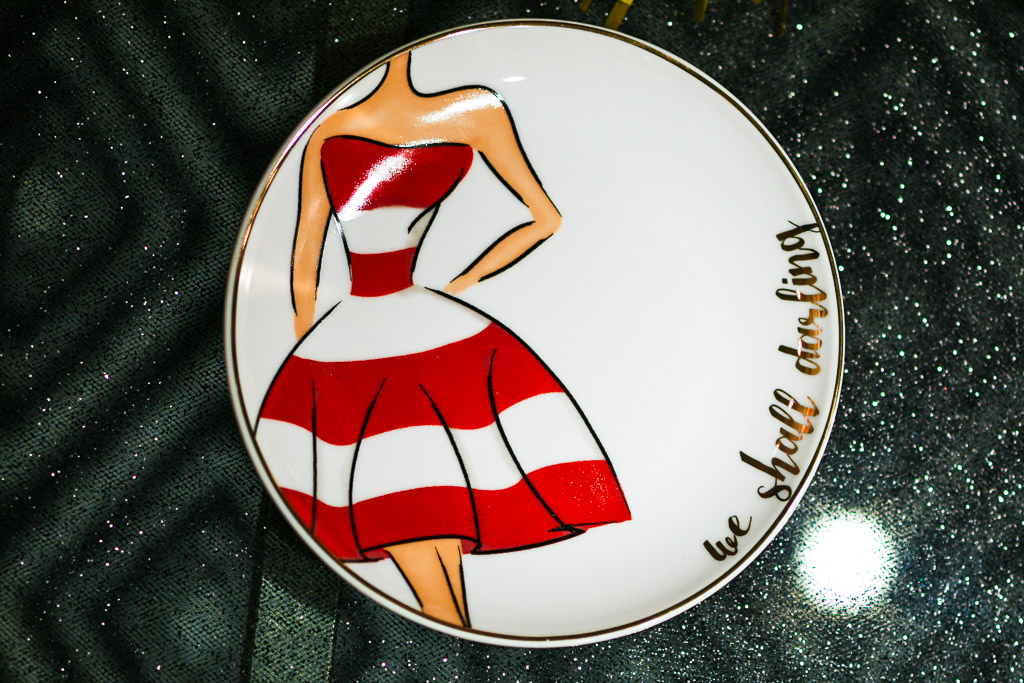 And these rose cupcakes, which were sent to us by dear friends in honor of a recent milestone, were absolutely perfect for our New Year's Eve celebration. Created by Bakery Blooms by Aimee, this shoppe is what my mother would have called, "a find!" How gorgeous are these edible works of art? Simply stunning!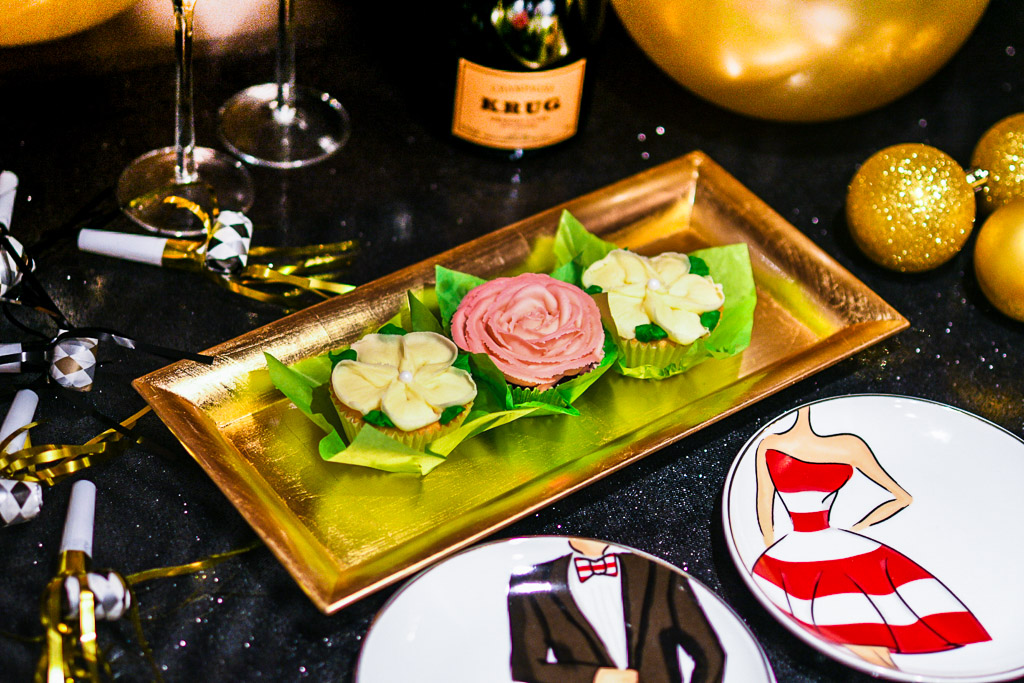 QUICK AND EASY DECOR IDEAS FOR YOUR TABLE:
A simple gold tray can instantly add glamour to your tablescape. It was an ideal choice to dress up these already beautiful cupcakes.
Black and gold balloons are another easy way to dress up any table. An essential tool for this look is a balloon pump. A handheld or electric version will make blowing them up a breeze!

Use black, gold and silver blow-out horns as scatter on your table. They're an easy, festive touch that will serve a functional purpose at midnight.
Looking for additional ways to enjoy champagne? Check out the Fried Chicken and champagne pairing we tried for National Fried Chicken Day.