THIS BEAUTIFUL DIY FALL CENTERPIECE IS SIMPLE, MODERN AND EASY TO MAKE!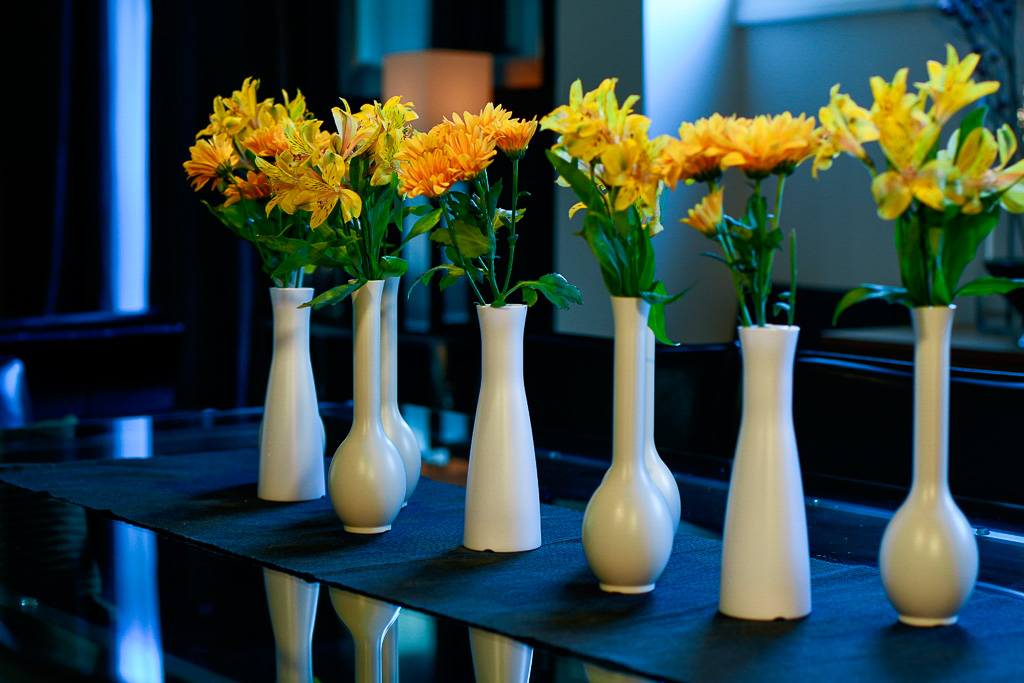 A beautiful DIY fall centerpiece is easy to make in a few simple steps. We show you how to do it, using a few lessons we've learned.
Having fresh flowers in my home just makes me happy.
It's a little bit of an extravagance that I began treating myself to on a regular basis during the pandemic.
Because we were at home A LOT.
Of course, so was everyone!
And I wasn't spending any money on clothes or shoes or beauty products … or any of the other random items that typically fall into my cart at Target.
I know you know the drill.
You walk into the store with the intention of only buying some Tide Pods and bathroom cleaner.
An hour and a half later, you return home with an adorable top you now realize you can't live without, a super cute headband that you may or may not ever wear but had to have, and three candles that will be perfect for your guest bathroom.
And you totally forgot to pick up the bathroom cleaner.
Oopsie.
So in lieu of my Target treasures during quarantine, I started picking up some fresh flowers on a regular basis.
And I've decided to make it a habit.
Just because. And sometimes, that's the only real reason you really need.
In the process, I've learned some tips and tricks on how to make some cool and elegant centerpieces. And I've had some fails. But I'm not talking about those … at least not yet!
In five easy and simple steps, I show you how to pull together an elegant and modern DIY fall centerpiece. And you can learn from my mistakes. Here's how:
LESSON ONE: THE RIGHT VASES MAKE ALL THE DIFFERENCE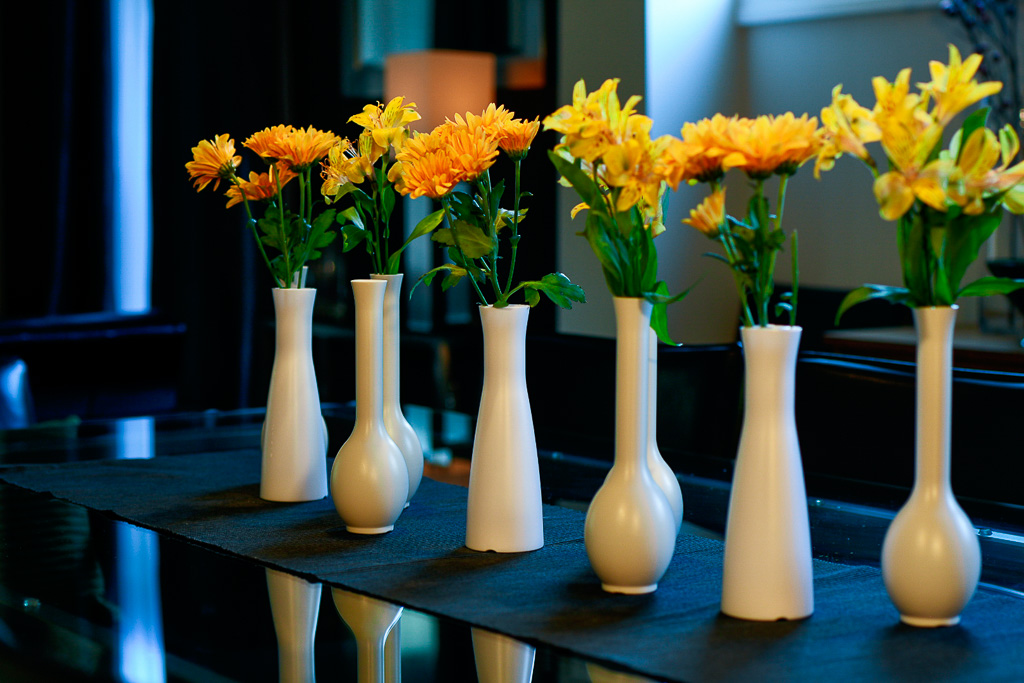 I have worked with some really great florists throughout the years and I've even been fortunate enough to meet a few celebrity ones along the way (Mikey Putnam, Kevin Sharkey and even Martha Stewart herself).
Flower arranging is an art.
And I am not that talented.
But, if you keep it simple and choose the right vase, it can make you look pretty darn good.
I love these white, modern vases.
They make it easy to pull together a DIY fall centerpiece that looks top notch.
I used two different types to add some interest. These tall white conic vases, as well as these white bud vases.
Both have clean lines that will bring a lot of sophistication to your table.
I am so glad I grabbed them.
They work great for this fall arrangement and I can't wait to use them well into the holidays.
Again, I'm all about décor you can use from season to season.
LESSON TWO: SUPERMARKET FLOWERS CAN WORK GREAT, JUST CHOOSE WISELY
During quarantine, when this flower arranging hobby began, supplies were limited and the floral market in my hometown was closed.
I learned how to shop the local supermarket for flowers. But it was a pursuit.
It reminded me of hunting for the T.J. Maxx with the best selection. Some are way better than others.
But once I found the store with the best, most fresh selection, it was nirvana.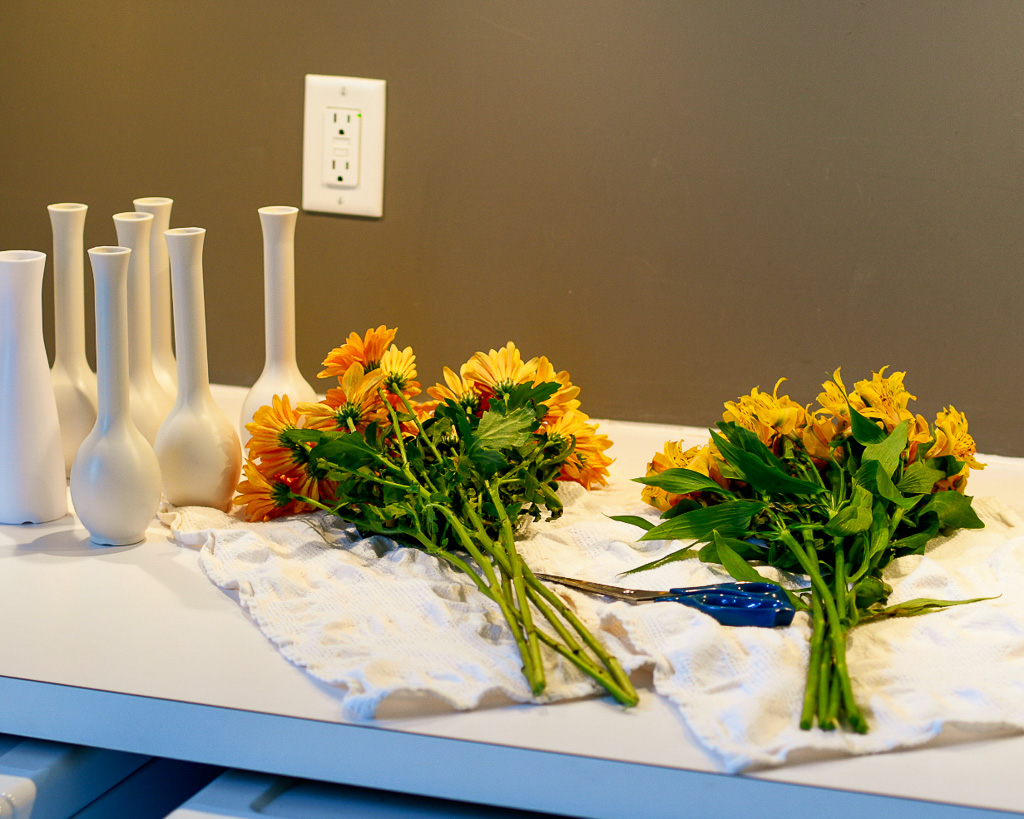 You want to find a store that turns over their inventory regularly, so you're getting flowers that won't wilt quickly.
It's also important to have a wide variety of seasonal flowers. For this fall arrangement, I limited my flowers to two types:
Alstroemeria (also called Peruvian Lily or Lily of the Incas)
Pom Daisy
I think the monochromatic color palette really compliments the simple elegance of the vases.
LESSON THREE: HOW TO PLACE THE VASES
There are a couple of things to keep in mind when arranging a collection of vases for a DIY fall centerpiece.
Depending on the table on which you are placing the vases, you may want to use a tablerunner as a base layer.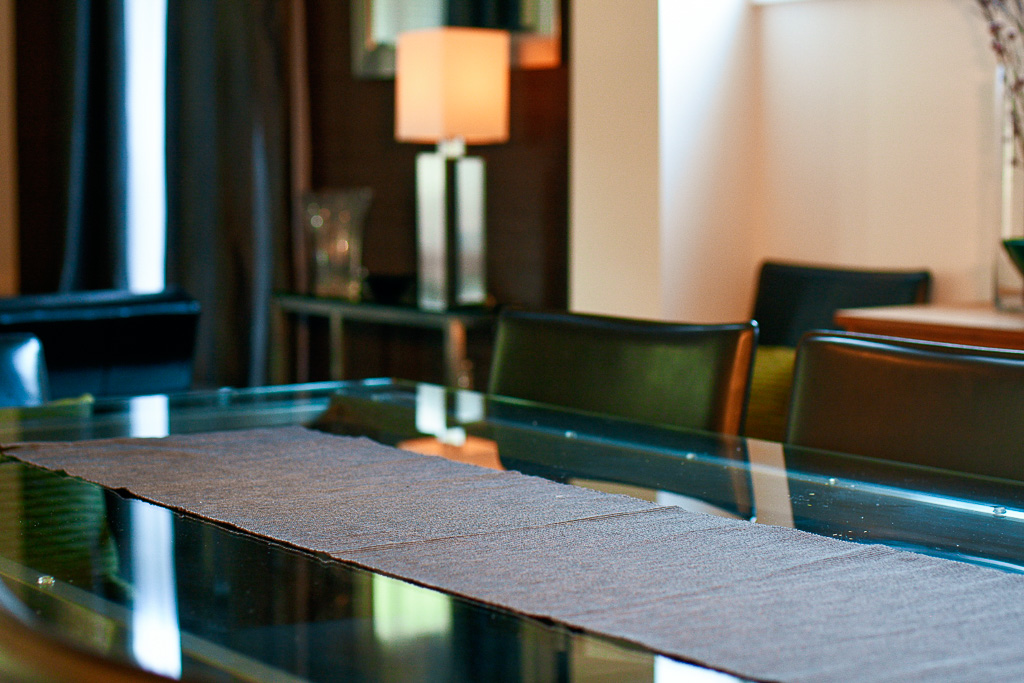 Keep your design to an odd number.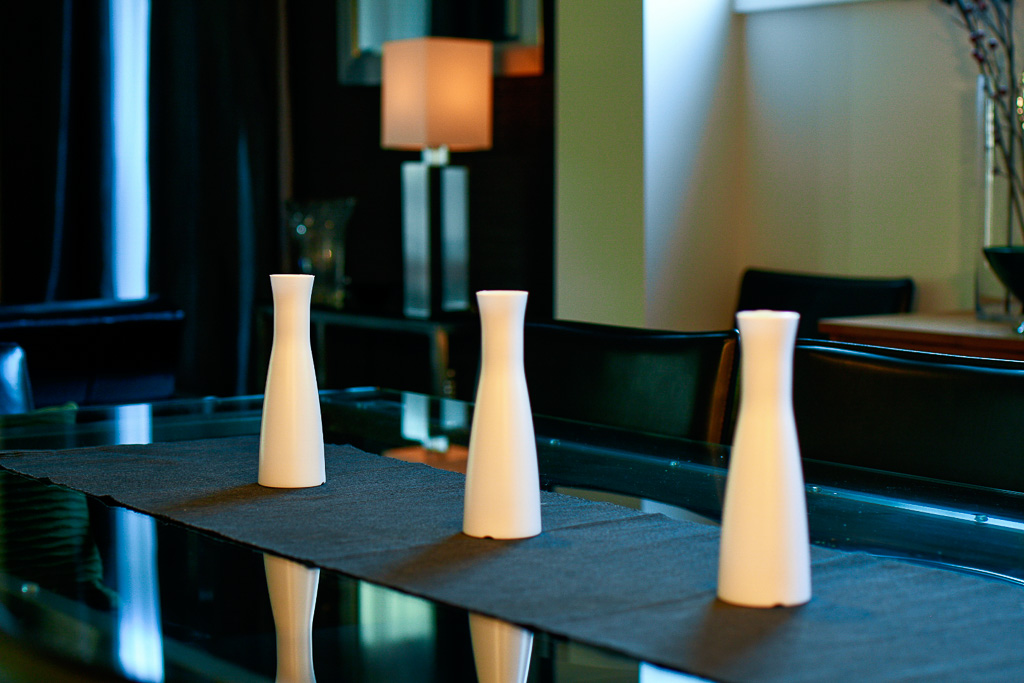 For whatever reason, odd numbers work best in all things design.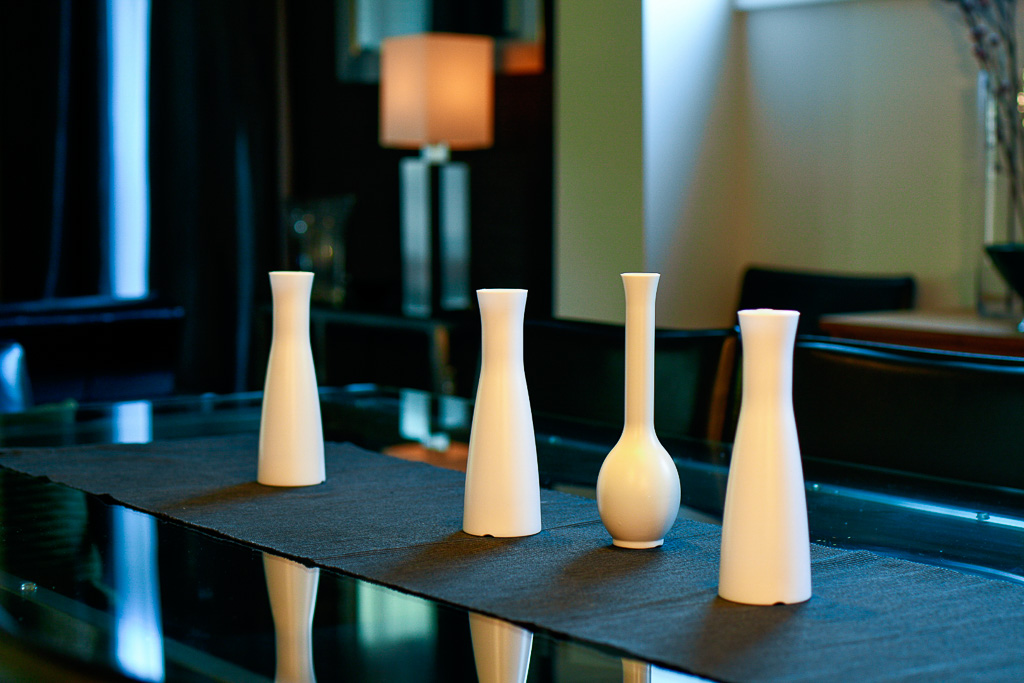 Since there are two different vase shapes, I placed one of the designs first and filled in the others.
Symmetry is key to an uncluttered design.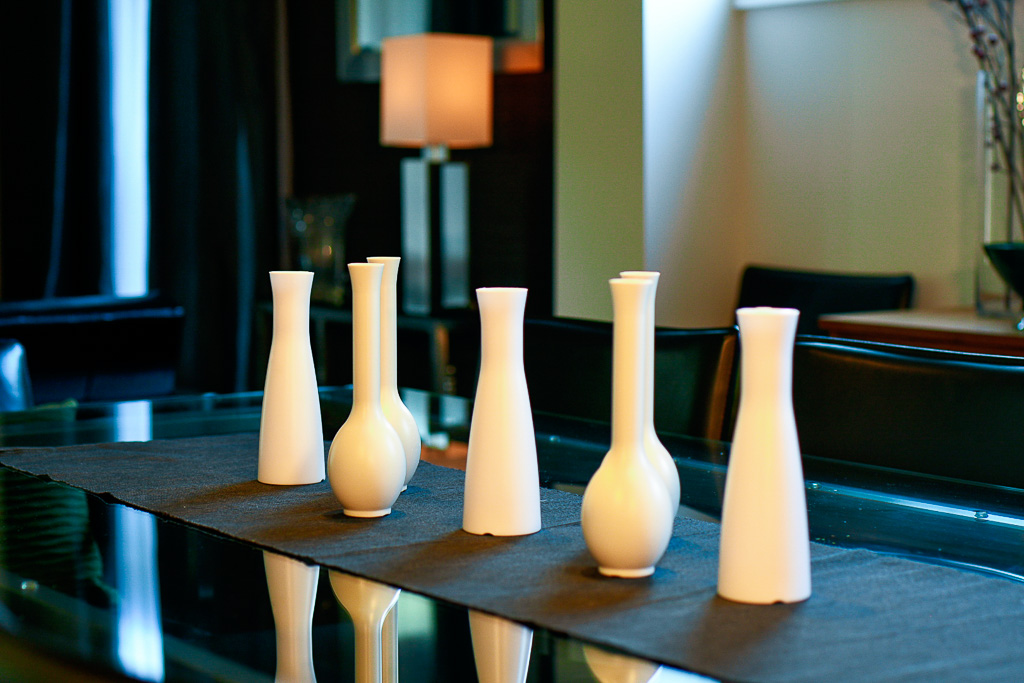 Finally, I like to stagger the vases a bit, so the design fills up the tablerunner.
LESSON FOUR: ADD THE FLOWERS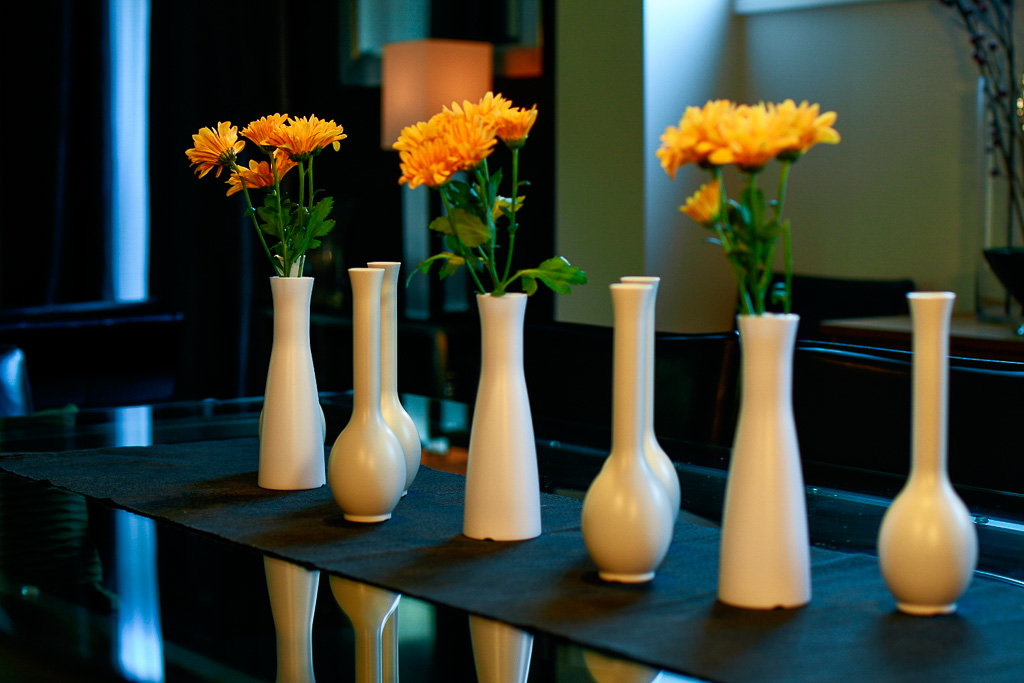 First, be sure to cut the stems of flowers.
You want to make sure the bottom of the stems are white in color, not gray.
This allows the water to be drawn up the stems.
Second, to make suer the flowers are the right length, simply place the vase next to the flowers to measure where to cut.
It's as simple as that.
You'll want to cut the bottom of the flowers on a diagonal, to keep them fresh as long as possible.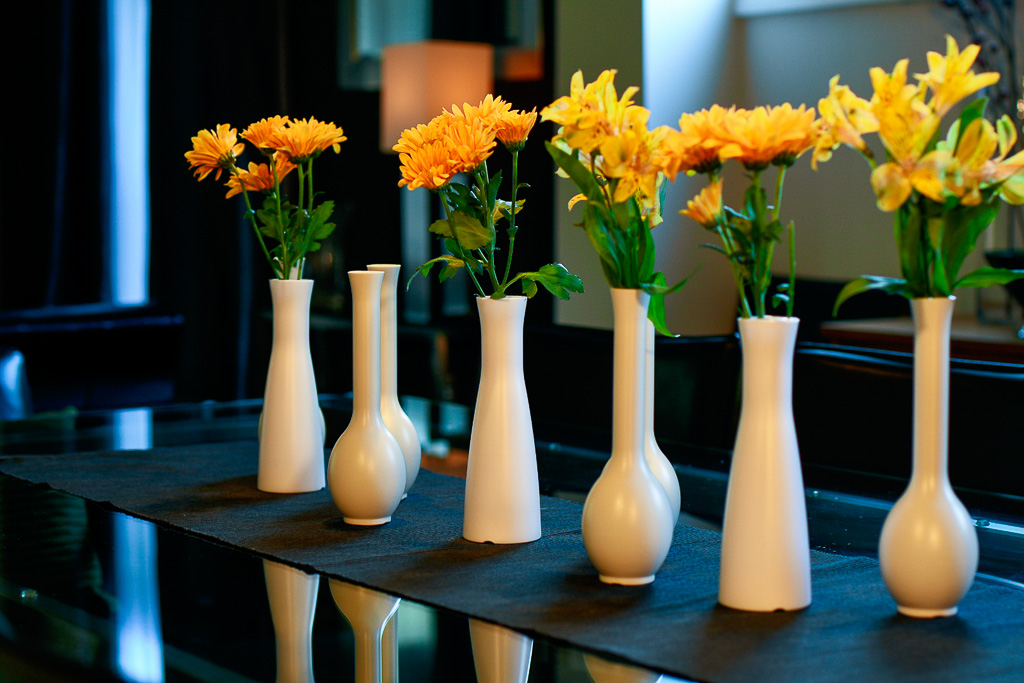 Finally, take a pitcher of water and stir in the packet of FloraLife flower booster that typically comes with each bouquet.
Fill each vase from the pitcher, so the stems will be bathed in the perfect mix of water and floral booster.
You'll be able to enjoy your DIY fall centerpiece even longer.
LESSON FOUR: STEP BACK AND ADMIRE YOUR ELEGANT CREATION!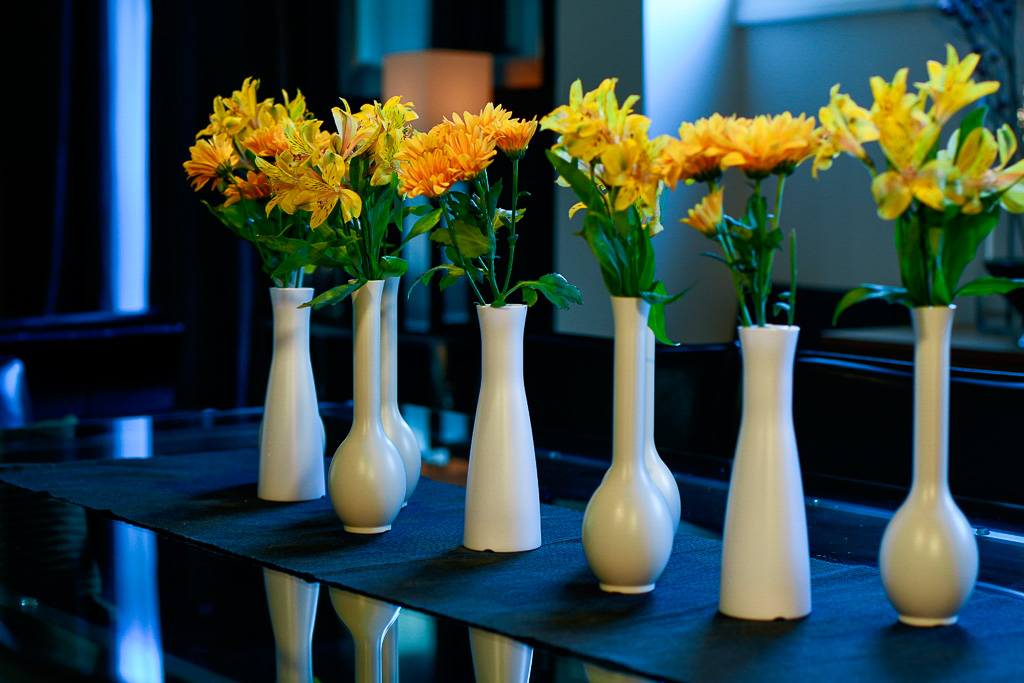 So this may be the most obvious lesson, but it's something I don't think we do often enough.
Give yourself some props for taking the time for yourself to make a beautiful DIY fall centerpiece.
Take a few photos of your arrangement and share them with friends.
I think you'll enjoy having fresh flowers in your home (for no particular reason) as much as I do!
If you like this idea, here are some other great blogs you'll want to check out:
Easy Fall Table Decor Ideas Using Chinoiserie that You'll Love
The Top Fall Tabletop Trends We've Spotted and You'll Love
Elegant Thanksgiving Tablescape Ideas
Did you try this idea? Share it on Instagram with the hashtag #makeeverydayanevent and tag @makeeverydayanevent.
If you have any questions or suggestions, contact us or leave a comment!
Follow us on social media! You can find us on Instagram, Pinterest, and Facebook.