HEART SHAPED BATH BOMBS ARE AN EASY DIY GIFT FOR VALENTINE'S DAY OR GALENTINE'S DAY!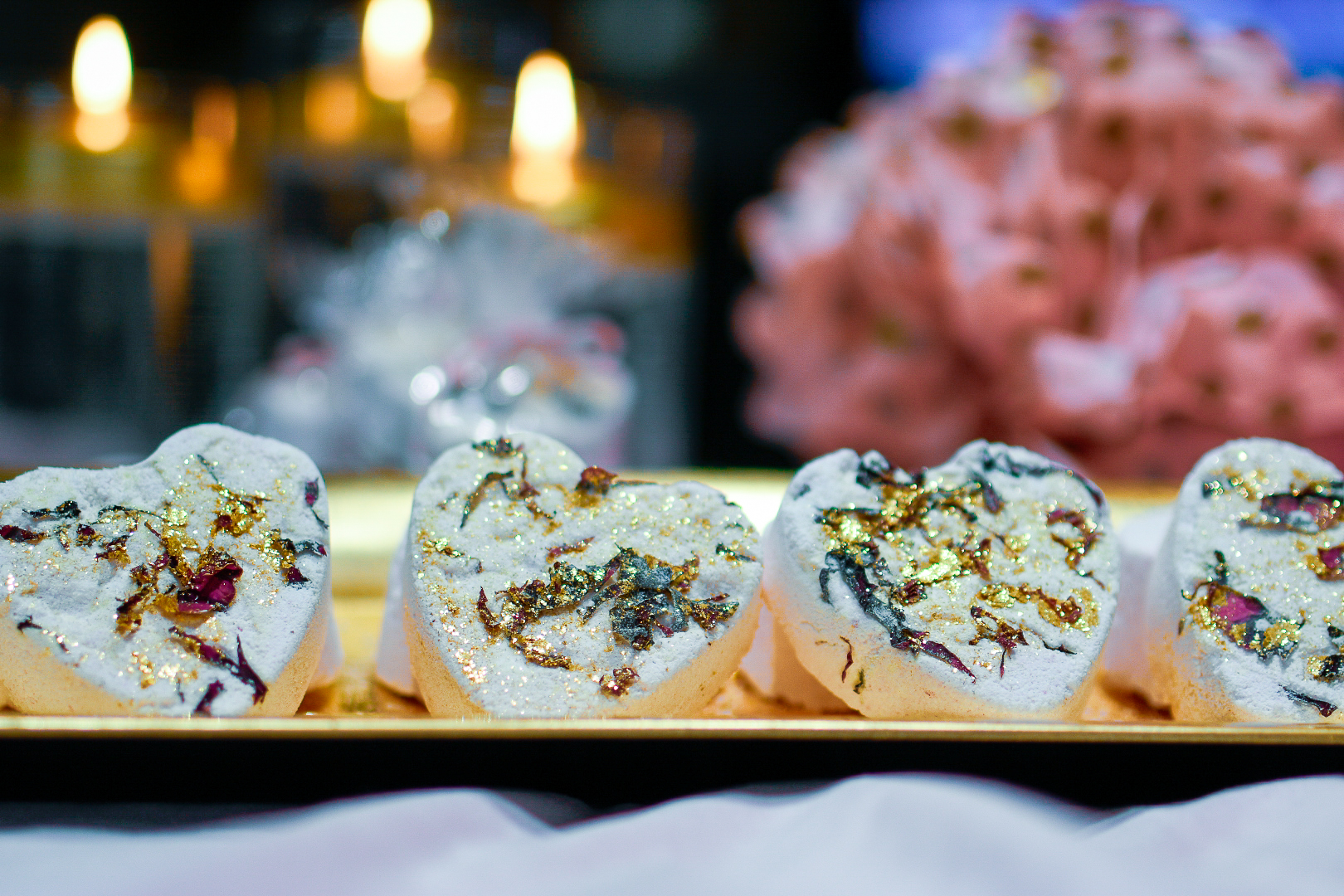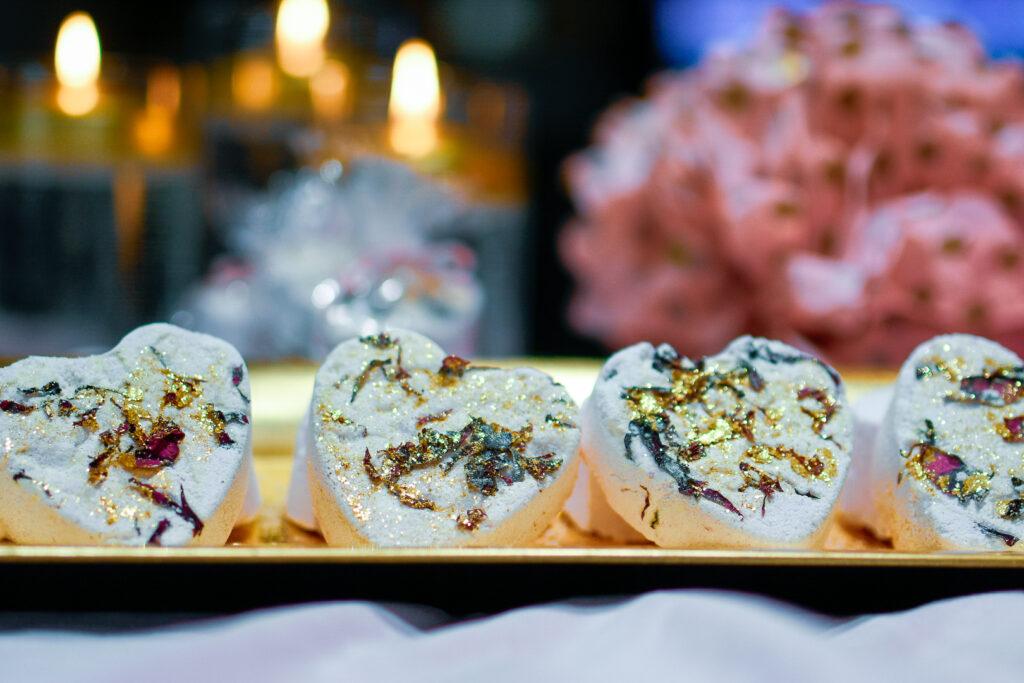 We tackled how to make bath bombs in honor of National Bubble Bath Day, January 8.
These easy-to-make, heart-shaped bath bombs are a perfect DIY Valentine's Day gift.
They are not only beautiful, they also provide a little bit of calm and a lot of relaxation for anyone lucky enough to receive one.
And I think we can all agree, we could all use a heaping dose of calm and relaxation during these hectic times.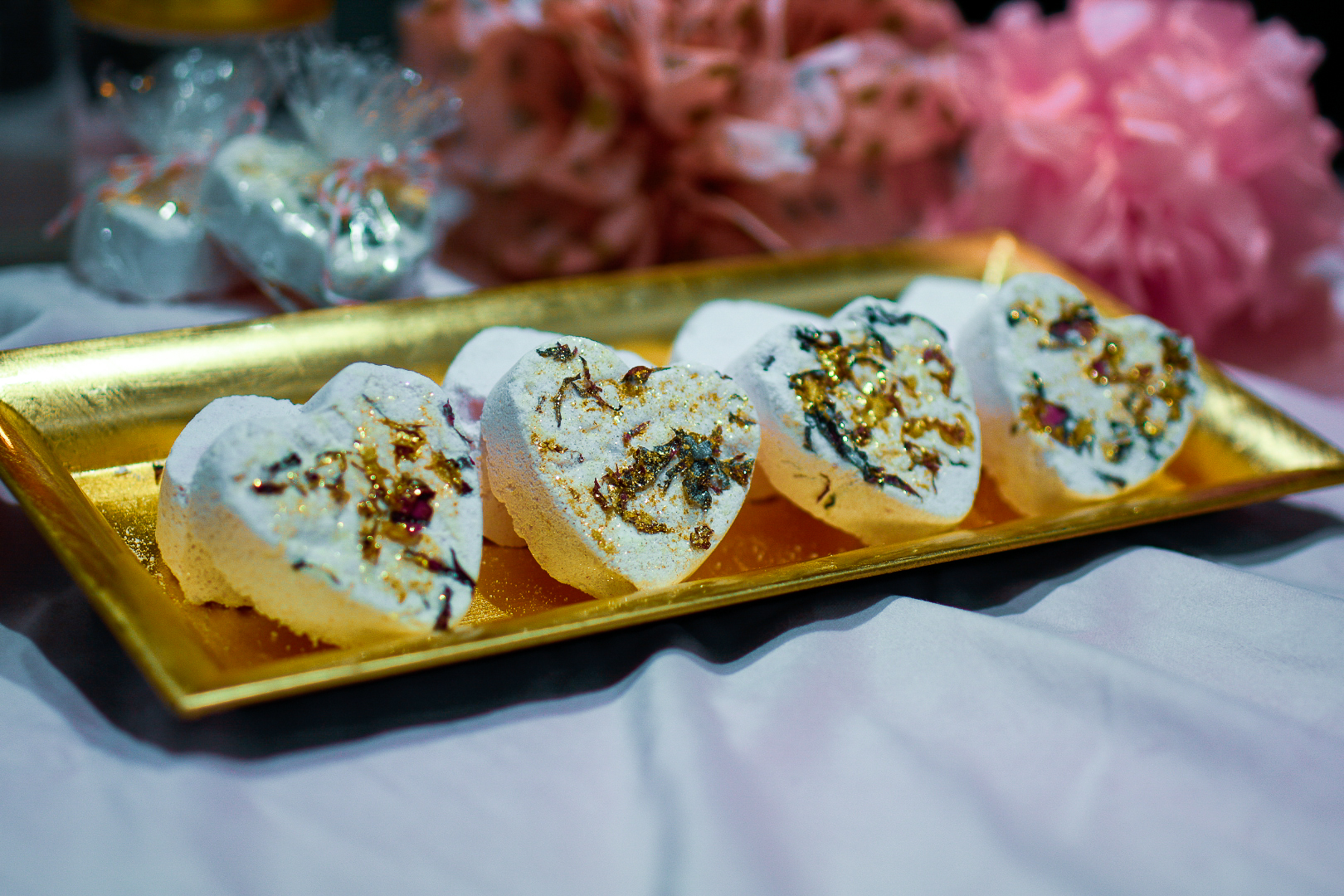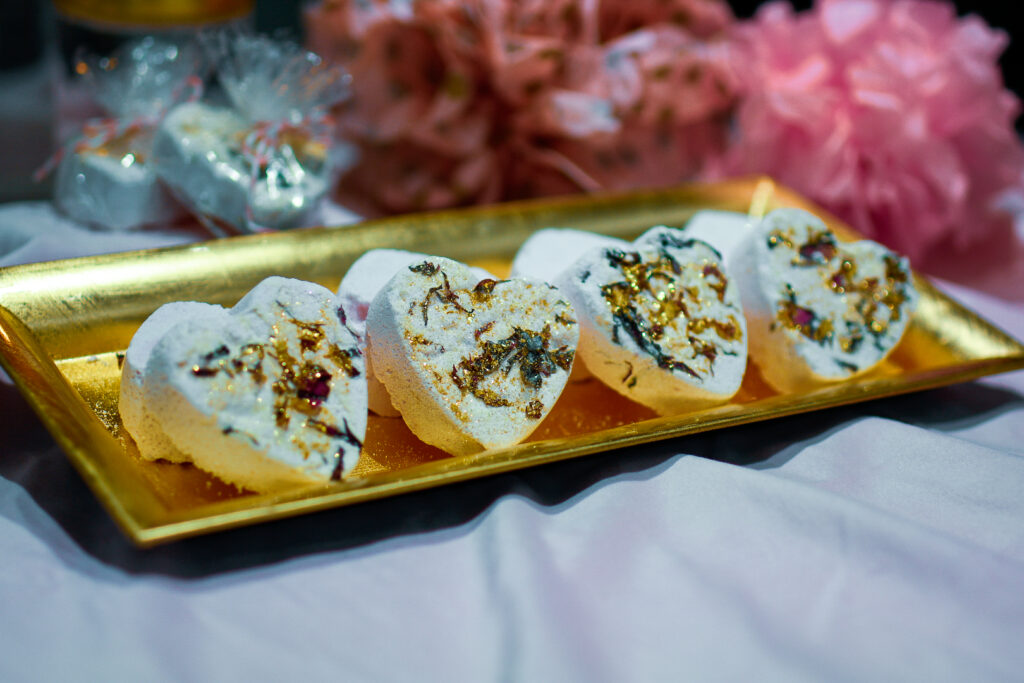 Floral bath bombs are a great way to pamper yourself with a delightful dose of self-care.
They are also thoughtful gift to give to your friends or family for Valentine's Day, Galentine's Day, or just because you care … on any given day of the year.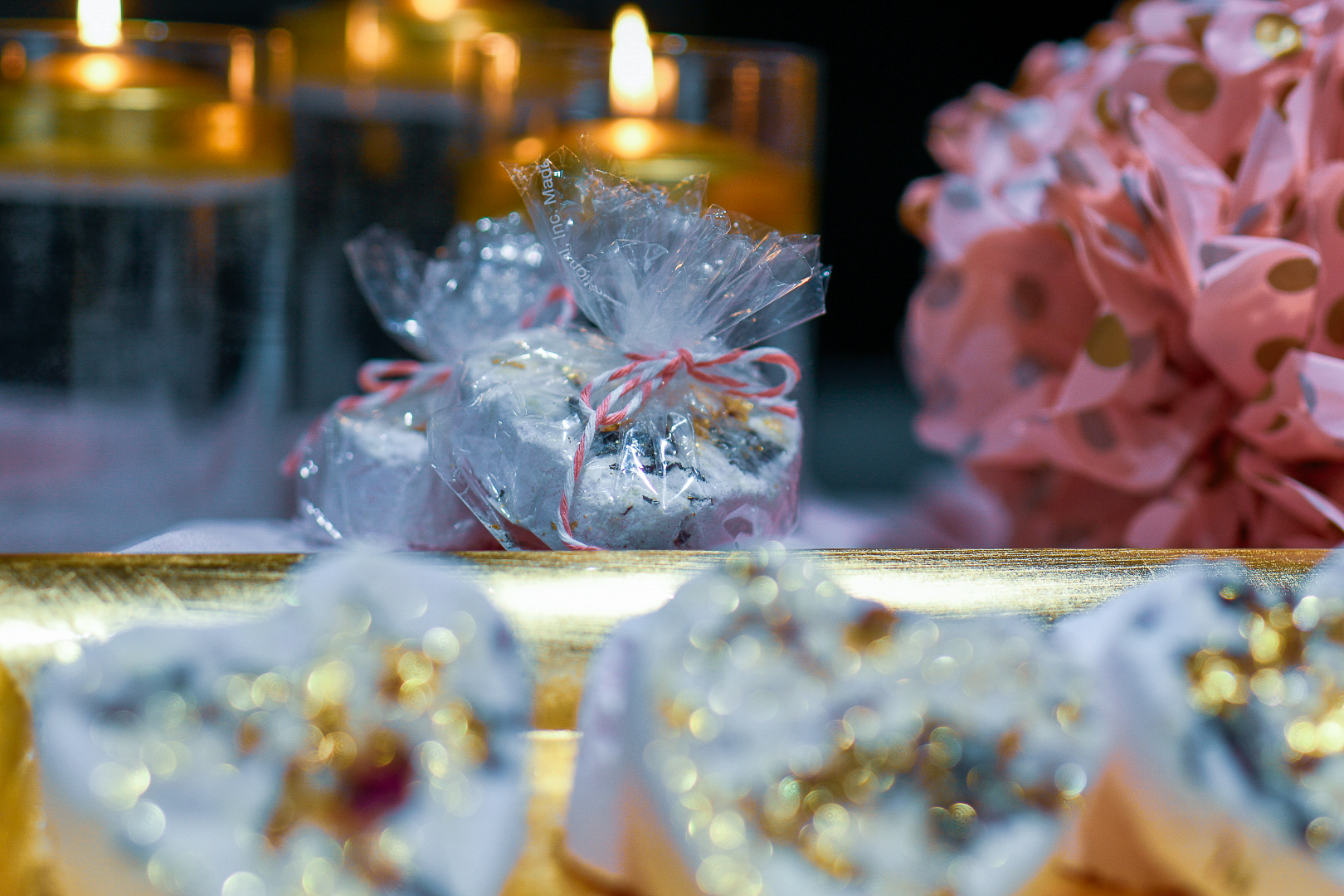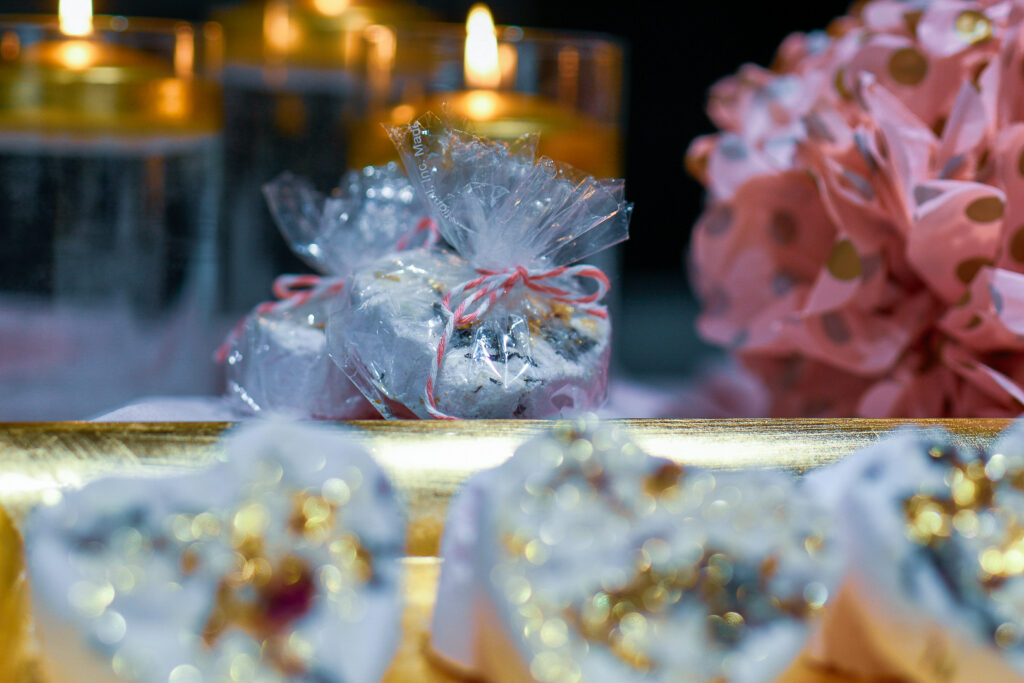 BOTH PRETTY AND POPULAR …
Bath bombs are exploding, not only in tubs around the world but also in global popularity.
Lush, one of the leading manufacturers of theses oh-so popular orbs, sells 17 bath bombs every minute.
And that's just in the U.K. alone, according to reports.
The popular brand's bombs were created by Lush Co-Founder Mo Constantine in 1988.
Today, more than 30 years later, they are still fizzing, spinning and soothing their way into our tubs and our hearts.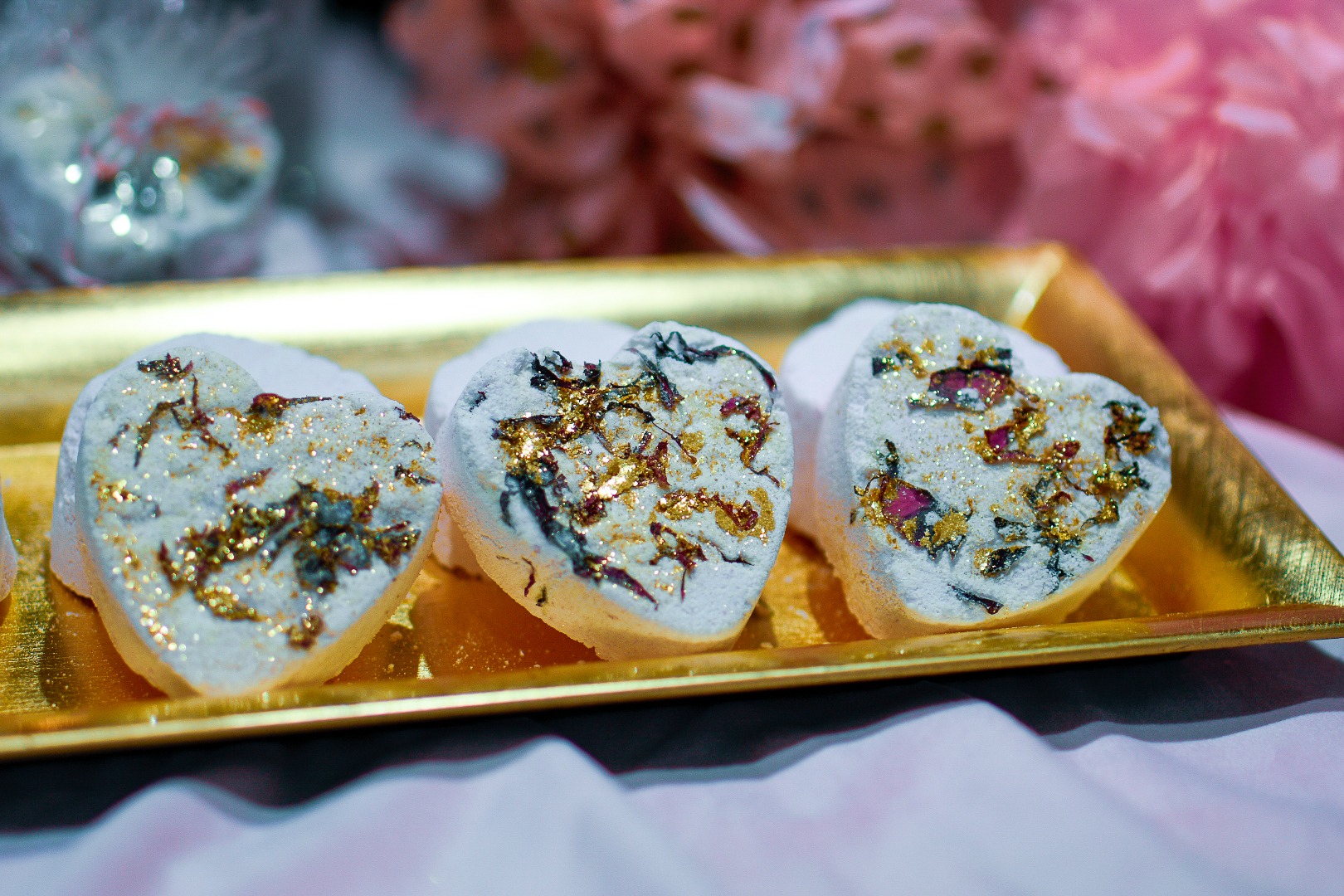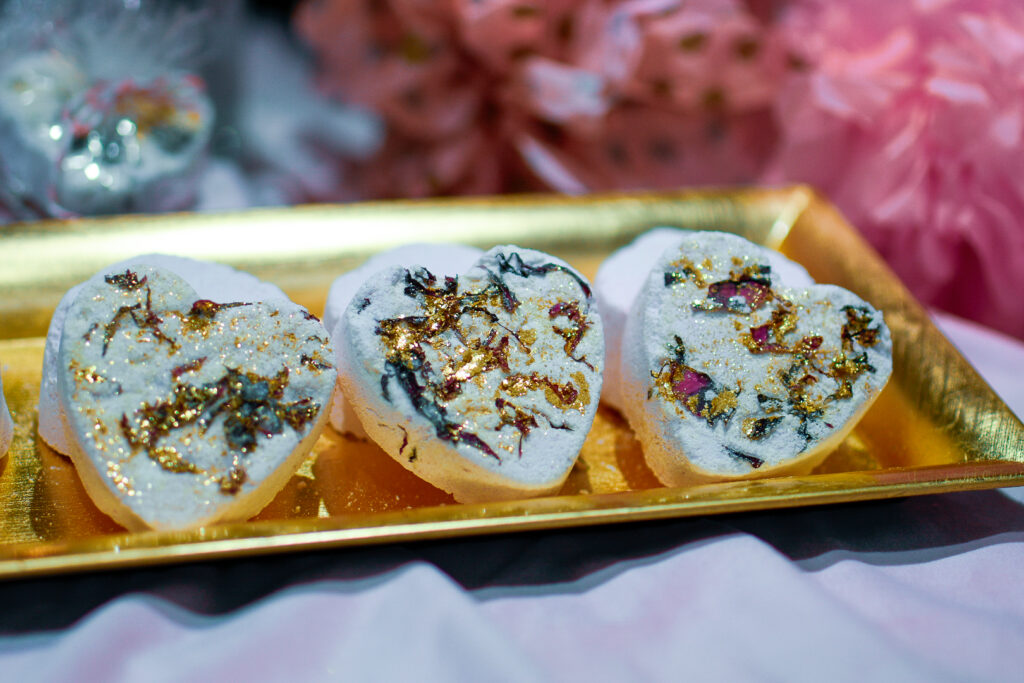 Bath bombs have also created huge Instagram buzz.
From A-list celebrities like Julia Roberts, Gwyneth Paltrow and Leonardo DiCaprio, to reality stars such as the Kardashians and Jenners, almost everyone who is anyone has snapped a striking photo of a bath bomb (or two) exploding in their tub.
They have even earned their own unique hashtag, #tubart.
What's the secret to all of this success? Scientifically speaking, it's the combination of baking soda and citric acid that give the bombs their fizz. Realistically, it's simply an affordable and tranquil bit of luxury that can add an element of calm, sophistication and fun to the end of anyone's long day.
For National Bubble Bath Day, I decided to discover how to make bath bombs at home.
So I scoured the internet to find a recipe that was easy, fizzy and a bit foamy.
Because you can't celebrate bubble bath day without bubbles!
I also wanted ingredients that would be soothing and all natural.
Here's the formula which I used and met all of my expectations nicely: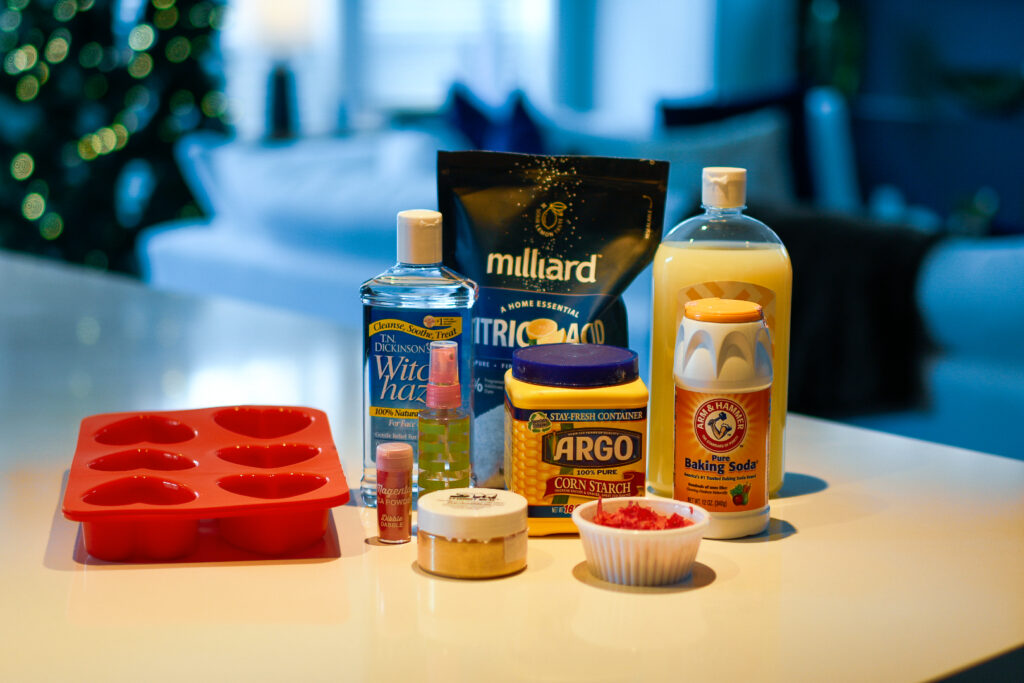 Posts on Make Every Day an Event may contain affiliate links which means we may earn a small commission on purchases at no extra cost to you. To learn more, please read our full disclosure here.
HOW TO MAKE BATH BOMBS AT HOME:
1 cup baking soda
½ cup citric acid
½ cup corn starch
Three teaspoons bubble bath
One tablespoon witch hazel
Mica Food Coloring
Fresh or Dried Flowers
Combine baking soda, citric acid and corn starch in a mixing bowl.
Blend all the ingredients together with a whisk.
Add the bubble bath to the mixture, one teaspoon at a time. Add the witch hazel and coloring. I wanted my bombs to be pink and used this cosmetic grade, mica-based pigment color.
Using a spray bottle to combine the witch hazel and mica food coloring allowed me to add moisture to the dry mix in a controlled fashion.
The mixture needs to stick together just enough to be packed firmly into the molds.
If it get too wet, it will puff up.
The spray bottle worked perfectly!
If you want to make your bath bombs heart shaped, you'll need to use a silicon mold. Here's the one I used.
Next, cut fresh or dried flowers. I chose hot pink carnations.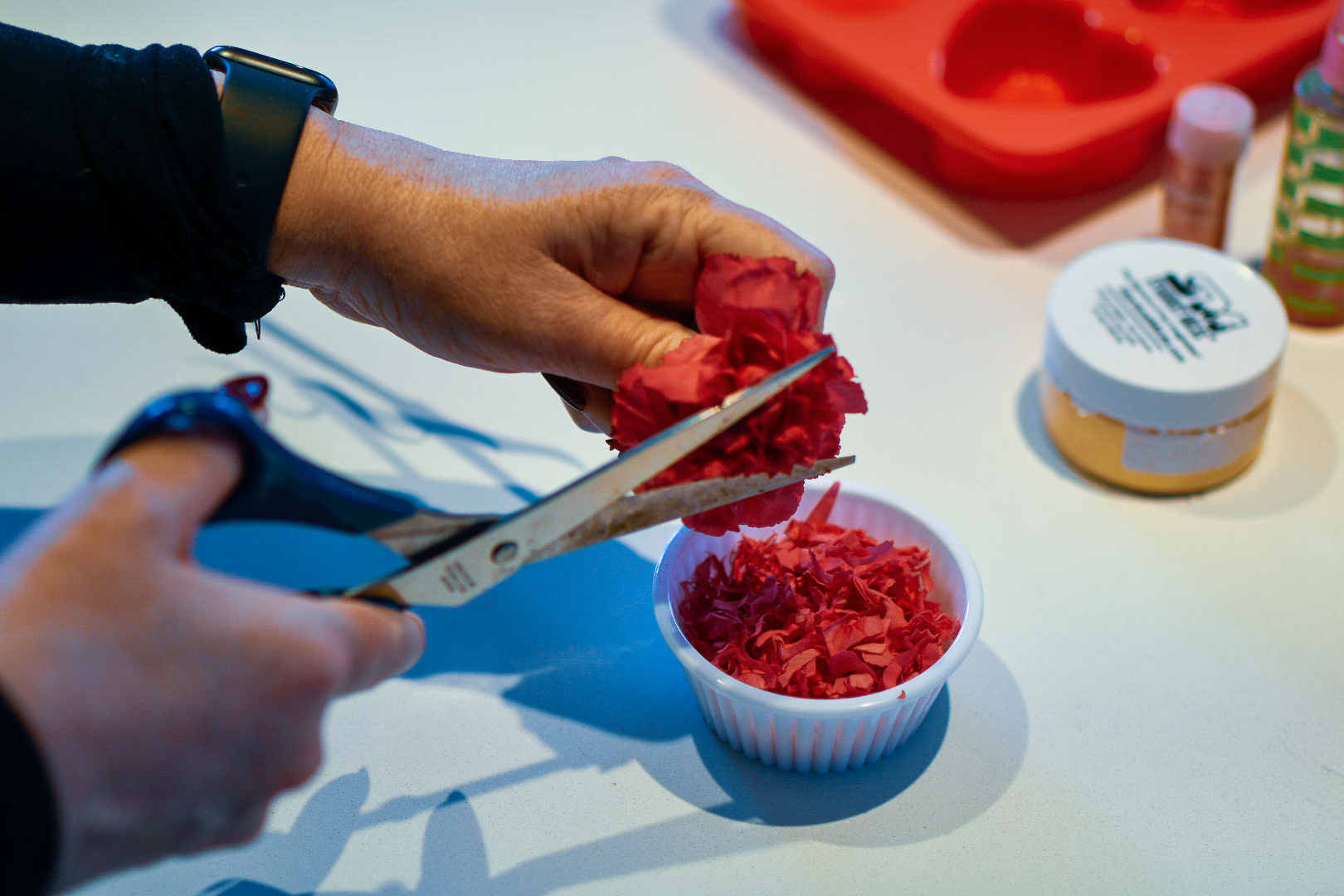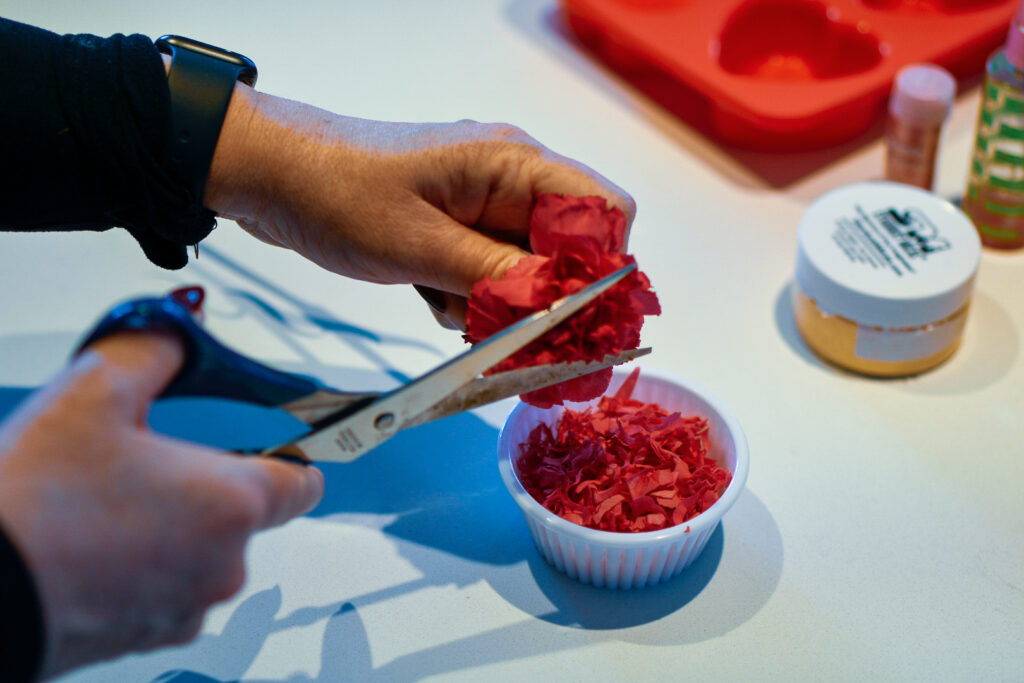 Place the cut petals at the bottom of the molds.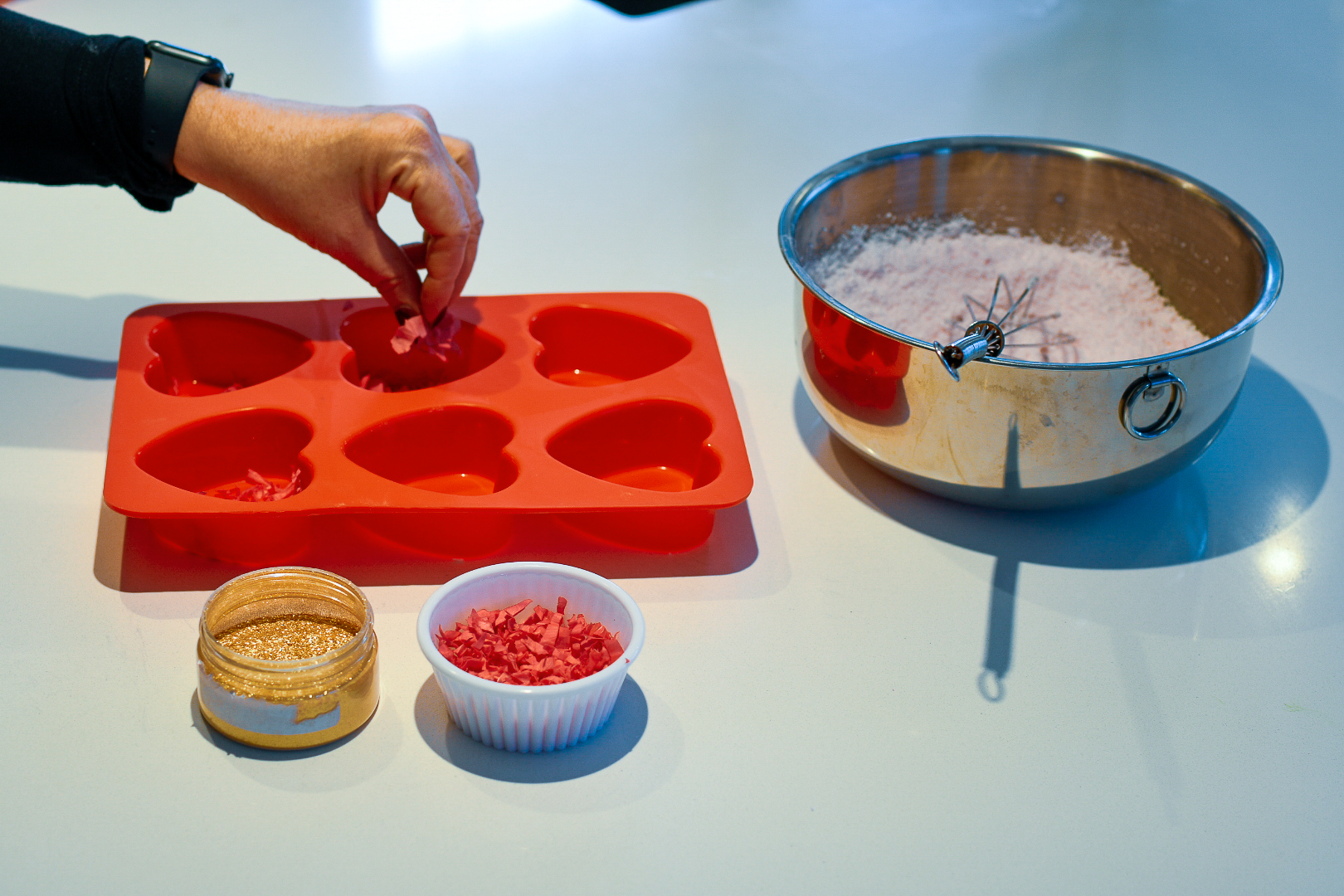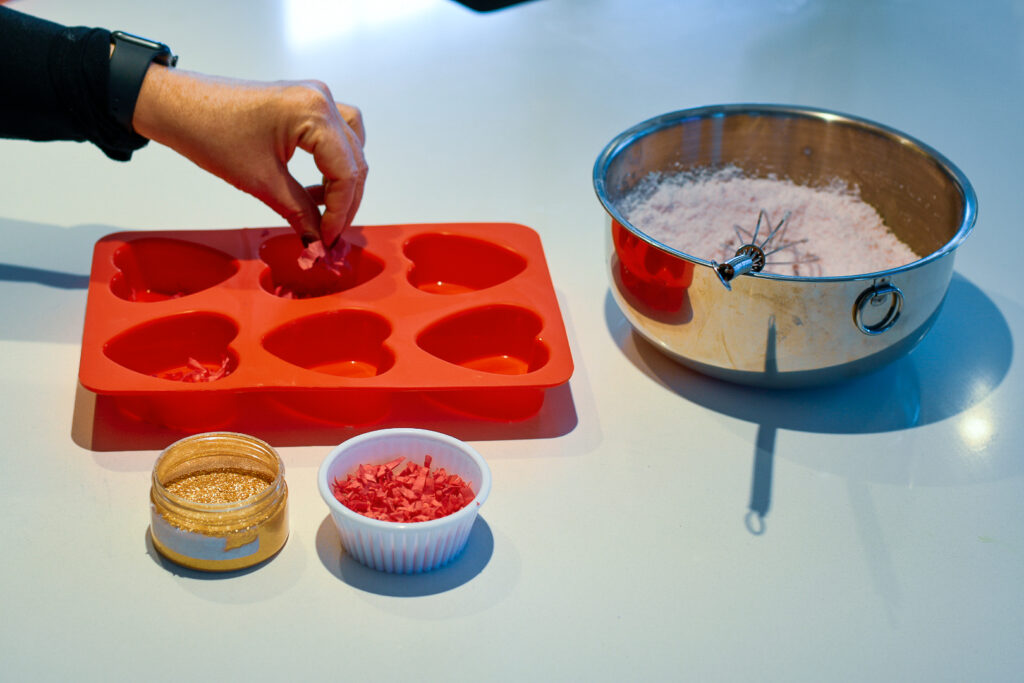 I also wanted my heart shaped bombs to be glittery. I accomplished this by sprinkling about 1/8 teaspoon of glitter into each mold. Here is the cosmetic grade gold sparkle I used.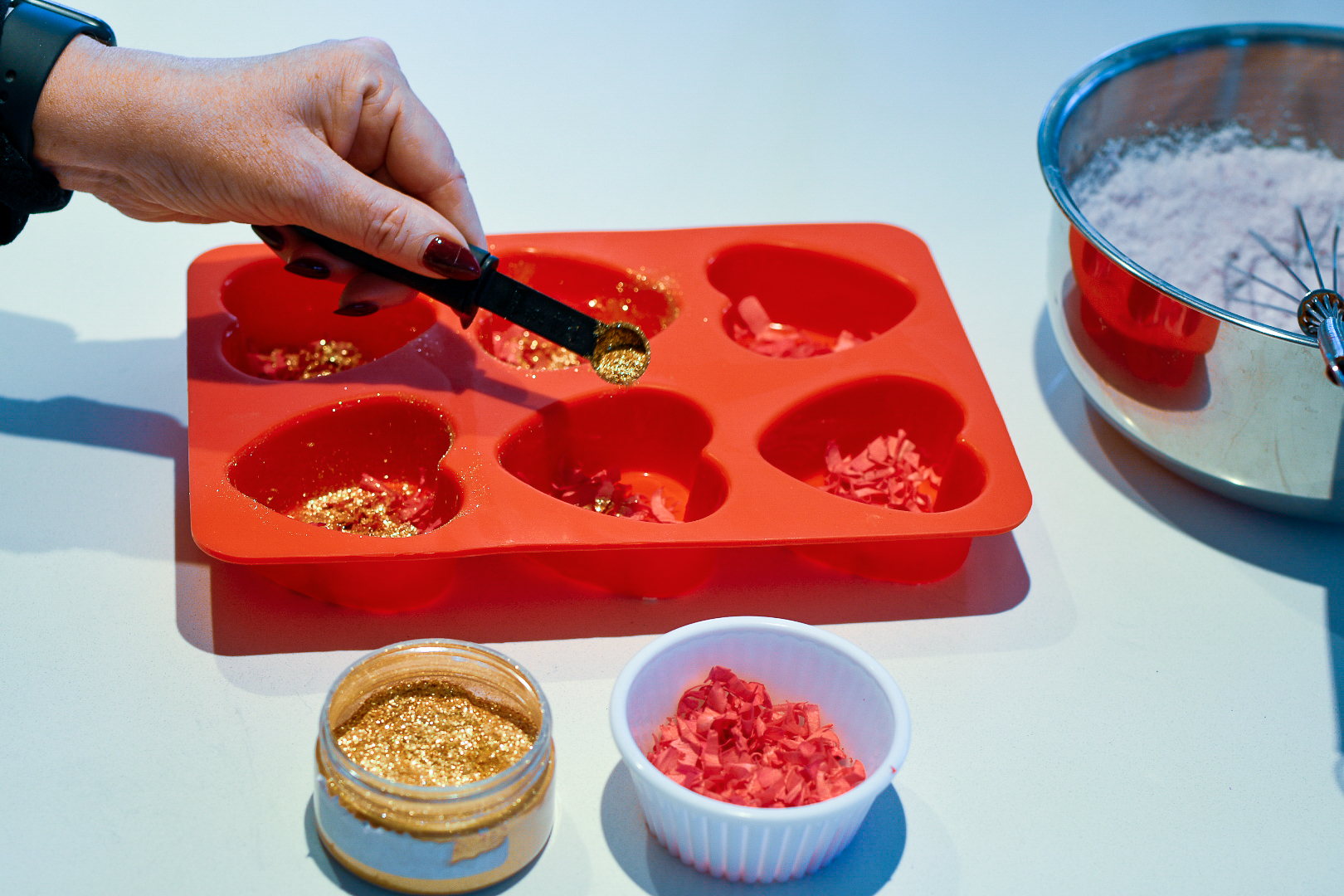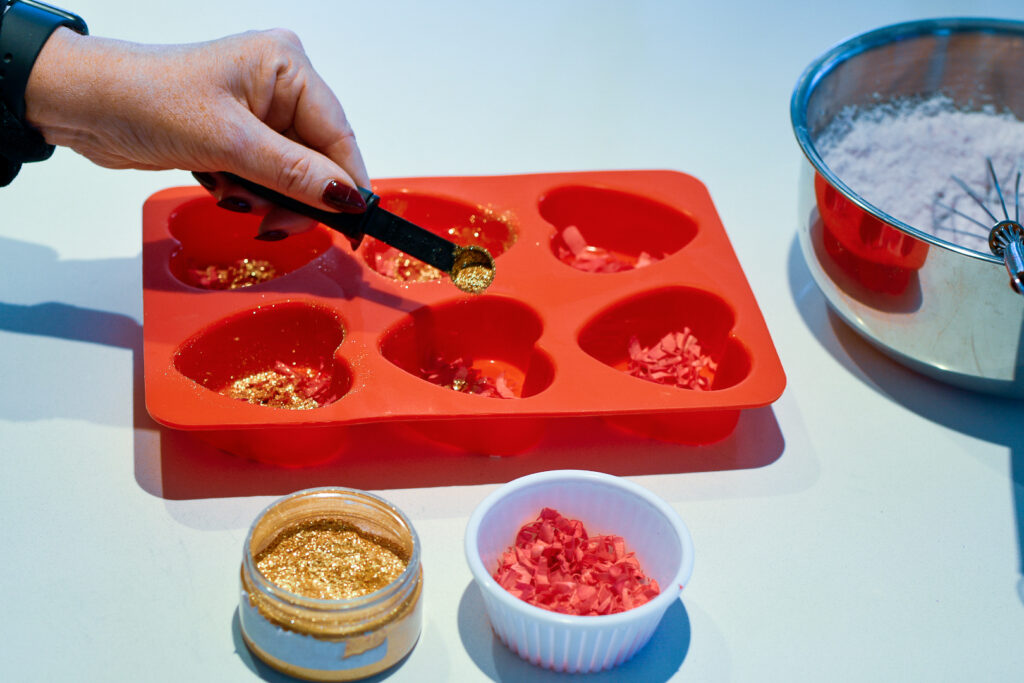 Finally pack the molds with the mixture and let them dry for at least three hours.
Once fully dry, the silicon molds make it easy to pop each bomb out.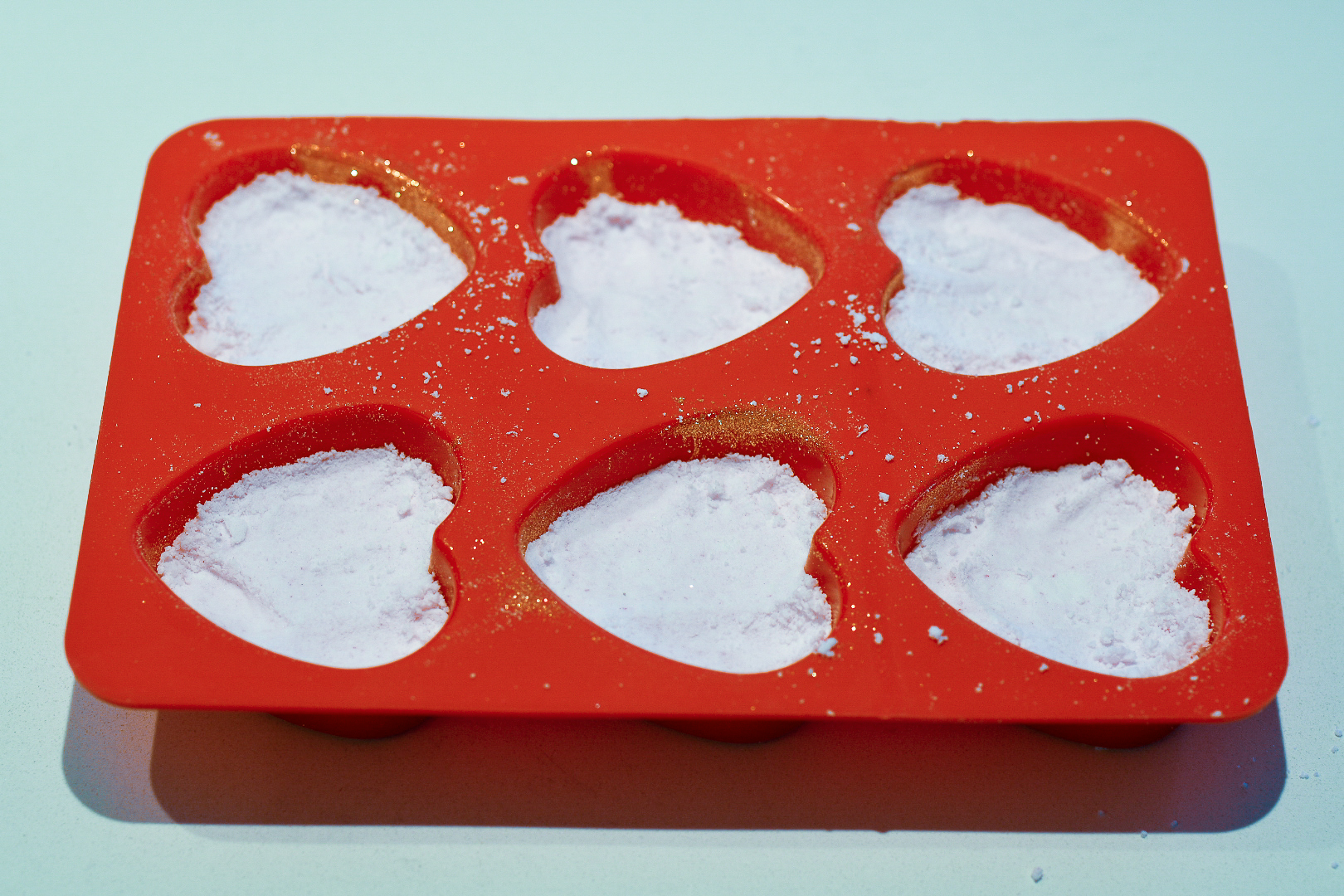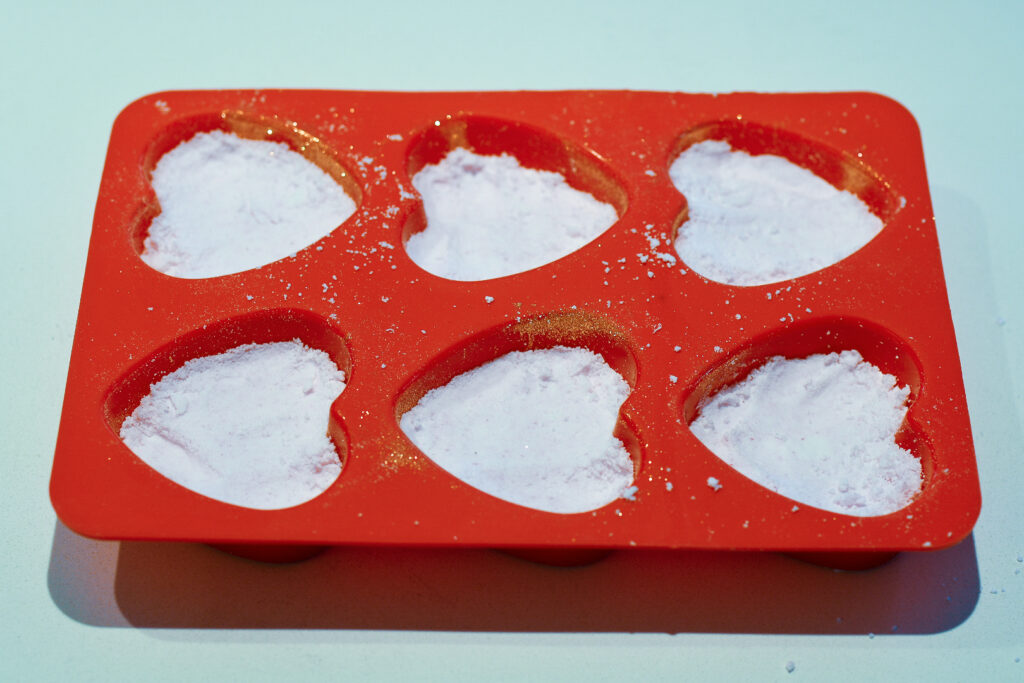 DIY heart shaped bath bombs are a gift that anyone would love to receive!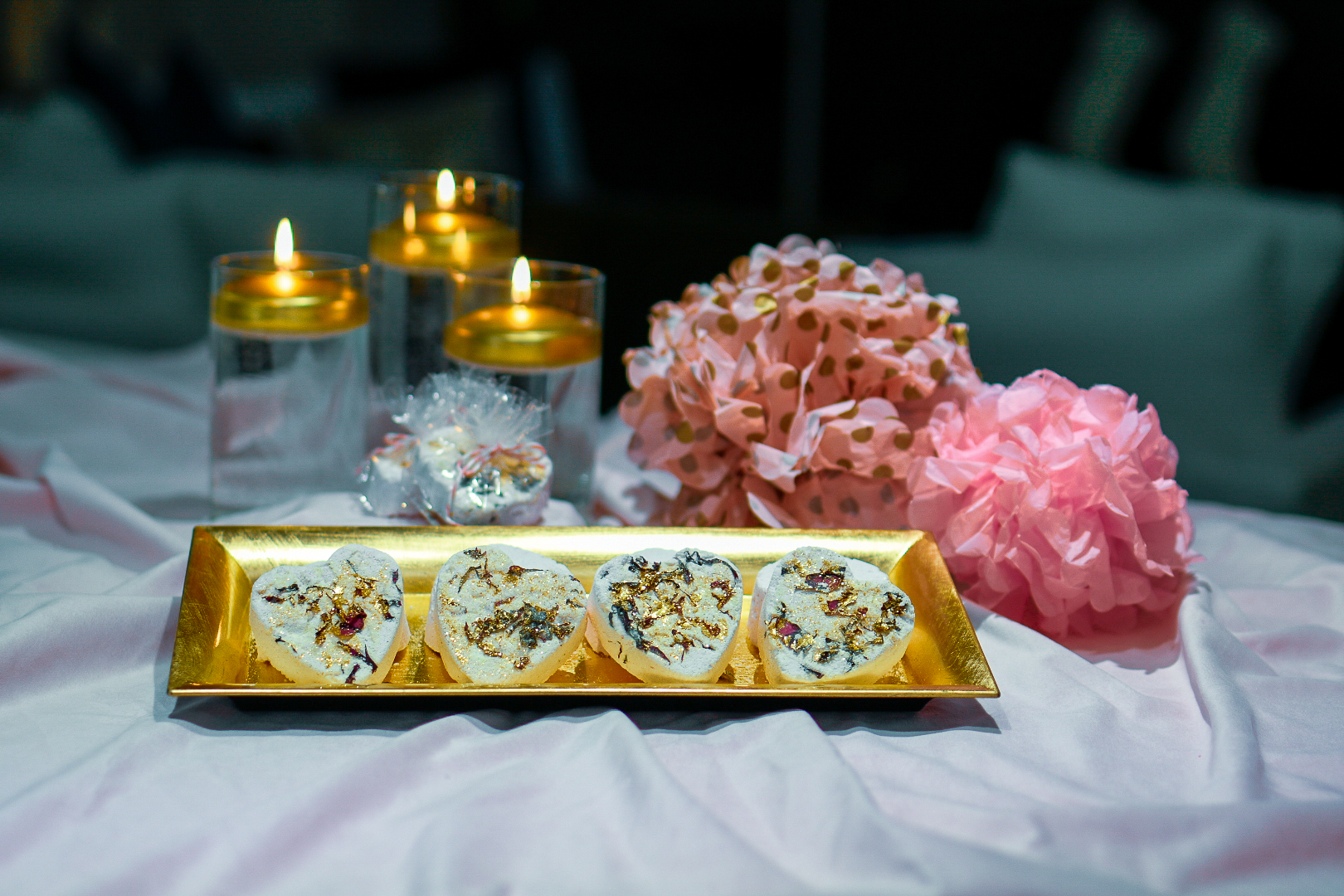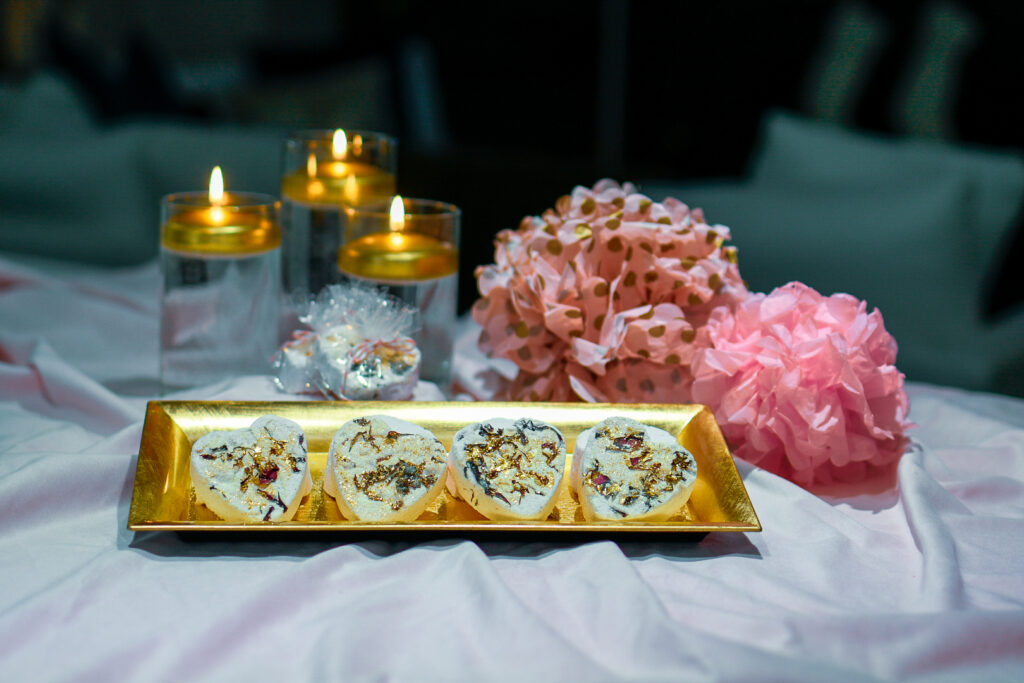 LOOKING FOR OTHER GREAT IDEAS?
Check out another great DIY Valentine's Day gift, adorable hot tea bombs: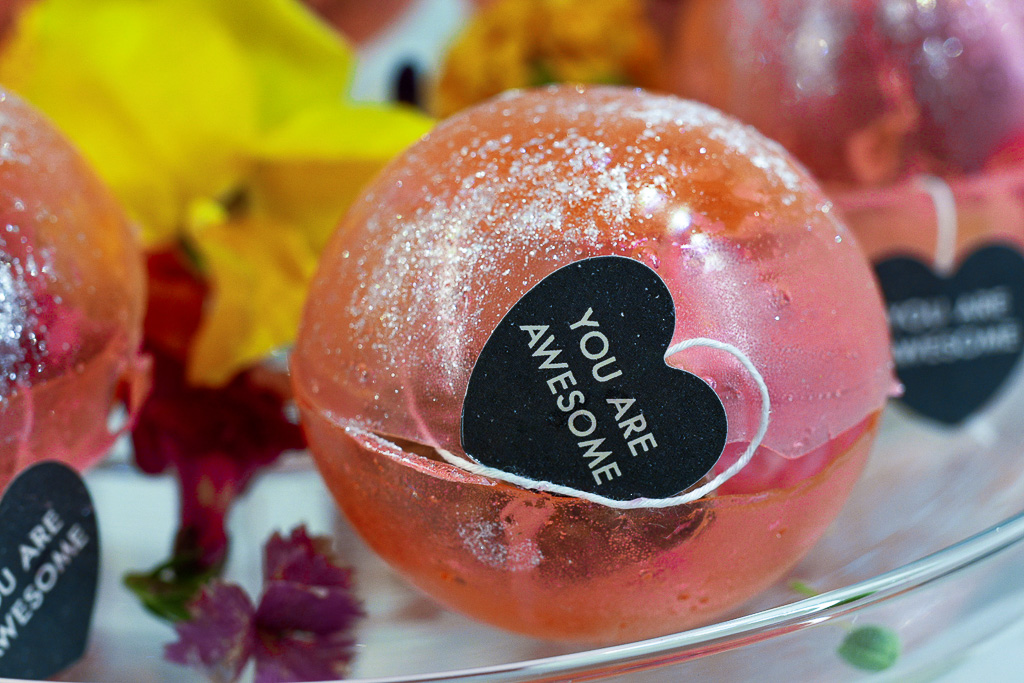 Looking for another great gift idea? Heart-shaped Hot chocolate bombs are another easy-to-make, DIY gift.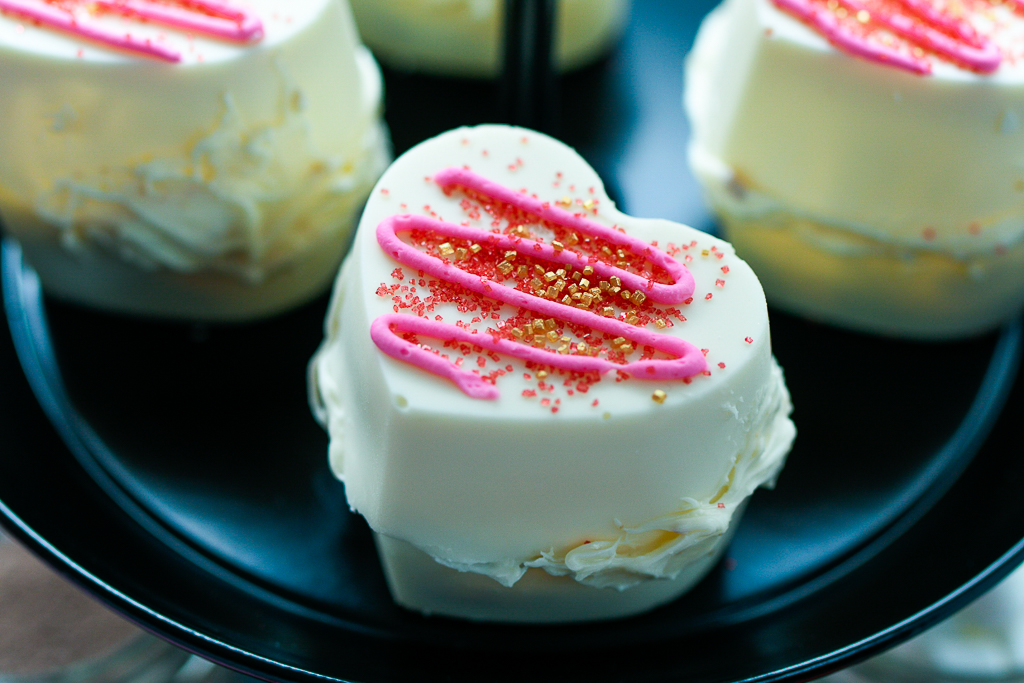 And here are other great ideas you'll love!
The Best Mocktail Recipes for Dry January and Beyond
10 Simple Ways to Turn Your Bathroom into a Spa in an Afternoon
Did you make these DIY Bath Bombs?
Share a photo on Instagram with the hashtag #makeeverydayanevent and tag @makeeverydayanevent.
If you have any questions or suggestions, contact us or leave a comment!
Follow us on social media! You can find us on Instagram, Pinterest, and Facebook.