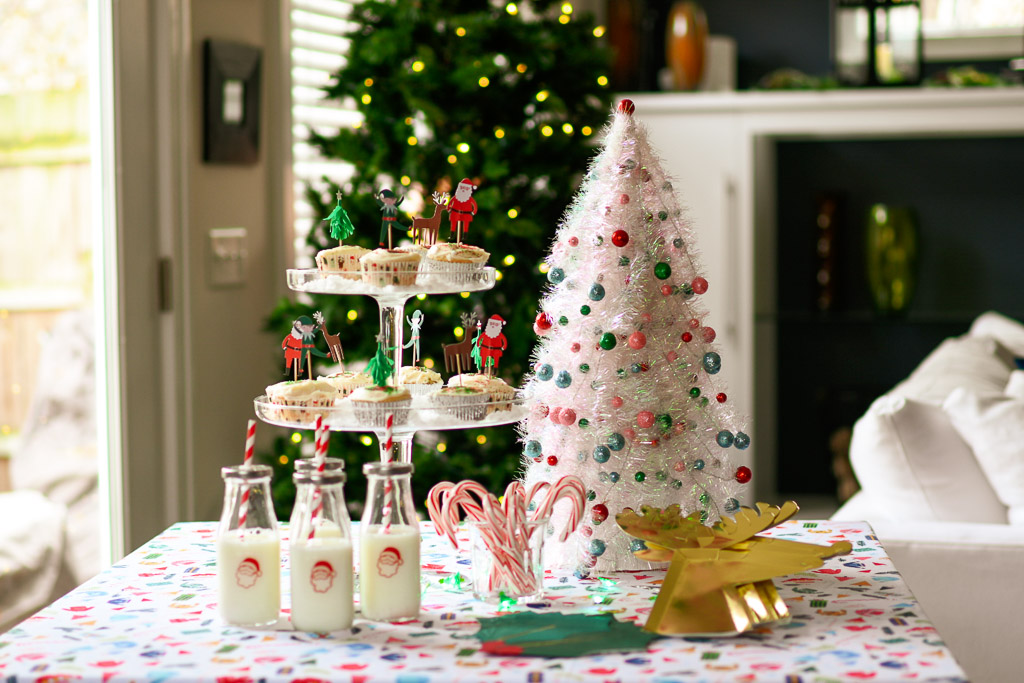 These easy Christmas table decor tips are complete lifesavers. During the holidays, trying to do everything is just too much. The perfect tree, the perfect table, the perfect gift wrapping … it's the perfect storm for a perfectly stressful meltdown. As many wise women know, "You can do it all it, you just can't do it all at once." For National Cupcake Day on December 15, we pulled together an adorable Christmas table in minutes, using unique, purchased party décor. And yes, we even made the cupcakes from a mix. They look and taste great! The secret is in knowing where to shop and how to pull it together. Here are six Christmas table decor tips and tricks to make your holiday table adorable:
NO TABLECLOTH, NO PROBLEM!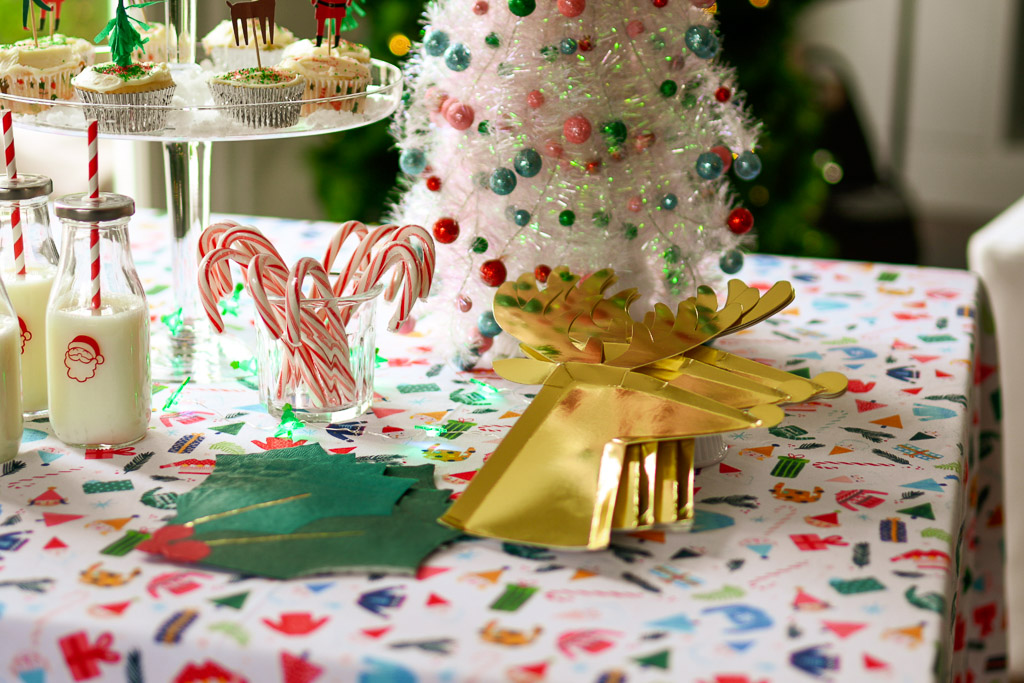 This is one of the tricks I absolutely use the most. Use cut fabric as a tablecloth. Fabric stores are literally filled with all sorts of fun, interesting and beautiful options. The key is to choose the right fabric. This festive pattern, which I found at Joann Fabric and Crafts, is a knit which makes its cut edges less likely to fray. This eliminates the need for hemming. Fabric pieces such as this one are great to cover the entire table, to use as a runner or just to use as fluff around centerpieces to create interest. In addition, the white tinsel tree with multi-colored ornaments is also from Joann Fabric and Crafts. It's a great centerpiece that was easy to "make." Take it out of the bag, plop it on the table. Done.
THINK DIFFERENTLY ABOUT SERVING PIECES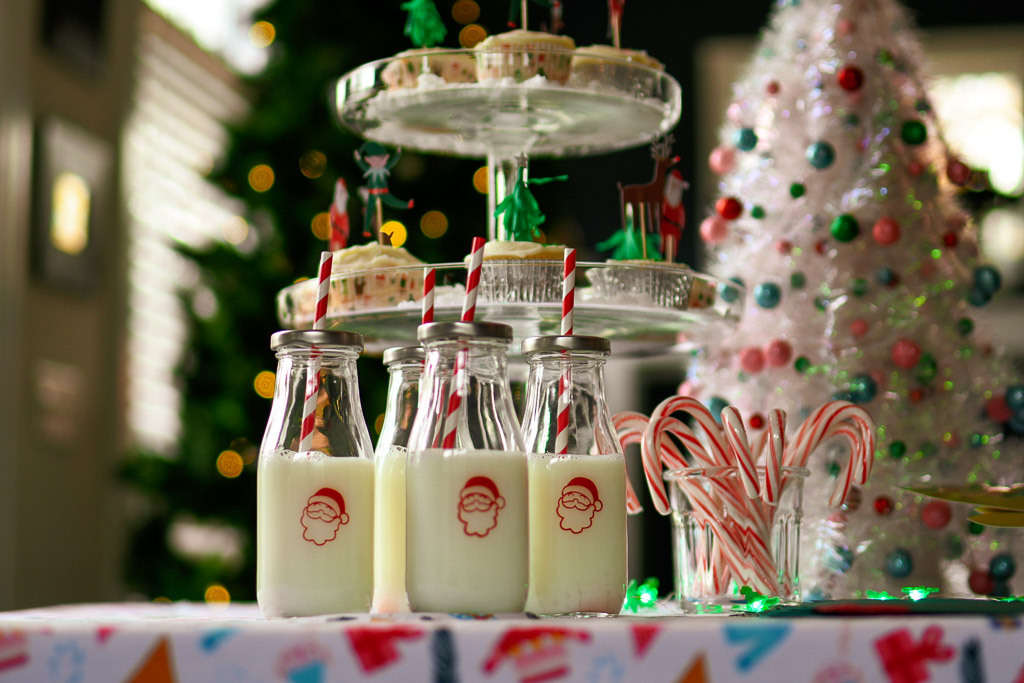 Most of the time, coming up with a unique and creative idea simply requires looking at something from a different angle. Instead of setting out glasses, use these cute milk bottles. I took it step further by embellishing them with a Santa decal from my Cricut Maker. But they are just as fun plain.
WHEN IN DOUBT, ADD A STRAW …
Striped paper straws are one of the easiest ways to add a festive touch to anything. They are a great value as well, since they cost just pennies.
ADD SOME HEIGHT TO YOU TABLE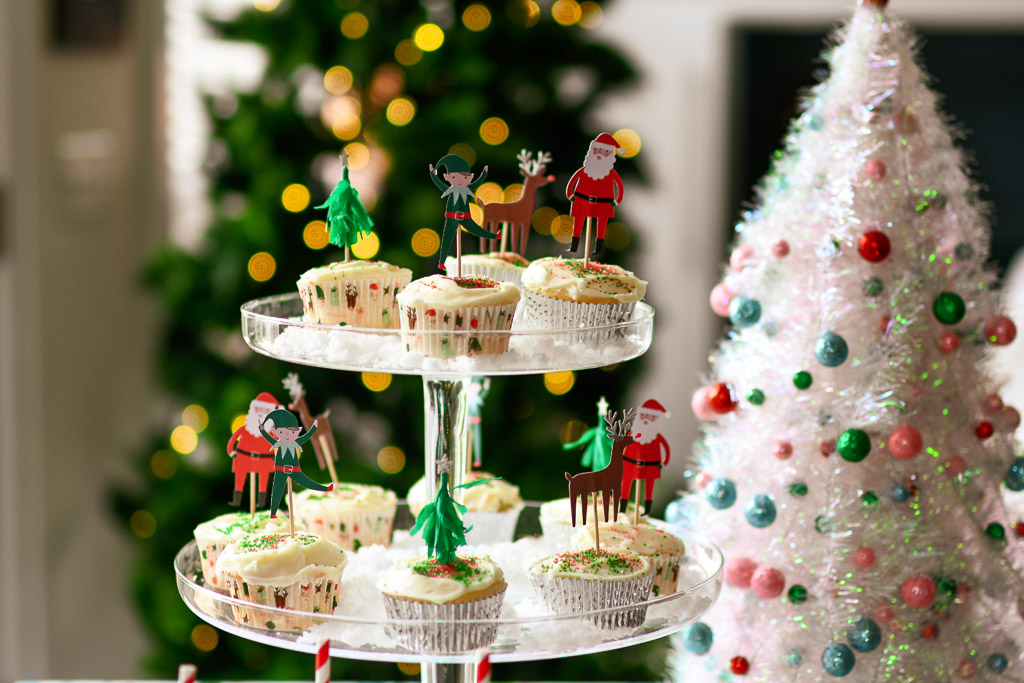 One of the absolute easiest ways to add interest to any table is to create varying levels of height. I turn to these tiered pedestals time and again. They are a great investment. In particular, I like the clear glass variety, which allows them to coordinate with almost every color combination and décor option.
LET IT SNOW, LET IT SNOW!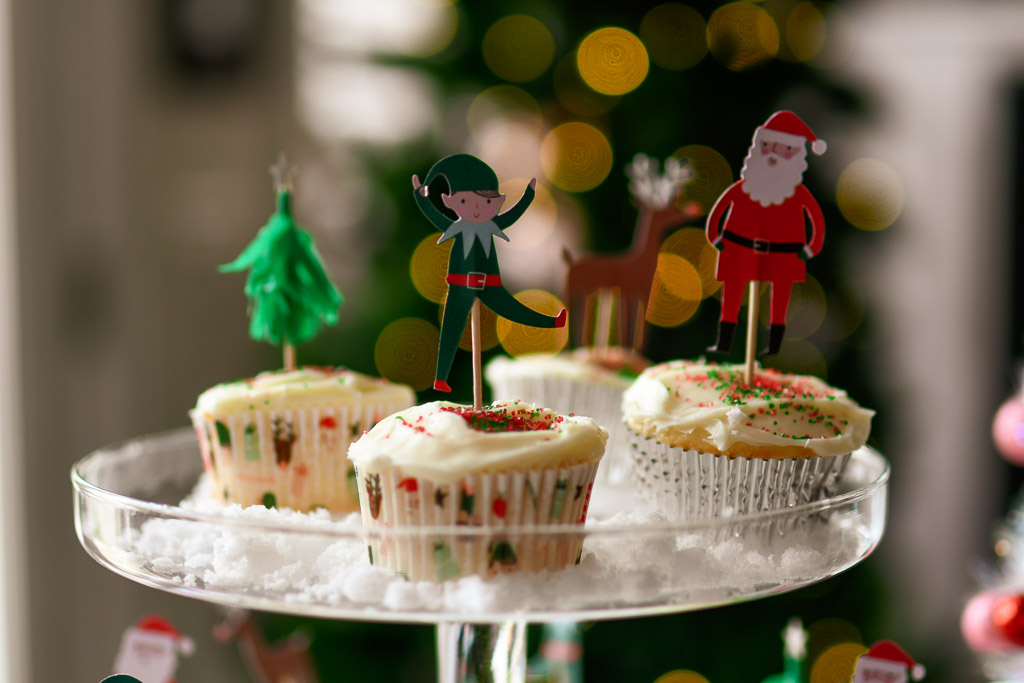 For the holiday season, there is no easier way to make something look festive than throwing some snow on it. I know what you're thinking. And the answer is actually, "yes, you do have access to clean snow." Instant Snow is available on Amazon. This stuff is awesome. And easy. And cheap.
One jar makes 10 gallons of snow. You'll use it year after year. It even comes with a cute, mini shovel.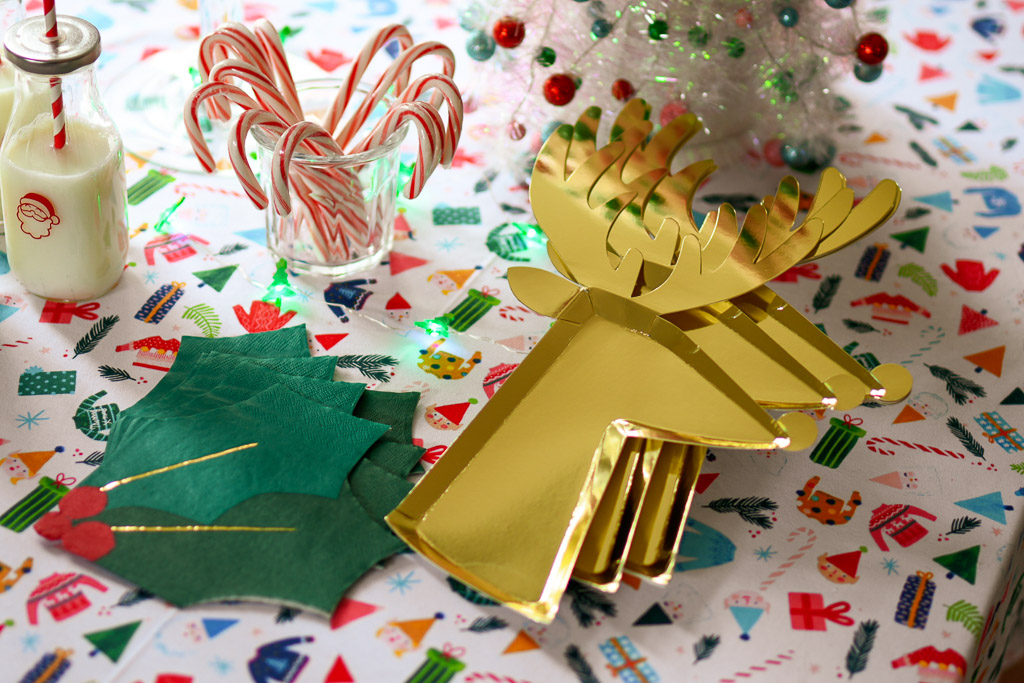 HAVE YOU HEARD OF MERI MERI? THIS BRAND DEFINES ADORABLE
I am always on the lookout for unique, interesting brands and products. I hit the jackpot when I discovered Meri Meri earlier this year. These cupcake toppers and wrappers are some of the cutest I've every seen.
How about those reindeer plates … ? These are paper plates I'm excited to use! And the holly napkins, with a touch of gold foil, are the epitomy of adorable.
If you haven't discovered this brand, you need to.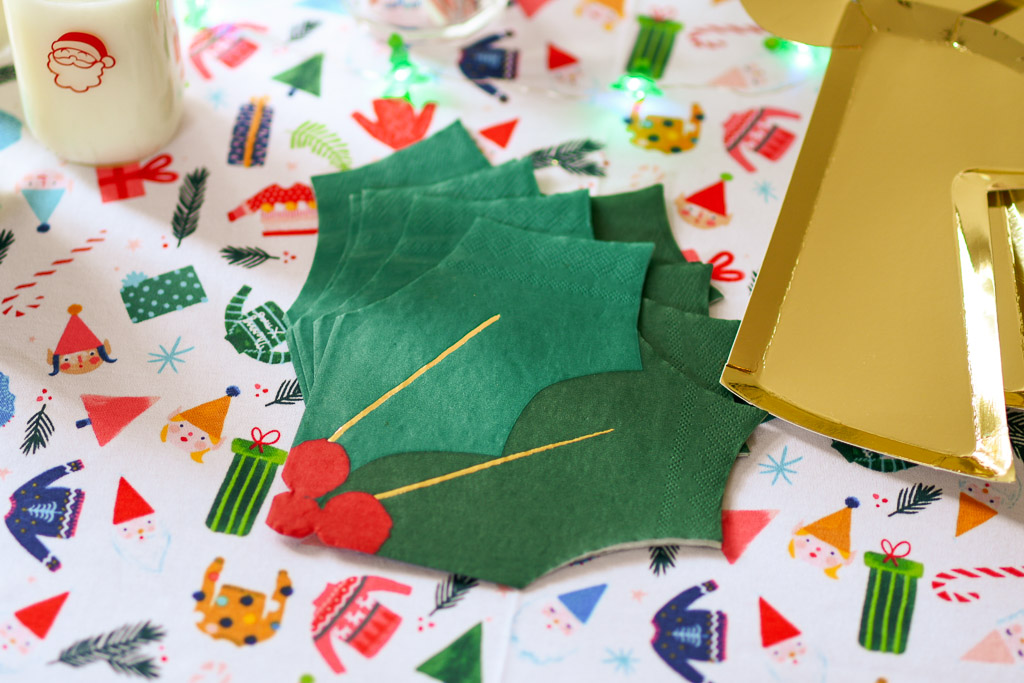 LET THERE BE LIGHT!
The introduction of battery operated fairy lights was simply a game changer. They are a wonderful, glistening addition to any table. Very little effort, very big impact.
Want more adorable ideas for the holidays? Check out these creative snowman desserts!