CLEVER AND COLORFUL DAY OF THE DEAD DECORATIONS IDEAS!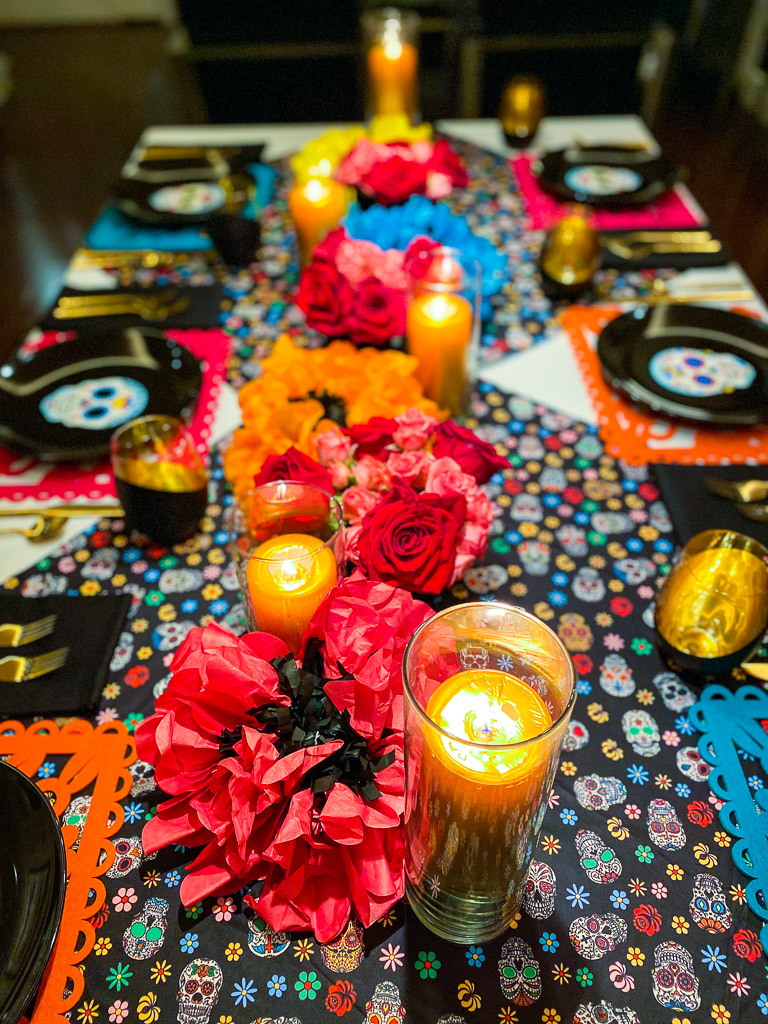 Great Day of the Dead decorations for your tabletop, as well as a bit of the holiday's history and its traditional menu!
I began seeing a lot of Day of the Dead decorations around various retailers and was curious to learn a little more about the celebration.
Because there really is always something to celebrate, right?
So why not find out more!
I delved into the topic to explore a bit of the holiday's history, as well as its traditional menu!
This is not simply a Mexican version of Halloween.
The celebration, which is held on November 1 and 2, focuses on receiving the souls of the dead with joy and hospitality.
So I've pulled together some great Day of the Dead home decor ideas for our tabletop.
They transformed our table into a bright and colorful affair!
Let's get started …
The Day of the Dead, or Día de los Muertos, actually celebrates life.
Specifically, it honors the lives of the deceased on the days of the year when their spirits are believed to return to our world.
The holiday, which dates back more than 2,000 years, is built around the premise that rather than death ending life, it is believed that new life comes from death.
I found some great background information and history on the Day of the Dead here.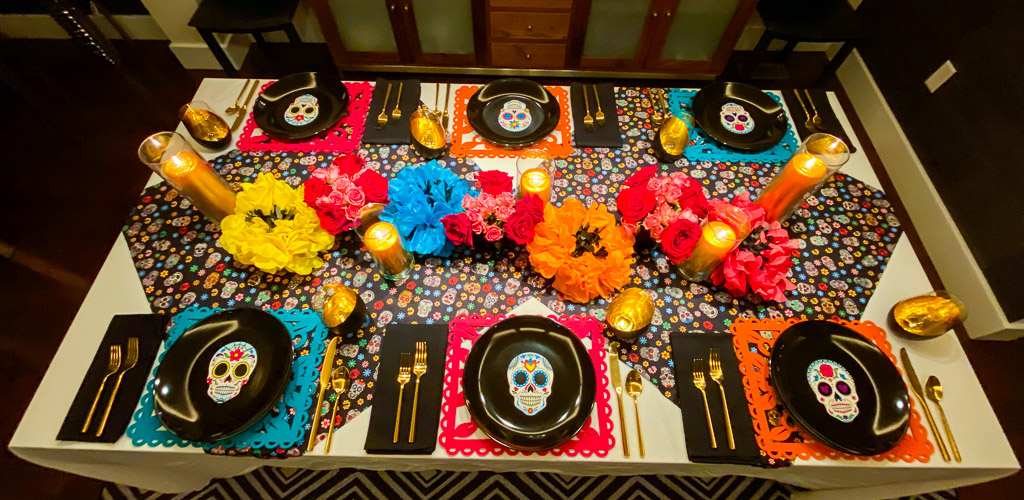 Posts on Make Every Day an Event may contain affiliate links which means we may earn a small commission on purchases at no extra cost to you. Please read our full disclosure here.
ESSENTIAL DESIGN ELEMENTS:
There are a few décor items which are just essential.
First, the quirky skeleton artwork of Mexican cartoonist Jose Guadalupe Posada has become synonymous with the holiday since the late 1800s.
Colorful flowers, specifically Mexican Marigolds (or The Flor de Cempasuchil), are another essential décor element.
Why?
Well according to Mexican folklore, the flower's unique and strong smell is believe to attract spirits.
Finally, ornately decorated sugar skulls are seen everywhere during this holiday.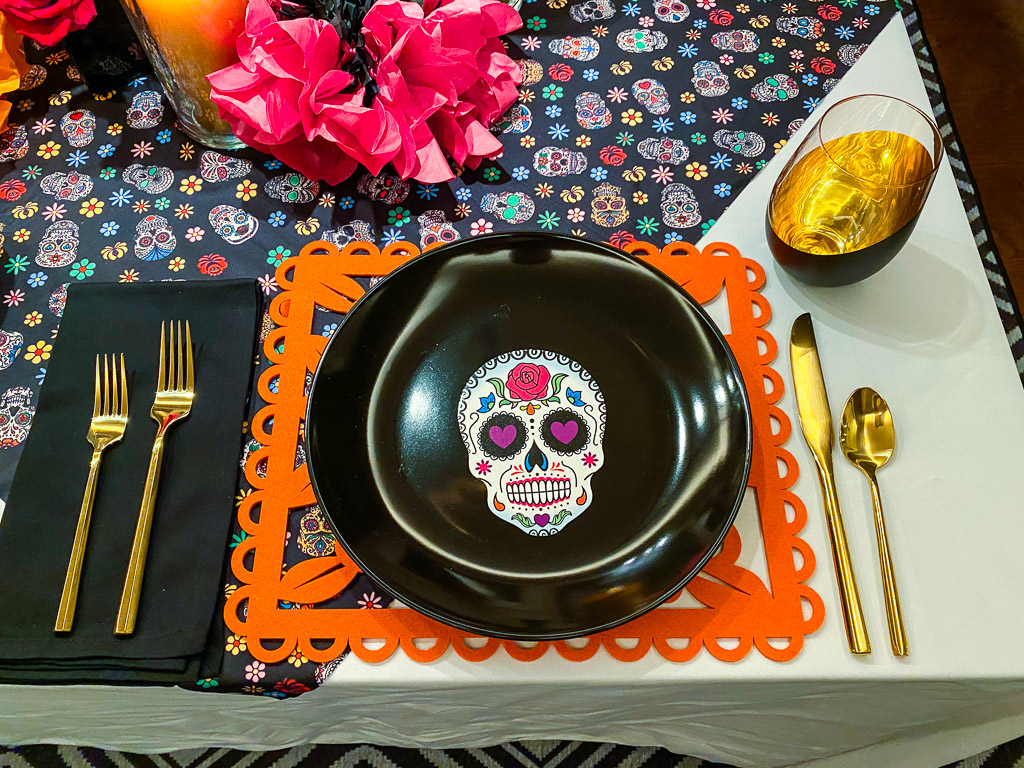 Like most holidays, food is a traditional element of any Day of the Dead celebration.
Tamales, moles and thick hot chocolate are just a few of the quintessential menu items.
To discover more about this, here is a list of 15 Traditional Day of the Dead recipes.
HOW I PULLED OUR DIY DAY OF THE DEAD HOME DECOR TOGETHER:
First, I started with one of my favorite tricks … using fabric remnants in lieu of a table runner or tablecloth.
This adorable Day of the Dead printed fabric was just the perfect backdrop, especially when placed over a traditional white tablecloth.
It is festive, fun and has so many wonderful colors from which to pull our other table elements and ensure everything ties together!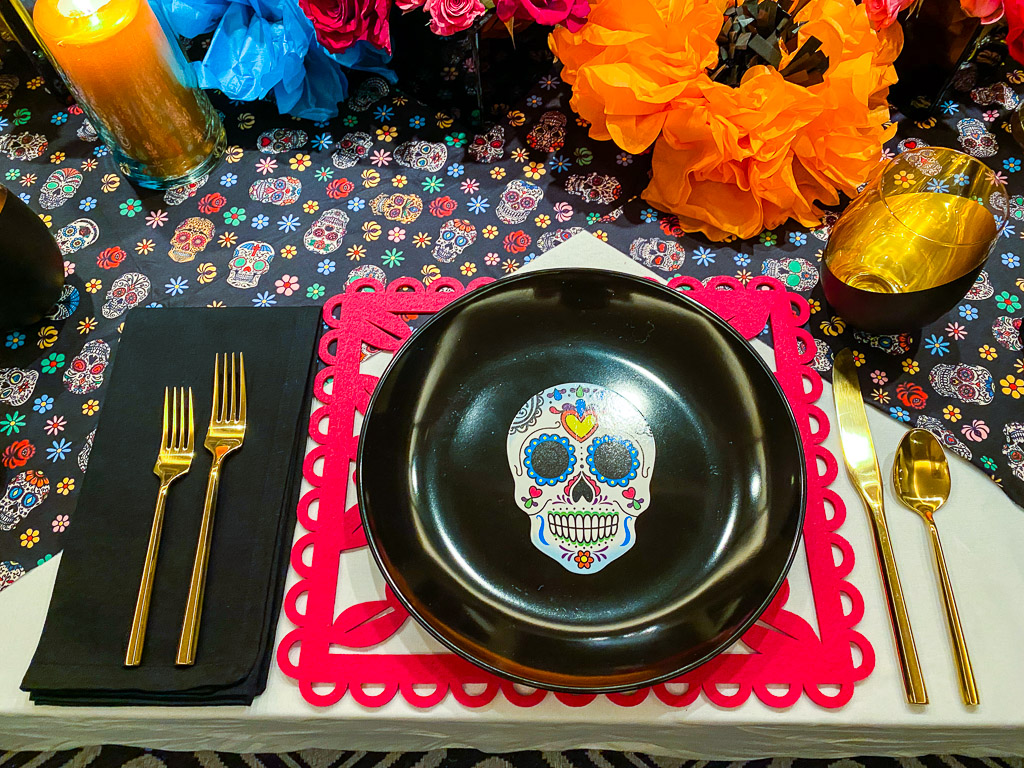 These colorful cutout, felt placemats, which I found at Michaels, were another perfect addition.
I placed my go-to black plates from Dollar Tree at each place setting.
My favorite gold flatware was an easy choice, especially when paired with these black napkins, to complete the look.
PRO-TIP: I've noticed a huge uptick in Day of the Dead décor items this season, including some really adorable plates and glasses. If those aren't in your budget or you don't want to store them … there's an easier trick. To give each place setting a bit of flair, I simply placed these sugar skull coasters on top of each of the plates, given them a Day of the Dead look for just pennies.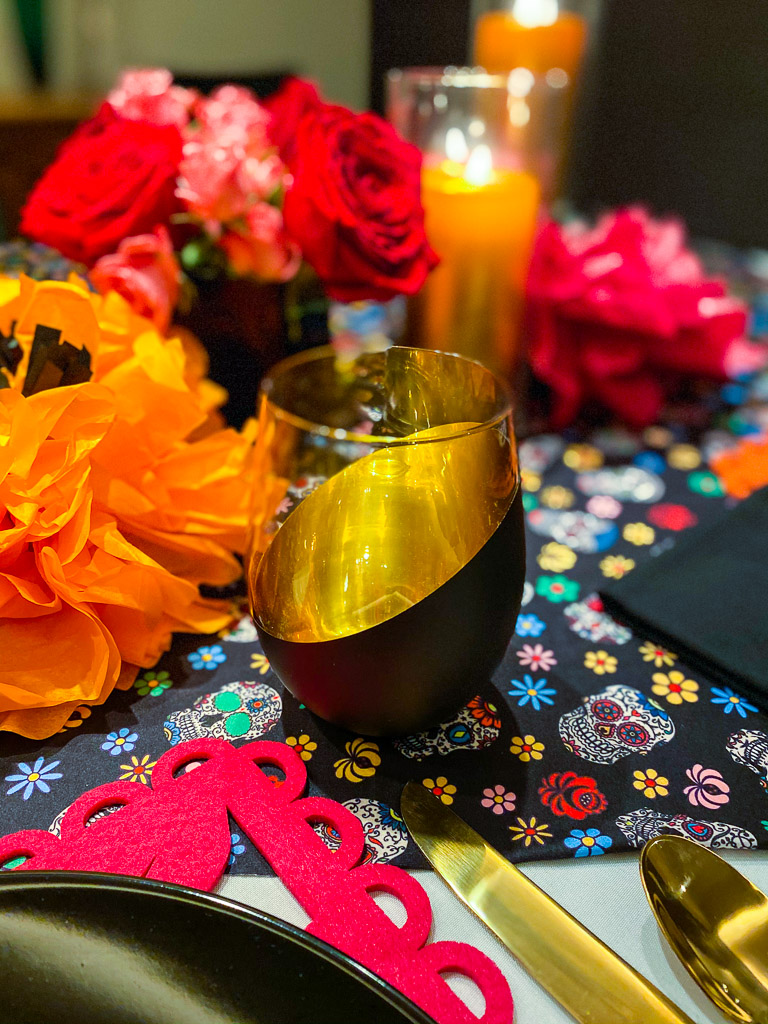 One of my favorite elements of this table are these matte black and gold stemless wine glasses.
They are elegant, on-trend, and look great with our flatware and plates … creating a cohesive look.
Here are some great Day of the Dead cocktail recipes that are perfect to fill up those glasses.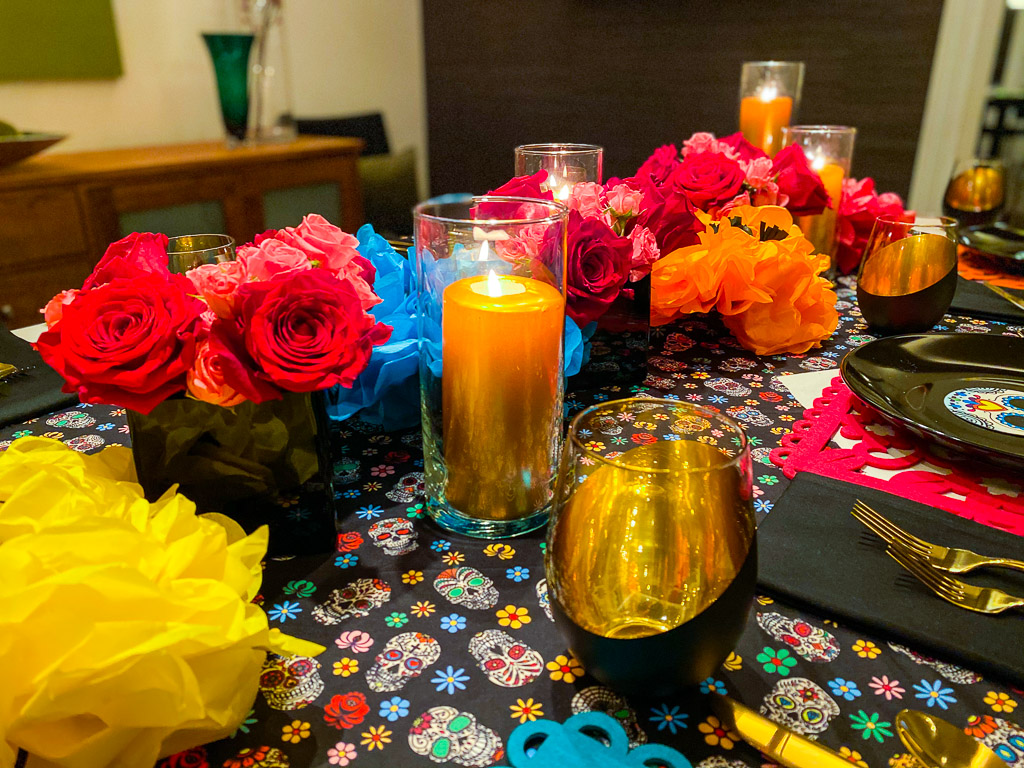 THE CENTER OF ATTENTION …
The center of this table is definitely the center of attention.
I wanted my Day of the Dead decorations to be all about candlelight, bright colors and flowers.
To accomplish this, I combined a mix of fresh florals, with some oversized, tissue marigolds.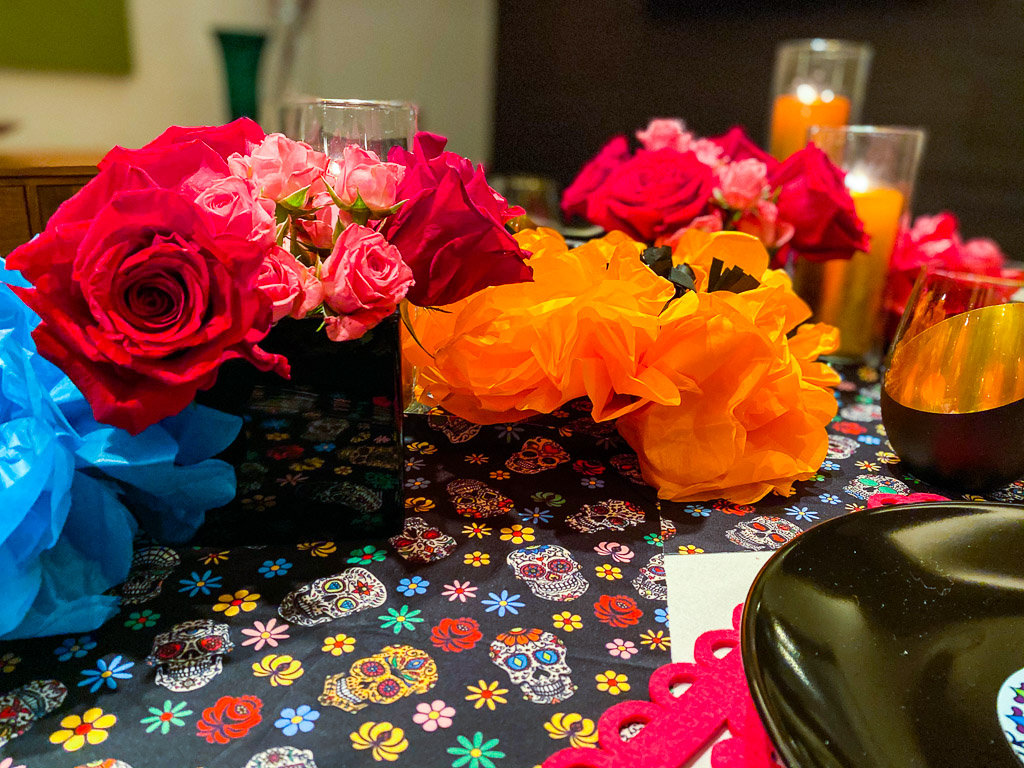 Using my favorite black square vases, I carefully arranged miniature, pink roses with larger red ones.
These colors really popped against the sugar skull remnants.
In addition, I added these colorful, tissue marigolds which I found at Michael's, to the center of the table.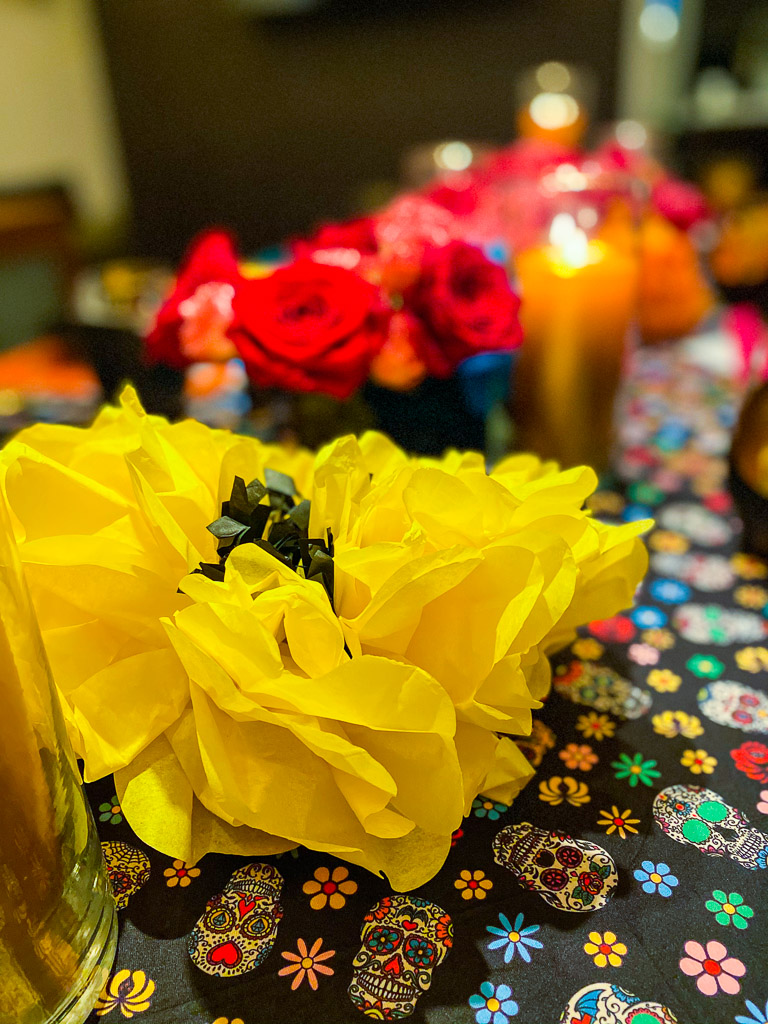 Finally, I interspersed large, gold pillars of varying heights in between everything.
For this table, with the tissue flowers, it was especially important to place the pillars in these cylinder glass vases.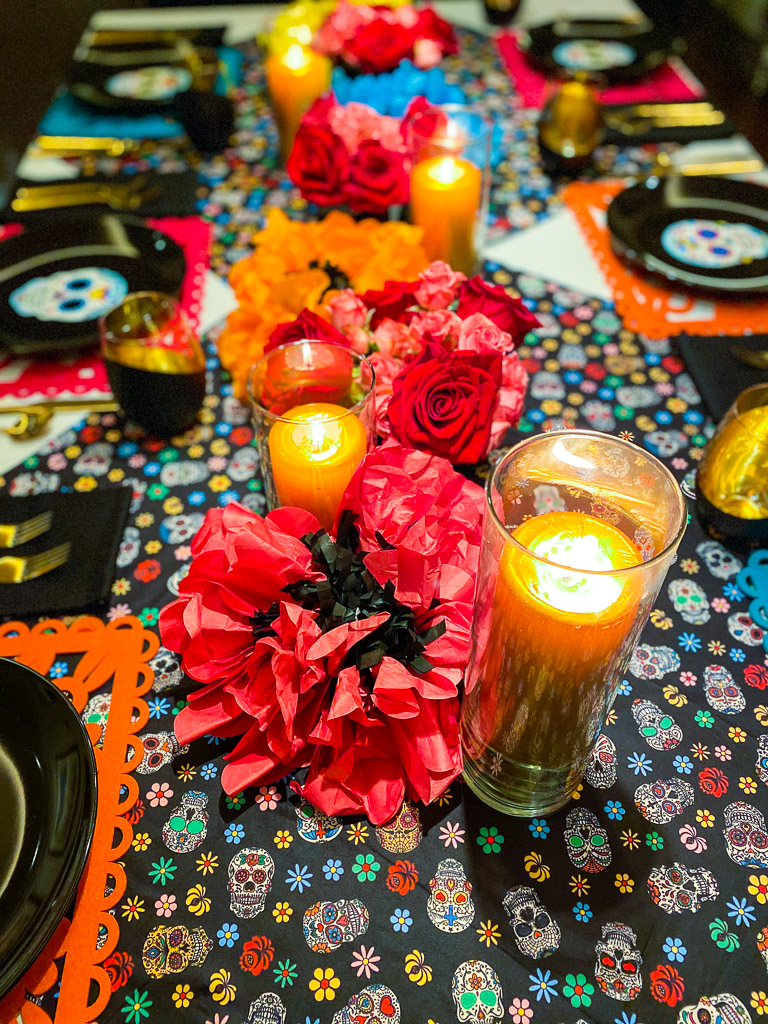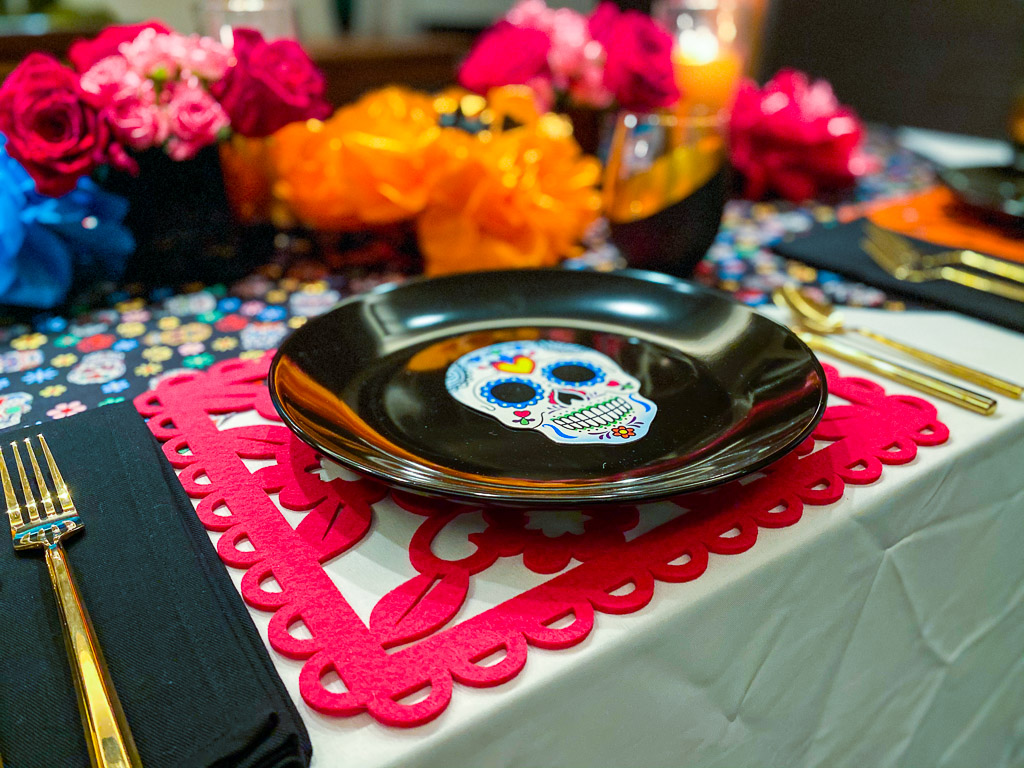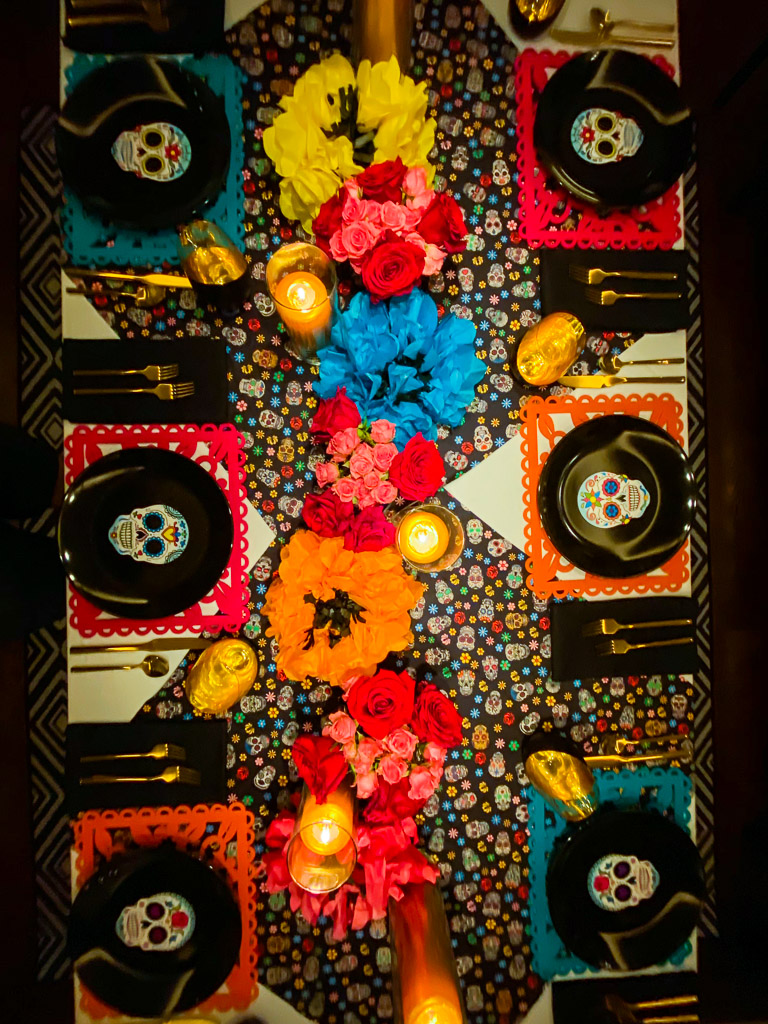 A few of the decor items featured in Make Your Cinco de Mayo Celebration a Fiesta to Remember would also work great for this celebration!
If you liked these ideas, here are some other great blogs you'll want to check out:
Easy Fall Table Decor Ideas Using Chinoiserie
The Top Fall Tabletop Trends We've Spotted and You'll Love
Elegant Thanksgiving Tablescape Ideas
Did you try this idea? Share it on Instagram with the hashtag #makeeverydayanevent and tag @makeeverydayanevent.
If you have any questions or suggestions, contact us or leave a comment!