EASY HALLOWEEN TREATS YOU'LL THINK ARE ADORABLE AND FUN!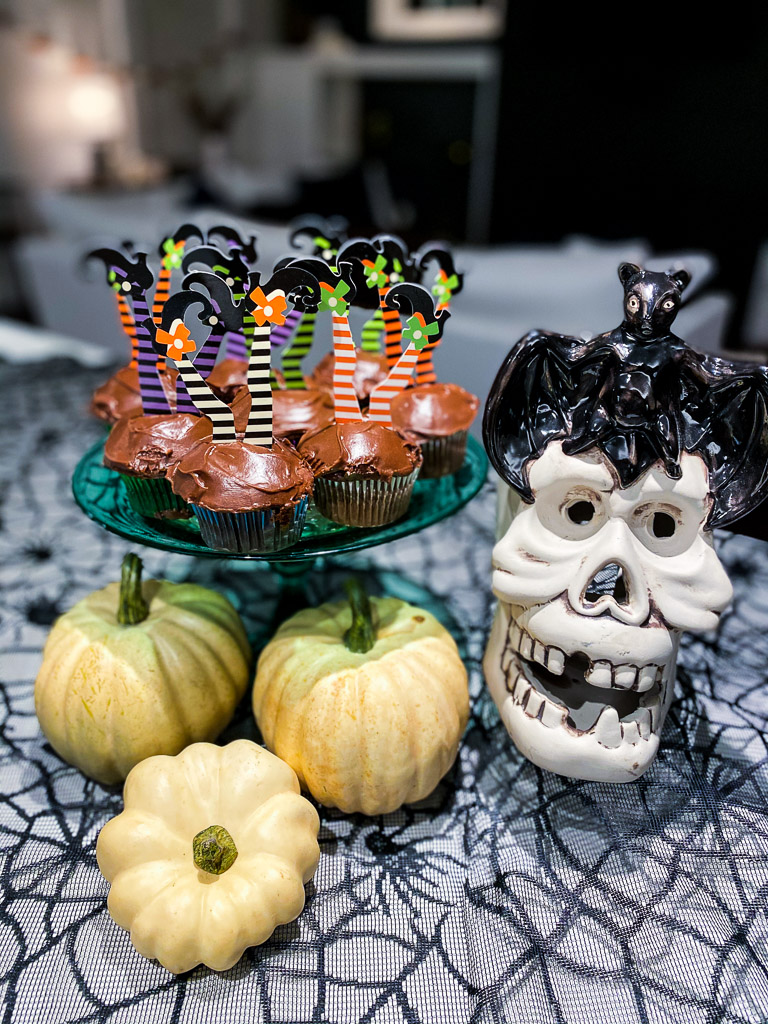 These ideas for easy Halloween treats will make make you look like a rock star and are simple to create.
Plus they are easy to transport!
You'll be kicking up your heels (just like these adorable witches) with these clever cupcake toppers.
If you can't wait until Halloween, you can celebrate a little bit early by observing National Chocolate Cupcake Day on October 18.
A batch of Devil's Food cupcakes, just seems timely … doesn't it?
But I couldn't stop there.
I wanted to make them truly festive with these adorable cupcake toppers!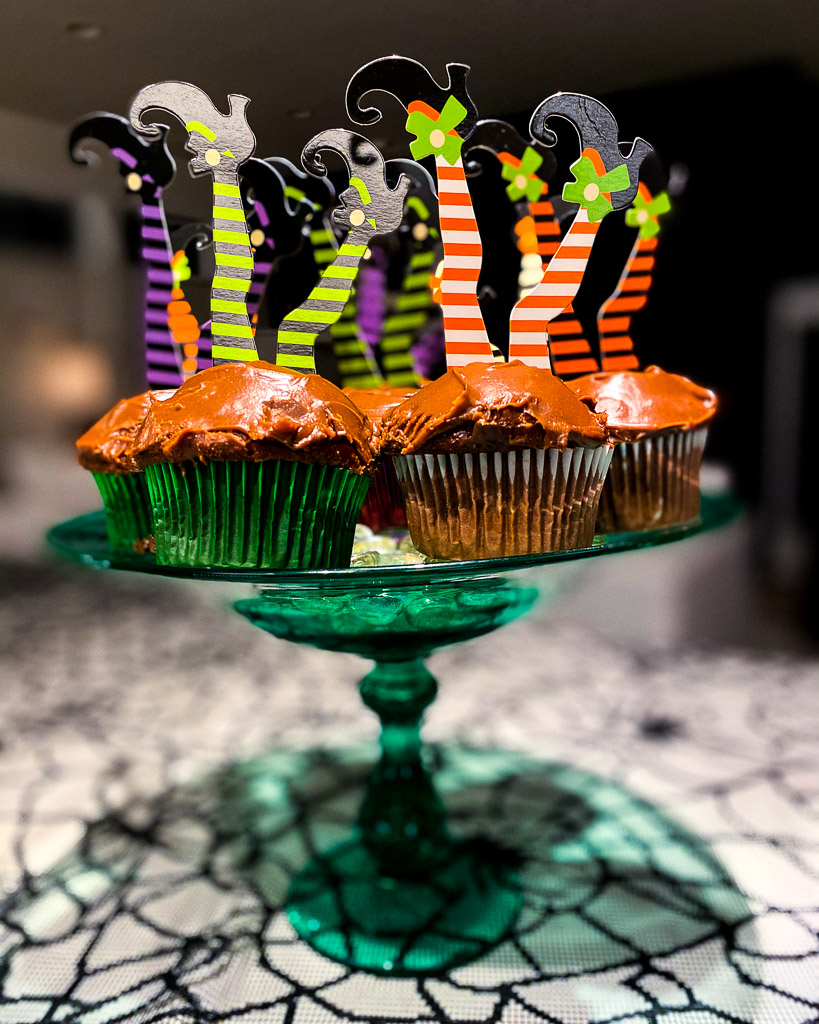 Because the countdown to Halloween has begun.
So it seems only appropriate we begin to get serious about celebrating one of my favorite holidays.
National Chocolate Cupcake Day seems like the perfect time.
Did you know these little known facts about the humble cupcake … ?
CUPCAKE FUN FACTS …
The origin of the cupcake dates back to approximately 1796 when a recipe for a "light cake to bake in small cups" appeared in American Cookery by Amelia Simmons.
In 1919, the Hostess Cupcake was the first mass-produced cupcake.
But these first versions weren't cream filled or frosted. Say what?
Other fun facts include:
Cupcakes were first decorated with frosting, either chocolate of vanilla, in the 1920s.
Approximately 770 million cupcakes are eaten in the United States each year.
There are about 400 cupcake bakeries in the U.S.,
Why do we like cupcakes so much? Simply they are fun and appeal to our sensibilities. They're portion controlled, easy to make in small batches, lend themselves to lots of decorating options, and let's face it, they're just plain cute!
NOW LET'S GET BAKING …
I have to admit … we cheated a bit for this celebration and used a good, old-fashioned cake mix in lieu of making these from scratch.
But come to find out … that's okay!
There are numerous ways to embellish a cake mix to make it your own.
For our cupcakes, we decided to add a small box of vanilla pudding to the mix to add flavor, moistness and a denser texture.
While I'd love to state this was my very own idea … it certainly wasn't.
It's an old trick my mom taught me.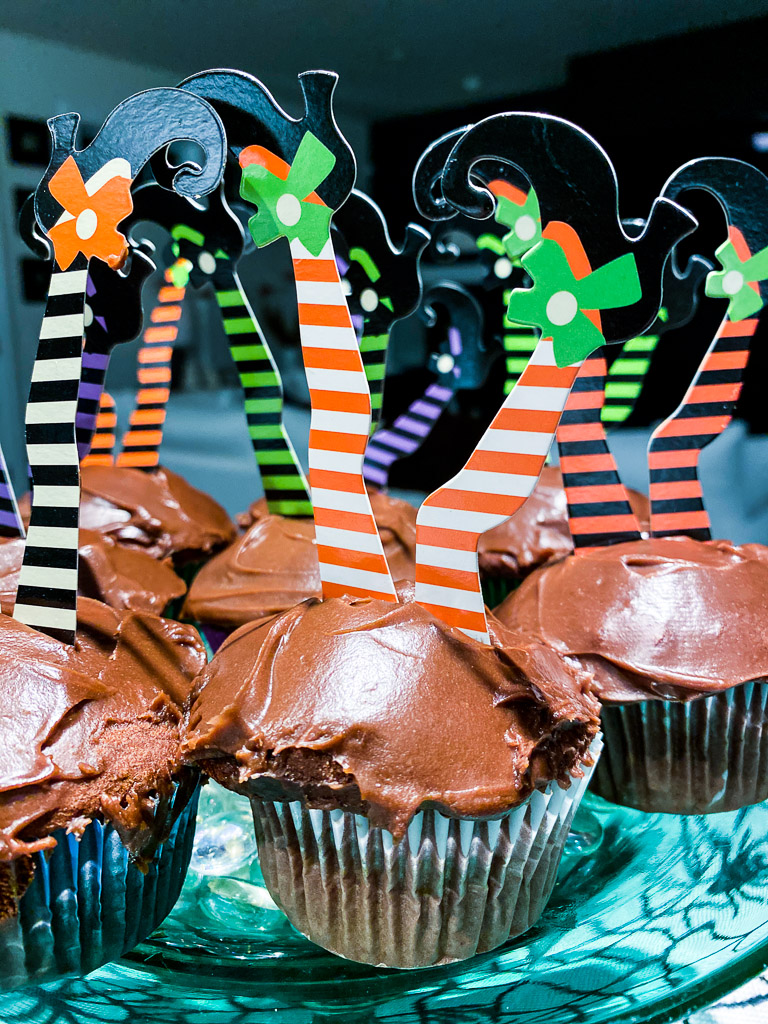 THE FINAL TOUCH …
I found these adorable witch cupcake toppers a while ago and I had to order them.
The are just too cute and too fun!
I knew they'd look great on top of this vintage green pedestal which has been in my family for generations.
In addition, the green glass really bounces off of this spider web, lace tablecloth.
Here's what makes these easy Halloween treats so great …
You can transport the cupcakes in your normal carrier and simply put the picks in them when you arrive at your destination.
Voila!
Perfectly decorated treats that didn't get smushed during the car ride!
I love it!
It's an adorable scene for a book club gathering, game night or casual potluck.
SHOP THIS BLOG … !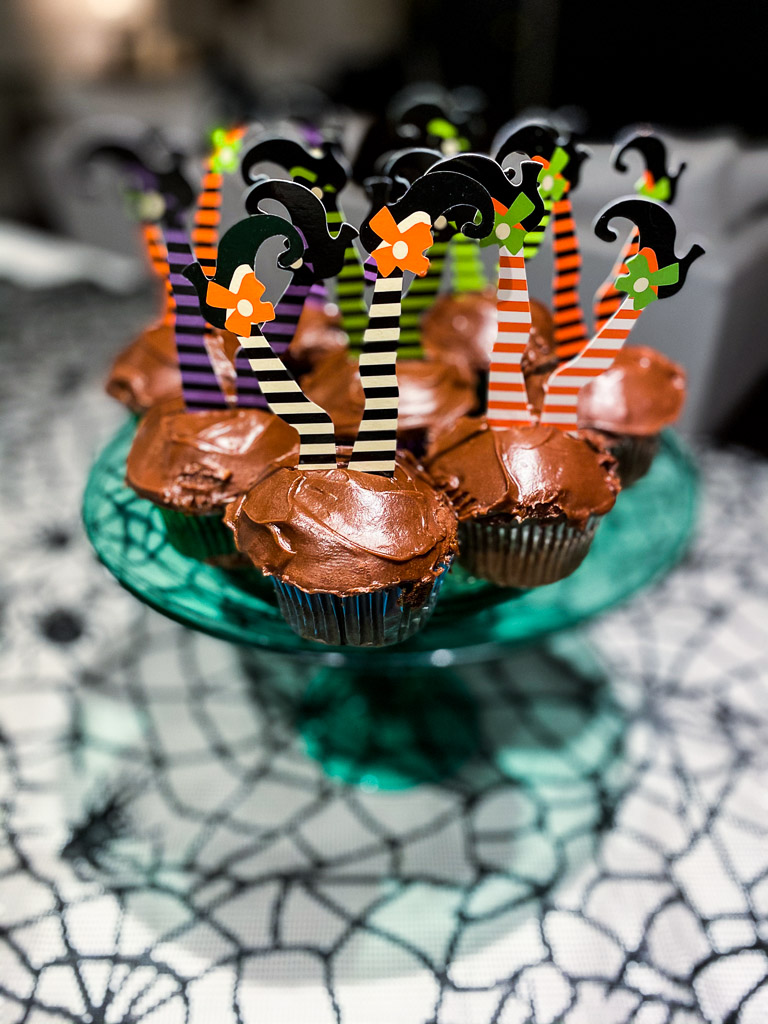 Looking for more fall fun? Check out these blogs:
The Best Fall Tabletop Decor Ideas
Easy Gorgeous Fall Decorations for a Table You'll Love
This Halloween Candy Gets an Extreme Makeover
Five Halloween Trick or Treat Table Ideas You'll Love
Did you try this idea?
Share them on Instagram with the hashtag #makeeverydayanevent and tag @makeeverydayanevent.
If you have any questions or suggestions, contact us or leave a comment!
Follow us on social media! You can find us on Instagram, Pinterest, and Facebook.