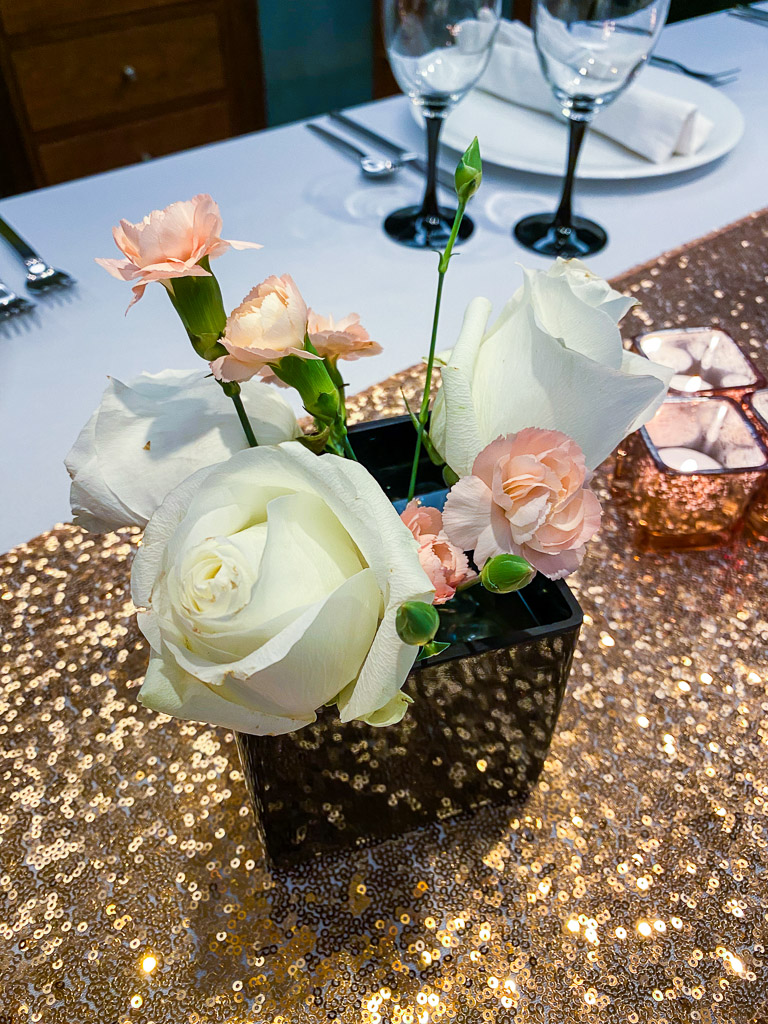 An easy Mother's Day centerpiece is just a few steps away with these tips and tricks! It's no secret, I love creating flower arrangements with square vases. But there's a method to my madness … Why do I turn to these cubed vases, time and time again? They make it so easy to arrange flowers like a pro! Discover how an easy Mother's Day centerpiece makes this table setting really shine (and sparkle) when you utilize a few easy tricks!
This table has a flair and drama that makes it ideal for an elegant spring dinner and perfect for a Mother's Day celebration. The striking contrast between the rose gold accessories and the black accents elevates the refined look of this place setting.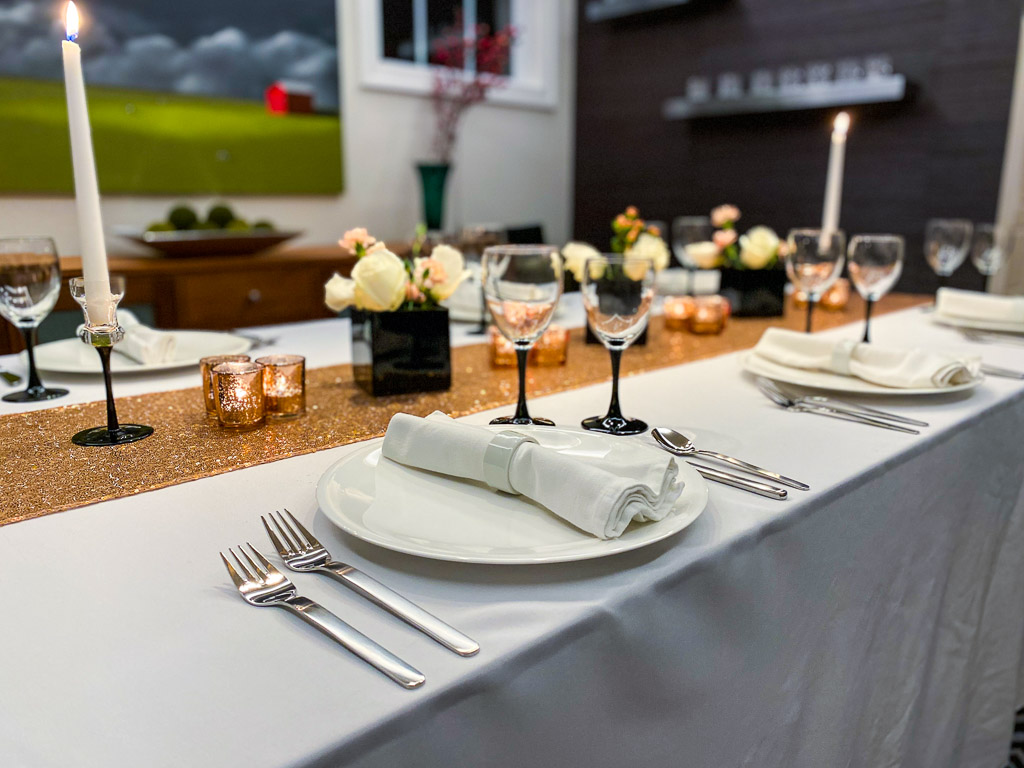 But the trio of centerpieces are the true stars of this table. At first blush, they look identical. But if you take a closer look you'll see they don't perfectly match adding interest to this modern, graceful design.
A sequined, rose-colored table runner adds a bit of sparkle to this contemporary, chic look while the black accessories provide balance and substance to the whimsical and showy nature of the sequins.
One when element is bold, keep the rest simple. That's precisely what we've done with this table. The white dinnerware and white napkins recede into the white tablecloth, allowing the other pieces to pop.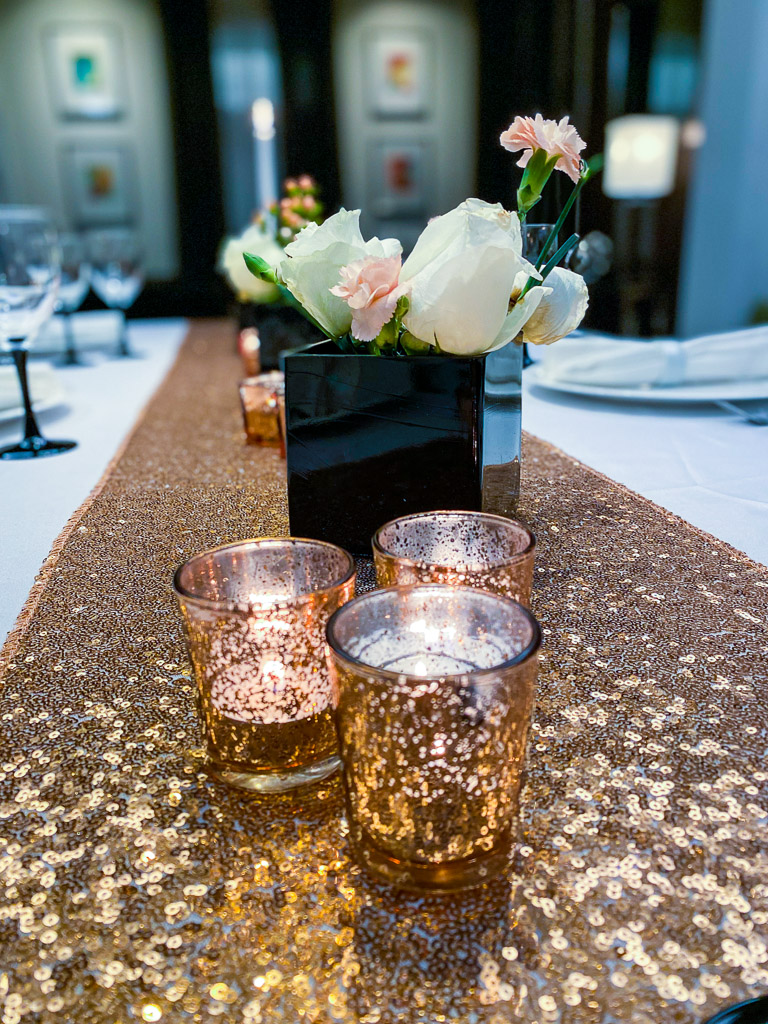 HERE'S HOW TO MAKE AN EASY MOTHER'S DAY CENTERPIECE: 
First, look for florals that complement your color scheme, but don't feel the need to have everything match. I chose ivory roses and smaller blush tea roses. The blush ties everything together without over doing it. One of my favorite guides to pulling together complementary colored florals is the Flower Color Guide by Putnam & Putnam.
Second, don't try to overstuff these cubed vases. The 90 degree angles of the vases, paired with the short height of the walls allow you to add a few, high quality florals. You don't need to go overboard.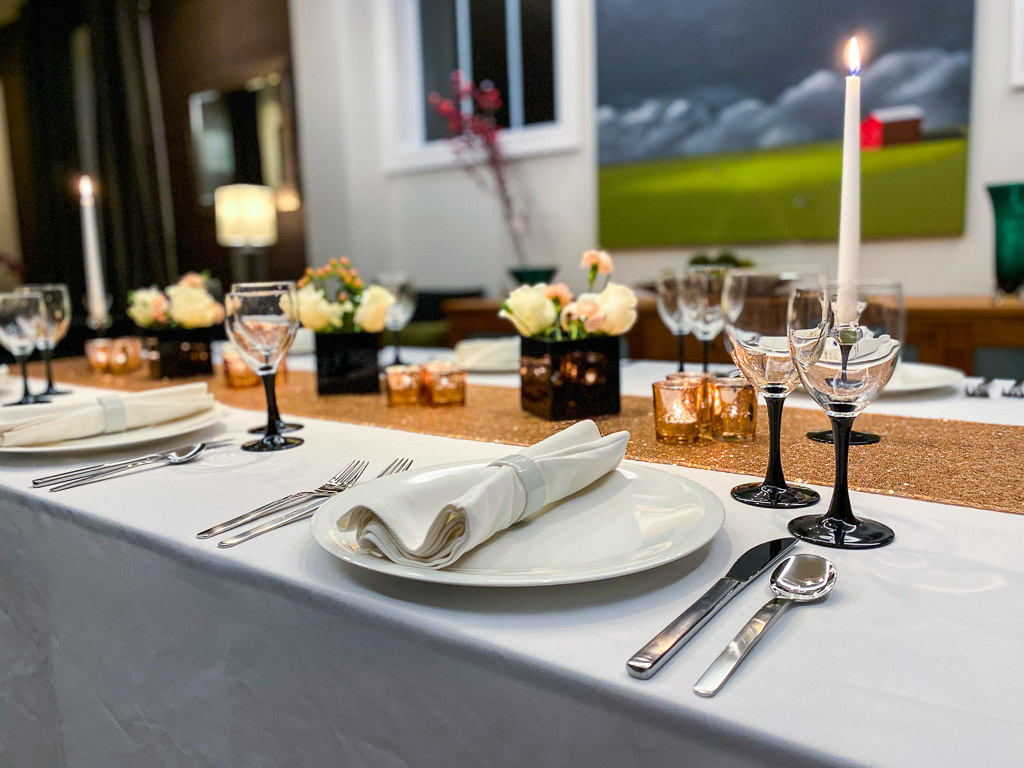 Third, go for the drama! These vases are available in a wide variety of colors, as well as clear glass. I opted for a striking black glazed version. I think it adds a dose of style and sophistication to the table.
Fourth, use glass marbles to help your stems stay upright and in place!
AND LAST, BUT NOT LEAST …
Finally, consider using multiple individual centerpieces to create interest. I always fall back to the design rule that you should decorate in odd numbers. So I utilized three of the centerpieces on this table. But five could also be very elegant and sophisticated touch.
Other elements that look great on this table include:
Rose Gold Votive Holders — While I typically like to use different shapes to add interest. In this case, I chose to keep it limited to just square votive holders, to mimic the square shape of the vases.
Sequined Rose Gold Tablerunner — this linen adds a bit of color and a lot of sparkle to the celebration.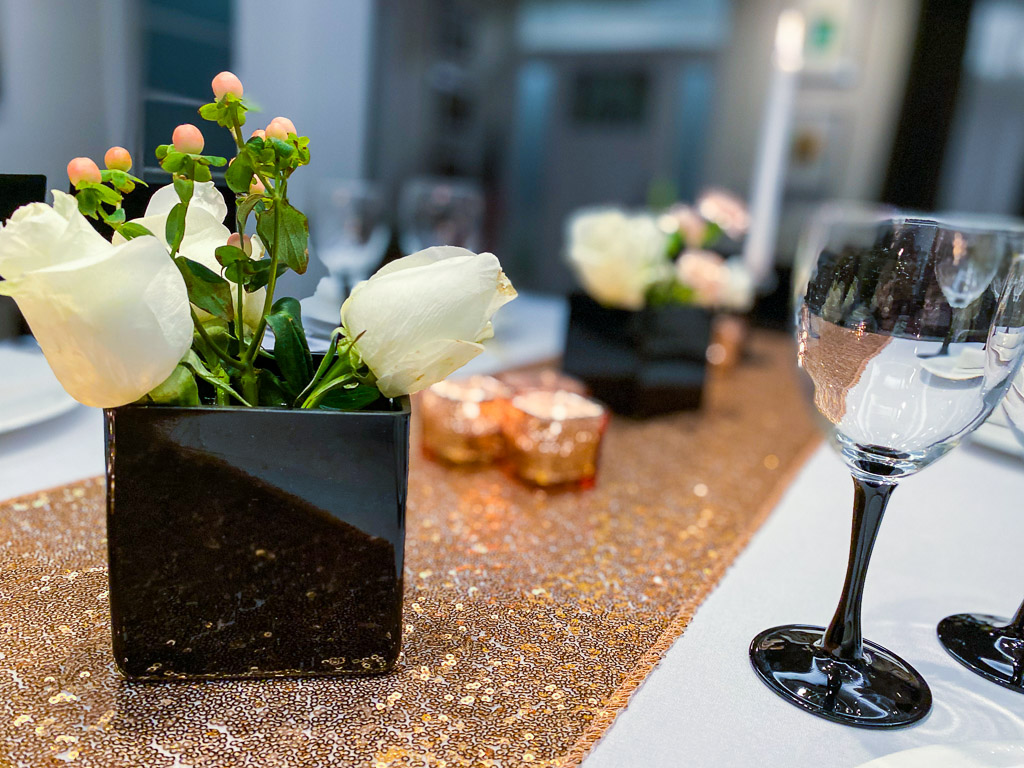 Did you try this idea? Share it on Instagram with the hashtag #makeeverydayanevent and tag @makeeverydayanevent! Looking for additional spring table setting ideas? Discover how to incorporate colored glass into your spring table settings!