RED AND WHITE MAKES HALLOWEEN TABLE DECORATIONS EASY AND GUESTS WILL LOVE IT!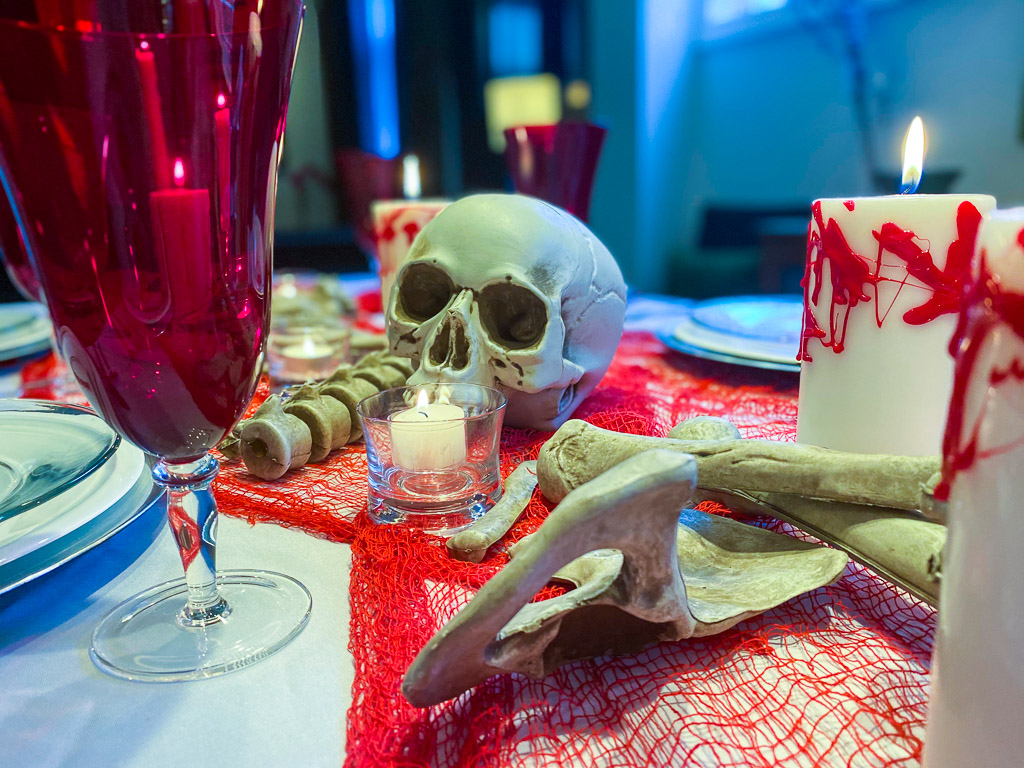 These Halloween table decorations are easy to pull together with a unique red and white theme that's creative and fun!
I have to admit, I love these modern, red and white Halloween table decoration ideas.
It incorporates one of my favorite things to do when pulling together the décor for an event … to really push myself to bring an element of the unexpected to the design scheme.
This Halloween tablescape and Halloween table decoration ideas certainly aren't traditional, but they are definitely dramatic.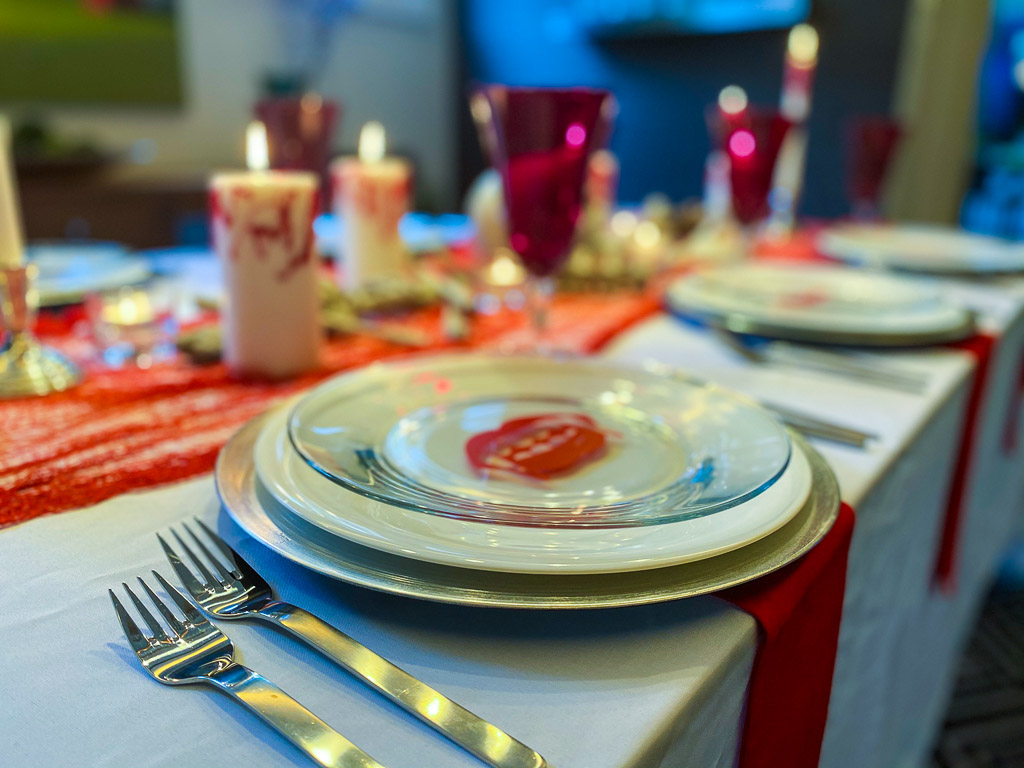 So often we get stuck in predictable color schemes for particular holidays or themes, when there are so many other fun and creative options.
You just need to let yourself explore what's possible.
And that's exactly what these Halloween table decor ideas do!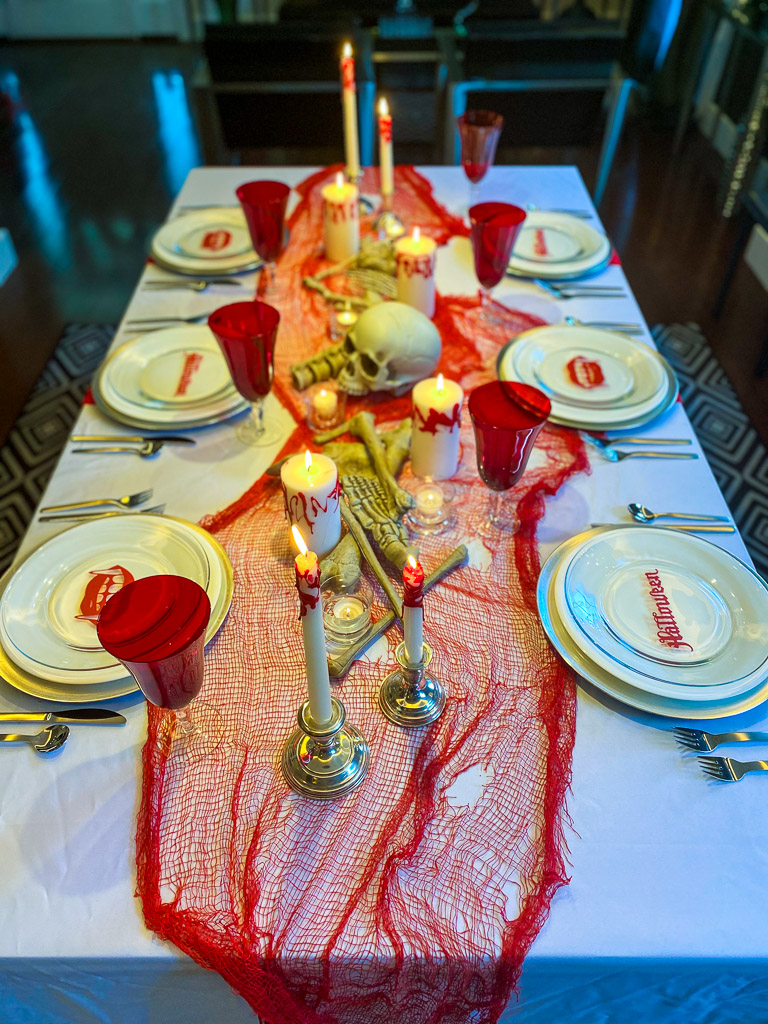 While thinking beyond the traditional is fun, in concept, it can also be a really scary place in which to create.
Things can get out of hand really quickly.
A few wrong turns (or clicks into your shopping cart) and you can end up with an expensive, jumbled, hot mess before you know it.
You're also stuck with decor that you really don't like.
And nobody wants that end result …
WHAT'S THE BEST WAY TO PULL TOGETHER A GREAT TABLESCAPE …
Keep the color choices limited! In fact, it's one of my favorite tricks!
Whether you're designing a room or a tablescape, I am a huge believer that simplicity is the key to great design.
That's exactly what I did with these Halloween table decorations.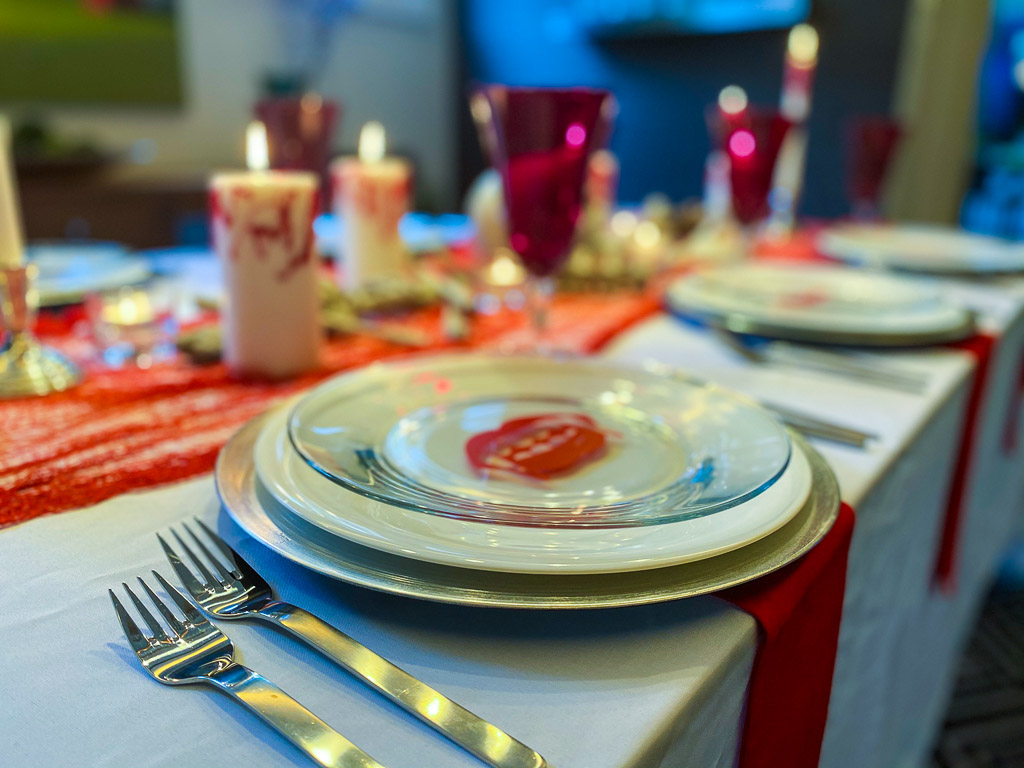 For this Halloween tablescape, I knew I wanted something modern, impactful and atypical.
To achieve the "wow factor" I was seeking, I limited the colors to red and white, with silver accents.
This made finding the right items which coordinated together a lot easier.
It was so fun to create.
It's a modern spin on Halloween that is definitely not your traditional orange and black.
In fact, neither color is anywhere to be found on this table.
But the simple vivid contrast of red and white, certainly brings all the drama.
HERE'S HOW WE PULLED IT TOGETHER: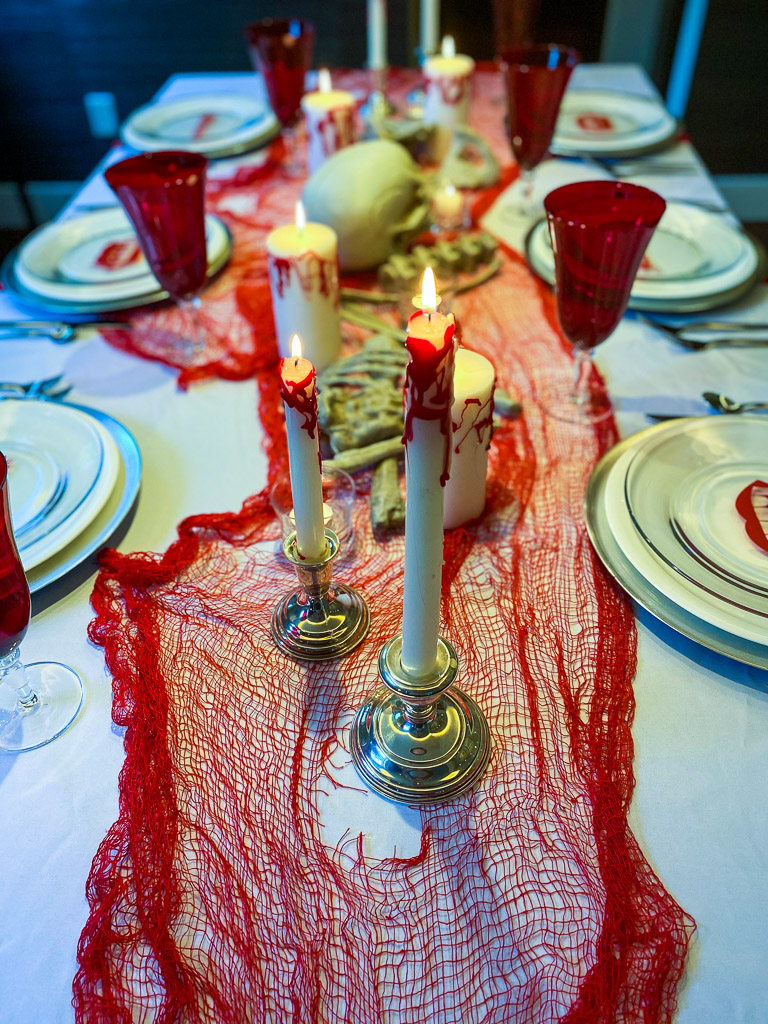 I started with a simple white, polyester tablecloth.
Truth be told I'm always on the hunt for the perfect white tablecloth, which is almost as elusive as the perfect white blouse.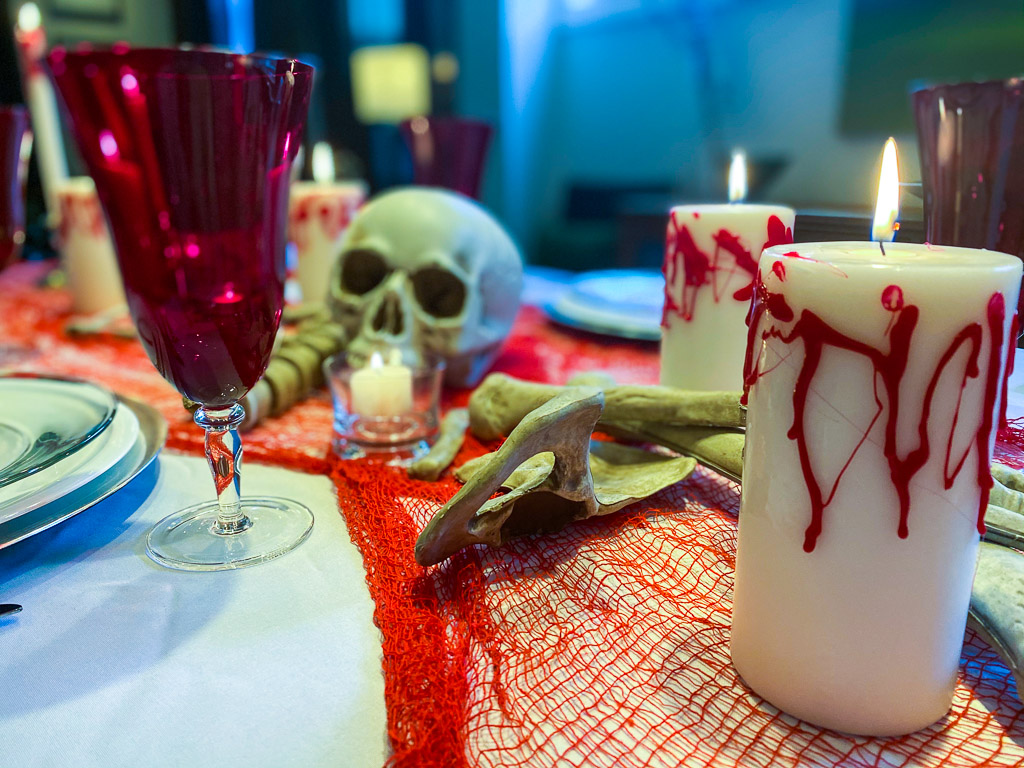 These red spooky cloths were great to use as table runners down the center.
They are inexpensive and really bring a wow factor.
They certainly created the drama I was seeking without breaking the bank.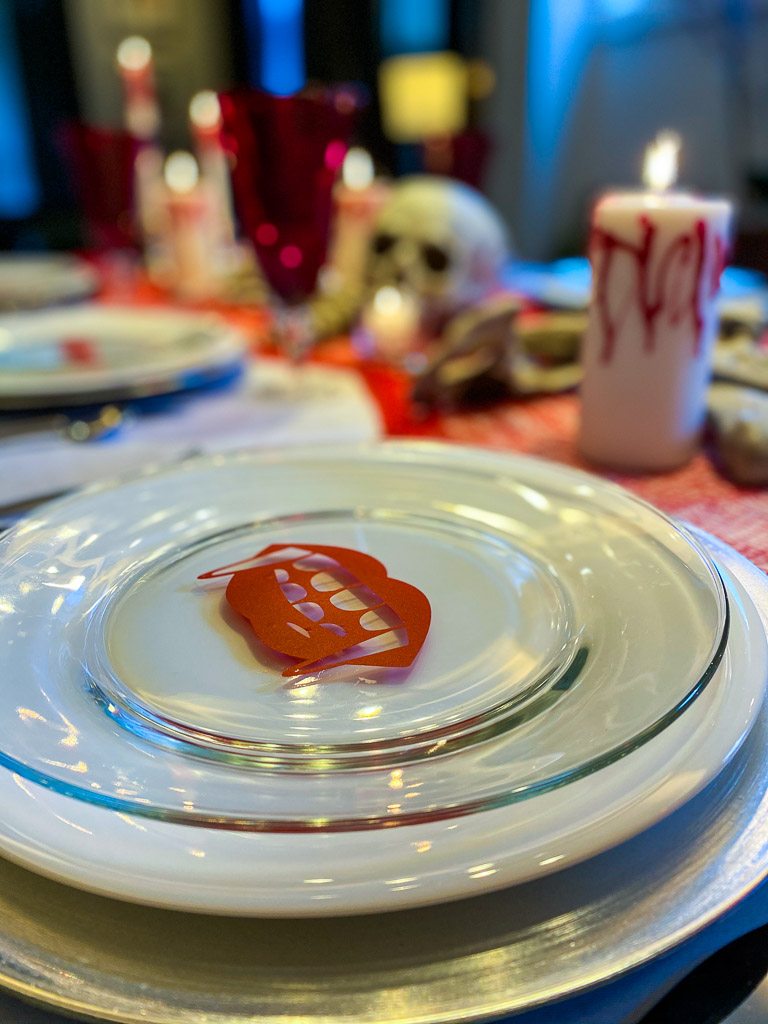 Silver chargers were an ideal choice to set as the base of the table's place settings.
Elegant, white glazed china plates were also the perfect option and kept the design simple, which is key.
To add a bit of fun, I selected three sleek vampire designs from Cricut design space.
The red vinyl transfer was easy to create, using my Cricut maker.
They look great on these clear salad plates.
The embellished plates perfectly match these oversized red goblets and tie the table together.
Red cloth napkins are a final, effortless touch.
ADD SOME STATEMENT PIECES TO YOUR TABLESCAPE …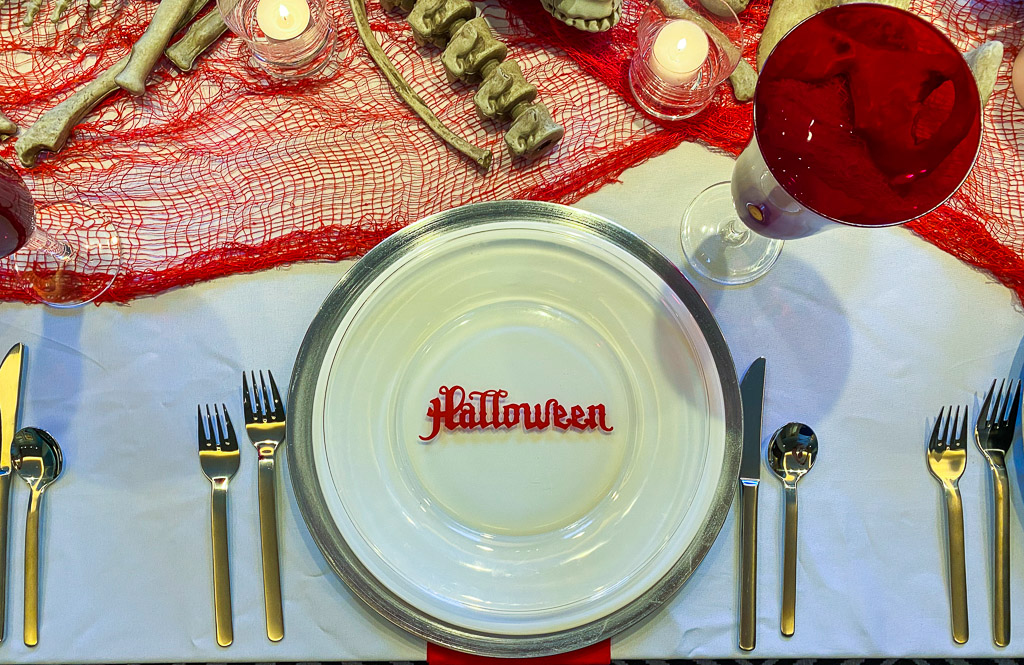 One of the biggest statement elements of the table are the white, "blood" stained pillars and tapered candles.
They were so easy to make. Here's how to create them, step-by-step here.
You just need a few materials: white pillars, white tapers, a glue gun, red wax sticks, and about 10 minutes of time.
Easy!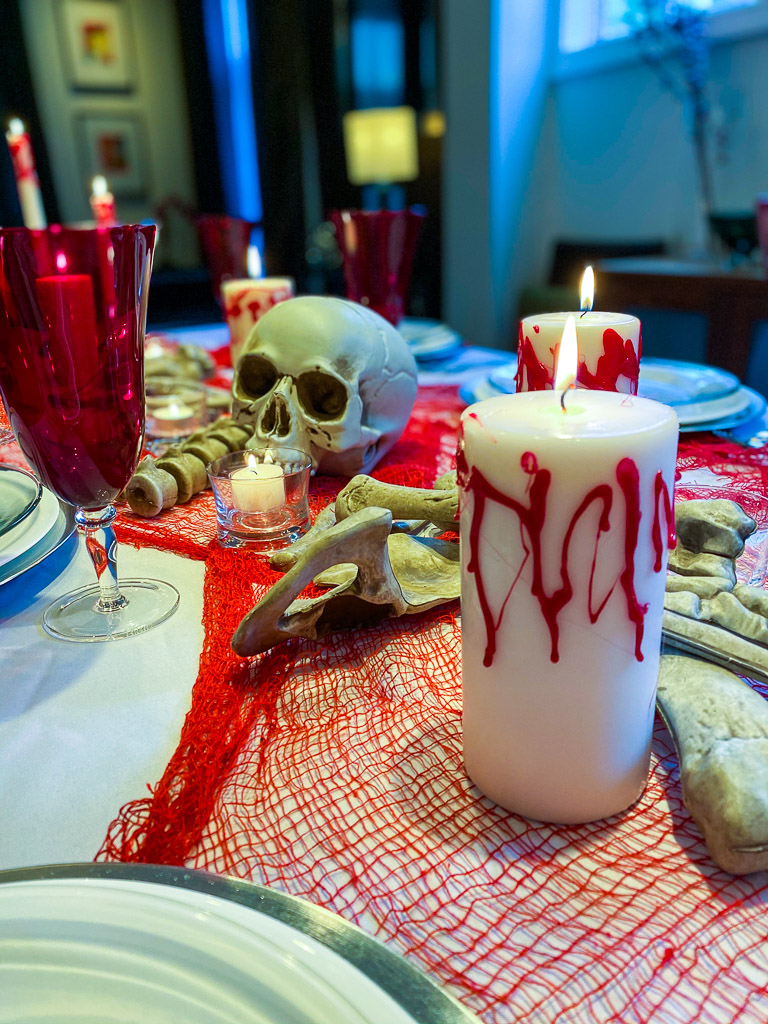 I used the same red-wax technique with the white taper candles.
The tapers add height and interest to the table.
They also look great when placed in vintage silver candleholders.
Clear glass votive holders and with white tealights add a third layer of light to the table, really increasing its drama.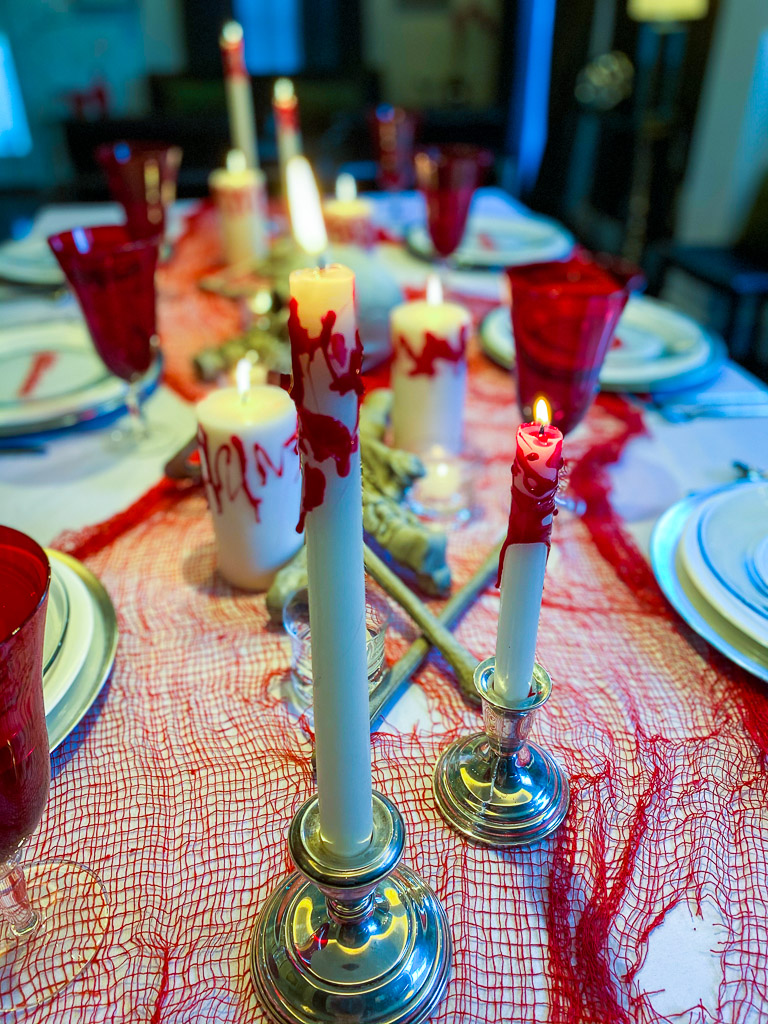 Finally, one of the biggest keys to this table design is to resist the temptation to overdo it.
The center of the table needed just one more touch.
These skeleton bones scattered amongst the candles were an ideal choice.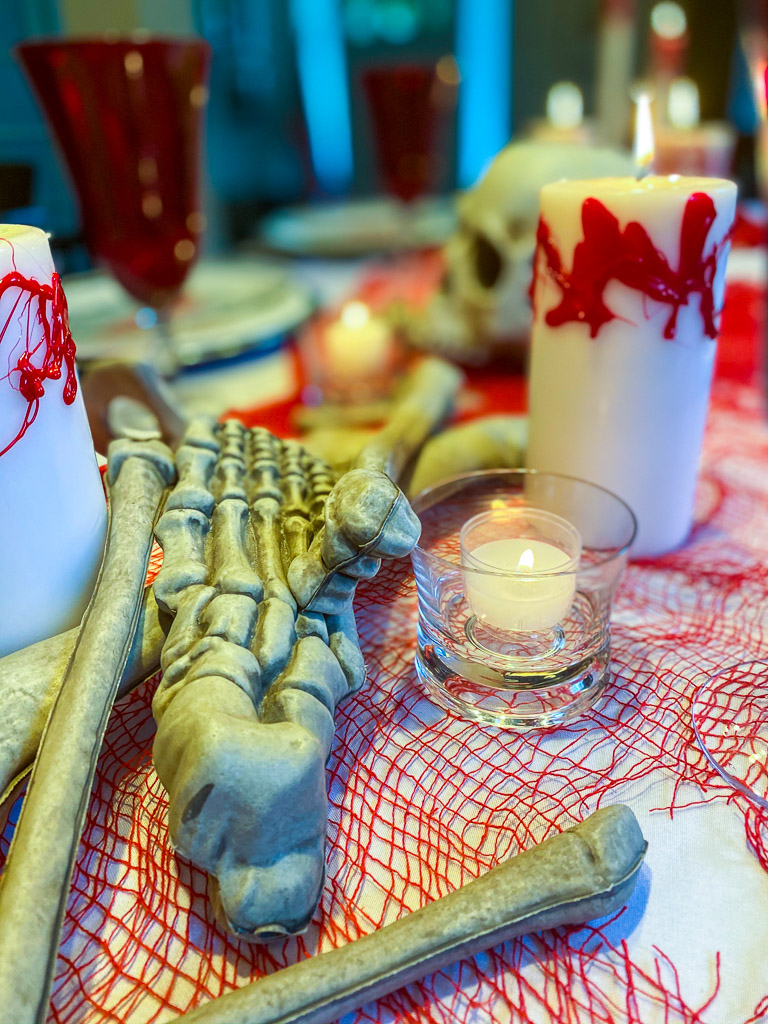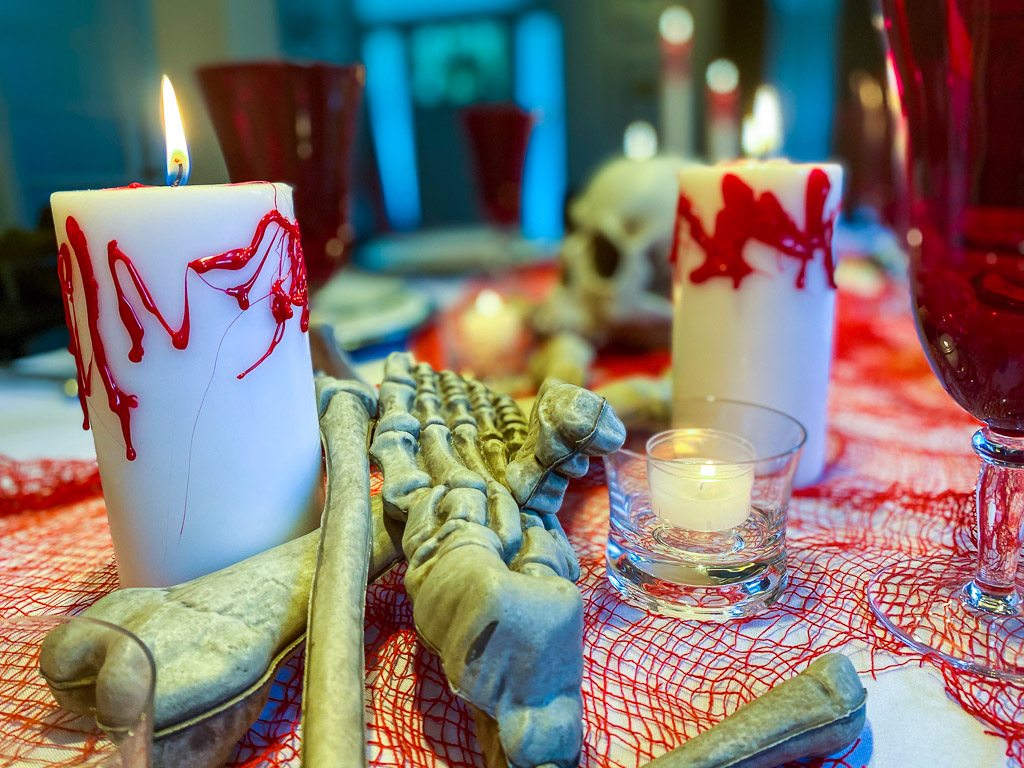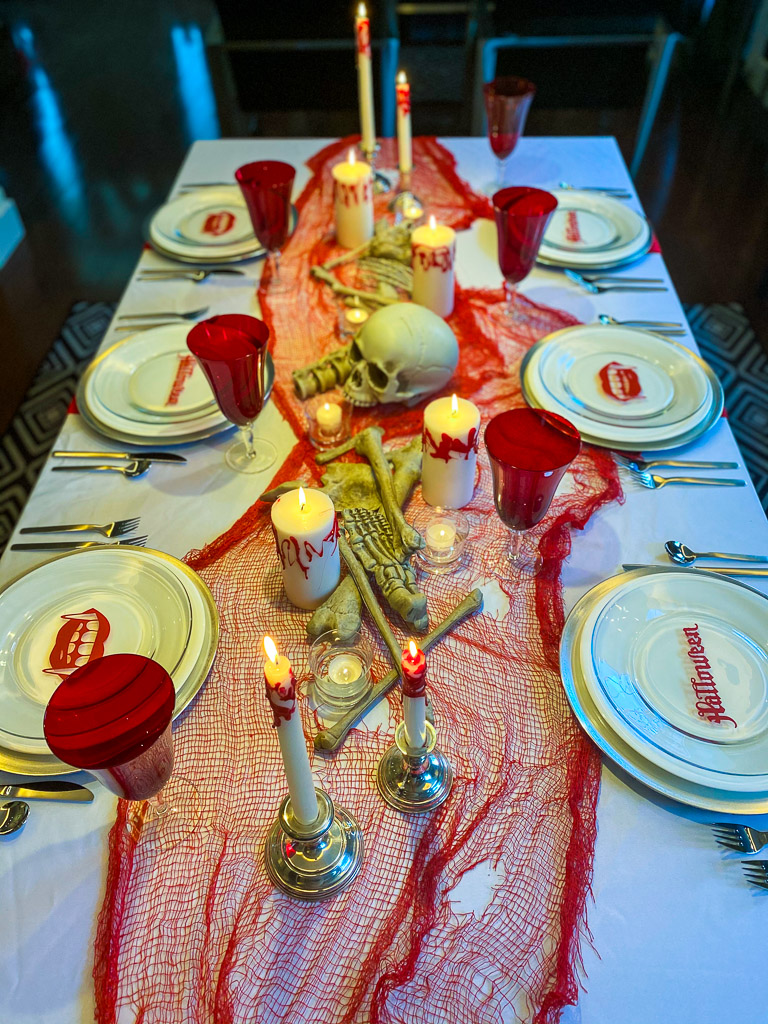 Looking for more fall fun? Check out these blogs:
The Best Fall Tabletop Decor Ideas
Easy Gorgeous Fall Decorations for a Table You'll Love
This Halloween Candy Gets an Extreme Makeover
Five Halloween Trick or Treat Table Ideas You'll Love
Did you try this red and white Halloween table decoration idea?
Share them on Instagram with the hashtag #makeeverydayanevent and tag @makeeverydayanevent.
If you have any questions or suggestions, contact us or leave a comment!
Follow us on social media! You can find us on Instagram, Pinterest, and Facebook.