PIRATE PARTY IDEAS FOR ADULTS THAT YOUR GUESTS WILL LOVE!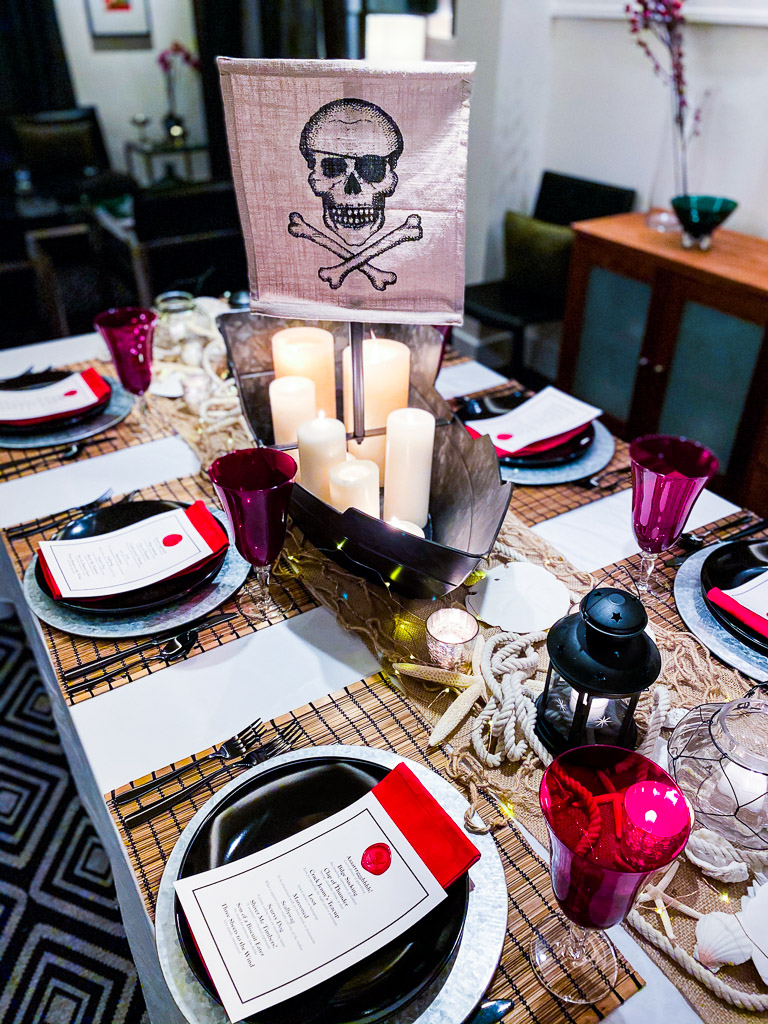 These pirate party ideas for adults are sophisticated, clever and fun!
Create a fun pirate themed party with friends in just a few festive touches.
Our ideas can make gathering with ye mates and mateys into a truly memorable party … pirate style!
We're sharing these pirate party ideas for adults in honor of National Talk Like a Pirate Day on September 19.
Were you wondering when Interational Talk Like a Pirate Day is?
Come to find out, it is the exact same day!
So this is truly a global affair worth celebrating!
Here are five pirate party decoration ideas and diy pirate party decorations that will help you to create the perfect swashbuckling setting.
Yarrr!!!
FIRST, GET SOME SHIPSHAPE PIRATE PARTY DECORATIONS …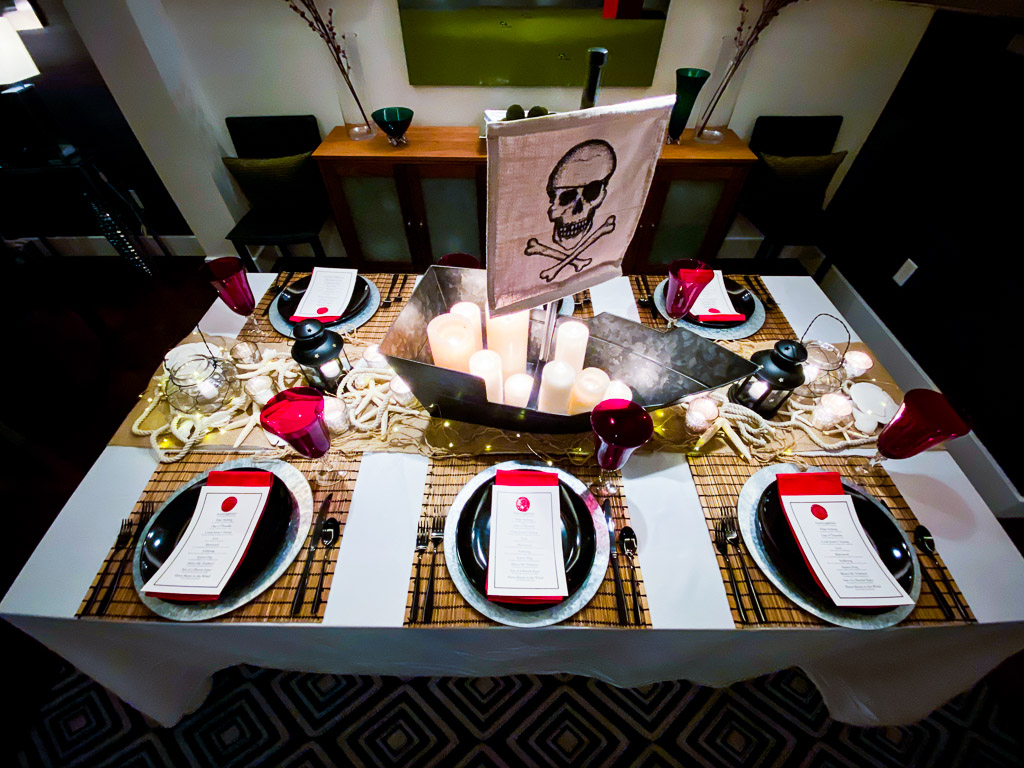 For this table, I wanted to create some drama and fun.
There is no better way to do this than to go with one, prominent focal point.
In this case, my choice was easy.
I decided to build everything around an adorable galvanized metal pirate ship party bucket that I found at Pottery Barn last year.
I picked this up on clearance and it seems they have discontinued these treasures. Aaargh!
However, there are several listed for sale on eBay.
So if you LOVE this piece as much as I do, see if you can get one secondhand.
The ship is water tight, so it can be a perfect spot to serve iced drinks, either indoors or outdoors.
However for this occasion, as the center of the table, I loaded it up with a variety of ivory pillars to create an truly dramatic mood.
The resulting effect was a glowing table that set a theatrical, pirate stage for the rest of the decor elements.
If you can't get your hands on a pirate ship, simply place a large cluster of ivory pillars in the center of your table.
It will create the same effect!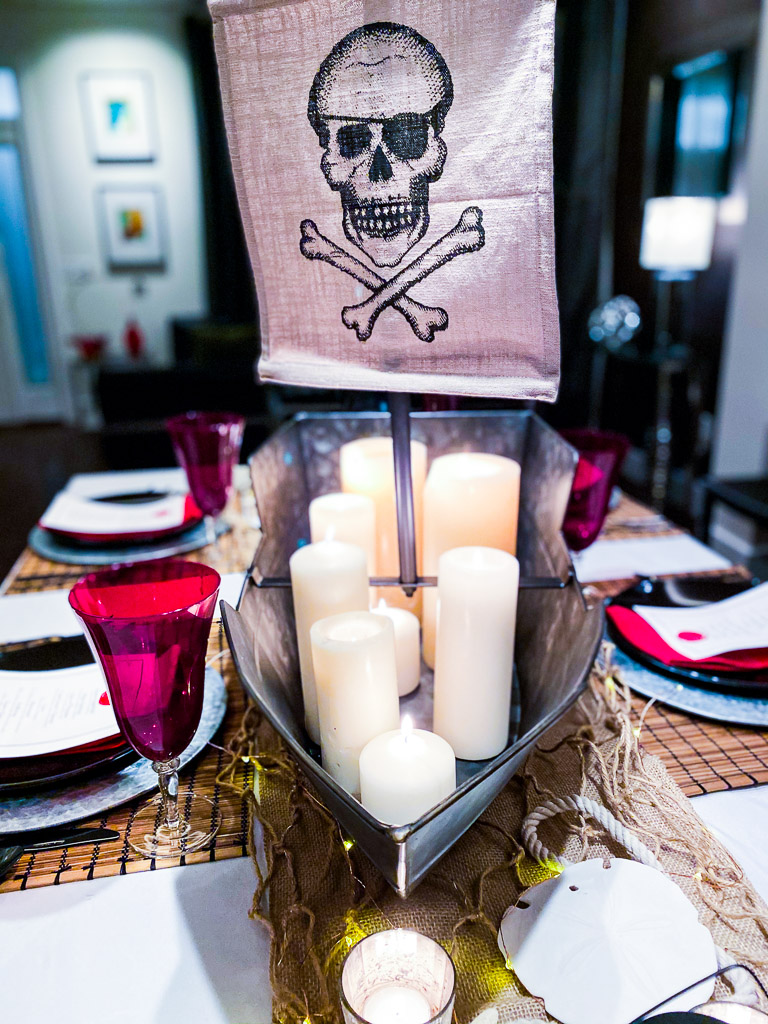 DISCOVER A TREASURE CHEST OF PIRATE PARTY IDEAS AND DETAILS …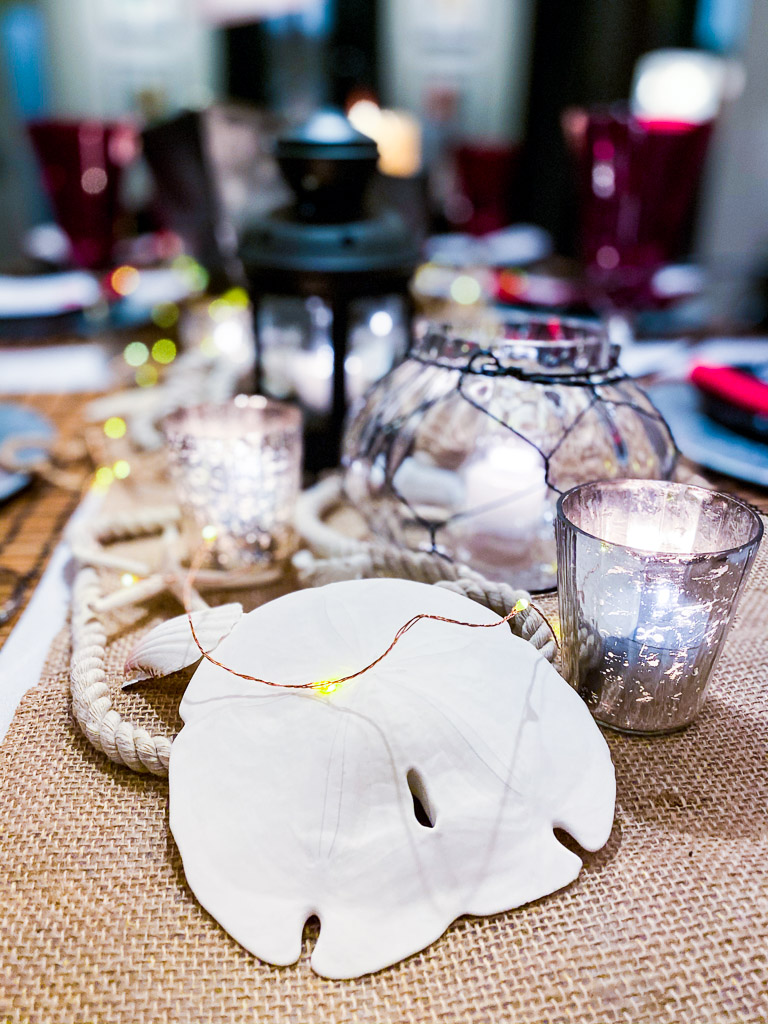 If pirates love buried treasure, then this table's DIY pirate party ideas are a perfect tribute to that affinity.
This theme just lends itself to so many different and fun design elements.
I loved working on these adult pirate party decorations.
From the oversized red goblets to the multiple lanterns, mercury glass votives, sand dollars, sea shells, galvanized chargers, lighted fishnet table runner, and nautical rope, there is a lot of visual interest.
The key to keeping it from being too busy … ?
Stick with a monochromatic color palette.
In this case, I grounded the décor with a burlap runner and woven placemats.
The neutral browns and blacks served as the perfect complement for the subtle pops of red.
And the overall color scheme perfectly paired with the dark, brooding hues of the pirate ship centerpiece.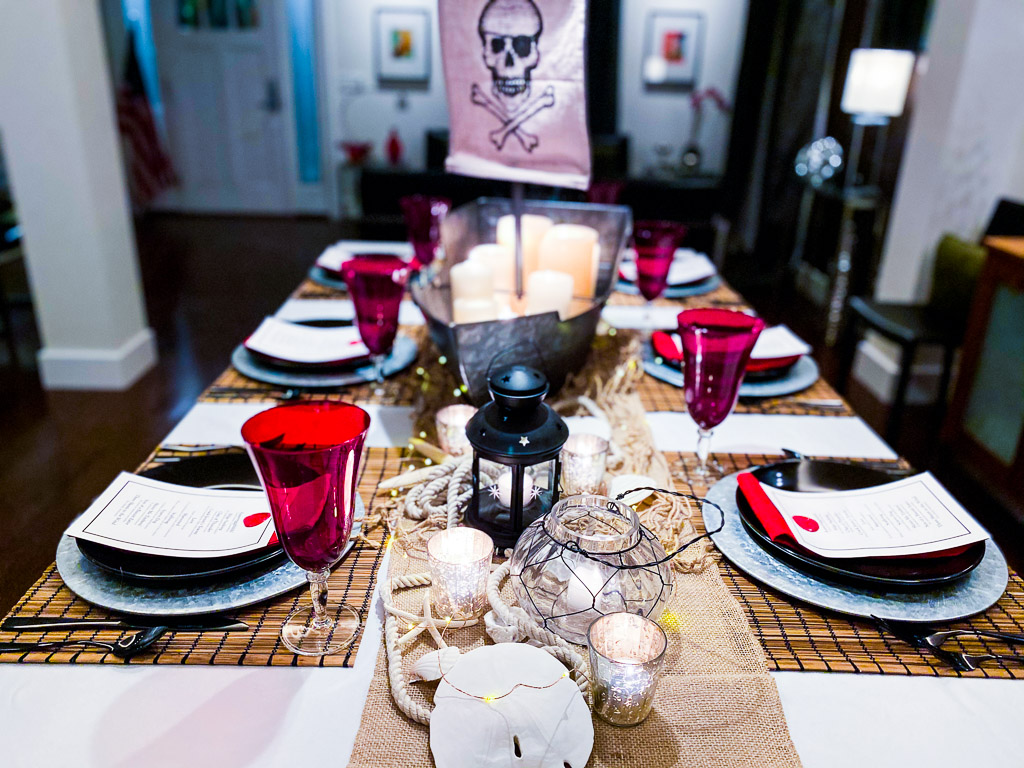 NEXT, LIGHT UP THE NIGHT WITH THESE PIRATE PARTY IDEAS …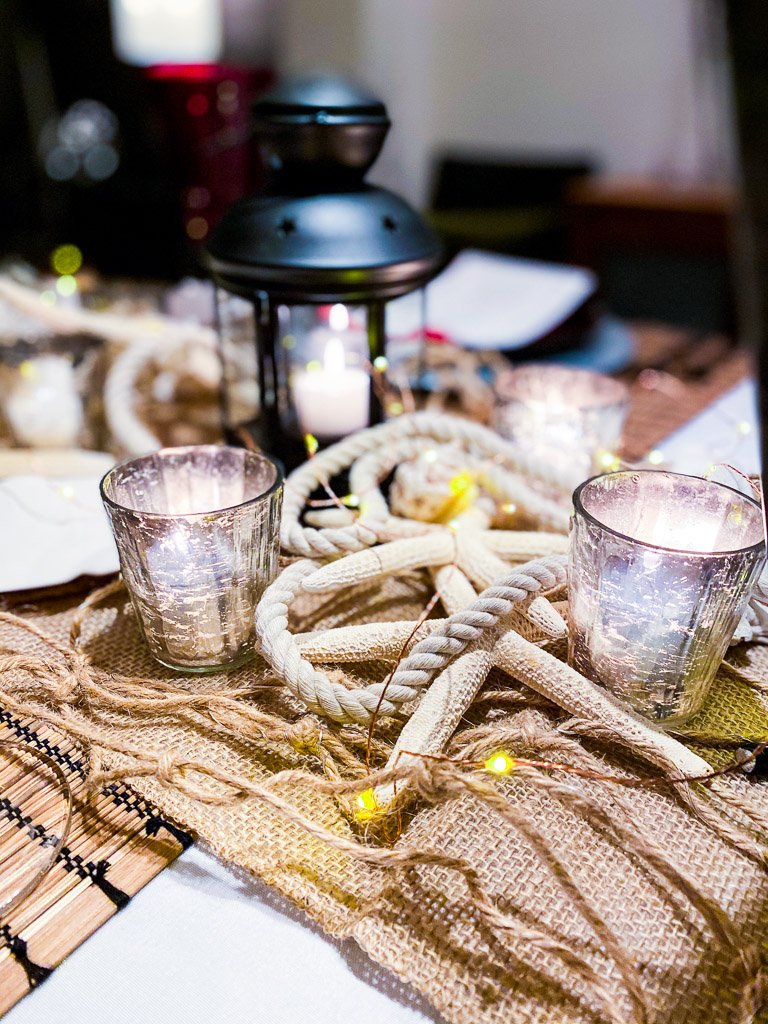 Red skies at night, sailor's delight … right?
I took that to heart with these DIY pirate party decorations.
Not only did I layer pillar candles with votives, I also included a perennial, go-to favorite: battery operated fairy lights.
They are such a simple touch that just deliver so much impact.
And once you make the minimal investment in them, you'll find yourself using them over and over again.
So go ahead, take the plunge!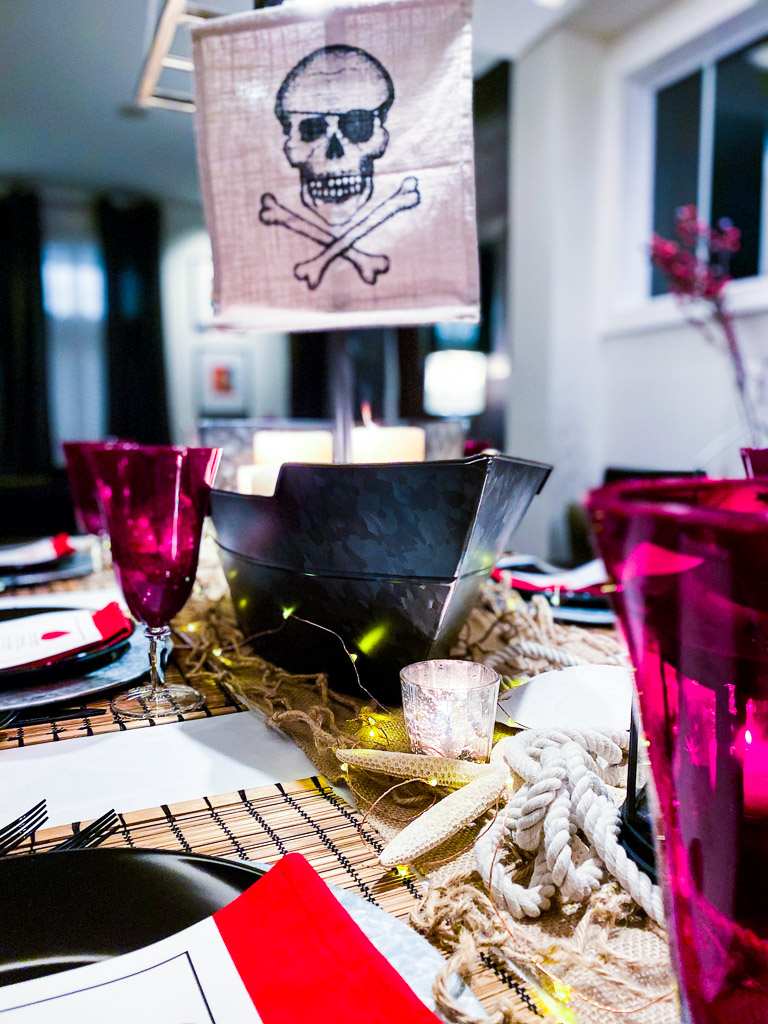 LOAD THE CANNON WITH ANOTHER GREAT PIRATE PARTY IDEA FOR ADULTS …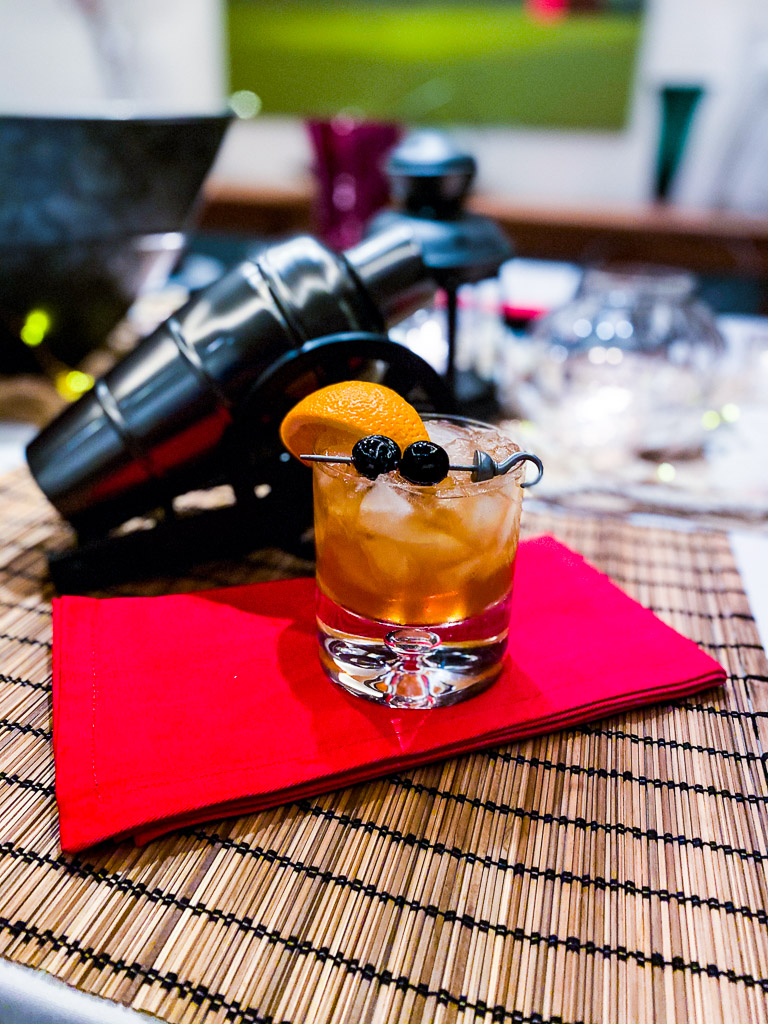 It's a pirate party … so that means it's the perfect occasion to indulge in some rum.
We couldn't resist the urge to do just that.
This also meant an opportunity to incorporate our Pottery Barn Cannon Cocktail shaker into the fun.
Again, I purchased this on clearance last year. But it seems like there are still a few available at an even deeper discount.
What's the perfect cocktail to go along with these pirate party ideas for adults?
Why grog, of course!
But what exactly is grog?
Follow this link to discover a bit of this elixir's history, as well as the best pirate grog recipe we used.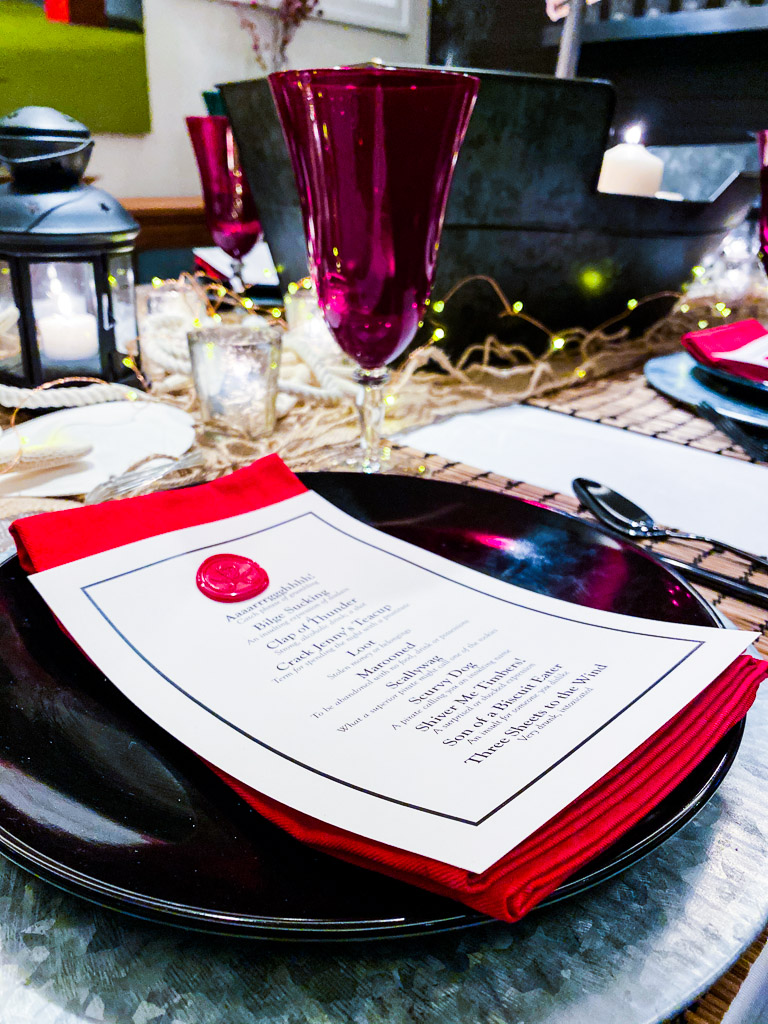 AARGH! IT'S TIME TO TALK LIKE A PIRATE …
This is one of the best pirate party ideas for adults that we've come up with!
Pirates have a whole lexicon that is entirely their own.
Let's embrace their language and have some fun.
We pulled together a few of our favorite pirate phrases to share with our guests (download the card).
As the grog flows, so will the fun.
A clever, red-waxed seal at the top of each card adds to its cuteness and ties it together with the rest of the tablescape!
Looking for additional party ideas? Check out:
DIY Lemonade Stand Ideas
Easy Outdoor Movie Night Ideas
Creative ideas for a Super Hero Themed Party
Did you try this idea?
Share it on Instagram with the hashtag #makeeverydayanevent and tag @makeeverydayanevent.
If you have any questions or suggestions, contact us or leave a comment!
Follow us on social media! You can find us on Instagram, Pinterest, and Facebook.