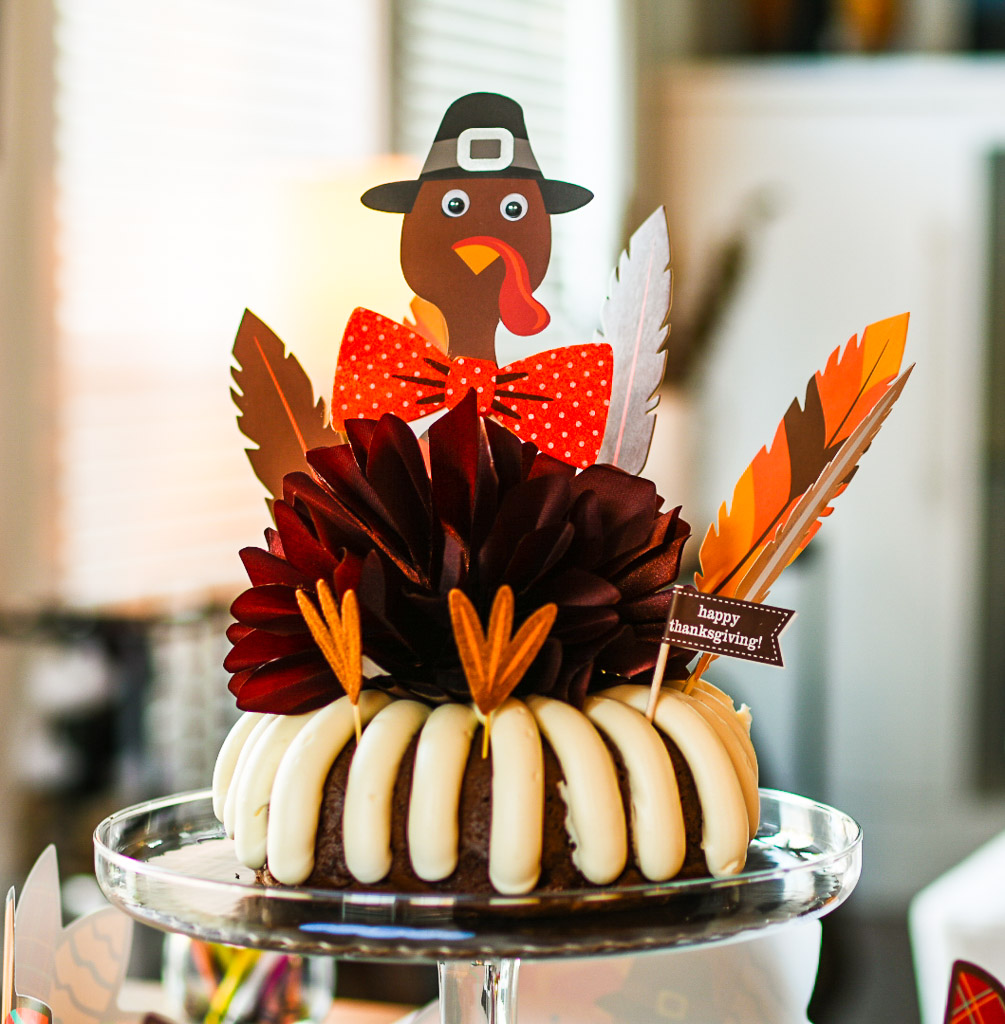 These Thanksgiving table decor ideas will bring out the kid in you.
This is the perfect table to pull together if you decide to embrace your inner child.
It's easy to create the ultimate kids' table with some inexpensive thanksgiving table decor.
And trust me, if my mom's satellite table had been this fun, all of the adults in the family would have been fighting for a seat at this table.
In addition to Turkey Day, these thanksgiving table setting ideas are also great Friendsgiving decorations.
So, you may be asking …
WHAT IS FRIENDSGIVING?
Over the past decade, Friendsgiving has become a popular annual celebration typically held the weekend before Thanksgiving.
It's a low-key get-together with your closest pals to eat a great meal (usually a potluck), without any of the anxiety that can often results from being in the same room as all of your family members.
Some have defined it as "an unforced gathering of your closest friends makes for a truly fun and special dining experience."
Sign us up!
So whether you're using these ideas as Thanksgiving table decor or decide to abandon your relatives and need some Friendsgiving decorations, here are four great ideas to make your table as special as the meal.
And fun!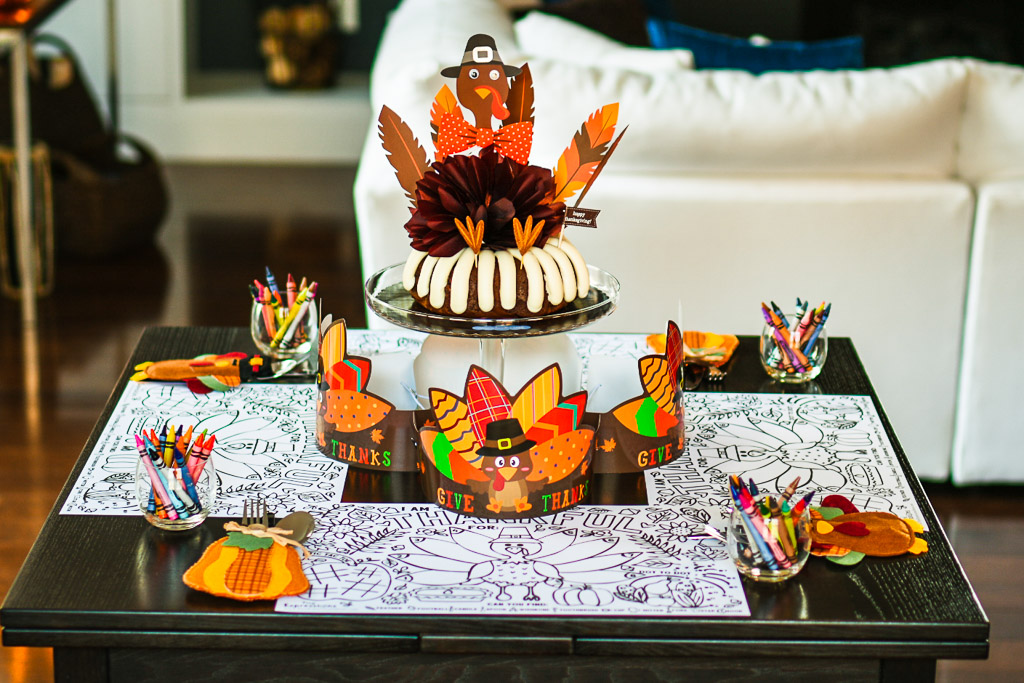 Posts on Make Every Day an Event may contain affiliate links which means we may earn a small commission on purchases at no extra cost to you. Please read our full disclosure here.
1. START WITH THIS PLAYFUL PLACEMAT …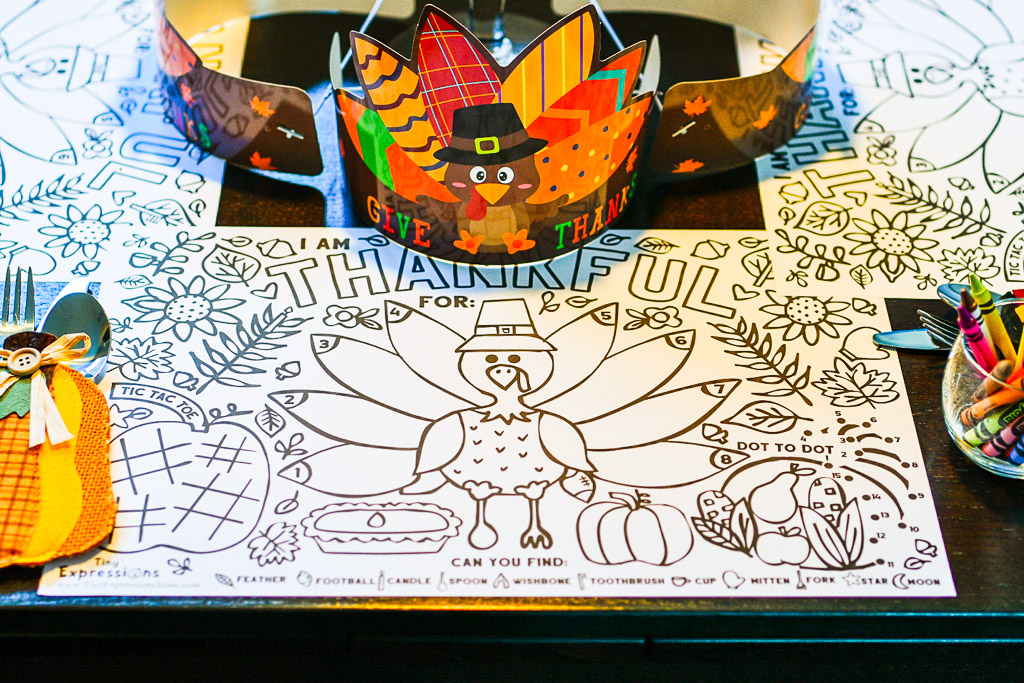 These paper placemats are simply adorable and loaded with hours of fun!
They will really bring your Thanksgiving table setting to life for both the young and old!
There are a ton of fun activities to do on them including my favorite, naming eight things you're grateful for as you color the bird's feathers.
They also contain hidden pictures to find, a dot-to-dot cornucopia, tic tac toe, and lots and lots of fall images to color!
What a great way to begin your celebration!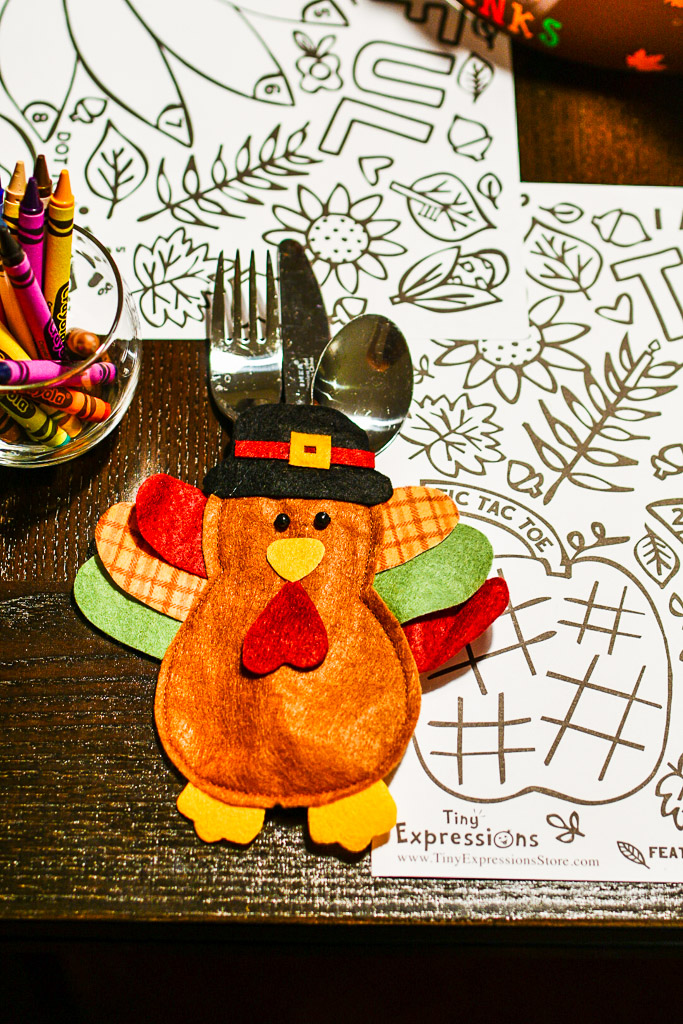 ADD SOME COLOR AND FUN …
These flatware holders were perfect for this table!
You simply slip the utensils into a pouch in the back.
They come in a pack of four and include two cute designs, a fall acorn squash and, of course, a turkey!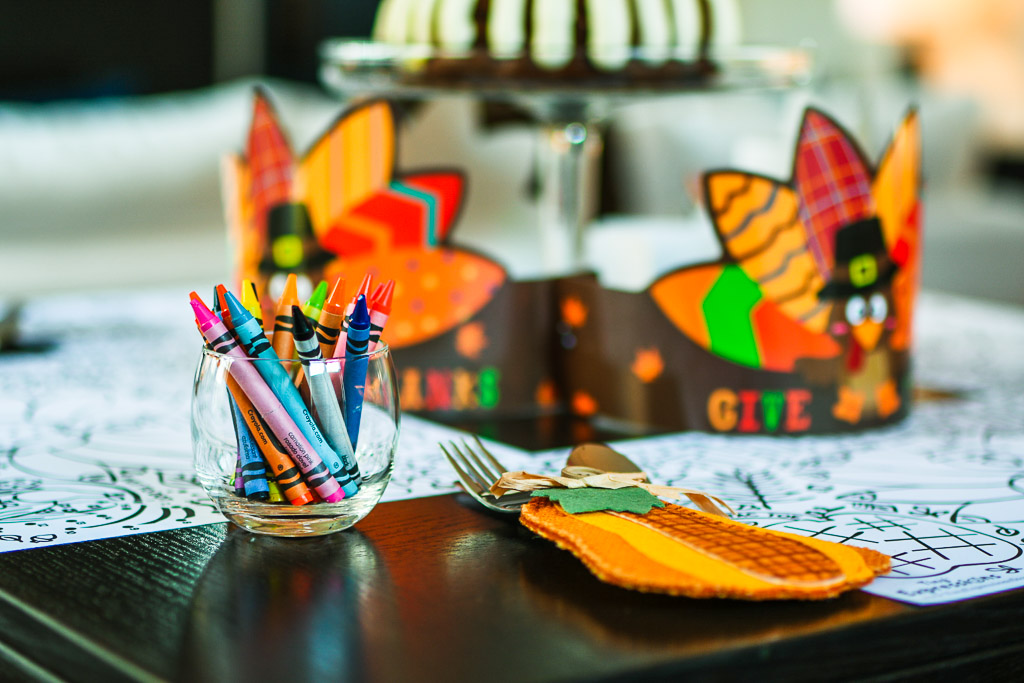 EVERY PARTY IS BETTER WHEN YOU GET A FAVOR!
The best part of every party is the goody bag!
For our Friendsgiving, we modified that a bit and included these darling turkey crowns as party of our tablescape.
They are not only festive, they are the perfect accessory to make all of your Thanksgiving selfies a bit more festive.
A TRULY TASTY CENTERPIECE …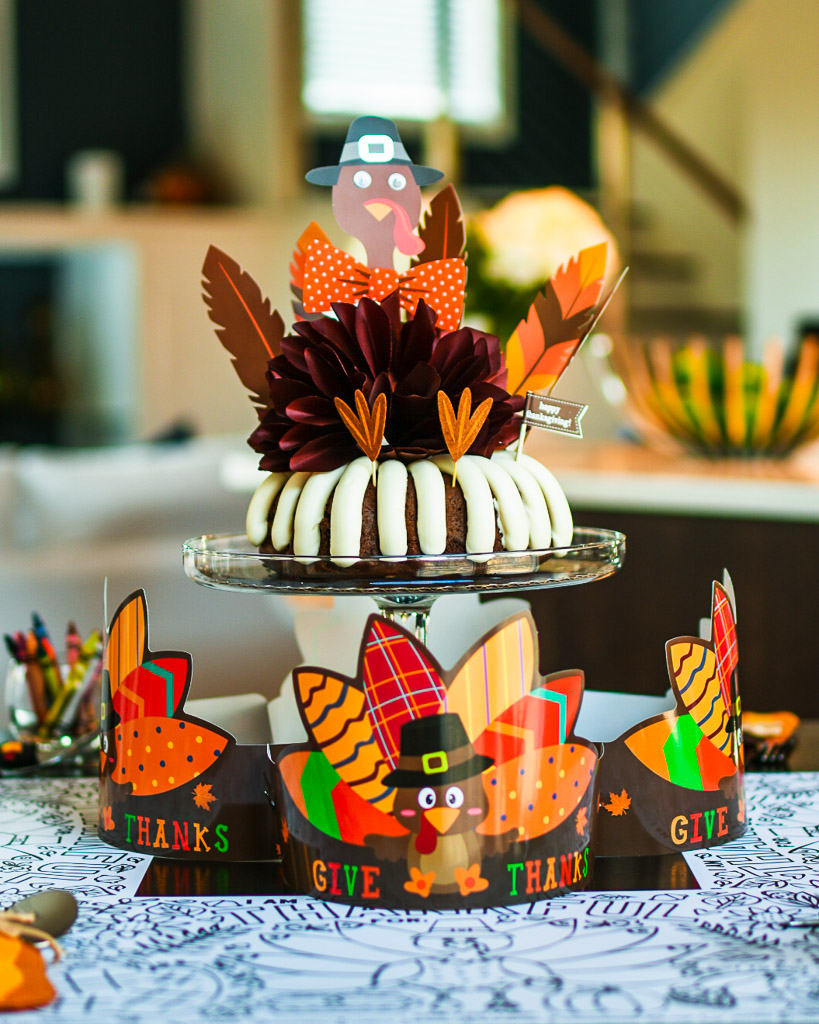 My absolutely favorite part of this table is the centerpiece.
I'd like to take credit for creating it myself, but sometimes you find something that's just too adorable to pass up. And you turn to the professionals.
Such was the case here.
I discovered this Nothing Bundt Cakes and just fell in love with its cuteness.
Ordering the cake was easy and I was actually surprised at the price, right around $30 for the eight-inch cake.
It made a great (and tasty) centerpiece for our table.
It would also be a delightful and delicious gift to bring to a Friendsgiving celebration or to send to someone for Thanksgiving.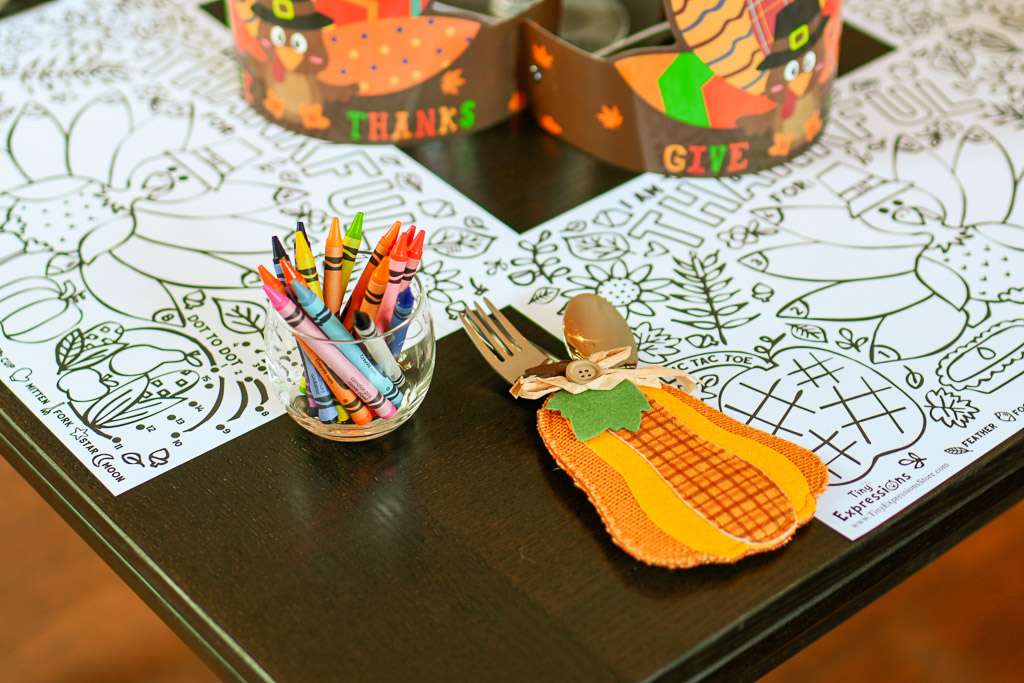 Looking for a more grown-up approach to your Friendsgiving tablescape? Find lots of great ideas in these posts:
This Beautiful Fall Centerpiece is Easy to Make
Elegant Thanksgiving Tablescape Ideas
Did you try this idea? Share it on Instagram with the hashtag #makeeverydayanevent and tag @makeeverydayanevent.
If you have any questions or suggestions, contact us or leave a comment!
Follow us on social media! You can find us on Instagram, Pinterest, and Facebook.